Leaving grow lights on 24 hours a day makes a lot of sense.
More light means more growth and more yield, after all.
Or does it?
There is no question that leaving your lights on longer results in faster growth.
But does it actually increase yields? Or does it hurt them?
It's actually something in between. But there's a lot more to it than that.
Let's dive into this surprisingly complicated question and find out whether your plants would benefit from 24 hours of daylight.
Leaving Grow Lights On 24 Hours
Running your lights 24/7 gives your plants more light. If you find they are not getting enough, this is a simple solution to increasing the amount of light they get throughout the day.
But it is not the best solution.
If your plants need more light, the best way to remedy the situation is to get more light fixtures, or to swap your existing ones out for more powerful ones. Leaving your lights on continuously is not a good idea. Let's look at the pros and cons to find out why.
Advantages Of 24/7 Lighting
Keeping your lights on 24/7 has one advantage: it gives your plants more light (ok, there is one other advantage: you won't need any grow light timers). More light means faster growth.
If you leave your lights on around the clock during vegging, you will see faster growth, without a doubt. And you plants will start growing buds much sooner.  But this benefit is outweighed by the disadvantages.
And leaving the lights on around the clock during flowering is not an option at all. Your cannabis plants won't switch to flowering unless you reduce the lights to 12 hours a day.
If they are already flowering and you increase daylight to 24 hours, you'll have a disaster on your hands. Your plants will revert back to the vegging stage and it will take forever to get them to re-enter the flowering stage.
Never leave your lights on around the clock during flowering, unless switching from flowering back to veg is your intention.
Disadvantages Of 24 Hour Daylight
The disadvantages of leaving your grow lights on 24 hours outweigh the one advantage. The primary disadvantage is that your plants get no rest period.
No Time To Respire
Sure, you can leave the lights on all the time. Your plants will grow faster. But if you leave them on continuously for many days, your plants will get weaker and weaker. They won't grow as strong and they will become more susceptible to disease.
Think of it this way. As humans, we can stay up all night without any sleep. We get more done. And we can do it a few days in a row. But the longer we go, the weaker we get. We really need to get some sleep.
Similarly, your plants need their rest.
During the daylight hours, marijuana plants (like all plants) use photosynthesis to convert CO2 and the light from the sun, or from artificial grow lights, into sugars. At the same time, they release oxygen.
And they are also respiring at the same time.
When they are bathed in light, plants mostly photosynthesize, and only respire a little. When in darkness, they halt photosynthesis and focus solely on respiring. They need this to grow properly.
When they respire, they metabolize the sugars created during photosynthesis into energy. They use that energy along with oxygen and nutrients from the soil to power various life processes.
Additional Costs
Running your lights 24/7 costs more money. You need to pay for the electricity to power the lights, and also for the electricity to power fans, air conditioners and any other equipment you might have running in your grow tent. You will also have to change bulbs more often.
Additional Stress On Equipment
Leaving the lights on all night long also means that they, and other equipment, are running constantly, without any breaks. This puts additional stress on them and results in a shorter lifespan.
Additional Heat
Running your lights constantly generates more heat. As mentioned, this means you will also need to run fans and other cooling equipment 24/7. It also means your plants do not get a cooler night time, which is something they naturally expect. You don't want to heat stress your plants.
The Best Way To Provide More Light
As mentioned, the only real advantage to running your lights all night long is that it allows you to provide your plants more light throughout the day, without having to buy new or additional lighting equipment.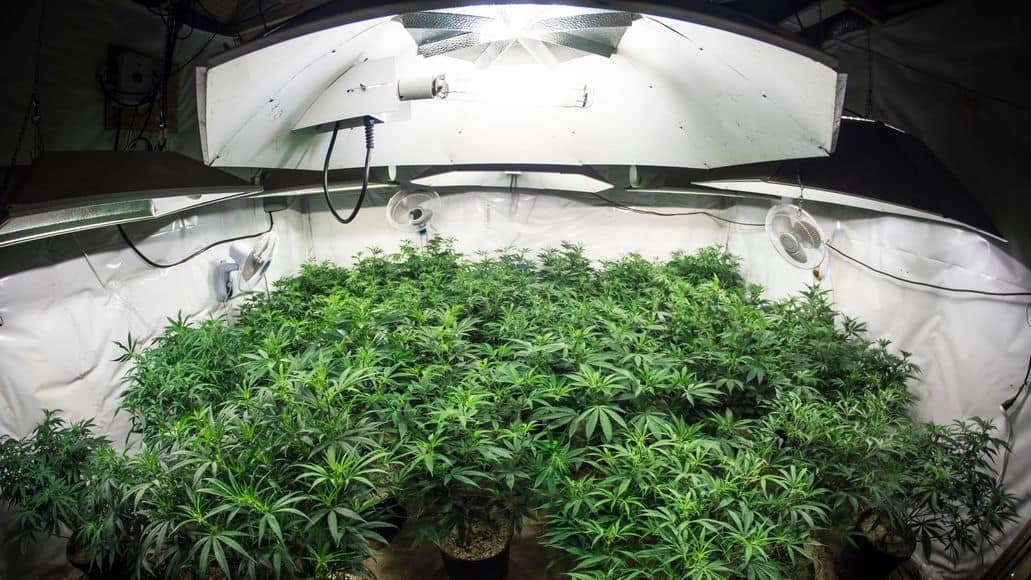 But if your plants are not getting enough light, you should buy new lights. These can either be lights to replace your old fixtures, or ones to run in addition to your existing plant light fixtures.
If you don't have sufficient light for your plants to grow properly during vegging, you certainly don't have enough for them to produce a good yield during flowering. You're going to need more lights anyway. There is really no point in running your existing lights 24/7 during vegging and compromising the plant's health as a result. Just get additional lights.
How Much Light Output Do Plants Need?
Marijuana plants (and any other flowering plants) need 20 to 40 moles of light per day. That is equal to 20,000,000 to 40,000,000 umol (micro moles). The closer you can get to 40 moles, the better, in order to maximize yields.
If you are running your lights for 18 hours per day (see the next section below for more on lighting schedules and the best times to have grow lights running), those lights need to deliver a PPFD output of 617 umol, in order to add up to 40 moles per day.
When you switch to 12 hours per day of lighting during flowering, that value jumps up to 926 umols, to make up for the 6 hours of lost lighting time per day. That is why you need more lighting power during flowering. It is not a case of your plants actually consuming more light.
Even if you can't provide that much light, as long as your plants are getting a total of 20 moles per day, they will grow and yield buds. But they will obviously not grow as fast or yield as much.
To achieve a daily total of 20 moles, you need lights that deliver 308 umol during the 18 daylight hours of vegging and 462 umol during the 12 daylight hours of the bloom stage.
Obviously, you can increase the daily total by running the lights for more hours. That is exactly why people run them 24 hours per day. But again, you are much better off increasing the overall light output, by adding more fixtures, or replacing you existing ones with more powerful lights.
The Best Lighting Schedules For Cannabis
We'll start with flowering, because there is no flexibility to increase the daylight hours during this stage. Your lights need to be off for 12 hours per day (with the exception of autoflowers, of course).
Keeping them on longer can result in your weed plants switching back to vegging and then you'll have a hard time getting them to flower again.
During vegging, you have much more flexibility. It is perfectly possible to leave the lights on overnight, but as mentioned, it is best to give your plants at least some darkness.
The most common lighting schedule during vegging is 18 hours of light and 6 hours of darkness. This is the schedule we recommend. 20 hours on and 4 hours off works well, too.
Another interesting option is to use a 6/2 light schedule. What this means is you leave the lights on for six hours, then turn them off for two. You have 3 of these cycles per day. You still end up with 18 hours of daylight and 6 hours of darkness, but they do not all fall at once.
Do Autoflowering Plants Need A Dark Period?
Yes, autoflowering marijuana plants need time to rest, just like any other plant. Autoflowers also need nutrients.
What is an auto flowering seed? Then main difference with autoflowering cannabis strains is that they switch to flowering automatically. They do not need you to shorten the daylight hours to tell them when to switch.
Theoretically, you could run the lights 24/7 even during flowering, but you shouldn't. However, you can run them on an 18/6, or even a 20/4, cycle during the bloom stage, the same as during vegging.
When do autoflowers start flowering? That depends on a few factors, primarily the strain in question and the growing environment.
Should Seedlings Get 24 Hours Of Light?
No, they should not. Seedlings also need a dark period. We recommend leaving the lights on for 16 hours a day for seedlings.
Leave Grow Lights On 24/7: Final Thoughts
Leaving your grow lights on for 24 hours a day increases the total amount of light your plants receive during the day, which leads to faster growth. But your plants will likely be weaker and more susceptible to disease.
If you want to give them more light, you should add additional grow lights or replace your existing ones with more powerful fixtures. This will give you far better results than simply leaving the lights on longer, which you won't be able to do anyway, once you are into the flowering stage. If you want to add led grow lights, this article will help you find the right ones.