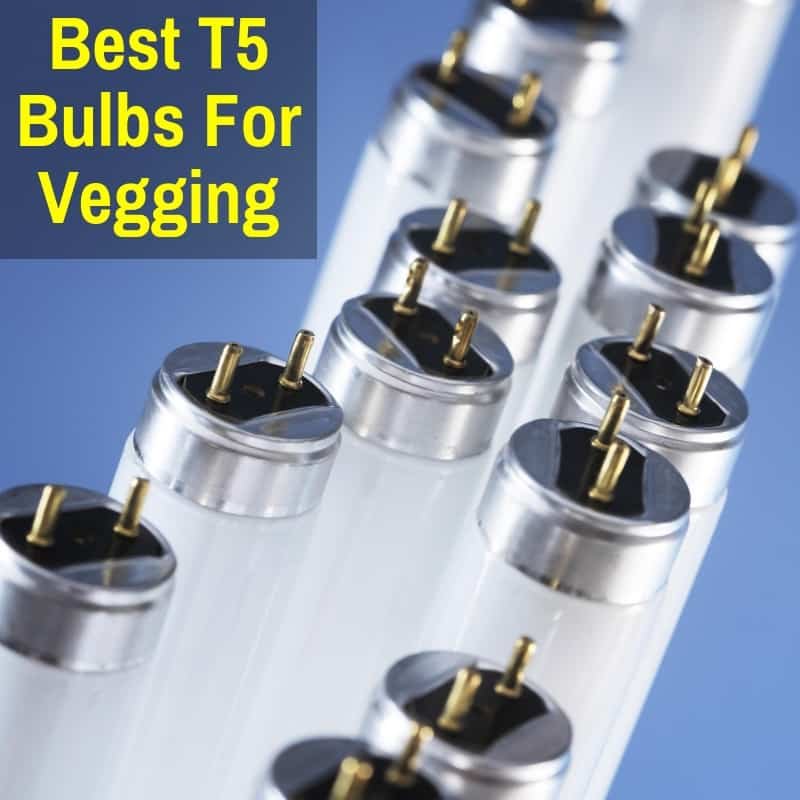 Veg is short for vegetable, right?
Wrong.
Not in this case.
It is short for vegging, which refers to the vegging stage of plant growth.
The good news is: if you ARE looking for the best T5 light for vegetables, my recommendations are the same.
Vegetables need to veg, just like other plants.
And afterward, vegetables that fruit and/or flower will also need to go through the flowering stage of growth.
More on that in a second.
First I want to quickly summarize my recommendations, for those who prefer I just get to it.
Best T5 Bulbs For Veg Compared
09/22/2023 08:41 pm GMT
What Is Vegging?
All plants veg, i.e. they go through the vegging (or growth) phase. During this phase, they grow. Ideally, they want more blue light during this stage, which is why vegging bulbs emit a cool white light that contains more light in the blue wavelengths (color temp around 6000K to 6500K).
Some plants only veg (like herbs, lettuce, etc.), but others eventually move on to the flowering stage. This is when they begin to grow flowers and/or fruits. For this they want light with a large amount of red (color temp around 2700K to 3500K).
This means that you'll probably want to change bulbs when switching from vegging to flowering (or move the plants to a dedicated flowering room). You'll want to switch from a cool white fluorescent to a warm white one.
That said, you could get a bulb that is in between, with a color temp around 4500K to 5000K. You can use these bulbs for all stages of growth, but yields will suffer a bit, since more red light is better during flowering.
All of the bulbs reviewed on this page are available in several color temperatures, meaning there are versions for vegging and flowering. Since this article is focused on bulbs for veg, all of the reviews discuss the vegging versions. There is a section of flowering at the bottom.
Best T5 Grow Lights For Vegging Reviewed
Below are the best T5 fluorescent grow bulbs currently on the market. I've also included one single-bulb option that comes with a fixture, for those who only want an individual bulb or two.
At the very end of the article, I give a recommendation for the best full fixture (and the best budget version), in case anyone arrived on this page wanting a complete light, instead of just the tubes.
Best T5 Tubes For Veg: AgroMax Pure PAR Veg
There are tons of fluorescent tubes on the market and they all have basically the same color spectrum, except for the Agro Max Pure PAR Veg grow bulbs. And that is why they are my top recommendation.
While other bulbs use all-white light (some red, some blue and mostly yellow and green wavelengths), the AgroMax Pure PAR bulbs emit a light that looks similar to the "blurple" LED lights. It contains mostly red and blue wavelengths, with some green and yellow.
This spectrum is tailored more toward plant growth than the standard fluorescent spectrum, which gives these tubes a huge advantage. It also works much better for flowering than standard fluorescents.
Of course, there's a drawback: they are much more expensive than other bulbs. Because of that, my recommendation would be to just get T5 LED tubes instead, since they are better than fluorescent and they cost about the same as these AgroMax bulbs.
But they are better than other fluorescent bulbs.
Apart from the great spectrum, AgroMax high-output bulbs give you twice the output of a standard bulb and they have a long lifespan of over 20,000 hours. This is backed up by a 1-year warranty, which is highly unusual for a brand to offer on their T5 tubes. These are standard design, meaning they will fit into any standard T5 fixture.
The AgroMax Pure PAR Veg bulbs come in packs of 1, 4, 8 and 25. You can also get them as 2 foot bulbs. Due to their perfect spectrum, we give them a rating of 4.8 out of 5.
In addition to the Pure PAR Veg tubes, AgroMax also have a number of other bulbs with varying spectra, including a 5400K Super Veg, a 10,000K finisher, a 6500K cool white, a 3000K bloom, a Pure Bloom and a UV bulb. They are all available in 2 foot or 4 foot lengths.
You can see the entire selection here.
Best Budget Veg T5 Bulbs: Vivosun HO T5 Tubes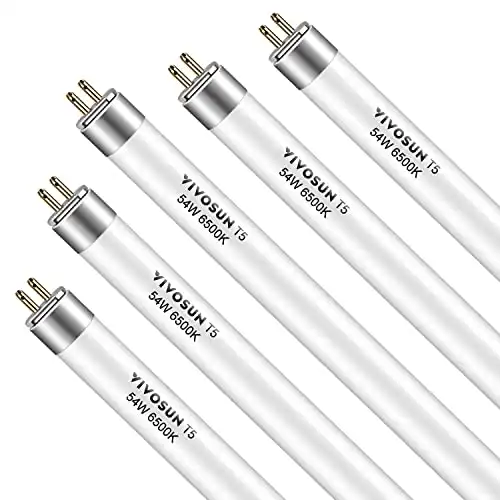 Vivosun 54W 6500K HO T5 Grow Light Bulbs
Pros:
Low cost

High output of 5000 lumen
Cons:
Spectrum not designed specifically for plants (but still works well for veg)

Higher failure rate than top brands

Less responsive customer service than top brands
View On Amazon
We earn a commission if you make a purchase, at no additional cost to you.
09/22/2023 08:31 pm GMT
These high-output fluorescent bulbs from Vivosun cost far less than the AgroMax bulbs above, but with that lower price comes a reduction in quality (slightly higher failure rate), a standard fluorescent spectrum and no warranty.
Let's begin with the spectrum.
The Vivosun bulbs emit a 6500K white light. This means it is a cool white light, which contains large amounts of blue and smaller amounts of red. This light works great for vegging plants, but it is not specifically tailored for the job, so it doesn't quite match up to the AgroMax spectrum.
These bulbs are also high-output, so you don't lose any performance in that regard. They give you 5000 lumen of output and consume 54 watts to achieve that.
The main thing to remember is that Vivosun is a budget company. Their products are very inexpensive, but in return, they have a slightly higher failure rate than top brands. Their customer service also lags behind.
That said, they are a step above the other budget brands, which is why I recommend their lights for those looking to save some money. I just want to make sure you know exactly what you are getting.
The Vivosun bulbs are also available with a 3000K spectrum that is suited for the flowering stage of plant growth. Those are found on the same page as the 6500K version. You can get them in the shorter 2 foot length as well.
The 2 foot ones are on this page.
Best T5 Bulb System (Tube Plus Fixture): DuroLux T5 Single Bulb Fixture
Durolux 2-Pack T5 HO Fluorescent Grow Light System
Pros:
Versatile: you can use them above, below, horizontally, vertically, etc.

Can connect up to 15 lights together

Optional reflector available

Includes fixture and bulb

Low cost
Cons:
6500K spectrum works for veg, but not as great as the AgroMax Pure PAR spectrum

No warranty
View On Amazon
We earn a commission if you make a purchase, at no additional cost to you.
09/22/2023 08:26 pm GMT
The Single Bulb T5 Fixture from DuroLux includes both the bulb and the fixture. It is a great option when you want some T5 bulbs, but do not already have a fixture (or do not want to purchase a larger fixture).
This light comes in a 2-pack and there are two versions available: one with a small reflector on the fixture that helps direct the light in one direction and one without the reflector on the fixture. Naturally, the version without the reflector is a bit cheaper.
A great feature is the ability to daisy chain up to 15 of these fixtures together and run them from a single outlet. A small connecting cord is included with your purchase, along with the fixture, the bulb, a 6 foot power cord and screws and clips for hanging.
These single bulbs are 2 feet long and use 24 watts to generate an output of 2500 lumen. The light they emit is 6500K cool white light (a 3000K warm white version also available), which is great for vegging, but not as good as the AgroMax Pure PAR veg spectrum. DuroLux do not provide a warranty for these single-bulb fixtures.
Best Full T5 Fluorescent Fixture With Vegging Bulbs
This article is focused on T5 bulbs, not fixtures. For that reason, I've reviewed my favorite bulbs to use for vegging and only included one single-bulb fixture option for those who want the bulb, but don't have a fixture.
Nevertheless, some people want info on the best full fixtures. Without a doubt, that is the Hydrofarm Agrobrite line. Hydrofarm is one of the biggest names in hydroponic lighting and their Agrobrite T5 fixtures are top-of-the-line, but at budget prices (relatively speaking, of course).
I've written a full review of the Agrobrite line here.
If you're not looking to spend that much and want the best budget option, then I recommend DuroLux.
You'll find their full line of fluorescent fixtures here.
DuroLux cost a bit less than the Hydrofarm lights, but there is also a drop in quality that comes along with that. That is to be expected. Despite the rock-bottom price, the DuroLux fixtures are a notch above other budget fixtures. They are better made and have a lower failure rate.
T5 Grow Lights For Flowering
If you are looking for T5 bulbs for the bloom stage of plant growth, I have good news. My recommendations are exactly the same, since all of the options above are available in both veg and bloom versions.
The flowering versions emit a warmer white light. Usually it has a color temperature of 3000K and is labeled as such on the product page. Some flower bulbs have a color temperature of 2700K or 3500K, but 3000K is most common.
When it comes to the top-rated AgroMax T5 bulbs, the best option for flowering is the Pure Bloom. Their 3000K bloom option works well too (and costs a bit less).
Best T5 Bulbs For Vegging: Final Thoughts
The truth is, you can use just about any T5 bulb to veg plants. But many of them are not that good and only a few have a spectrum specifically tailored for plant growth.
The T5 bulbs listed above are all excellent for vegging plants. The Vivosun bulbs (our budget pick) do have a higher failure rate than our top pick, so there is a higher chance you might have to waste some time getting a bulb or two replaced from your order.