Are you sick of grow lights yet?
I'm guessing you're in your 100th hour or so of reading the best LED grow light reviews you can find.
But you're still no closer to making a decision.
I make this assumption, because I've been there myself. And I've helped countless others in the same situation.
The problem is that there are so many different options on the market.
And unfortunately, most of those options just aren't any good.
You need to first eliminate all the useless LED lights. Then you need to decide which of the quality grow lights is best for your specific garden. It's a daunting task.
That's where review sites like this one come in.
But most "review" sites simply give you a list of the best-selling lights on Amazon. The lights are all different sizes (and many aren't any good anyway). How can you even compare different sized lights?
You can't. But I didn't want to focus on just one size of light (like 1000 watt, for example), because not everyone wants a 1000 watt light.
That is why I decided to present the best series of lights.
Every good brand makes several sizes of lights, so it makes the most sense to do it this way.
To that end, I've narrowed the choices on Amazon down to the 6 best LED grow light series on the market. These lights give you the best results for a reasonable cost. I have not included any of the prohibitively expensive lights, nor any of the dirt cheap ones.
Best LED Grow Light Series Compared
Best LED Grow Lights Reviewed
The following grow light series are the 6 best options currently available on Amazon for indoor growers. By "best", I mean they offer the best value.
There are certainly better quality LED lights, but because they cost ten times as much, I feel the lights listed below give you the best results for your money.
These LED lights are also some of the best-selling grow lights on Amazon. They have a lot of reviews, too.
You'll definitely want to read through those, especially the bad ones.
I find you learn the most about a product from the bad reviews. If the negatives of a product are something I can live with, then I know I've found the indoor grow light for me.
Best LED Grow Light Overall: HLG V2 Quantum Board Series LED Grow Lights
Best Overall
Horticulture Lighting Group Quantum Board Lights
Incredibly efficient — 2.55 μmol/joule means you get far more output for electricity consumed
Dimmable — save money on electricity when you don't need full power
Daisy chain — connect several lights together and run them from a single outlet (only some fixtures)
Large even coverage — large form factor makes for a more even light distribution
Quantum boards — with Samsung LM301H white and additional red or blue diodes
Dimmable driver — top quality driver, dimmable to 10% intensity
Perfect spectrum for plants — warm or cool white light plus deep red or blue (depending on fixture)
Includes 3-year warranty — if you do get a bad unit, you can get it replaced
Shop On Amazon
LED Grow Lights Depot
We earn a commission if you make a purchase, at no additional cost to you.
If you've spent any time in grow forums, you have undoubtedly come across the name Horticulture Lighting Group, or HLG for short. At the very least, you've seen the phrase "quantum boards."
HLG is the company that first introduced quantum boards to the market. Quantum boards are manufactured by Samsung and they are thin panels with open LED diodes on them (they don't have any lenses covering them). These diodes emit a white light that is generally either 3000K or 4000K.
Newer versions of these boards also have some additional red or blue diodes to boost the output in one of those colors. The red RSpec fixture pictured above, for example, features additional red diodes for a flowering boost. There is also a blue BSpec version that has added blue diodes for a boost during vegging.
Quantum boards have several advantages. The biggest is light spread. Because the fixtures are much larger, with many small diodes, they are able to provide a more even coverage than fixtures that are smaller and spread their light out from a more central point.
Another major advantage is that they do not produce as much heat. As a result, they do not need fans. Instead, they are cooled passively using heat sinks. Not only does this mean the fixtures are much flatter and lighter, it also means no noise from fans and no potential for the fans to break (fans are usually the first component to fail).
The spectrum is also an advantage over most lights. It is very similar to natural sunlight and exactly what plants like. But some of the brands below give you the same spectrum.
So are there any drawbacks to HLG lights?
Yes. The primary one is cost. They are a great value, but there are now similar lights from Chinese brands that sell for less (like the Spider Farmer and Mars lights below). Because HLG is an American company, you can expect better quality control and customer service than a Chinese brand.
In the past HLG was only a bit better than good Chinese brands in this department. And I was very critical of them for this on this site.
But they have been working hard to improve those areas and now deliver excellent customer service and their quality control has improved by leaps and bounds, too, ever since they've moved their production from China to Tennessee.
So, does it make sense to get an HLG light over one of the top Chinese brands like Spider Farmer?
That depends.
If you have the budget, go with HLG. They're worth the extra cost. If your budget is limited, go with Spider Farmer instead, if they have a fixture in the size that you need. If not, then go with Mars.
For more information, read our complete HLG review.
Best Value: Spider Farmer SF Series Of Quantum Board LED Grow Lights
Best Value
Spider Farmer SF Series Lights
Extremely efficient — output of 2.7 umol per joule
Samsung LM301B diodes — industry standard and the reason for the high efficiency
Full spectrum light — can be used during all stages of growth, with white light plus red for a bloom boost
Large even coverage — large form factor makes for a more even light distribution
Daisy-chainable — connect up to 60 lights and dim them all together
3 year warranty — you also get a 30 day money back guarantee
Rated for 55,000 hours — 4-5 years with no light bulb changes
Includes light, hanging kit and power cord — everything you need to start growing immediately
Amazon
LED Grow Lights Depot
We earn a commission if you make a purchase, at no additional cost to you.
If you want to go with quantum boards, but HLG lights aren't in your budget, Spider Farmer is an excellent backup. They also use Samsung diodes and Meanwell drivers, but sell at a considerably lower price.
So why are they cheaper?
Spider Farmer is a Chinese brand, which generally means terrible quality control and customer service. But Spider Farmer is actually pretty good at both of those and they have service centers in the US and Europe. And until recently, HLG was not great with their service. That makes the difference between the two much smaller than you usually see between the US brand and its Chinese knock-off.
I would still go with HLG, but only just barely. They introduced the quantum board lights and they are located in the US. But if you want to save a bit of money, Spider Farmer is right there.
Their lights are just as well constructed and they give you the same 3 year warranty to back that up. Performance-wise, they are also on par with HLG and actually have a slightly larger stated coverage area, though they are both about the same for practical purposes. Most importantly, they give you the same even light distribution.
They also do not use any fans and are they are dimmable. Spider Famer includes IR diodes on their boards, which is something HLG does not have. Neither HLG nor Spider Farmer have UV diodes. If you want a quantum board LED fixture with UV or IR, Mars is your only option. Some of their lights have UV. You can check them out below.
Learn more in our detailed Spider Farmer review.
Best Bar Lights: Spider Farmer SE Series
Best Bar Lights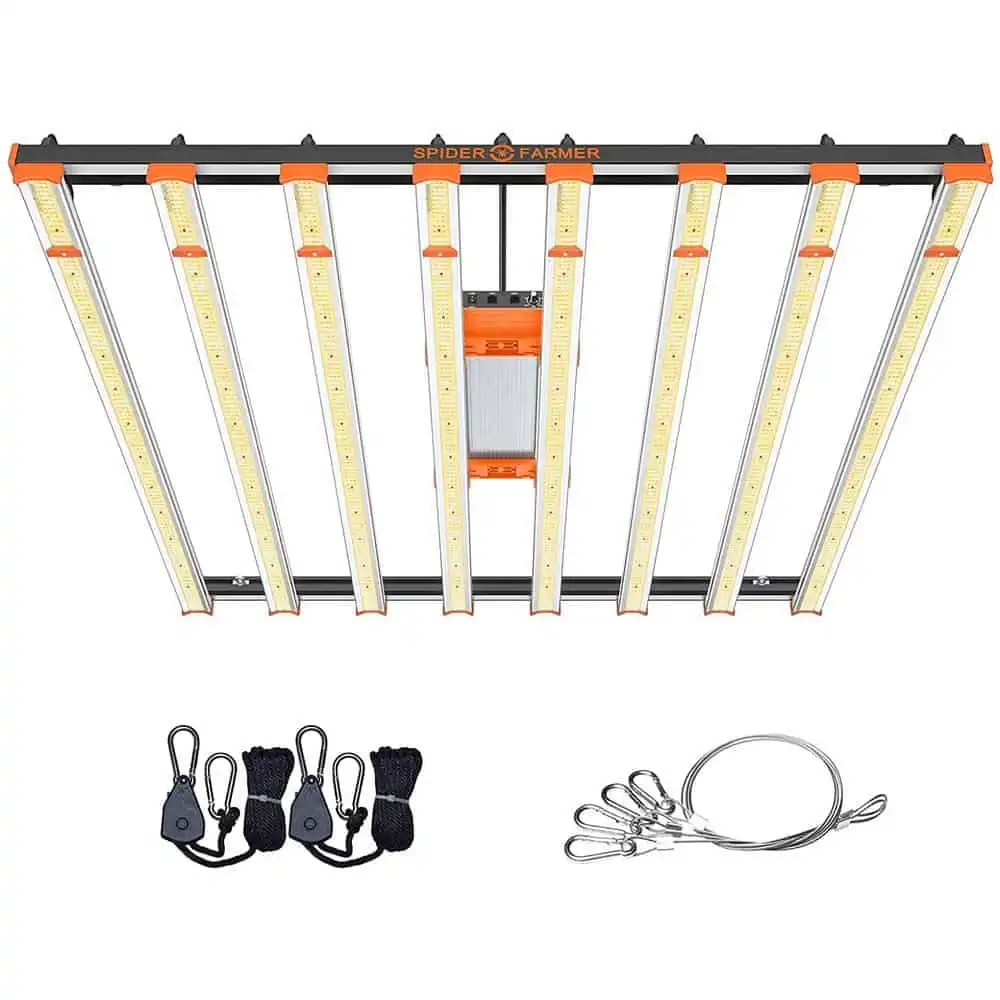 Spider Farmer SE Series
Samsung LM301B diodes — extremely efficient, achieving 2.75 umol/J
Full spectrum light — can be used during all stages of growth, with white light plus deep red, UV and IR for a bloom boost
Large even coverage — large form factor and spread out bars makes for a more even light distribution
Daisy chainable — connect up to 30 lights
Runs on AC100-240V — SE lights will work at any standard voltage (except SE1000W, which needs 220v)
Rated for 100,000 hours — 8-10 years with no light bulb changes
Includes light, hanging kit and power cord — everything you need to start growing immediately
Amazon
LED Grow Lights Depot
We earn a commission if you make a purchase, at no additional cost to you.
We've already covered Spider Farmer as a brand above, so we won't get into that again. We also won't go too much into the lights, since the specs are easy to see on the product pages.
Instead, we'll explain why we consider these the best bar lights and not any of the other 100 or so brands that have jumped on the bandwagon and started making bar lights, too.
Right off the bat, we do want to acknowledge that there are better lights. specifically, the Gavita bar lights. If you have an unlimited budget, so with those.
But they do cost a lot more and we simply don't feel that the much higher price translates into much better results. Your plants will do just as well under a Spider Farmer light as a Gavita, so why spend so much more?
Then there are the other "premium" brands. Arguably the top two are the ROI series from Grower's Choice and the from Optic LED. These also cost more (though both have dropped their prices considerably), because they are American brands.
But both make their lights in China and both have horrific customer service (especially Optic) that is on par with bad Chinese brands. You will get better service from Spider Farmer at a lower price.
Finally, you have the cheaper brands. Basically, any Chinese brand now makes bar style lights, because that is the current fad. If you want to save as much as possible, you could try some of these and chances are it will be fine.
But they do have high failure rates and if something goes wrong, it is almost impossible to get good warranty service. You'll likely just end up losing your money. It's up to you whether you are comfortable taking that risk.
As for the lights themselves, there are a few important things to note. The spectrum is basically the same as the board lights from Spider Farmer, so that is great. As bar lights, they have as even a coverage as you'll get and heat dissipation is excellent, too.
That's not to say they run cool though. All powerful grow lights give off heat and these are no exception. But the lights deal with heat well and they don't have any fans. As long as you ventilate your grow room (which you need to do anyway), you'll be fine.
The lights are also dimmable. More importantly, you can daisy chain up to 30 of them together. One important not is that the largest one, the SE1000W, can only run on 220 volts.
Note: Spider Farmer has recently introduced a new G line of lights that is similar to the SE series but does not use the same name-brand components. As a result, the G-series lights cost a good bit less.
Best COB: Phlizon COB Series LED Grow Lights
Best COB Lights
Phlizon Cree COB Series LED Grow Lights
Very high output with deep canopy penetration — powerful COB chips penetrate much deeper than regular diodes
Top Rated CREE COBs — more efficient and last longer
Daisy chainable — can connect multiple lights and run from a single power source
Runs on AC100-240V — works for growers in any country
50,000+ hour lifespan — grow up to 5 years without bulb changes
Perfect spectrum for plants — ideal mix with peaks on red and blue, but some light in every wavelength, plus UV and IR LEDs
Includes 2-year warranty and 30-day returns — if you do get a bad unit, you can get it replaced
Shop Now
Our Review
We earn a commission if you make a purchase, at no additional cost to you.
I really wanted to include at least one plant light fixture that uses COB (chip on board) technology on this list, but most COB lights are either very expensive or very low quality.
Luckily, there is one series of COB lights that sells for a great price and still delivers high power and a great spectrum: the Phlizon CREE COB Series. The 5 lights in the series (1000w, 1500w, 2000w, 2500w and 3000w) sell for a similar price as other budget lights, but deliver a better performance, especially where power and light spectrum are concerned.
They combine white COBS (with a 3000K color temperature and with a 600K color temp) with supplementary diodes to boost the spectrum in those wavelengths that plants need the most to grow (blue and red) and add some IR and UV light.
These LED light are extremely bright and the smallest covers a 3 by 3 area during flowering, while the largest can cover a 5×5 area, though I'd use it for 4.5 by 4.5 max. During veg, you can add a foot each way.
The only real issue I have with these lights is the same I have with all Chinese brands: the misleading names. Let's take the smallest light as an example. Phlizon call it a 1000 watt indoor light, but it is not. It gives you similar output to a 400 watt HID light, with a similar coverage area. It consumes 245 watts and delivers a PPFD of 941.4 umol/m²s at a hanging height of 18 inches.
That's an impressive performance given the price. So why lie and call it a 1000w light?
The Phlizon COB lights ship with an adjustable ratchet hanger, a hanging kit, a power cable, grow glasses and a thermometer and humidity monitor. They are covered by a 2-year factory warranty and have a 30-day money back guarantee.
Good Budget Alternative: MarsHydro TS, SP, FC, FC-E Series LED Grow Lights
Budget Alternative
Mars Hydro LED Grow Lights
Efficient — save about 50% on electricity over HID lighting
Modeled after industry leaders — some use identical components (Samsung LM301b), others use Bridgelux (not quite as good, but lowers cost)
Dimmable Driver — some have Meanwell drivers and some have knock-offs; all are dimmable and can be removed from the unit and placed outside your grow tent to keep heat down
50,000 hour lifespan — up to 5 years without bulb changes
Ideal spectrum for plants — the perfect light for all stages of growth, with peaks on red and blue and a lot of light in every other color, plus UV and IR (on the SP series)
Includes 5-year warranty and 30-day returns — if you do get a bad unit, you can get it replaced
Shop On Amazon
LED Grow Lights Depot
We earn a commission if you make a purchase, at no additional cost to you.
If you've spent time on forums for growing, you've probably come across the Mars Hydro name. The reason for that is that they pay those forums to discuss their lights. You can't fault them for advertising, but you do want to be aware that these lights are not as amazing as you might read.
Don't get me wrong: they are good lights for the price. And the price is low. But there are issues to be aware of.
They're a Chinese company, which means a higher incidence of faulty lights. Luckily, you can return it if you buy from Amazon, but you still lose time. Customer service has also been a problem in the past, but they now have a service center in California, so this should improve.
Bottom line: Mars Hydro lights are a great option to check out, if you're looking to get a powerful light to help your plants grow at a low price. You just need to be aware of the potential issues.
With some of their other lights, the cost savings might not have been worth it. But they really stepped up their game in the past few years and now have four excellent series of lights: the TS, SP, FC, and FC-E series. The first two are modeled after the quantum board style lights and the last two are modeled after the bar style lights that have recently taken the market by storm.
All use use many small all-white diodes on a large fixture, which makes for an even light spread.
Mars adds some additional red light (as do HLG with their newest fixtures, and Spider Farmer as well), plus UV and IR diodes (on some series). Spider Farmer has IR, but no UV, while HLG has neither. And Mars fixtures are much cheaper.
What's the catch?
Mars does not use Samsung chips or Meanwell drivers on all their series. That keeps the costs down. They use Chinese copies of both on the TS and FC-E series, but they use Samsung chips and Meanwell drivers on the more expensive FC series (also on the larger SP series lights).
There is some confusion surrounding all of this, though. Unfortunately, the confusion is down to Mars lying. When they first released these lights, they claimed to be using Meanwell drivers, when they were actually using knockoffs.
They now do use Meanwell drivers on some of their lights, and they do seem to be labeling everything correctly and honestly. But they always have been, and likely still are, a dishonest company.
That is why I am always a bit reluctant to recommend them. I have to remind myself that most Chinese brands operate like this and the bottom line is that Mars makes good lights that perform well (though never as well as they claim).
You'll have to decide for yourself how you feel about this. Personally, I would pay a bit more and go with Spider Farmer (or pay even more for HLG), unless those companies did not have a light in the size I wanted. Then I would go with one of these Mars fixtures.
If you are on a strict budget, Mars will probably be the best option for you. Likewise, if you need UV light, the two SP series lights are the only ones that provide that.
Learn more in our full Mars Hydro review.
Best "Blurple" LED Grow Light: BestVA Double Chip Series LED Grow Lights
Best Blurple Lights
BestVA LED Grow Lights
Highly efficient — about 50% less power consumption than the equivalent HID lights
Full spectrum light — great for all stages of plant growth from vegetative stage to bloom
Excellent core coverage — same as a the equivalent HID fixtures
Double-chip Samsung LM301B diodes — deeper canopy penetration than standard chips
Runs on AC85-265V — will work in any country
Rated for 100,000 hours — 4-5 years with no bulb changes
3-year warranty and 90 day return guarantee— risk-free purchase
Includes light and hanging kit — everything you need to start growing plants immediately
Shop Now
Our Review
We earn a commission if you make a purchase, at no additional cost to you.
At first glance, it seems like BestVA is offering monstrous LED lights for an incredibly low price. Unfortunately, the 1000 watt is not really a 1000 watt LED grow light. Not even close. The same goes for the 2000w, the 3000w and the 4000w.
3000 and 4000 watt lights don't even exist. The 3000w one is basically equal to a 600 watt HID light bulb, in both coverage area and output. And all of the other lights in this series are similarly mislabeled.
So why are these fixtures on our list of the best LED plant lights, if the manufacturer lies so blatantly?
Because virtually all Chinese brands do this and if you ignore the mislabeling, they are still great indoor lights. They sell for a very low price and with their 10 watt LEDs (Bridgelux/Epileds 5 watt double chips), they penetrate far more deeply into the canopy than most competing lights of this size.
They have a great spectrum that is made up mostly of cool and warm white diodes, along with some blue and red. This is the new "blurple" and it is very effective for plants during both veg and bloom. It is a huge improvement over the previous versions of these lights, that featured primarily red and blue diodes.
All of the BestVA lights give you a great output for the power they consume and they also have an incredible cooling system, including heat sinks and cooling fans, that effectively dissipate the heat from the powerful 10w chips. They ship with a power cord, hangers, and rope ratchets, and also come with a 3-year warranty and a 90 day return guarantee. They have a lot of great reviews on Amazon, too.
Buying LED Grow Lights: Factors To Consider
Whether you're new to growing indoors altogether or just new to growing cannabis plants with LED plant lights, you may not be familiar with some of the unique characteristics of LED lighting. Here are the main factors you want to check on when purchasing LED horticultural lights for your cannabis grow.
The factors are listed in no particular order. Only you can know which one is most important to you, given your specific growing situation.
Real Wattage And Theoretical Wattage
You may have noticed that most LED lights have two different wattage figures. One of these is the potential wattage and the other the actual wattage. The potential wattage is the wattage the light could run at if the LED chips were running at full power. For example, a light with two hundred 3w LEDs has a potential wattage of 600.
LED chips are never run at full power, though. Doing so would considerably shorten their life span. Generally, they are run at 50 to 60% of their potential power. This is their real wattage and is the amount of electricity the light will actually consume.
The 600 watt LED grow light from the example above would probably have a power draw of 300 to 400 watts. And lights listed as 300w don't actually have a power draw anywhere near that much either, especially if it's a Chinese brand (they tend to exaggerate a lot).
Light Spectrum
Most indoor horticultural LED lights use LEDs in multiple colors. The majority will be various shades of red and blue, with the better lights also using some white LEDs as well as some infrared and ultra-violet ones.
This mix of colors gives you all the light plants, including cannabis, need for every stage of growth: cloning, veg and bloom. It is referred to as full-spectrum light and is generally what you want. All of the fixtures above, from BestVA to Phlizon, offer some variety of this light spectrum.
There are a few exceptions. If you are looking for a light to only grow clones or to just veg plants, then you might want to check out one with mostly blue LEDs. If you are looking for a light to supplement your existing setup to give your plants a boost during the flowering stage, you'll want one with mostly red LEDs.
Finally, I need to mention all-white LED fixtures. These lights use only white LED, which gives them a spectrum similar to natural sunlight (which is also a mix of the HPS and metal halide spectra). Proponents of white light claim it is best for plants, because it gives them the light they are used to from the sun.
More and more, the indoor cannabis industry as a whole is moving toward white light. White LED grow light fixtures are becoming much more common on the market as a result.
And white light does work well to grow and flower plants. But it includes a lot of light in the yellow and green ranges, which is light plants do not use much during photosynthesis. Thus, it goes to waste, right?
That has been the case made by manufacturers (and fans) of fixtures with mostly red and blue LED lights. They say these are more efficient, because you are not using any of the electricity you paid for to produce light that plants don't want.
But plants do want that light. Sure, they don't want as much of it as they do of light in the red and blue wavelengths, but they do still want it. That is why the best-selling LED grow lights these days all include white LEDs on their lights. And many use mostly white LED light.
Light Intensity
For LED lights, the most widely used measure of intensity is PAR (technically, it is PPFD and not PAR, but most still refer to it as PAR). It stands for Photosynthetically Active Radiation and is used to measure the amount of light in the wavelengths that plants use for photosynthesis. Some brands will list the lumen output, but that isn't all that useful for grow lights.
Some brands give PAR readings for their indoor plant lights; others do not. Those that do often only give one value, which doesn't really tell you much about its effectiveness for vegetative growing, much less blooming.
That value was taken dead center beneath the light. A large value here means you have a powerful light in the middle of the coverage area, but it tells you nothing about the strength of the light around the edges.
Ideally, manufacturers will provide a PAR footprint that shows PAR readings throughout the coverage area. Most do not do this, however, so you will often have to look to tests done by third parties, such as review sites, for this information. For white LED lights, lumen output can have some value. For others, it is mostly useless.
Coverage Area
This refers to the area a grow light can cover while still providing enough light for the plants in that space. For the flowering stage of growth, plants need more light, so you will have to move the light fixtures closer to the canopy. This increases the intensity, but also decreases the coverage area.
This is why LED lights have a smaller coverage area for the flowering stage than they do for vegging. Always make sure the space given by the manufacturer is for blooming, unless you only plan to veg with your light.
Cooling System
The best LED grow lights give off far less heat than HID bulbs, but powerful LED diodes still emit enough heat that they require cooling. Any larger LED fixture must have heat sinks to reduce the amount of heat emitted and internal fans to disperse whatever heat remains.
You want to make sure that a LED light's cooling fans and heat sinks are adequate for the amount and strength of diodes in contains. If it isn't, this will considerably shorten the life span of the LED chips and make them far less efficient.
Another issue to consider is noise. Fans can generate a lot of noise, so fixtures with multiple fans will be much louder than you might think.
When you add their noise to that of oscillating fans and exhaust vans for your tent, you can end up with a fairly high noise level. If this is a concern, consider a fixture with fewer, or even no, fans.
Why Trust Grow Light Info Reviews?
We don't just recommend the lights that have the most reviews on Amazon and promote them as the best. That's what a lot of sites seem to do (it's the only way to explain some of their bizarre recommendations).
Instead, we spend hours researching each light and we either consult with actual growers, or have an actual grower write our review. This results in recommendations that actually work to grow ad flower cannabis.
It is true that there are perhaps better grow lights on the market than the ones we recommend, but those lights cost much more. Our choices give you the best value for money. They are almost as good as the top lights on the market, but cost far less.
General Info On LED Horticultural Lights
LED growing lights have come a long way since they were first introduced. Today's LED lights give you yields equal to, and in some cases better than, HID lighting. They are simply far more efficient.
Older LED lights were great at vegging, but they fell short when it came to flowering. They just didn't have the required intensity and the amount yielded from a given space suffered as a result.
Modern light emitting diodes are capable of handling veg and bloom.
Vegging (growth)
During vegging, plants require more bluish light with wavelengths that range between 430-460 nanometers
Flowering (blooming)
During flowering, plants need more reddish light and also more intensity. This light has wavelengths that range between 650-700 nanometers.
Quality LED grow light manufacturers produce fixtures that provide several shades of blue and red light. Additionally, the best LED grow lights also have some white LEDs.
White LED Grow Lights
White light contains a lot of green and yellow wavelengths. Plants don't use much of this light to grow, so you don't want to have too much of it (like HPS and MH bulbs), but it's good to have some. Finally, quality LED lights often also have some infrared and some ultra-violet light.
LED grow lights are energy efficient, specifically because they do not contain only white light (i.e. light in the yellow and green ranges). They provide the exact light plants need to grow and nothing more. This way, you are not using electricity to produce light that goes to waste.
Sunlight, for example, contains a ton of yellow and green light. Yes, it works well to grow plants, but that's because it also contains the red and blue wavelengths plants need. All the other colors go to waste. Since the sun provides an unlimited supply of light, it doesn't really matter that so much of it goes to waste.
Things are different when we are paying for it, though. That is exactly what happens with traditional grow lights, like high-pressure sodium (HPS), metal-halide (MH) and fluorescent light bulbs. They emit mostly unusable light.
And the same is true for all-white LED grow lights, despite what the manufacturers of those lights claim. Yes, they work, but they waste a lot of energy unnecessarily. That's why the top LED grow lights have white diodes, but they supplement those with additional red and blue LEDs.
Common Uses For LED Grow Lights
LED plant lights are commonly used for the following applications.
Standard Gardening
LED grow lights might be used in greenhouses to supplement natural sunlight or the may be used exclusively for underground or indoor gardens.
Urban Farming
In urban area where space is limited, LED grow lights can completely change the way we grow food. They allow us to move grow operations into abandoned warehouses, old subway tunnels, etc.
Algae Making
Algae is now widely used to manufacture bio-fuel and LED grow lights are perfect for growing algae. For this application, grow lights that only veg (i.e. they have mostly blueish LEDs) are perfect, so you can spend less on electricity since less power is needed for vegging. They also run cooler.
Marijuana Cultivation
This is the fastest growing area for LED lighting and it is revolutionizing the industry. Quality LED lights produce more and higher quality yields, while using less power and creating less heat. They are excellent for marijuana plants.
LED grow lights may cost more to purchase upfront, but the operating costs are much lower and the resulting light output is worth more.
Costs are reduced and revenues increase. Grow operations become much more profitable. And in the past few years, home growers have been switching to LED light for their marijuana plants in huge numbers, too.
LED Grow Lights Are The Future
LED grow lights can help a grower save up to 75% in energy consumption. They have a smaller heat signature as well, which saves even more.
Their incredible efficiency and their improved yields make LED light the horticultural lighting of the future. And for the countless growers who have made the switch already, they are the grow lighting choice of the present, too.
Best LED Grow Lights: Final Thoughts
Quality LED grow lights are the best solution we have today for growing plants indoors. They are more efficient that traditional forms of light, meaning they produce more output, while using less electricity and producing less heat.
They also last much longer. You won't have to change bulbs for at least 5 years, and often over 10.
The Bad News
But there are downsides. Well, one big downside. And that is the proliferation of low-quality LED lights.
In the past five years, tons of brands have flooded the market with low-cost LED grow lights that are practically useless. They either only veg and do not have to light intensity required to flower plants, or they simply use the wrong spectrum to be of any use.
If you're in the market for an LED light, I'm sure you've been doing your research and have come across a number of these cheap grow light fixtures. Those will not grow a plant, much less flower cannabis plants. LEDs like that are not a good choice and a huge waste of money.
Unfortunately, not all of these lights are easy to recognize; some of these manufacturers are very good at marketing and know how to make their LED grow lights appear far better than they are.
What can you do then to avoid making a bad choice and blowing your hard-earned money one useless LEDs that your plant will hate as much as you?
You're already doing it.
The Good News
Sites like this one wade through all the crappy choices and find the quality lights. And they don't always have to be the most expensive options either (Phlizon and Spider Farmer are both good examples of this). You can get really good LED grow lights for not too much more money than their HID plant light equivalents.
Even if the best LED grow light is not necessarily the most expensive, LEDs will cost at least a bit more money than other forms of plant light. Those LED grow lights selling at rock bottom prices are the ones you want to avoid. The bad choice.
Pay a little more for a huge jump in quality, in terms efficiency and light spectrum. If you are not willing to do that, you are not yet ready to switch to LEDs.
And that's fine. HID and fluorescent lights have worked for decades for growing cannabis plants and other plants as well, and they still work well today. LED grow lights just work better.