Beginning growers always want to skip the fans.
I was the same. I figured I could just use whatever fan I already had lying around and stick it in my grow tent.
And it can work. But it's usually not enough.
All but the smallest grows need both an inline fan and an oscillating fan. At a minimum.
The good news is that even the best fans for your grow tent are not overly expensive. You just have to know which models represent good value.
And more importantly which ones you should avoid at all costs (hint: most of them).
Let's dive right in and get started with a quick comparison of the top inline and oscillating fans on the market.
Best Fans For A Grow Tent Compared
09/22/2023 03:56 am GMT
Best Grow Tent Fans Reviewed
The following fans are the best options on the market. We have a top choice for both inline and oscillating fans. These top choices represent the best value. Then we also have recommendations for the best budget models and the highest quality options.
Best Inline Fan For Grow Tent: AC Infinity Cloudline T6
AC Infinity Cloudline T6
Pros:
Wired sensor won't disconnect

Self-adjusting airflow

Great value for the money

10 speeds

Over 5000 positive reviews
Cons:
Not the best option on a tight budget
View On Amazon
We earn a commission if you make a purchase, at no additional cost to you.
09/22/2023 03:56 am GMT
The AC Infinity Cloudline T6 is the best overall inline fan, by a large margin. It is not expensive considering all it does, and it was  designed specifically with growers' needs in mind.
Many inline fans are simple, like the type you see installed inside computer cases. They just turn on and off, many times based on a thermostat. The T6 is much smarter, with some killer features that make the asking price totally worth it.
Automated programming makes is easy to set up and program for your situation, with minimal hoops to jump through. Many inline fans that offer programming are hard to configure due to the interface and multiple screens and menus. The T6 is much easier with its automated programming.
Self-adjusting airflow is a feature that really helps keep things moving. The airflow will either increase or decrease depending on the temperature and humidity, based on the parameters you set in the automated programming process.
The Cloudline T6 has 10 speeds. This may seem excessive, but if you have a medium to large grow tent, you will appreciate this feature. 3 speeds are not always enough, depending on the other environmental factors inside your tent.
This unit has a wired precision sensor probe which gives your LED screen real time feedback from inside your environment. The reason this is nice, is that many use a wireless sensor which seem to always disconnect or have connection issues.
Best Oscillating Fan For Grow Tent: Comfort Zone CZ16W
Comfort Zone CZ16W
Pros:
Easy operation via pull cord control

Sturdy design with metal safety grill

3 speeds

Adjustable tilt

Wall mountable
Cons:
Would have been nice to have a timer or self-shut off
View On Amazon
We earn a commission if you make a purchase, at no additional cost to you.
09/22/2023 04:01 am GMT
The Comfort Zone CZ16W is a 16 inch wall mount 3 speed fan with an adjustable tilt. It oscillates, so it can cover the entire grow room with moving air.
This is not a fancy fan with temperature or humidity gauges. It is a basic no-frills wall mount fan that will move a lot of air in a medium or small sized grow tent or room.
The reason it is our top choice for the best oscillating fan is that it gives you exactly what you need in a sturdy well-made product with no extra features or fussy tech to make things more complicated and drive up the price..
But the CZ16W does have some features that make it stand out and helped it become our #1 choice.
Three speeds are nothing too special. Most oscillating fans have 3 speeds, but the fact that this is a 3 speed fan, and it has the other features I am about to lay out, makes it especially useful.
The adjustable tilt is nice. It allows you to point the airflow exactly where it needs to go, giving you more fan placement options.
Fixed fans with no tilt really limit your mounting options because they need to be at the exact height your plants are. And that height obviously changes as the plants grow.
The oscillation on this fan is nice and smooth. This is a minor point and more of an aesthetic concern.
I just find it annoying when an oscillating fan is all jerky with its movement. This fan is nice and easy, without any annoying jerks as it catches up to its oscillation motor.
Best Budget Inline Fan: Vivosun 4 Inch Inline Duct Fan
Vivosun 4 Inch Inline Duct Fan
Pros:
Simple metal design with very few things to go wrong

Moves a lot of air for a small size

Does its job very well

Very affordable
Cons:
Has to be connected to a power switch to turn off
View On Amazon
We earn a commission if you make a purchase, at no additional cost to you.
09/22/2023 03:46 am GMT
The Vivosun 4″ Inline is my favorite budget inline option. When you get one of these, do not expect any kind of fancy features or technology.
This is a 4″ fan that can be used as an intake or exhaust fan. The 4″ size makes it compatible with the popular 4″ duct tubes.
It is entirely metal (vs plastic like some are) and runs at 2930 RPMs. You will not see any speed switches or thermostats on this thing.
It is just a fan that does one thing: either it is on or it is off. It is not heavy, and it requires no maintenance unless something gets caught in the fan.
It moves 100 CFM of air and consumes 12 watts of power. It is a small fan that will move a lot of air and should not cause you any additional headaches. It does have a max temperature of 266 degrees, which should not be a problem for a normal grow tent.
It does come in a 6 or 8 inch version, but the 4″ is the most popular and generally large enough for most smaller to medium sized grow tents. You can use it in any type of tent, but we recommend Vivosun tents to anyone on a budget. Read our full Vivosun grow tent review for more.
Best Budget Oscillating Fan: PELONIS PFT30T2ABB-V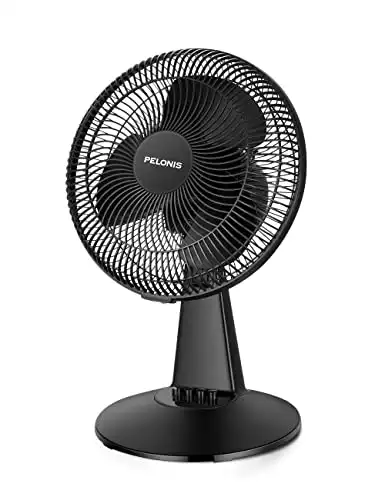 Pelonis 12-Inch Oscillating Table Fan
Pros:
Moves a lot of air for the size

Only 19" tall makes it fit almost anywhere in your tent

Can adjust the tilt or the speed

Has a 1 year warranty
Cons:
Does not feel as sturdy as more expensive options

Does not come with a way to mount it on the wall, so you'll have to rig something
View On Amazon
We earn a commission if you make a purchase, at no additional cost to you.
09/22/2023 03:51 am GMT
The Pelonis PFT30 is a killer oscillating fan for a low cost of entry. It is a 12 inch low profile fan that can move a large volume of air for such a small fan.
It is designed as a table fan but can also be placed on the floor to move some of the cooler air that settles down low in your grow tent.
It is a surprisingly powerful little fan without being too loud. It stands just under 19″" total and has 3 operating speeds. It has button controls for the speeds, with one button for each. I found the buttons a little annoying and would prefer a dial, but it is a minor gripe.
The Pelonis is sturdy but I would not recommend kicking it around or dropping it. The main unit housing feels like it could crack easily, and the fan cage is thin metal and will bend and ding with heavy use. If you set it up and are careful not to abuse it, it should last for a long time.
This is an inexpensive little 12″ oscillating fan that will do the job and not cost you too much money. Just don't expect it to last as long as the high end models!
Highest Quality Inline Fan: AC Infinity Cloudline T8
AC Infinity Cloudline T8
Pros:
Extra quiet motor

Standard 8" size

Wired sensor is more accurate

Comes with duct clamps

Extremely well made
View On Amazon
We earn a commission if you make a purchase, at no additional cost to you.
09/22/2023 03:36 am GMT
The AC Infinity Cloudline T8 is the most well made option I could find in this category. It is not the most inexpensive 8″ duct fan, but it is the one that has the most options and the highest level of quality.
It is a button controlled duct fan that comes with a handsome LED read out display, and a wired sensor that will send temperature and humidity data to the fan.
This fan is specially designed for grow rooms so it knows what it is doing. It comes with 2 duct clamps as well, so you do not need to buy separate ones when your fan arrives. It can clip in to your existing 8″ ducts without any hassle.
It is exceptionally quiet, especially for an 8″ inline duct fan. The reason for this extra quietness is the pulse width modulated motor, which also uses less power at the same time it is being extra quiet. It moves 807 CFM of air which is a lot!
This unit can link up with and communicate with another AC Infinity inline fan if you already have another one in the same application space.
The build quality is noticeable when you hold it or install it. Compared to similar products in the same price bracket, this one feels remarkably more well-built.
Highest Quality Oscillating Fan: Hurricane HGC736474
The Hurricane 20″ Wall Mount fan is the highest quality oscillating fan I could find.
If you are looking for a fan that will last for years and not break on you… that also moves a massive volume of air, and you have a decent budget, this is your guy!
This unit is a high velocity fan, which means the blades move extremely fast on high speed. It is a 20″ fan as well, so the motor is powerful.
Do not stick your finger in this one, kids, because you will lose that thing quick. If that does not scare you, these blades are hard metal blades as well, so think of this thing as a high velocity finger removal machine and keep it far away from kids or animals.
Seriously, though, it really does move a ton of air very efficiently. It is built like a tank with strong metal fan blades and cage.
It has an adjustable tilt and 90 degree oscillation range. The tilt is not as extreme as some other wall mount fans I have seen, but the 90 degree oscillation makes up for it a little bit.
Grow Tent Fan Buying Guide
If you are not completely sure what type of fan you need and what features are important, this buying guide will clear some things up. We'll begin with a rundown of the different types of fans.
Different Types of Fans
There are 3 basic types of fans typically used for gardening applications:
Inline fans
Oscillating fans
Static fans
Each type of fan is used for a specific purpose. Most serious growers will need all 3 types for a successful operation.
In addition to having humidity control and temperature control via a central A/C unit or a window mount or portable unit, having airflow is necessary for reasons discussed earlier.
It is not enough to just control temperature and humidity. And each type of fan will aid you in a different way.
Inline Fans
These are fans that are typically installed within a duct system or used as exhaust fans blowing directly outside. They are not always equipped with sensors or on/off switches but many of the higher end models are.
They are called inline, because they are used in line with the ducts, as an integral part of the ventilation system, as opposed to a free standing fan that blows air all around the room.
A serious grow tent will need at least 2 inline fans, one for intake and one for exhaust. Some larger operations will have several inline fans to do the job. Smaller tents usually just have an exhaust fan.
Oscillating Fans
Oscillators are fans that serve to move air around inside the tent, or room. Where inline fans are used in a closed system to bring in air from outside or push air from inside to the outside, oscillating fans keep the internal air from getting stale.
They also serve the important role of agitating your plants, serving as artificial wind inside your closed system. Plants need to be moved around by natural forces to help them stay healthy, and since you have no wind inside, the oscillating fans are taking the place of natural wind.
This type of fan is also good for keeping the temperature even throughout a large area. In any room, especially one with grow lights and other heat sources, hot spots will quickly emerge.
Near the lights it may be several degrees hotter than elsewhere in the tent. Moving the air from one place to another will keep ambient temperatures more uniform in your space. The moving air also serves to dry the plants, which prevents mold from forming.
Static Fans
These are the basic fans you see everywhere. They do not oscillate or move. They can either sit on the floor or be clipped on to structures, but static fans are stationary.
Static fans are used in situations where you need to constantly move air in a specific area of the room, and you want the airflow to stay on the same spot over time.
A great example of when you need a static fan would be if you had a section where several lights were in one spot. A static fan could cool the surface temp of the lights as well as drop the temp in the immediate area, before the oscillating fans move the air out of the area.
Fan Size
The bigger the fan the more air it will move. This is a simple concept which makes it easy to choose your fan size.
Of course, that is not always the only concern, considering many of us are working within finite space constraints. If you had a massive warehouse, you would simply buy as many of the biggest fans as you could afford and move as much air as possible.
Inline
Inline fans come in many sizes. The most common sizes you will see in grow tents are 4″ and 6″, with the occasional 8 or 12″ fan. They do get even bigger but once you get over 8″, you are getting into some heavy duty large spaces, not the normal grow tent situation.
Oscillating
Oscillating fans come in many sizes as well, but most situations require a 12″ fan or larger, which are the most common sizes. Chances are good that if you have a normal grow tent you will be looking for a small oscillating fan for grow tent use of around 12 inches in size. These can move a lot of air and do not take up too much space.
Static
Static fans can be found in the same sizes as oscillating fans. Most common for our application are the clip on 8″ or standard floor fans. Most box fans that sit on the floor are about 20″. You can choose the size you need based on your specific situation.
Budget
Because fans are so important, it makes sense to buy the best ones you can with the money you have. Since they are generally not that expensive you can get a significantly better fan for only a few dollars more in most cases.
You want a fan that will last a long time and move a lot of air. You usually want it to do so with a minimum amount of noise, too.
There are many poorly made fans you can get for extremely cheap, so be careful! If you stick to the fans we have highlighted here, you will be sure to get a quality unit at a fair price.
Best Fan For Grow Tent: Final Thoughts
If you are growing weed in a grow tent, you will need an oscillating fan at the least. Most likely, you will also need an inline fan to vent air out of the tent. In larger tents, you'll want a second inline fan to suck fresh air inside.
All of the fans listed above will serve you well. Our top choices represent the best value, so we strongly recommend you go with those, unless you have an unlimited budget. Then get the ones we denoted as "highest quality".
Don't get the "best budget" models, unless you are in fact limited by a strict budget. They are good fans, but you can get the much better fans for not too much more.