You do not want to grow marijuana without using a timer.
Even if you only have a single plant,  it is simply too risky to rely on yourself remembering to turn the grow light on and off at the correct time every single day.
Even if you always remember, what if something comes up and you can't be home to turn the lights on or off?
You need a timer.
Luckily, even good ones are very inexpensive.
Keep reading for reviews of the best timers for grow lights on the market today. We'll start with a table comparing all of our top choices.
Best Timers For Grow Lights Compared
$13.79

$12.99 ($6.50 / Count)
09/23/2023 12:31 am GMT
Best Timer For Grow Lights: Reviews
The following are our recommended timers for grow lights. The first one is our top pick overall and the one we recommend for most people.
But if you are on a budget, or you prefer a power strip style timer with multiple outlets, then one of the other 4 options may be better for you.
Best Overall: Canagrow Indoor Digital Programmable Timer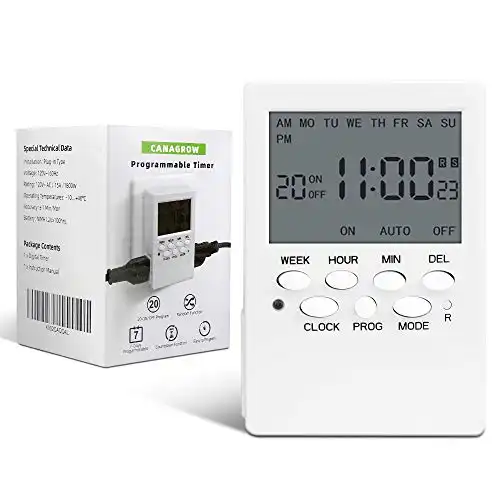 Canagrow Digital Programmable Outlet Timer
Pros:
Can set your program for a full week with up to 20 different scenarios

Has 9 modes which make it easy to choose the best one for your setup

Easy to program and use with the clearly labeled buttons and large LCD screen

Safe to have around kids with the child lock function
Cons:
Not designed for outdoor use; could break if it gets wet or cracked

Pure white color is sure to get dirty after several uses
View On Amazon
We earn a commission if you make a purchase, at no additional cost to you.
09/23/2023 12:31 am GMT
The Canagrow is designed specifically for growing cannabis and has an easy to use button interface with clearly marked functions near each button.
It is a 2 outlet model, so you can hook up 2 lights to the same timer, which is a convenient feature for grow light timers. It is a well known form factor:, just a rectangle device that plugs into your wall outlet or surge protector.
It has a clear digital LCD screen that displays the time, day of the week, AM or PM, the mode it is currently in, and the other important information you need to know. The screen is nice and big so you can see it without squinting or guessing what is going on.
Compared to other similarly priced units, this one has the best feature to price ratio, and nearly 2000 positive reviews to back it up.
It is not expensive considering all it does and has a decent (though not exceptional) guarantee and warranty. It is the best choice for the job in this price range, for sure.
Features
Versatile Timer Function: It can store and execute up to 20 different on/off programs, which makes it helpful when you need to customize your light schedule. It has a built in battery as well which comes in handy if you have a power outage, because you will not need to reprogram it.
Child Lock Function: Kids love to mess with gadgets, especially if they have buttons. Thankfully the Canagrow has a child lock function that will allow you to lock the buttons from curious little fingers. If you have ever had to reprogram one of these because junior decided it was a toy, you will appreciate the child lock.
Random Function: This is not especially useful for the purposes of keeping your plants on a solid schedule. However, if you are using it for a different purpose like for indoor lamps or other devices, it could be useful to turn lights on at random times giving the impression that somebody is home when you are on vacation.
Warranty/Guarantee: It comes with a 30 day money back guarantee and a 1 year warranty as well. This is not very impressive, but to be fair these things only tend to break if they are physically broken, cracked, or smashed to pieces.
Best 2 Pack Deal: Nearpow Multifunctional Infinite Cycle Timer
The Nearpow 2 pack deal will get you two high quality timers for a great price. When you consider what each one can do, this is a great deal.
One of the best parts of these timers is that they clearly display the 'on' time as well as the 'off' time together on the LCD screen. Most others only show the current time, and some other data.
You can see exactly when your light will turn on and off. Seems like such a simple thing, but most other timers do not do this.
The unit plugs into a standard wall outlet and has a 2 prong receptacle on the front underneath the LCD screen and the buttons.
The buttons are small since the outlet takes up so much real estate on the front of the timer, which is not my favorite feature. They are clearly labeled but the writing is so small I had to take out my readers to see what they say.
Still, these are useful timers with all the functionality you would need from a grow light timer, and you get 2 of them for the price of one similar model. The Nearpow 2 pack deal is worth it.
Features
Safety Features: Child lock, power-off protection mode (if power goes out the timer keeps its memory), warning tone, insulated chassis.
Multiple Timer Groups: 3 different timer groups can be set at the same time; it also has a countdown and an infinite loop function as well.
Easy To Use: Large (compared to some other timers) LCD screen which makes it easy to see the timer settings and numbers; easy programming; plug and play design.
30 Day Money Back: and 12 month replacement if defective
Best Power Strip: GE 7-Day Programmable Power Strip
GE 7-Day Programmable Power Strip With Digital Timer
Pros:
Handy to have in the grow room or tent because you can use it to time lights and plug in fans or other devices needed in a greenhouse

Heavy-duty, well-built power strip will survive the occasional smack or being stepped on

Also functions as a surge protector and will not allow your devices to experience a power surge which can damage expensive grow lights

Safety covers that twist and lock, keeping forks and other things kids like to stick in sockets out of the power strip
Cons:
View On Amazon
We earn a commission if you make a purchase, at no additional cost to you.
09/23/2023 12:21 am GMT
If you are like most people, you have other things around the house, greenhouse, or grow tent that would be convenient on a timer. Lamps, coffee pots, fans, humidifiers, and other household items, for example.
The GE 7 Day programmable power strip is not only good for timing grow lights, but it is a great choice for multiple uses around the house or greenhouse. You could hook up fans or humidifiers to it as well.
It is in the power strip format you are already familiar with, only it has a small LCD screen and seven buttons underneath the screen you can use to program it.
It has 8 outlets: 4 of them are programmable and 4 are always on. This feature makes it super versatile and useful in a greenhouse or grow tent.
Features
Versatile: Program multiple devices using the 4 programmable outlets, and still have 4 outlets for always on devices. This will help cut down on the amount of surge protectors and timers you already have clogging up your power outlet areas.
8 Outlets: The power strip has 8 sockets and all of them are grounded outlets making it safer to use for higher voltage items that may short circuit or shock you if they are not properly grounded.
7 Days Worth of Programs: The GE 7 Day programmable power strip will let you store and execute 7-day long programs.
Standby Power Eliminated: Having devices plugged in and on standby does not use much power, but when you have multiple devices on standby (like a good humidifier or portable A/C unit and heater) it adds up and can amount to more money being spent on the power bill. The timed outlets cut off all power until they are triggered which will save money across multiple devices.
Best Budget Timer: BN-LINK BND-60/U47 Mechanical Outlet Timer
BN-Link BND-60/U47 Indoor Mini 24-Hour Mechanical Outlet Timer
$13.79
$12.99 ($6.50 / Count)
Pros:
Cheap way to get your lights on and off at a certain time without having to mess with the lights

No buttons to mess with, so hard to make mistakes

2 for the price of one

Water resistant for the occasional mishap
Cons:
Not programmable

Rotary dial makes me feel like I am in 1984 again
View On Amazon
We earn a commission if you make a purchase, at no additional cost to you.
09/23/2023 12:01 am GMT
The BN-LINK BND-60 looks like the classic outlet timer you have seen a hundred times. It is not my favorite format with the dial and the arrow.
Considering how far technology has come, it is slightly annoying to have to look at a rotary dial these days.
However, if you need a simple on/off timer for your lights and do not mind changing the settings for each cycle, this is a great option. It has a single 3 prong outlet on the front underneath the timer dial and it plugs into a grounded outlet.
It is not something you can program, so it lacks that functionality. But for the price paid, you get 2 units, and they are super inexpensive. For a simple one-trick-pony timer, you cannot get a better bargain.
Features
Simple: There are no buttons, LCD displays, or anything else. You get a rotary dial with an arrow and single outlet to plug your light into. It is going to be hard to get confused with this one. It has pins that can either be up or down: down means the timer is on, up means off.
30 Minute Intervals: Allows you to set the power in 30 minute intervals.
Water Resistant: It is water resistant, so an accidental spray by a sprinkler for a few seconds will not cause any issues, but it is not waterproof, so don't start dumping your Mountain Dew on it.
Best Budget 2 Outlet Timer: Vivosun Timer With 2 Outlets
Vivosun 7 Day Programmable Digital Timer
Pros:
Versatile with 8 different programs possible over a 7 day repeat cycle

Inexpensive considering all it can do

Durable with a fortified plastic chassis

2 outlets on either side of the unit allows you to plug 2 different lights into a single unit
Cons:
The side located outlets force the cords to come out the sides and take up more space on the wall
View On Amazon
We earn a commission if you make a purchase, at no additional cost to you.
The Vivosun 7 day programmable timer is a wall wart style timer that plugs into a grounded outlet. It offers 2 separate 3 prong outlet receptacles you can plug your lights into.
It has an LCD screen window and 7 buttons used to input your program criteria. It has a full cut off power function which will cut off all power to your connected devices.
This feature is a good way to save a small amount of power on devices which consume power even when off (standby mode).
It looks like clock with its circular interface and red LED on top. Because the double outlets are off to the side of the unit, it has a larger interface for programming. This is a great feature, but not the only nice feature on this unit.
Features
Great design: The design of this timer is well thought out and has a much larger interface than some of the other wall wart style timers. It is a simple white color with large buttons and a recessed reset button.
Extra Hard Plastic: It is made with extra fortified plastic that can withstand more abuse than other plastic models in this price range. I would not take a hammer to it, but it is not going to break from being accidentally kicked or dropped on a concrete floor.
8 Programs: You can set up to 8 programs in a 7 day pattern with the Vivosun. This is especially useful if you have several plants in different growth phases that all require different light schedules. Since you can have 2 different lights plugged in, this feature is especially useful.
Battery Backup: It has a small battery inside like many of these timers. If power goes out, your program data will stay in the internal memory without the need to reprogram. Of course, it will not turn on your lights if there is no power, but you will not have to fiddle with the interface just because the power went out.
Timer For Grow Lights Buying Guide
When you are buying a timer specifically for use with grow lights for cannabis cultivation, there are a few features that are especially important. Let's take a look.
What To Look For When Buying A Grow Light Timer For Cannabis
Grow light timers come in many brands, but they are all similar in functionality. The key difference in how they work is how long they can keep a schedule.
Up to 7 days is ideal for growing cannabis. Since each growth phase is at least a week (more like 2 to 3 weeks), you will only need to program your timer once every couple of weeks.
Functionality
Cannabis has different growth phases, each with its own environmental needs (such as light and nutrients). Grow light timers are essential tools to have if you are operating any kind of substantial grow room.
When looking for a grow light timer you should consider what it is going to be used for. Of course, it will be used to turn your lights on and off at certain times, but I am referring to something more specific.
For example, if you have plants in the veg stage in one section of your grow tent or room, and other plants in the flowering stage in another area, you want to have the lights in each area on their own schedule.
If you have a set up like this, you need to find a timer that will allow you to set separate schedules so that you can have the lights in each area follow the recommended light schedule for that growth phase.
The good new is that these are so cheap, you could always buy several timers, one for each section of your grow room. This is our recommendation.
You are not going to need an overly complex unit, just something that will allow you to set a program for at least a week at a time. Most of the units on this list have a 7 day programmable schedule.
Interface
Modern grow light timers are mostly the same format, with an outlet or 2 on them, and a small digital display with some buttons. The area where they tend to differ is how big and how clear the interface is.
If you are like me and must use reading glasses for almost everything, you will want to find one that has big LCD screen and clearly labeled buttons.
They can all store programs, but some have more programs available to store. When growing cannabis there are not too many programs needed, other than leaving the lights on for a given amount of time.
There is usually no need to turn a light on and off several times a day, so you most likely will not need many programs stored.
However, some of these units have extra outlets which come in handy to hook up your fans or humidifier, heater, or portable AC unit.
In this case multiple programs would be useful so you can have fans turn on at certain times or have heaters turn off and go off standby to make sure the heater element is getting no power when nobody is present in the room.
Budget
Grow light timers have become so inexpensive these days, that budget is almost a non-issue. However, there is never a need to waste money. We all want a good deal, and to feel like we got our money's worth.
The best advice is to measure how much you can spend versus what you need the timer to do, and how long you want it to last. There are some cheaply made models out there that will easily break and offer no customer support.
If you are buying in quantity, the cost becomes more of an issue. In general, these are so cheap you can make a purchase decision based more on what it can do for you and how long you need it to last versus how much it costs.
Best Grow Light Timers: Final Thoughts
Grow light timers are one area where you do not need to spend a ton of money. You just need something that is reliable and has the ability to program on and off times.
The real question is how many grow lights and other devices you have that need to go on a timer. This will determine how many timers you need.
Many come with multiple outlets, but that is only useful if everything you plug into them is on the same schedule. There are timers that allow you to program separate schedules for different outlets, but these cost more and are not generally worth the additional cost.