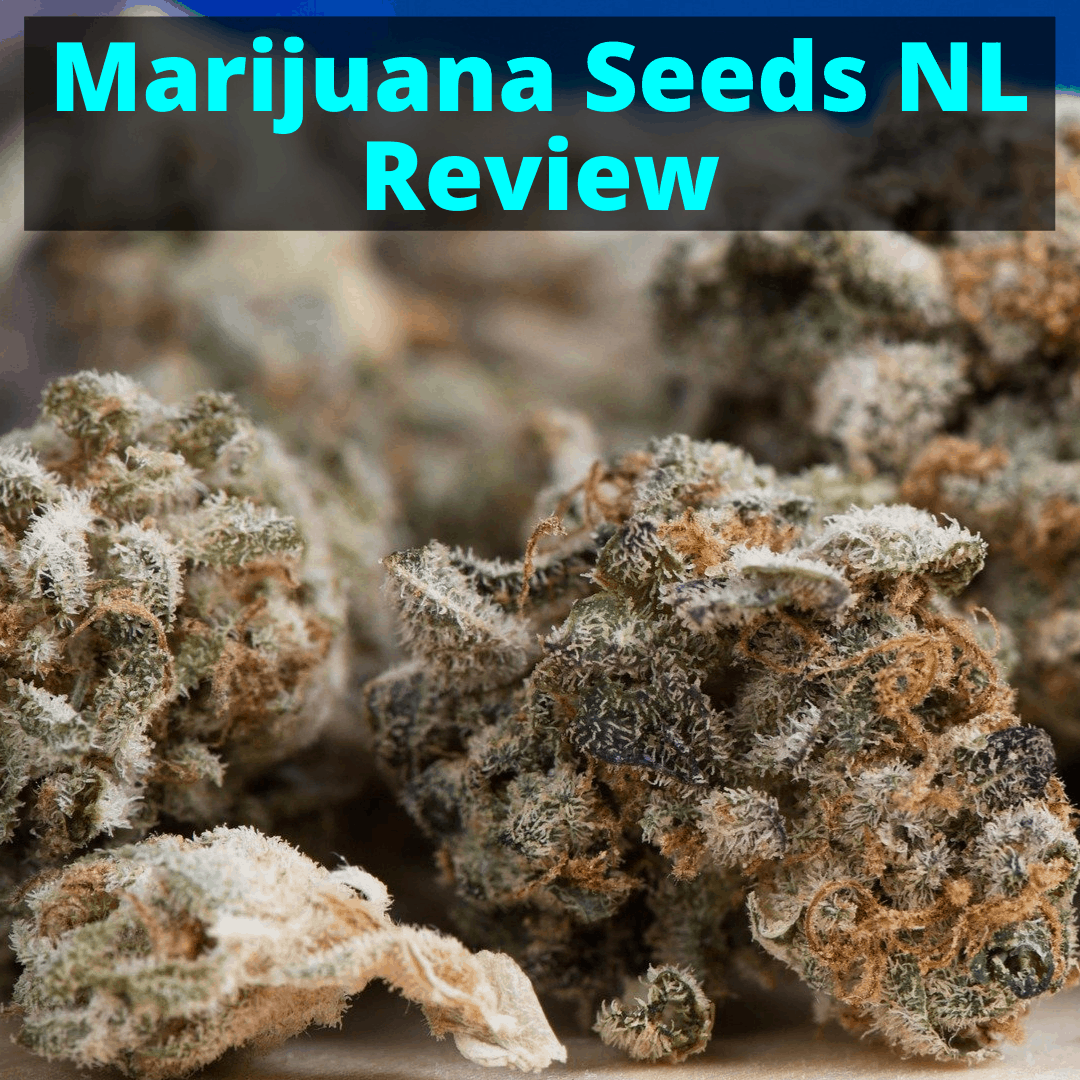 Do you want your seed shipments to be undetectable?
Then Marijuana Seeds NL might be the seed bank for you. Their stealth shipping options are second to none.
Of course you have to pay extra for that.
And you pay more for express shipping, which guarantees fast shipping times to the US.
But the selection is great, the website is easy to use and has a ton of info and the pricing is low considering the quality.
Plus there are tons of sales and you get free seeds with every order.
Is MSNL the best online seed bank? Maybe. Maybe not. It depends on the factors you value most.
It's not our favorite, but it is very close.
Read the rest of this MSNL review to find out if it is the right cannabis seed store for you.
Marijuana Seeds NL Review: Overview And Features
Marijuana Seeds NL Online Seed Bank
Best Feature: Free seeds with every order
Shipping: £12.95 to £22.50 worldwide (free for large orders)
Bonus: Get 10% off with code gli15-msnl1
Shop Now
We earn a commission if you make a purchase, at no additional cost to you.
MSNL is one of the largest online seed banks. They have an extensive selection of the highest quality and most famous strains in the world.
They also have tons of info on all of their strains and they sell them at great prices. Even better, they give you a minimum of 2 free seeds with every order. Their stealth shipping options are also second to none, though you have to pay extra for them.
They do not offer a germination guarantee, but their seeds have a high germination rate. They accept all standard forms of payment, eve including PayPal (there are not many reputable seed banks that accept PayPal anymore).
Overall, this is one of the best online cannabis seed shops. If you are in Europe, it is the best. In the US, they always had one major drawback: long shipping times.
However, they have begun offering express shipping to the US (at a cost), which has reduced shipping times to 1 to 5 days. We still recommend I Love Growing Marijuana (reviewed here) over MSNL for the US (and also for Australia), but it is now very close. Go with the bank that has what you need at the price you like.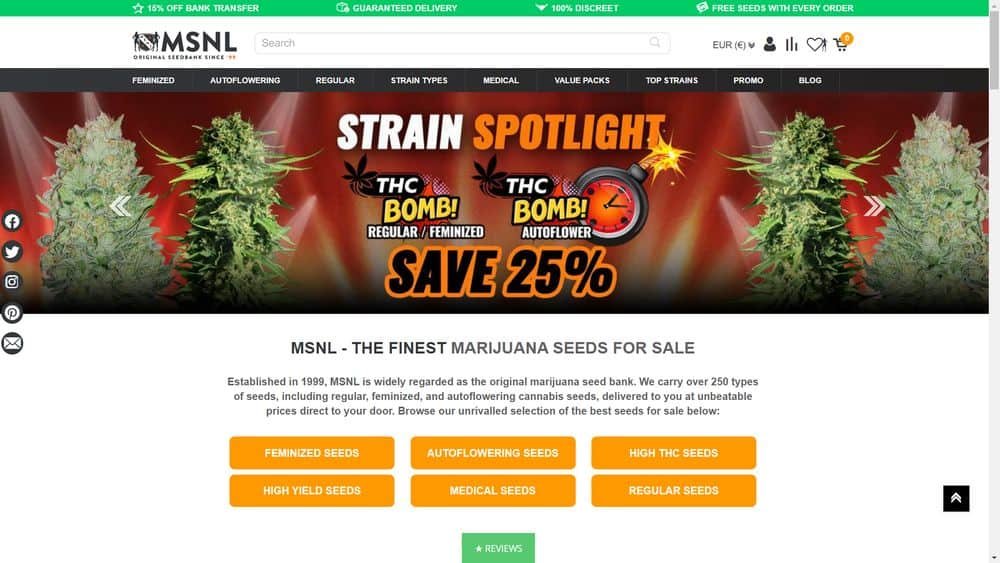 Pros
Huge selection
Top quality seeds
At least 5 free seeds with every order
Many sales and deals
Unique visualization to show each strain's qualities
Great loyalty program
Worldwide shipping
Credit cards accepted
Stealth shipping
Guaranteed delivery (if you pay for the Guaranteed Stealth Shipping or Express Guaranteed level)
15% discount if paying by Bitcoin or bank transfer
Fast shipping to UK, Europe, and the US
Cons
No germination guarantee
Shipping is not free (unless placing a large order)
Long shipping times outside UK, EU, and USA
No shipping guarantee unless you pay extra
Features
MSNL is widely considered the original seed bank and was started way back in 1999 by two friends Christian and Ben.
After traveling (and smoking) their way across Europe and Australia for more than ten years, they had acquired quite a collection of seeds, so it only made sense to launch an online store to sell them.
Soon they had grown that collection to over 40, including strains of their own creation like White Widow Max, White LSD and THC Snow. These are still acknowledged as some of the top high yield and high strength varieties of cannabis on earth.
Great Seed Selection
Marijuana Seeds NL produce all the seeds that they sell on their own. As mentioned, they carry most of the famous strains, including many award winners. Few seed banks can come close to their selection or their quality.
They gather strains from all over the world. They test them in their own labs and create their own hybrids to produce seeds that combine the best qualities of different strains and minimize any bad qualities.
They have regular seeds, feminized, autoflowering, medical strains, CBD, and numerous value packs that include a selection of different seeds. The value packs are great for trying out popular strains at a heavily discounted price.
A nice touch is that they separate seeds by "indoor" and "outdoor." The "indoor" ones are optimized for growing indoors and the "outdoor" ones for growing outdoors. We haven't seen another seed bank that does this.
Marijuana Seeds NL Online Seed Bank
Best Feature: Free seeds with every order
Shipping: £12.95 to £22.50 worldwide (free for large orders)
Bonus: Get 10% off with code gli15-msnl1
Shop Now
We earn a commission if you make a purchase, at no additional cost to you.
Worldwide Shipping (With Stealth Options)
Many seed banks only ship to certain countries. Not MSNL. They ship everywhere. But they don't do so for free, unless you place a larger order.
The do not use couriers like DHL, UPS or FedEx. Instead they ship by Royal Mail from the UK, which then passes the parcel on to the national mail carrier in your country, like the USPS in the US. Their express options ships from within popular countries, like the US.
Shipping times to Europe are fast, with orders to the UK and to the rest of Europe generally arriving in 1 to 5 days with express shipping. Express shipping also gets your seed to you in the US within 5 days.
That means they no longer have slower delivery times to the US than companies that ship from a US location, like Pacific Seeds or I Love Growing Marijuana. In general, US and Canadian customer now receive their orders in 1 to 5 days.
Packages to the rest of the world can take up to 25 business days, but they usually arrive in 6 to 12 days.
Orders ship out within 24 hours of being placed. You can choose from one of three shipping levels that differ in price, stealthiness and tracking.
Stealth Shipping
Stealth shipping costs £12.95. It is free for orders over £99. With this option, the seeds are hidden inside an unrelated item, making them much less likely to be detected. This is important if you live somewhere where it is illegal to send seeds in the mail. Tracking is included with stealth shipping.
Guaranteed Stealth Shipping
Guaranteed stealth shipping costs more at £17.95. If you spend more than £99, the cost drops to £6.95. Spending over £150 makes it free.
This option is similar to the previous in terms of discreteness, but it adds a shipping guarantee. If your order does not arrive, MSNL will send out a new shipment at no cost. You also get tracking and a signature is required, though you can opt out of this requirement, if you choose.
Express Guaranteed Shipping
This is MSNL's newest option. It costs £22.50 (~$27.00) and is only available if you spend over £40, if you buy feminized or autoflower seeds, and if you are shipping to the US and UK.
This option gets you your seeds within 5 working days from placing the order. Your seeds will not be shipped stealth, since they are shipped from within the country of delivery, meaning no customs. All seeds come in a plain padded envelope with extra protection for the seeds.
This option is also guaranteed. If you do not receive your order within 5 business days (7 during busy periods), MSNL will reship it for free. Tracking is included with this option
Multiple Payment Options
MSNL has more payment options than most online seed banks. The easiest way to pay is by credit or debit card, but this is obviously not anonymous. Luckily, they have multiple options for you, if anonymity is important.
You can pay using bitcoin, which also gets you 15% off. That 15% is in addition to any other discount code you may be using, so this is a great way to save even more money.
Another anonymous payment option is cash. You simply mail cash to the address provided, along with your order number. You can send the cash in a number of different currencies.
If anonymity is not as important, you can also pay by international money order or by wire transfer. CashApp, Venmo and Zelle payments are all available.
US customers can also pay by ACH deposit. MSNL even accepts PayPal again, which is still unusual for seed banks.
Great Deals
Marijuana Seeds NL has more and better sales than just about any other seed bank. They have a menu heading labeled "sale" that takes you to a page showing all of their currently running sales. They have around 30 strains on sale at all times.
They also offer a number of value packs that let you try a variety of strains at heavily discounted prices. In addition, they have a reward program where you receive 3 points for every £1 you spend on the site. These points can then be redeemed for discounts on future orders.
Finally, you have the aforementioned 15% off on top of everything else, if you pay using Bitcoin or bank transfer. And there's more. You also get free seeds with every order (a minimum of two, and up to 7).
Free Seeds
Marijuana Seeds NL give you at least 2 seeds with every order. As your order size increases, the number of seeds you get for free increases as well, up to a maximum of 7. The actual strain they include changes. You can see on their website what seeds they are currently including.
Free Feminized Seeds With Every Order From MSNL
Who doesn't like free stuff? At MSNL, they want to reward your loyalty by giving you free Feminized seeds with every order regardless of how much you spend.
They give away more high quality feminized seeds than any other seedbank and the more you spend with us them, the more seeds they give you for free!
Shop Now
We earn a commission if you make a purchase, at no additional cost to you.
Great Website
The MSNL website has recently been updated! Finally! It is still functional and easy to navigate, but it looks a lot better now, too. More importantly, it contains a ton of info to help you make the best purchase for you.
The main menu has categories for feminized, regular, autoflowering and high CBD. Each is further broken down into submenus, to help you find exactly what you're looking for. There are also menu items for the top strains, for strains on sale and for value packs.
The actual product listings have detailed information on the strain, including tasting notes and everything you need to know when growing. There are also plenty of customer reviews to give some perspectives from actual growers.
There is also a really cool visualization for each strain that shows the taste and smell qualities as well as the effects. Here is an example: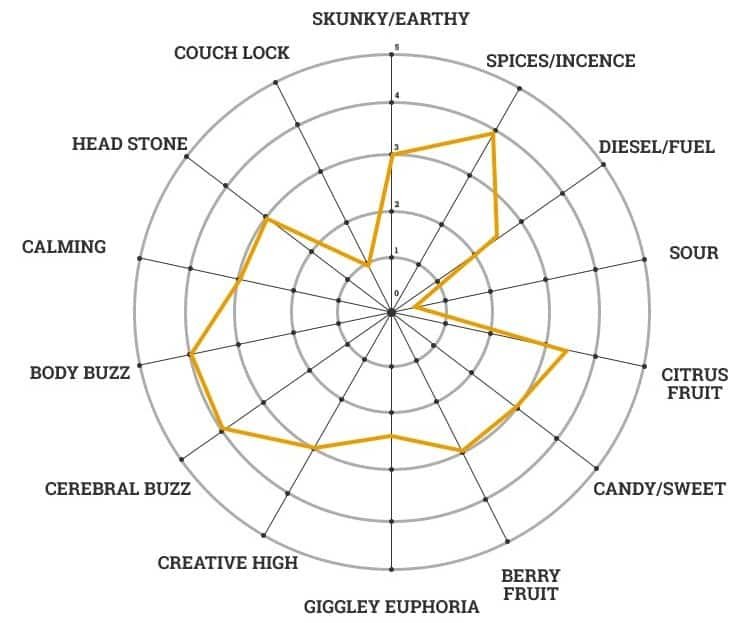 Great Customer Service
The MSNL website has a very detailed FAQ page that answers pretty much any question you can think of. They also have pages explaining everything from their shipping policy to their return policy to their discounts.
If you have a question that is not answered in the FAQ, you can easily reach their customer service using the contact form on their contact page. They usually answer within 24 hours, although they are sometimes a bit slower these days, with the ongoing virus situation.
If you prefer email, you can also email them directly, or pick up the phone and call their UK number. You have to call during their business hours, however. Those are 9am to 5pm GMT.
Marijuana Seeds NL Vs Crop King Seeds
These are two seed banks that ship worldwide, so it makes sense to compare them directly. They are both very good, but each has different strengths. That means which one is best will depend on your specific needs.
Crop King seeds has a much smaller selection, but the strains they do offer are even better quality. Their prices are higher, though. They also have higher shipping costs, but they do a better job with discreet shipping and they guarantee delivery. They also ship much faster to Canada and are just as quick to the US.
The reason for that is that Crop King is headquartered in Canada. In addition to the online store, they also have physical locations and their seeds are sold in over 100 retail locations across Canada.
They offer a 80% germination guarantee, which is something MSNL does not have. The new updated MSNL website looks better, but Crop King is just as functional. MSNL has more info on theirs, however.
MSNL also has more payment options and they offer a lot more sales, discounts and free seeds. Overall, we slightly prefer Crop King Seeds, but it is very close, once you take the lower costs and many discounts and free seed offers of MSNL into account.
You can take a closer look in our Crop King Seeds review.
MSNL Review: Conclusion And Rating
Marijuana Seeds NL is one of the best online seed shops. They've been in business longer than most and they have a long history of delivering high quality strains at great prices.
They are especially good if you are located in Europe and the US, due to the fast shipping to the UK, EU and US. They are also great in countries that most competitors do not ship to.
We slightly prefer ILGM for the United States, but it is very close now, after MSNL's recent improvements. While the MSNL website is great, and they offer great deals, ILGM has an even better website and they also offer great deals.
They also offer free shipping on all US orders and they guarantee delivery. They also have a 100% germination guarantee. What we really love about ILGM are all of their educational materials. They provide all of the info you need to be successful in your first grow.
That said, the differences between the top stores are not huge and it generally comes down to which store does better in the areas that are most important to you. Marijuana Seeds NL is very good, with few weaknesses, so we give it a rating of 4.5 out of 5.
Marijuana Seeds NL Online Seed Bank
Best Feature: Free seeds with every order
Shipping: £12.95 to £22.50 worldwide (free for large orders)
Bonus: Get 10% off with code gli15-msnl1
Shop Now
We earn a commission if you make a purchase, at no additional cost to you.