You might think any old scale can work.
But there are certain features you want in a scale for weighing marijuana.
The good news is that there are plenty of low-cost options that have all the features you need.
Each of the digital scales we recommend below works great for weighing cannabis. And even the most expensive still costs less than $35.
Which one of them is right for you depends on your needs and budget. But for most people, our top pick will be best.
Keep reading for a review and comparison of the best digital scales for weed.
Best Digital Scales For Weed Compared
09/22/2023 11:31 pm GMT
Best Digital Scale For Weed: Reviews
The following are our recommended scales for marijuana. The first one is our top pick overall and the one we recommend for most people. But any of these 5 scales will work great.
Best Overall: Nicewell Food Scale
Nicewell Digital Kitchen Scale
Pros:
Sleek functional design

Accurate with small amounts of weed

Portable

Easy to clean with no crevasses for debris to fall into
Cons:
Costs a bit more than some scales with similar functionality
View On Amazon
We earn a commission if you make a purchase, at no additional cost to you.
09/22/2023 11:31 pm GMT
The Nicewell food scale is a flat laying digital scale that works extremely well for weighing cannabis. It has the accuracy needed for small amounts and will display the weight in grams, kg, ounces, or pounds.
It has a simple interface and a flat weighing surface which makes it easy to use and clean. The stainless steel surface is a nice touch and will not rust.
There are only 3 buttons on the scale, making it nearly impossible to get confused or frustrated. It gets the best overall award because it is a good price point, has over 22,000 positive reviews, and is extremely functional.
Features
Easy to use Tare Feature: The tare is the container you use to hold your weed while you weigh it. The scale has a one press feature to subtract the weight of your container.
Useful Simple Design: A flat surface with 3 buttons is about as simple as you get. It is small enough to take with you, and it will accept 2 AA batteries, so it will work on the go, too.
Diverse Uses: It can display the weight in either ounces, grams, kilograms, or pounds. This makes it useful not just for weighing cannabis, but also as a good scale for weighing items you need to ship in the mail, or for kitchen use when making cooking calculations.
Precision: It has four different load sensors which makes the measurements extremely accurate.
Good Customer Support: Lots of buyers have stated in their reviews that any issues they had were handled quickly and without hassle.
Best Pocket Scale: GreaterGoods Digital Pocket Scale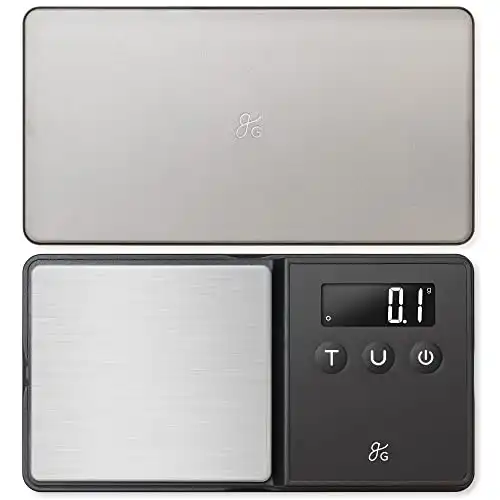 Greater Goods Digital Pocket Scale
Pros:
Convenient and easy to take with

Great Value for Money

Hassle Free Customer Service
Cons:
Higher chance of breaking it, if you transport it in yourpocket
View On Amazon
We earn a commission if you make a purchase, at no additional cost to you.
09/22/2023 11:26 pm GMT
The GreaterGoods digital pocket scale is about the size of a cell phone, but is still extremely accurate when weighing light items like letters, or buds. It is simple to use and not expensive.
With over 6000 positive reviews and a simple to use interface it secures the top slot for best pocket scale. It can fit in your pocket on the go and will do the job accurately.
Features
5 Year Warranty: It comes with a 1 year warranty out of the box but can be extended to 5 years if you register your product. Many competing scales will have a one year warranty, but the ability to extend to five years is impressive.
Accurate: It is extremely accurate for such a small scale. Although it is not a certified NTEP scale, it will be accurate within 0.1 grams. Just because it is so portable does not mean it is inaccurate!
Easy to Read: Even though it is small, the LCD display is bright and big enough to read in bright, medium, or low light.
Displays Multiple Units: It will display the result in grams, ounces, CT, GN, OZT, or DWT units.
Stateside Support: GreaterGoods offers local support based in the USA, which can make it easier to call at a time they are open (if you are in the US).
Pros
Convenient: The ability to put it in your pocket and get on with your day makes this scale extremely convenient. No need to pack it up and put it in a box, then put it the car etc. Use it and put it in your pocket when you are done. Easy peasy.
Great Value for Money: For what you will spend on it, you will get much more value out. It has many of the features those larger more expensive scales have, and it weighs little, and takes up almost no space. This makes it a good value.
Hassle Free: Good customer service and an easy to use little scale makes this a hassle-free purchase. You will not need to wonder if you are getting what you paid for and if it is going break. Even if you decided it is not what you wanted, you are not dropping a lot of money!
Cons
Because it will be in your pocket, there is more chance of breaking it (just like your cracked phone screen!)
Best Budget Scale: Etekcity Food Kitchen Scale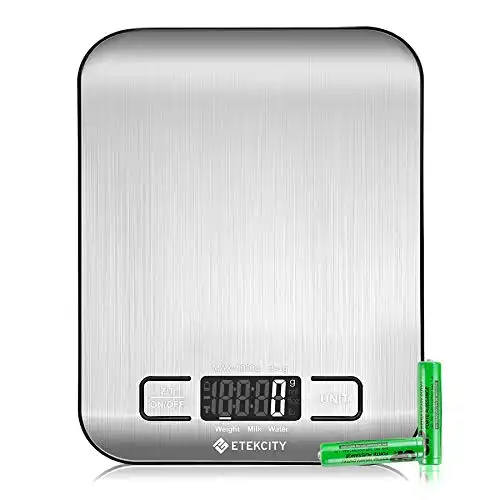 Etekcity Food Scale
Pros:
Low cost

Great value for money

Simple
Cons:
Less accurate below one gram
View On Amazon
We earn a commission if you make a purchase, at no additional cost to you.
09/22/2023 11:21 pm GMT
The Etekcity is a sleek looking flat style scale that sells at a low price point but maintains a high level of usefulness and quality. It has rounded corners and the surface bends down on the top and bottom giving it an ergonomic modern look.
The weighing platform is stainless steel which has the benefits of looking good and being easy to clean, as well as resisting stains and rust. You are not going to get super accurate readings under 1 gram for this price, but for most uses it is a good choice for the budget-minded.
Features
Tare Function: Like some other scales, this useful feature allows you to subtract the weight of your container quickly and easily from the weight that gets displayed. Nobody likes doing math in their head.
Unit of Measurement Conversion Function: It allows you to convert the displayed weight to the other common units of measurement you would expect to find in a scale designed for kitchen use.
Well Built with Quality Materials: Even though it is extremely inexpensive, you still get stainless steel and a digital readout. It could survive a few small accidental drops from a short distance, but do not toss it across the room!
Compact: It is a small scale compared to many other kitchen style scales; however, it is not nearly as small as the pocket scale reviewed above. For what it is used for, it is reasonably easy to take with you and will travel well with no issues.
Backlit Display: I would not expect a backlit display at this price point, but it manages to provide a backlit display anyway, which comes in handy if you are in a dark or poorly lit room.
Pros
The Price: This is a ridiculously low priced scale, making the price easily the most important pro.
Value for Money: Not the same as price, it provides more value than you are paying for. Although nobody can claim it is the fanciest or most accurate scale out there, it is inexpensive and will do the job for less than half of what some competing models cost.
Simple: There is not much to it. It has 2 buttons, one on each side of the display. You can select the function you want to use by pressing the corresponding directional button. While selecting, the display has a dash that will highlight the function you are currently selecting.
Cons
Not the best choice if you need pinpoint accuracy under one gram
Most Heavy-Duty: Escali Primo P115C Precision Kitchen Scale
The Escali Primo is digital scale that has a flat base and a raised circular weighing platform. A digital readout is on the front with a button on each side and a thick film covering the buttons and readout. This keeps any dust or grime or other debris from falling into the cracks and causing problems.
It is an extremely well-built scale that will last for years and withstand some abuse. It has the best warranty of any scale in this list. If anything goes wrong, you can get a replacement. Because of the solid construction and lifetime warranty it grabs the 'Sturdiest' slot on the list.
Features
Sealed Buttons: This is a useful feature when you consider how many times coffee, or other drinks are accidentally spilled on gadgets like this. It also makes for no hassle button cleaning since there are no exposed cracks around the buttons or the display.
Tare: This is a popular feature and has become almost a prerequisite for scales in this class. You can simply deduct the weight of the container or platform you are using to weigh your stash, without having to fuss over math.
Solid Construction: As mentioned in the summary, this is a well built little scale. It feels like quality in your hands and if you do manage to break it…
Lifetime Warranty: The company warrants this scale for life which is much better than most companies offer in this category. In addition to the solid build, the warranty helped push it over the edge for the 'most durable' award.
Pros
Worry Free Purchase: The lifetime warranty and build make it a stress-less choice
Great for Clumsy People: If you are typically hard on your toys and gadgets, this scale is ideal for you.
Will Not Get Gunked up: Some scales have little cracks where dirt and liquid can accidentally get inside, which can ruin them. This has a sealed interface making these mishaps impossible.
Accuracy: It will measure accurately down to the gram. Anything under a gram is not going to register. Honestly, it is rare to measure out less than a gram, anyway.
Many Color Options: Choose from blac, chrome, metallic, orange, royal blue, pink, white, tarragon green, and warm red
Cons
Comparatively expensive, but definitely worth the extra cost
Highest Quality: LB Series Digital Weight Scale
LB Series Digital Kitchen Weight Scale
Pros:
Great design features for use with cannabis

Easy-to-see display

Easy to operate

Memory function

Lightweight
Cons:
Made of plastic (it is durable plastic, but still plastic)

Higher cost
View On Amazon
We earn a commission if you make a purchase, at no additional cost to you.
09/22/2023 11:11 pm GMT
The LB Series Digital Kitchen Scale is a feature-rich versatile scale that does well measuring cannabis. Like most of these scales, it was designed for measuring food, but its features line up nicely with weighing weed.
It is lightweight and has a relatively large readout for those of us with less than great eyesight. It comes with a removeable bowl that sits on top, which is a welcome addition if you are weighing a decent number of buds and do not have a special container handy.
It is easy for buds to slide off the surface on many of these flat scales. It is a tad bit more expensive than some others, but I think it is well worth it for all the features you get for that extra money.
Features
Lightweight: Most of these scales on the list are light, but this one is even a bit lighter. It is made of durable plastic to make it less heavy.
Removeable Bowl: Easily one of the best and most useful features for cannabis use. The only downside to the bowl is that it is also plastic which can absorb some of the oils and smell of the buds.
Display Screen: It has a nice big display screen with large numbers that are easy to read for people with some eyesight issues. It is also bright and clear, making it especially useful in the dark.
Comes With Built in Cover: It has a plastic cover that will close like a clamshell, shielding the weighing platform from damage.
Pros
Great Choice for Cannabis: The removable bowl is an extremely useful bonus. The built in cover it comes with also can double as a second area to use for your buds or shake or seeds. Sometimes when weighing, you need to separate certain things, and the cover when laying flat is a little area you can use for this purpose.
Easy to Use and See: The display has got to be one of my favorites on this list. It is slightly bigger and a little bit brighter than most. In addition to being easy to see in all situations, the interface is simple with a power button and only three other buttons.
Memory: This scale has a memory function allowing you to store readings in case you forget them. I do not know of any weed smoker that occasionally forgets things, do you?
Cons
Made of Plastic: To maintain the light weight, it is constructed of plastic. The plastic is hard and seems durable, but no matter how hard it is, plastic does not survive too many accidents before it cracks.
Digital Weed Scale Buyer's Guide
There are some high quality options in this list, but if you buy one without assessing what it does vs what your specific needs are, you may still end up disappointed. Let us look at the features that are most important in the best weed scales.
Precision
What are you typically going to use your scale for? If you are measuring large quantities (several grams worth) then precision is important, but not nearly as important as it is if you are trying to accurately measure small pieces.
Every scale in this list will display weight in grams, but some are more tailored to smaller quantities than others. Asses what your uses will be and then check out how accurate each scale is in the smaller measurements.
If you primarily work with ounces, your accuracy needs are not going to play much of a part in your buying decision, since all these scales will accurately measure weight down to a single ounce.
Form Factor Vs Use
Each scale is shaped a bit differently. While most are a simple flat surface (like a postal scale but smaller) some may have a more stacked form. Depending on what you are using it for a certain form may work better for you.
For example, if you are splitting up a harvest into canisters or bags for distribution or sale, you may want to consider a scale with a large surface area, or one that has a container to use to avoid spilling any product.
As another example, if you are on the go and need an exceedingly small scale that is accurate enough, but does not have to be pinpoint precise, you may consider a pocket sized scale.
These pocket scales are surprisingly accurate, but they have a tiny surface area which is prohibitive to measuring large quantities that take up a lot of surface area.
Lifestyle Habits Vs Durability
How hard are you on the things you own? Do you find yourself breaking things or dropping them often? Is your lifestyle chaotic with lots of things happening at once and surfaces being crowded with items?
If you are hard on your gear or accident prone, you should have durability at the top of your buying criteria. Some scales are extremely well made and highly accurate, but a good fall from a kitchen counter or a tumble out of a car door when you stop and get out may be fatal.
If you tend to be rough on your stuff, you should consider a scale that is exceptionally durable and can handle your intense lifestyle.
On the other hand, if you are organized and generally take good care of your things, durability isn't as big an issue. You can focus more on accuracy and aesthetics.
Price Point Vs Budget
I saved the most obvious for last. Everyone cares about the price tag, but the good news is, every scale in this list is relatively inexpensive.
Let us be honest, if you are splitting up ounces of fresh grown weed, you are not going to be broke for long. None of these are expensive but there are price differences based on build quality, features, accuracy, and design.
My advice here is to buy the scale that matches your criteria explained in this guide and ignore the price tag, since none of them will cost as much as a good fan for your grow room. If you are a penny pincher by design, I understand, just look at what you need vs what you can do without and get the best deal!
Best Scale For Weed: Final Thoughts
For most people, we recommend the first scale on our list. It is a great all-around performer and sells for a low price.
But the other 4 options each have their own unique features. One is super small, another is extremely durable, another is dirt cheap, and the final one is higher quality with more features.
If any one of those seems more suited to your specific needs, do not hesitate to buy it. All 5 of the digital scales for weed listed here are great. You won't go wrong, whichever one you choose.