You've heard it before.
Plants need blue spectrum light in the vegging stage.
But they don't ONLY need blue spectrum light.
So don't follow the advice you see on too many blogs and get yourself an all-blue light. Sure, it will work, but a light with a full spectrum works much better.
The best lights for vegging cannabis emit a full spectrum light that contains a lot of blue. They also use less power to generate more output and emit less heat.
Can you guess what type of light this is?
Actually, there are two types that fit the bill.
Keep reading to learn what they are, plus all the important details about the various veg lighting options.
Best Lights For Vegging Cannabis
There are six main types of lights that are good for the vegetative stage of growing cannabis.
Nearly everyone agrees that during this stage it is important to give the plants full spectrum light that contains a heavy dose of blue light, since blue light helps facilitate more efficient growth.
Why does blue light help plants grow? That is a topic for another article. But for our purposes here, suffice it to say that plants need blue light for photosynthesis.
The issue is that if there is a certain type of light that works much better for the veg stage, but is not so good in the flowering stage, are you going to switch all of your lights?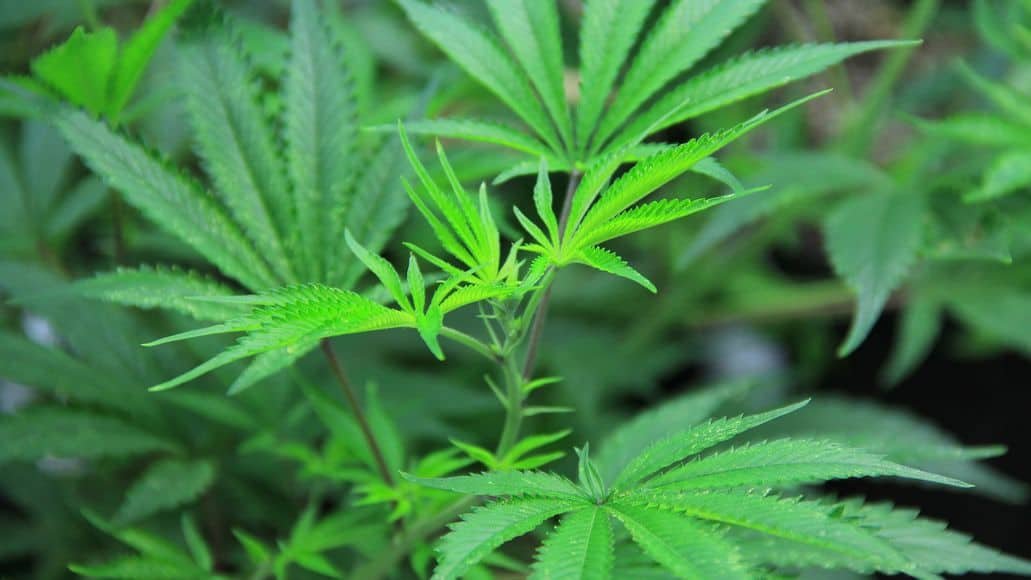 This could be a huge hassle in a big grow room or professional setup. It may not be too big of a deal for a hobby grower, though.
Of course, as a home grower, it can become overly expensive to have many different lights for different growth stages.
We took all of this into account in our analysis. The lights below all have their pros and cons, and we ranked them based on many factors, not just how they performs in the veg stage.
LED Lights
LED lights are light-emitting diodes that are more efficient than other types of light. They use less energy to produce more output.
For that reason, they have overtaken all other types of lighting to become the best lights for growing cannabis, period. That includes the vegetative stage.
Of course, this does depend on the LED light in question. The market has been flooded with cheap LED lights from Chinese, most of which can't grow anything. But the best LED plant lights top anything else.
In addition to the efficiency, LED lights are also highly customizable. Other types of lights have a fixed spectrum, or a number of different fixed spectrum options. LED lights can come in virtually any color.
This means that the best LED panels have a spectrum that is perfectly tailored for plant growth. There are even lights made specifically for vegging, though we generally recommend a full spectrum LED light that works for all growth stages, rather than using separate lights for vegging and blooming.
Many LED grow lights also have switches that allow you to turn off certain diodes at will. This means you can set the light to "vegging" or "bloom" and get the ideal spectrum for that stage.
Those lights are good options, but a light with a fixed spectrum works just as well, if that spectrum is designed for plants.
The HLG LED grow lights, or the better Chinese knockoffs, like Spider Farmer LED grow lights, are a great example. They are the LED lights we recommend.
Pros
Endless color spectrum possibilities
Tons of options
Highly efficient
Not too heavy to mount
Lower heat output
Cons
Many low quality options sold on the market
Good LEDs cost a bit more than other types initially
HID Lights
HID stands for high-intensity discharge. It is an umbrella term that includes several different types of bulbs, most notably metal halide, ceramic metal halide and high-pressure sodium.
We included HID as its own category on this list, because it is a term you will see a lot. We'll cover it briefly here, then cover the three specific types of HID lights mentioned above in more detail.
Generally, MH is considered best for vegging, but not good for flowering. HPS does much better there.
For this reason, a lot of growers using MH bulbs during veg, then swapping them out for HPS at the beginning of flowering. They both go in the same fixtures, so it is an easy swap.
But the truth is, CMH bulbs are much better at everything, so more and more growers are going with them these days.
HID lights usually cost less upfront than LED lights, but they cost more to operate in the long run. They use more power, generate more heat, and you'll have to replace the bulbs once or twice a year.
Keep reading for more on all three types of bulbs.
CMH Lights
What is CMH light? Ceramic metal halide bulbs are newer on the market than HPS and MH. In fact, it helps to think of them as new and improved.
That's because they emit a more complete spectrum than HPS or MH. It is a spectrum that is very close to natural sunlight.
This makes them better suited for growing plants than either of the more traditional HID bulbs. Good LED lights are still better, since they can have any spectrum you want and they are the most efficient lights.
BUT CMH bulbs are also highly efficient, more so than either MH or HPS. And they produce less heat. The one drawback is that they are still a bit more expensive than other HID lights, although the difference is getting smaller and smaller.
Check out our article on CMH lights to see which ones we recommend.
Pros
More efficient than other HID bulbs
Great spectrum for all stages
Lower heat output than other HID lamps
Cons
Higher heat output than LED
Use more electricity than LED
Bulbs will need to be replaced regularly
Require the use of a ballast
More expensive than other HID lights
HPS Lights
HPS stands for high-pressure sodium. These bulbs gave a tube inside them that is filled with gas. An electrode produces a pulse of electricity which ignites the gas inside, creating light and heat.
These types of lights are usually associated with the production stage or the flowering stage due to the increased output of red light.
HPS lamps last a long time and are more efficient than some of the other types of lights in this list, which makes them quite a popular choice. But they are not as good as LEDs or CMHs.
Even though they are more associated with flowering stages, they work well enough for vegging too. MH light works better for vegging, but does not work well at all for flowering.
That is why we recommend HPS above MH if you are only going to use one. But you could also use MH during vegging and switch to HPS during flowering.
Our article on MH and HPS bulbs has a lot more, including the lamps we recommend.
Pros
Efficient
Great for the flowering stage (lots of red spectrum light)
Work well for veg stage, too
Lower initial cost
Cons
High heat output
Use more electricity than CMH or LED
Bulbs will need to be replaced regularly
Fixtures can be big
Require the use of a ballast
MH Lights
Metal halide bulbs produce intense light with a large amount of blue spectrum light. The technology works much like high-pressure sodium lamps, with an electric arc inside a mixture of gasses inside a tube.
The difference between MH and HPS lamps is the type of gasses used inside the vacuum tube inside the lamp.
MH bulbs produce more blue light than HPS bulbs do, but far less red light. If you have HID fixtures in your grow room or tent already, you may consider using MH bulbs during veg and switching to HPS during flowering.
This is ideal, but does cost more and take more effort, especially if you have a lot of lights. If you only wanted to use on type of bulb, MH is better if you are only vegging. If you are flowering as well, go with HPS for all growth stages.
We have an entire article that covers HID kits and bulbs, including our recommendations for MH and HPS lamps. We also have one specifically comparing metal halide to LED.
Pros
Efficient
Great for veg stage (die to large amount of blue light)
Lower initial cost
Cons
High heat output
Use more electricity than CMH or LED
Bulbs will need to be replaced regularly
Fixtures can be big
Require the use of a ballast
T5 Fluorescents

These lights are the fluorescent fixtures you see all over the place, in office buildings, etc. They are housed in rectangular troffers in sheds, buildings, and garages.
The bulbs are long cylinders with 2 prongs on each end. These lights are commonly used for the seedling and veg stages, due to a spectrum that contains more blue and a lower heat output.
However, the reason for the lower heat output is a lower light output. These lights simply do not have enough output to make them viable for flowering. At least not for larger grows.
If it's only one plant, they can work well. But never as well as the other types of lighting above. Our article covering a test done growing lettuce compares the results with fluorescent grow lights vs LED.
Generally, T5s make great vegging lights, but they are not good for flowering. We would only use them if you have separate seeding or vegging rooms. If you do everything in the same room, get a light that works well for all stages.
This article covers the best T5 bulbs for vegging.
Pros
Efficient
Great for veg stage
Inexpensive
Long-lasting
Low heat output
Cons
Not powerful enough for flowering
CFL Lights
CFL stand for compact fluorescent lights. They are similar in spectrum and function to the T5 fluorescent lights, but they are much smaller.
This makes them more flexible, but you will also need a bunch of them.  They are typically the size of a traditional incandescent lamp but usually shaped like a spiral or an upside-down 'U'.
You can use them in a traditional lamp fixture, because they have their transformer in the base of the bulb. They do not need to mount in a special fixture with ballast as T5 fluorescents do.
They are not expensive, but it takes a lot of them to produce the same amount of light as the other light types. Because of this characteristic, CFL lights are well suited to smaller grow rooms, and beginner growers.
Because they are use fluorescent light technology, they do not produce much heat. This means you can place them very close to your plants with no risk of burning them.
Can grow lights burn plants? Yes, HID and LED ones can. That is why the much lower heat output of fluorescents is a big advantage. It also means that you will need less temperature control in a room filled with CFL lights compared to other heat-emitting light sources.
CFL lights are quite good for the veg stage and early growth stage. They provide a full spectrum of light and are small enough to get very close to the seedling or vegging plant.
They are also great as fillers, to use in conjunction with a more powerful primary light source. Because they are so cheap, you can get a bunch of them and use them to fill in any dark spots in your coverage.
This article covers how many CFL bulbs you need per plant.
Pros
Affordable
Easy to find
Easy to mount in any lamp or fixture
Can place very close to plants due to low heat emission
Cons
Not very powerful when compared to other light types
Worst Light To Use For Vegging Cannabis
Although this list is about the best lights for vegging cannabis, I thought it was important to mention the worst light to use.
Not only can this type of light be a waste of money, but if you use this type of light, you may hurt your plants by burning the leaves and depriving them of the full spectrum light that they need to grow healthy and strong.
Incandescent Lights
Incandescent lights are the normal lights you are used to using in your home light fixtures. They are bulb-shaped and have a filament inside that ignites and glows when electricity is passed through them.
These lights are good for normal lighting in your house (but not as efficient as CFLs). They could be used in the germination phase to heat the seeds, but they are not good at all for your plants, once they sprout and start growing.
These incandescent bulbs are plentiful and very inexpensive, and you would be forgiven if you thought they could be a good light source for your cannabis-growing operation. After all, these are the bulbs we all grew up with and see everywhere in lamps and ceiling fans.
However, they are nowhere near as efficient as other types of grow lights. They do not have the ideal spectrum for plants and they need a lot more electricity to produce the same output, They also emit far more heat.
In short: do not use incandescent light bulbs to grow marijuana. It just doesn't work well.
Best Veg Lights For Weed: Final Thoughts
LED grow lights are the best lights for growing plants, period. This goes for any type of plant and any growth stage.
Of course, this does assume you are using quality LED lights. There are a ton of bad ones on the market that won't grow anything, so you do need to avoid those.
If you prefer other types of light, the only other one we strongly recommend is CMH. Sure, HPS works well, as do fluorescents or MH, if you are only vegging. But CMH just works a lot better.