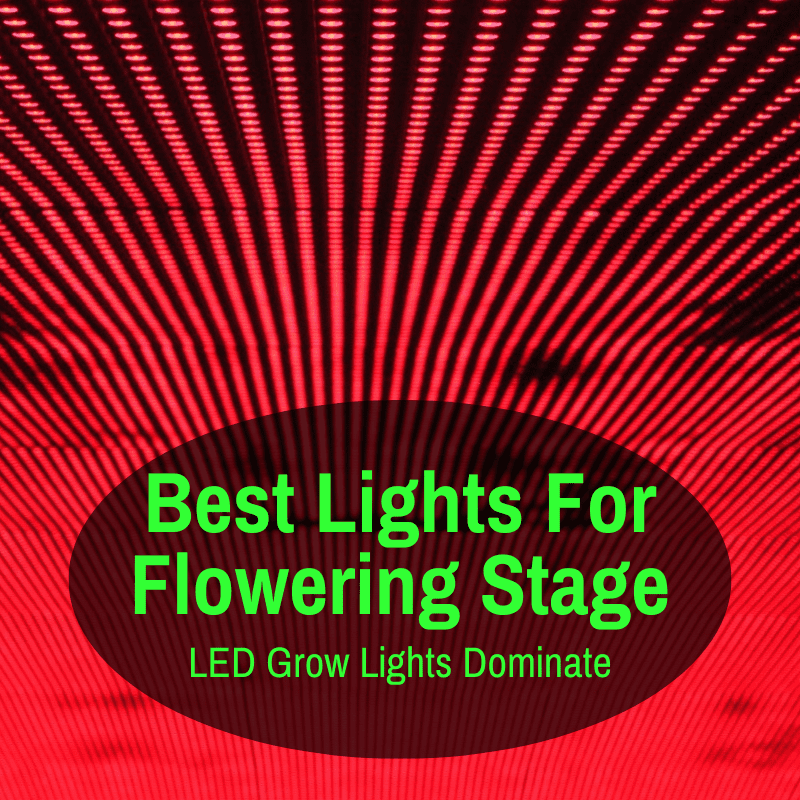 For the longest time, LED lights had trouble flowering plants.
No longer.
Now, nothing beats the top LED lights for flowering.
They have the perfect spectrum and get deep canopy penetration. The newest lights also get an even light spread unheard of from HID lights
Does that mean HID lights are no longer any good for flowering?
Yes, in a way. They are just as good as they've always been, but LED grow lights have improved so much that they are now much better for the bloom stage, and for vegging.
The only HID lights that are worth your while are CMH. But good LED lighting outperforms even those for growing weed. In every way.
But you do need to make sure you get a quality LED grow light. The market is flooded with bad ones.
That's what we are going to help you with.
Keep reading for a list of the best lighting for the flowering stage overall. We'll also recommend the best all-red lights, if you are simply looking for a supplemental light for a bloom boost.
Best Lights For Flowering Stage Compared
09/22/2023 04:37 pm GMT
Highest Yielding LED Grow Lights
The LED grow lights that result in the largest yields are generally those than contain every wavelength in the visible spectrum, with a large peak on red and a smaller one on blue. They may also have some UV and IR light.
There are a number of lights that provide this spectrum, with the best being bar style lights, quantum board lights, and COB lights. Usually in that order, although it depends on your needs.
COBs get the deepest canopy penetration, but they focus the intensity in the middle of the coverage area, with a huge drop-off around the edges. Bar and quantum lights give you a much more even spread, but not as much intensity in one spot.
This means they are generally better for most growers. COBs are better, if you have a single plant, or a single row of plants, where you don't need as much light around the outside of the coverage area and deeper penetration has more value.
We've made sure to include options for all three types of lights, plus one blurple option for those who still prefer that style of light. Then, as mentioned, we've also got a few all-red supplemental fixtures.
We don't generally think these are necessary, if you have a modern LED grow light. However, they could come in handy if you have a fixture that does not have as much red spectrum light (like fluorescent, MH, or an LED with more blue spectrum light), and you want a boost for flowering.
Best LED Grow Light For Flowering Weed: Brief Reviews
As mentioned, we've got our top recommendation for each type of light below. Bar lights and quantum boards are the best for most people. As such, the Spider Farmer bar lights are our top choice, with their quantum lights following close behind.
For each type of light, we will also give you one or two alternatives. These fall just behind the top choices, but they are still excellent options. Sometimes the top pick might not be available, or they might simply not offer the size light you need.
Then you should take a look at the alternative recommendations. We will mention them in the reviews below.
Best Bar Lights For Flowering
Best Bar Lights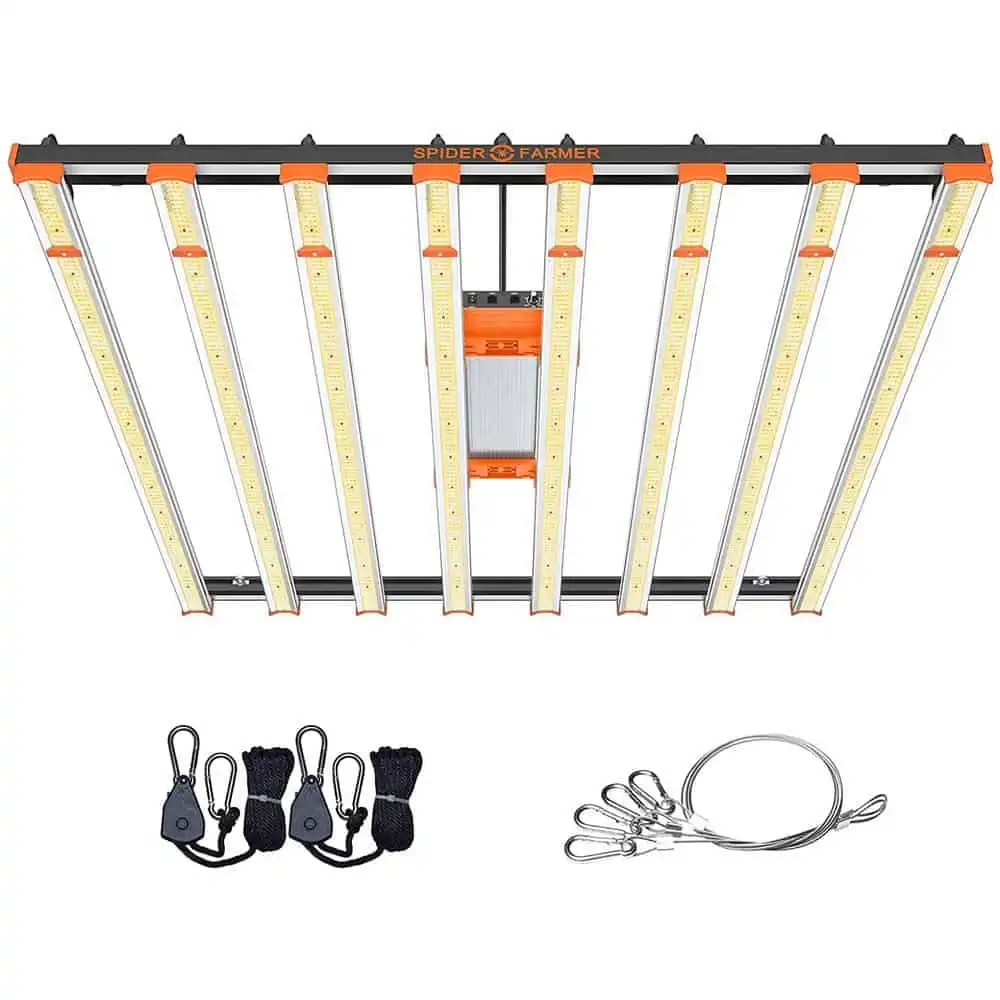 Spider Farmer SE Series
Samsung LM301B diodes — extremely efficient, achieving 2.75 umol/J
Full spectrum light — can be used during all stages of growth, with white light plus deep red, UV and IR for a bloom boost
Large even coverage — large form factor and spread out bars makes for a more even light distribution
Daisy chainable — connect up to 30 lights
Runs on AC100-240V — SE lights will work at any standard voltage (except SE1000W, which needs 220v)
Rated for 100,000 hours — 8-10 years with no light bulb changes
Includes light, hanging kit and power cord — everything you need to start growing immediately
Amazon
LED Grow Lights Depot
We earn a commission if you make a purchase, at no additional cost to you.
The best bar lights on the market in terms of value for money are the SE series lights from Spider Farmer. Yes, US or European brands like Fluance and Gavita make slightly better lights, but they also cost 2 to 3 times more.
For that money you get a slightly higher build quality and better customer service. But the results you get from those lights are about the same. It makes no sense to pay that much more for the same results.
That said, if money is no issue for you, go ahead and get one of those lights. I mean, why not? But if you are like most of us and you have limited funds, Spider Farmer is easily your best bet.
And if you compare them to some of the other popular American brands, they look even better. Optic LED and Grower's Choice are the two I'm specifically thinking about. Their prices are about midway between Spider Farmer and the top US brands, but they actually make their lights in China, too.
Worse, their customer service and quality control are horrendous. They are worse than Spider Farmer in both areas and actually on par with some of the worst Chinese brands. We definitely recommend avoiding these two companies.
Finally, there are all the other Chinese brands that have released their own bar lights, now that they have become the most popular type of LED grow lighting for flowering and vegging. Most of them you can forget. They might be slightly cheaper, but the quality is much, much worse.
A few other good ones are Viparspectra (review here) and Mars Hydro (review here). Both are good alternatives to Spider Farmer. If SF does not have the size you need, I'd check those two brands next. We slightly prefer Viparspectra, but the difference is not huge.
If neither of those brands have what you need, or if you are looking for something a bit cheaper, Aglex is another good option. There is a definite drop-off in quality, but they are still pretty good. And, as mentioned, the price is also lower.
As for these Spider Farmer SE series, the lights feature the top-of-the-line Samsung LM301B diodes. These are the most efficient diodes available and they result in these fixtures achieving an output of 2.75 umol per joule.
The high efficiency is one reason bar lights have become the most popular type among growers, along with quantum boards (see below), which achieve a similar efficiency, since they tend to use the same diodes, chips and drivers.
The other big advantage of both types of lighting is a more even light spread. Instead of sky high PPFD numbers dead center below the light (which many brands used to advertise their lights as being better than they really are) and almost no output in the corners of the coverage area, these lights give you the opposite.
You get lower numbers dead center, but higher ones in the corners. They are obviously not as high as the center, but still plenty high to flower cannabis. This makes the lights much better for growing over a large surface area.
IF you only have a single plant, or a single row of plants, a higher output in the center is more advantageous. In that case, your best bet is a COB LED grow light. See the Phlizon fixture below.
Finally, the separated bars in this type of fixture makes for much better heat distribution. The lights still emit heat, meaning you still need to ventilate, and perhaps even cool, your tent, but the fixture does not need fans to keep the LED chips from overheating.
This means a quieter operation and not having to worry about a fan failing and costing you valuable growing time.
All Spider Farmer lights come with complete hanging gear and a 3 year warranty from the manufacturer. You also get 30 days to return the light. Overall, this series of lights is the best choice on the market for most people.
Best Quantum Boards For Bloom
Best Value
Spider Farmer SF Series Lights
Extremely efficient — output of 2.7 umol per joule
Samsung LM301B diodes — industry standard and the reason for the high efficiency
Full spectrum light — can be used during all stages of growth, with white light plus red for a bloom boost
Large even coverage — large form factor makes for a more even light distribution
Daisy-chainable — connect up to 60 lights and dim them all together
3 year warranty — you also get a 30 day money back guarantee
Rated for 55,000 hours — 4-5 years with no light bulb changes
Includes light, hanging kit and power cord — everything you need to start growing immediately
Amazon
LED Grow Lights Depot
We earn a commission if you make a purchase, at no additional cost to you.
Our favorite quantum boards also come from Spider Farmer. Once again, it comes down to value. But in this case, it is even closer.
The brand that pioneered the quantum board lights (and came up with the name) is Horticulture Lighting Group, or HLG for short. And their lights have come down a lot in price, so they are not all that much more expensive than Spider Farmer these days.
This makes them a great option, too. You can see our review of their lights here. The reason we recommend Spider Farmer over them is that Spider Farmer now uses the Samsung LM301B chips, which are more efficient than the Samsung LM301H that HLG uses in most of their fixtures.
That said HLG has begun using the LM301 B chips in some of them (specifically, the 650R and the Scorpion Diablo). The difference is an efficiency of 2.7 umol per Joule for Spider Farmer and 2.6 umol per Joule for HLG. But HLG's fixtures with the LM301B are more efficient.
Basically, it's almost a toss-up, but the Spider Farmer fixtures are cheaper. If you don't mind paying a bit more for the best, or you want to support a US company that manufactures in the US (HLG manufactures in Tennessee), then go with HLG. Otherwise, go with Spider Farmer.
Of course, there are also all the other Chinese brands. Since quantum boards were the most popular lights for a long time, and still kind of share that title with the newer bar lights, every brand makes them.
Again, our favorite alternatives come from the other two more established Chinese brands (and the other ones that have service centers in the US and Europe): Viparspectra and Mars Hydro, and again, in that order of preference.
Now let's take a closer look at the Spider Farmer SF series of lights. As mentioned, they use the same Samsung LM301B chips as the SE series, which makes them similarly efficient. That is one advantage the two series share. The other is the even light spread we already talked about.
The SF series also dissipates heat well enough to not need any fans, but the bar style lights do this even better. This makes sense, since you can see the open air between the bars and intuitively understand how that is better for cooling than a solid panel.
The other big difference is in the spectrum. Both use the aforementioned white LEDs from Samsung, specifically, they use a mix of 3000K warm white and 5000K cooler white. In addition, both add in some 660 nm deep red and 740 nm infrared. But only the SE series has UV diodes.
Like the SE series, you can also daisy chain up to 30 of the SF series lights together and dim them from one dimmer. They also ship with full hanging gear and you get the same warranty and return policy.
Best COB Lights For Flowering
Best COB Lights
Phlizon Cree COB Series LED Grow Lights
Very high output with deep canopy penetration — powerful COB chips penetrate much deeper than regular diodes
Top Rated CREE COBs — more efficient and last longer
Daisy chainable — can connect multiple lights and run from a single power source
Runs on AC100-240V — works for growers in any country
50,000+ hour lifespan — grow up to 5 years without bulb changes
Perfect spectrum for plants — ideal mix with peaks on red and blue, but some light in every wavelength, plus UV and IR LEDs
Includes 2-year warranty and 30-day returns — if you do get a bad unit, you can get it replaced
Shop Now
Our Review
We earn a commission if you make a purchase, at no additional cost to you.
Before the quantum boards and bar lights, COBs were all the rage. They delivered insanely powerful light from a single large diode (that is actually made up of a bunch of tiny ones), which resulted in much deeper canopy penetration.
COBs still get the best canopy penetration and that is their biggest advantage. As mentioned above, if you have a single plant, or a single row of plants, meaning you don't need as much output around the outside of the coverage area, then COBs are a great choice.
Their deeper light penetration means more bud sites lower down on the plants. Even if you have a larger canopy, you can still take advantage of the deeper penetration, but you will need to hang the lights closer together to overlap the coverage areas.
If you want this deep penetration, then Phlizon is your best option. They are modeled after the Optic LED and Amare LED grow lights. Both used high-powered COBs and surrounded them with supplemental diodes to add some extra red, blue IR and UV (sometimes) to the white light from the COBs.
Amare and Optic were the two most popular brands, because they advertised as being Italian and US, respectively. But both manufactured their lights in China. Optic still does. Amare seems to have disappeared.
The other problem was absolutely horrendous customer service and quality control, at least on Optic's part. Seriously, they were just as bad as the worst Chinese brands. That is why we recommend any good, or even just decent, Chinese brand over Optic. You pay less and actually get more.
Phlizon is easily the best Chinese brand that makes COB LED grow lights. The only other two brands worth mentioning are Rapid LED and Aglex. We'll start with Aglex, which we already mentioned above, because they also make bar lights.
Their COB fixtures are basically the same as those from Phlizon, except they do not use the industry-standard CREE COBs. Instead they use COBs from Bridgelux, which are a bit less efficient and also a bit less reliable. They are still good, though, and they cost much less.
Rapid uses top-of-the-line CREE COBs, but they use only those. They do not use any supplemental diodes.
Their lights are also much more expensive, because they are an American brand (but they manufacture in China). However, they make DIY kits that are fairly easy to put together. You can save some money by getting one of those, but the costs is still far above other COB fixtures.
As for the Phlizon COB series let's go over some specifics. As mentioned, they use CREE COBs, in a mix of 3000K warm white and 6000K cool white light. They supplement those with 630 nm and 660 nm red diodes, 470 nm blue, 740 nm IR, 6000K white and 3000K white.
You can switch either the COBs or the supplemental diodes on or off. Generally, you'd want to run the supplemental diodes on their own during veg, and then run the COBs and the supplemental diodes during flowering, for a huge bloom boost.
We already mentioned the deep canopy penetration the COB LEDs give you, as well as the less even light spread, so we won't go into that again. The other big difference is that the COBs create a lot of heat, meaning these fixtures have fans. Those are noisy.
Finally, you can not dim the outpt (though you can turn either the supplemental diodes or the COBs off) and you can not daisy chain the lights.
Phlizon ships their lights with full hangin gear and they warranty them for 2 years. You also get 30 days to return them. You can read more about Phlizon lights in our review here and in several of our other buying guides, like our guide on the best COB LED grow lights here and our buying guide for 2000 watt LED grow lights here.
Best Blurple LEDs For Flowering
Best Blurple Lights
BestVA LED Grow Lights
Highly efficient — about 50% less power consumption than the equivalent HID lights
Full spectrum light — great for all stages of plant growth from vegetative stage to bloom
Excellent core coverage — same as a the equivalent HID fixtures
Double-chip Samsung LM301B diodes — deeper canopy penetration than standard chips
Runs on AC85-265V — will work in any country
Rated for 100,000 hours — 4-5 years with no bulb changes
3-year warranty and 90 day return guarantee— risk-free purchase
Includes light and hanging kit — everything you need to start growing plants immediately
Shop Now
Our Review
We earn a commission if you make a purchase, at no additional cost to you.
Finally, we wanted to include one blurple light here, although we do not generally recommend this style of light for growing cannabis. They really have only one advantage, although it is a big one: price.
These lights cost less than the other types above. And they do grow and flower marijuana well, so if you are on a tight budget, these fixtures can make a lot of sense. However, if you have the money for any of the above lights, go with those instead. Let's find out why.
When LEDs first hit the market, they tended to have a mix of red and blue diodes. Manufacturers told us that plants want red and blue light, so having only light in those colors was more efficient. You are not paying for electricity to create light in colors plants don't use.
There is some truth to this, but it also leaves out a few things. For one, plants do use other colors of light. They just use more red and blue. After all, the sun is full spectrum white light that contains every wavelength, i.e. every color.
This led to many brands adding white diodes to their blurple lights, in order to provide some light in every color. The result was a spectrum with all colors, but with peaks on red and blue. This is great for plants and similar to the spectra provided by the lights above. And the sun.
These days, the best blurple fixtures have mostly white diodes and they supplement them with red and blue. This is a much better spectrum.
However, these types of lights still have a few disadvantages. The biggest is a less even light spread, similar to the COB fixtures. And they don't get the same penetration of the COBs, so they kind of sit in the middle.
Quantum and bar lights are better for an even light spread, while COBs are better for a deeper penetration. Blurple are not the best for either. Like COBs, they also need fans in the fixture.
Finally, because many still have a lot of red and blue diodes, the light they emit is a bluish, purplish, pinkish light. Blurple.
This light is not pleasing on the eyes and it also makes it difficult to see what is going on with your plants. They simply look more natural under the mostly white light of those other types of fixtures.
There are not so many blurple lights on the market anymore. BestVA is our favorite brand, because they offer the best value and their updated lights are more white than blurple. KingLED is our top alternative. We have a review of KingLED here.
BestVA used to use Bridgelux and Epistar chips and diodes, but they have recently switched to Samsung LM301B, which is one big reason we like these lights. The Samsung ships and diodes are simply more efficient than the competition.
These lights use a mix of many different colors, including all-white diodes, the other colors are various shades of red and blue. This gives you a great spectrum for plants. There is a veg bloom switch that allows you to change from a blue-heavy spectrum for vegging to a red-heavier one for flowering.
These days, most growers prefer to use a single spectrum throughout the grow. Changing spectrum mid-grow can shock the plants a bit, delaying their development. And if you have a spectrum similar to sunlight, there is no real need to change it up from veg to flowering.
Like all the other brands above, BestVA also include hanging equipment and they advertise that they include a power cord for free, but come on! If you tried to charge extra for that, you'd go out of business. The warranty is 3 years, with a 90 day return policy.
All Red LED Grow Light For Flowering Stage
Some people will tell you that a red spectrum LED grow light is ideal for flowering, but this is completely false. Flowering plants want light in all colors.
What is true is that they want more red light than anything else. For that reason, many growers look to supplement their existing lighting with an all-red LED grow light during the bloom stage. These red spectrum lights function as a flower booster LED to increase both yield quantity and quality.
The main options when looking at supplemental lighting are UFO LEDs (round lights), LED light bulbs (that screw into a regular light socket) and small LED panels. We'll take a look at the best of each type.
Best Red UFO LED Grow Light
G8LED 90 Watt Red Flower Booster LED Grow Light
Pros:
Perfect if you need additional red light as a bloom boost

Good output and large coverage area

High-quality build

2 year warranty and 90 day money back guarantee
Cons:
All-red spectrum limits its usefulness and makes it ideal for a very specific purpose only

High price compared to other all-red lights on this list
View On Amazon
We earn a commission if you make a purchase, at no additional cost to you.
09/22/2023 04:37 pm GMT
UFO lights can actually be powerful enough to light a small grow on their own, but not ones with all-red light. Those are specifically designed to supplement existing (usually all-white) light, to give plants additional red light during bloom to boost yields.
The G8LED 90 watt red flower booster LED grow light is easily the best option. It features red diodes in two wavelengths: 660 nm and 630 nm.
Used as supplemental lighting, it will cover an area of around 8 to 10 square feet. When hanging 12 inches from the canopy, it delivers an output of 770 μmol/m²/s. It achieves this output while only consuming 80 watts.
The only real drawback of the G8 UFO is the price. It costs considerably more than most other UFO lights, but it is also much better made. It is one of the best UFO LED grow lights on the market.
Best Red LED Grow Bulb
ABI 25W Deep Red 660 nm LED Light Bulb Bloom Booster
Pros:
Can screw into a standard light socket

Inexpensive to buy and run

Red spectrum gives a nice flowering boost

Flexible use
Cons:
Low output

Only red light not useful on its own

Need a light socket for each bulb
View On Amazon
We earn a commission if you make a purchase, at no additional cost to you.
09/22/2023 04:46 pm GMT
LED bulbs are small LED fixtures that screw into any standard light socket. This makes them extremely versatile and flexible, but it also limits their potential size and power.
They only feature a small number of diodes and those diodes are usually all the same color or two different colors. Generally, they are either all red, all blue, or a mix of those two colors.
Due to their limited size and power, they are only suited as supplemental lights. For a flowering boost, we naturally want all red light. The flowering LED grow light bulb from ABI delivers this.
It actually comes in 4 versions. There is a 26 watt version with all 630 nm diodes, a 25 watt version with all 660 nm diodes and two 12 watt versions: one with 660 nm and one with 630 nm. 630 nm is red light, while 660 nm is a deep red led grow light.
These bulbs fit a standard household E26 socket. The come with a 3 year warranty and are rated for 50,000 hours of use.
Best Red LED Panel
HQRP 630 nm 14 Watt Red LED Indoor Grow Light Panel
Pros:
Very inexpensive to buy and run

Great supplemental light to put on the walls (or floors) of your grow space
Cons:
All-red light not useful on its own

Bulkier than the other two options
View On Amazon
We earn a commission if you make a purchase, at no additional cost to you.
09/22/2023 04:51 pm GMT
Depending on your setup, a round LED or an LED bulb may not work as well as a panel. IT is harder to find panel style supplemental lights, since most panel lights are designed to be primary light sources. There are a few good all red LED grow light panels, though.
The best among them is the HQRP 225 Red 14 Watt LED Plant Light Panel. It features 225 low wattage LEDs with a red light spectrum (the wavelength is 630 nm). All 225 diodes are powered by a mere 14 watts, which means a very low power consumption.
It also means the output is nowhere near powerful enough to be used as a primary light source, but it makes for excellent supplemental lighting during the flowering stage to give yields a boost.
This is especially true if you use several of these panels. A great configuration is to put them on the walls, with a panel or two on each side, to really envelop your plants in a yield-boosting red glow.
Do LED Lights Take Longer To Flower?
You may have heard that one big drawback of LED grow lights is flowering time. They simply take longer to flower.
While that used to be true, it no longer is. At least not for the best flowering LED grow lights.
The majority of LED lights will take longer. That is still true. They often don't have enough power to bloom, or they simply have an ineffective spectrum. The reason HPS bulbs flower so well is a light spectrum that is heavy in red. It is great for flowering.
But it is not ideal. Adding more blue light to that spectrum would improve it and lead to better results.
The LED grow lights I recommended above have the ideal spectrum. It is close to sunlight, but with additional peaks on read and blue.
The result is faster flowering times and better yields, both in terms of quality and quantity.
In short: while most LEDs are still pretty useless, the best LED grow lights are now also the best flowering lights on the market. Some do still have less canopy penetration, but if you remove the lower branches of the cannabis plant, that won't matter much anyway.
Best Lighting For Flowering Stage: Final Thoughts
As mentioned, LED grow lights are by far the best option, these days. Assuming you get a good one. The sad truth is, most of what is on the market is not good at all.
But the best LEDs are now better than anything else. The top choice for most growers is a bar style fixture, like the ones from the Spider Farmer SE series. Quantum boards, like those from Spider Farmer's SF series are just as good and many growers prefer those.
COB LED grow lights are also excellent for flowering, although most growers now prefer the other two types over COBs, due to a better light spread and better heat dissipation.
Finally, we have the good old blurple lights. These still work great as well, but they just aren't as good as the other three types. However, many still swear by blurple lights, and there is nothing wrong with that.