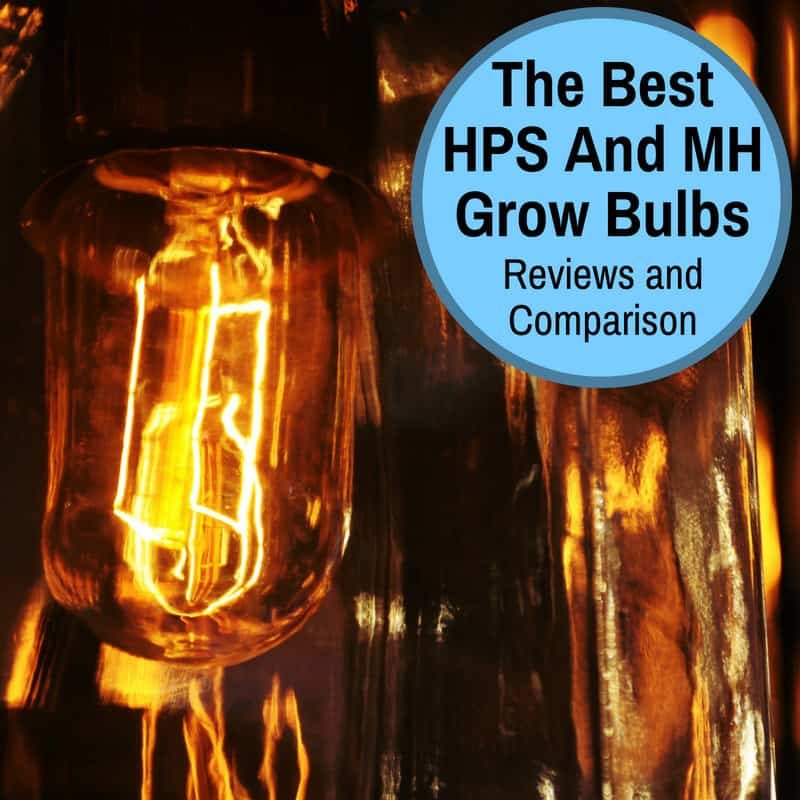 Let me guess.
You're looking for an HPS and/or MH grow light bulb and you've noticed just how many different ones there are.
I've been there.
How can you possibly know which grow bulb is best?
Or even which ones are any good at all—many are pure crap.
That's why we've sifted through all the options (at least the reasonably affordable ones) and narrowed them down to the best.
We'll give you our top choice of single-ended and double-ended HPS bulbs, plus a second choice for those on a budget.
For metal halide bulbs, the budget options are also the best options overall. The slight increase in quality of the top brand bulbs does not justify the huge increase in price.
Here's a quick summary of our findings. If you're curious why we recommend these bulbs, you'll find brief reviews for each below.
Best HPS & MH Grow Bulbs Compared
09/22/2023 06:41 pm GMT
Which Type Of Grow Bulb Do I Need?
If you already know exactly which bulb(s) you need, you can skip this section and head straight to the reviews below.
If you're not sure, there are basically 3 questions you need to answer:
Single-ended or double ended?
HPS or MH?
Which wattage?
Let's take them in order.
1. Single-ended or double-ended bulbs?
If you're looking to only buy bulbs, chances are you already have a reflector. If that's the case, get the type of bulb that fits in your reflector.
If you don't have a reflector yet, I would actually recommend buying a kit that includes everything you need (reflector, ballast, bulbs, hangers, timer). Check out this post for help in choosing the best kit.
That post covers the difference between single-ended and double-ended bulbs, but I'll touch on it briefly here as well. Double-ended bulbs generally give you more output and they last longer. The main drawbacks are a higher cost (the bulbs are a little more expensive and the reflectors a lot more) and heat. DE bulbs generate more heat than single-ended ones.
My recommendation: if you're just starting out, go with single-ended.
2. High-Pressure Sodium (HPS) or Metal Halide (MH)?
This one's easy. Get both. Most kits will include one of each anyway.
The reason?
MH bulbs emit cooler light (i.e. light that contains a lot of blue), which is ideal for plant growth (vegging). But it is not suited for flowering and fruiting plants.
For the flowering stage, plants need a lot of red and orange light, which is exactly what HPS bulbs give you.
That's why you get the best results if you use both bulbs: MH during the vegging stage and HPS during the flowering stage.
Naturally, if you are growing plants that do not flower, you do not need any HPS bulbs. Also, many growers like to veg plants in one room, while a different batch is flowering in another, so they can harvest twice as often. If you're buying for a veg room, you obviously want just MH bulbs and if you're buying for a flowering room, you only want HPS.
3. Which wattage?
We're only going to focus on 400 watt, 600 watt and 1000 watts here. Anything else is too inefficient. The most efficient wattage of all is 600, followed by 1000 and then 400. For that reason, we generally recommend 600 watts, but it also depends on the size of your grow space.
In general, here is what the three wattages cover:
400 watts covers a 3 by 3 foot area
600 watts covers a 4 by 4 foot area
1000 watts covers a 5 by 5 foot area
Obviously, the type of reflector you use will have an effect on the coverage area, but that gives you a general idea.
Generally, using more smaller lights is preferable to fewer large lights. In other words, it would be better to cover a 20 by 20 foot area with twenty-five 600 watt lights than with twenty 1000 watt lights.
Best HPS Grow Light Bulbs Reviewed
We have 4 recommendations here, because we included a budget pick as well, for both single-ended HPS and double-ended HPS bulbs.
Best Single Ended HPS Bulb: EyeHortilux Super HPS Enhanced Spectrum Lamps
Eye Hortilux Super HPS Enhanced Spectrum Bulb
Pros:
17% more energy than competing bulbs

25% more energy in the violet, blue and green ranges

Better quality control than other brands (less chance of getting a bad bulb)
Cons:
Higher cost than competing bulbs (adds up with yearly bulb changes)
View On Amazon
We earn a commission if you make a purchase, at no additional cost to you.
09/22/2023 06:41 pm GMT
Most lists of the best high-pressure sodium bulbs have the EyeHortilux Super HPS Enhanced Spectrum bulbs at the top. That doesn't always mean much, but in this case, everyone is right. The Hortilux bulbs are in a class of their own.
What sets the EyeHortilux bulbs apart is the enhanced spectrum. They emit 25% more energy in the violet, blue and green spectrum than standard HPS bulbs (and 17% more energy in total). This gives your plants a better mix of light and results in higher quality yields.
It also means that these bulbs do far better if used to veg than other HPS bulbs, but obviously not as well as a metal halide bulb. Still, if you wanted to use one bulb throughout the whole grow, this would be the one.
The EyeHortilux HPS bulbs also are available in 1000 watts, 600 watts, 430 watts, 400 watts and 250 watts and they come in packs of one, two or six. They are easily the top bulbs on the market and get a rating of 4.8 out of 5.
Best Budget Single Ended HPS Option: Vivosun High Pressure Sodium Bulbs
I'll be honest, this was a toss-up between the Vivosun Super HPS bulbs and the iPower bulbs. They are basically exactly the same. And while I prefer the iPower kits to the Vivosun kits, when it comes to just the bulbs, I prefer Vivosun. The main reason for that is a nicer Amazon listing and slightly fewer problems with shipping.
Apart from that, there's no real difference. Both brands give you an output of 140,000 lumens from their 1000 watt bulbs, 90,000 from their 600 watt bulbs, and 55,000 from their 400 watt bulbs.
They also have the same 2100K red/orange spectrum and a long expected lifespan of 24,000 hours. They retain 90% of their output even after 5000 hours. That said, they deteriorate faster after that (see below, for more on longevity).
The Vivosun HPS bulbs are available in 400, 600 and 1000 watts. The 600 watt bulbs are also sold in a 2-pack. They sell at a much lower price than the EyeHortilux bulbs and the main difference is quality control and longevity.
While the Vivosun bulbs can't quite match Hortilux for output and quality of spectrum, they're not too far off. But they usually last for 2 grow cycles max, instead of 4 or 5, like the name brands.
There is also a much higher chance of getting a faulty bulb with Vivosun, so you need to be aware of that risk (a risk that is even higher with other low-cost brands, which is the main reason Vivosun and iPower stand out). Of course you can get a bad bulb replaced, but you lose time.
Best 1000w DE HPS Grow Bulb For Flowering: Ushio Hi-LUX GRO Double-Ended HPS Bulb
Ushio US5002442 Pro Plus DE HPS Bulb
Pros:
Long lifespan of 10,000 hours

High output with a PAR of 2100 umol/s

2100K spectrum, heavy in red/orange light, but with a blue spike: perfect for the flowering stage
Cons:
View On Amazon
We earn a commission if you make a purchase, at no additional cost to you.
09/22/2023 06:26 pm GMT
This is the best flowering bulb out there, period. Nothing beats a 1000 watt double ended HPS for flowering, but unfortunately, there are very few good ones available. And the Ushio Hi-LUX GRO is easily the best among them.
At a time when most bulbs are manufactured in China, Ushio's is engineered in Germany at an ISO9001 certified facility. The result is a very high quality bulb with a color temperature of 2100K and high red and blue spectral ratios for good photosynthesis efficiency. In short: it is perfect for flowering.
It has a lifespan of 10,000 hours, which is typical of good DE HPS bulbs. It provides a huge output of exactly the light your plants need, with a PAR of 2100 umol/s. The main drawback of this bulb is that it is only available in 1000 watts. And the high price, of course.
Best Budget DE HPS Option: iPower Double Ended Super Lumen HPS Bulb
The iPower Double Ended 1000 watt HPS bulb lags behind the Ushio in quality and performance, no doubt. But it also costs much less, making it a great value.
And when it comes to performance, it doesn't lag by much. iPower don't provide PAR data for this bulb, but the lumen output is 150,000. Like any good bulb, it was constructed without a frame wire, to avoid any shadows in the beam.
The color temperature is 2300K, which is heavy in the red/orange spectrum that plants crave during the blooming/flowering stage. That said, it has very little blue light at all. While that is typical for DE HPS bulbs, the Ushio features a bit more blue light, which is a big reason why that bulb is simply better.
The biggest drawback of budget bulbs is that they generally degrade faster than more expensive ones. A bulb like this usually lasts for two grow cycles at most, while top brands can last 4 or 5 grow cycles.  Apart from that, the iPower holds its own with the much more expensive Ushio.
Best MH Grow Light Bulbs Reviewed
For the MH bulb, we did not have a separate pck for budget bulbs, because the best bulb overall is also the best budget bulb, for both the single-ended and double-ended bulbs. That's because the highest quality bulbs cost so much more that it's just not worth it to pay the difference.
Best Single Ended MH Grow Lamp: iPower Metal Halide Bulbs
To be perfectly honest, the EyeHortilux MH bulbs are better, but they cost much, much more than the iPower Metal Halide Grow Bulbs. And the large difference in price does not justify the difference in quality. For that reason, the best budget MH bulb is also the best overall choice.
The iPower MH bulbs have an enhanced blue/violet spectrum with a color temperature of 6000K, which means they contain a lot of light in the blue spectrum, which is ideal for the vegetative stage of plant growth.
The iPower metal halide lamps have a long lifespan of 12,000 hours and retain 90% of their initial output even after 5000 hours. They will not last as many grow cycles as the more expensive bulbs, but the price difference is so large, that we recommend just buying 2 or 3 of these instead of one Hortilux, etc.
These bulbs come in 1000w, 600w or 400w with an initial output of 92,000 lumens, 60,000 lumens, and 36,000 lumens respectively.
Best Double-Ended Metal Halide Lamp: iPower DE Enhanced Performance MH Bulbs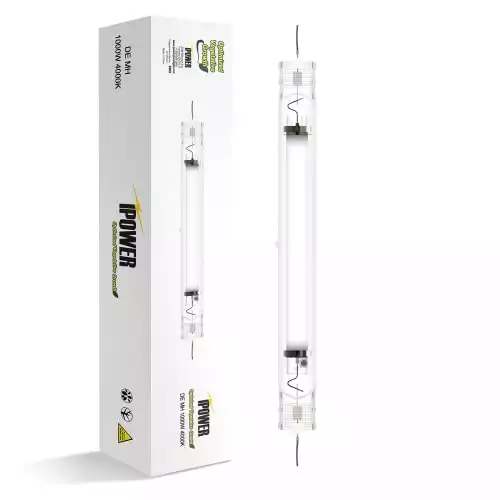 iPower DE 1000 Watt Metal Halide Bulb
Pros:
3 different versions: 4200K for all stages, 6000K for vegging and 10,000 for finishing

High lumen output (100,000, with PAR of 1400 umol/s)

Low price
Cons:
Higher failure rate than top brands

Only last 2 grow cycles
View On Amazon
We earn a commission if you make a purchase, at no additional cost to you.
09/22/2023 09:06 pm GMT
Finding good double ended metal halide bulbs is hard. Actually, finding any is hard, since they usually seem to be sold out. That really only leaves one good option: the iPower DE Enhanced Performance 1000w MH bulbs.
These bulbs are very inexpensive, but they deliver tons of power, with an initial lumen output of 100,000 and a PAR of 1400 umol/s.
iPower make three different MH bulbs: a 4200K one, a 6000K one and a 10,000K one. The 4200K bulb can be used for all stages of growth, since it has a good amount of reddish light, but is not ideal for any (HPS bulbs are always better for flowering and the 6000K is better for vegging).
The 6000K bulb is the vegging specialist and the one we recommend for the growth (vegging) stage. The 10,000K bulb is what is called a "finisher". It is meant to be used during the last 2 weeks of flowering, when plants can really benefit from UV light (which this bulb provides), since it boosts resin output.
Best HPS And MH Bulbs: Final Thoughts
We made sure to include both high-quality name-brand bulbsm as well as Chinese-branded budget bulbs in our recommendations. As mentioned, for the metal halide bulbs, the high quality versions cost so much that we recommended the budget bulbs as the best overall, too.
If money is no object, go ahead and buy Eye Hortilux MH bulbs. They are definitely better. But for the rest of us, you can get several iPower bulbs for the price of one Hortilux, so even if they fail much quicker, you still come out ahead.
With the HPS bulbs, things aren't so clear cut. The high quality options are a better value, since they give better results and last longer. The price difference is also not as big as with the MH bulbs.