Autoflowering cannabis is all the rage.
It seems that every grower is growing autoflowering plants these days.
The reasons for that are simple: they are easier to grow and you don't need to worry about changes in lighting.
With regular (photoperiod) marijuana plants, you need to switch from 18 hours of light per day to 12 hours, in order to get the plants to enter the flowering stage.
With autoflowers, you do not need to change the lighting.
They switch automatically, after a certain period of time.
How long is that period? When do autoflowers start flowering?
Keep reading to find out. It varies from strain to strain, but we will cover everything you need to know about the growth cycles of autoflowering weed plants.
When Do Autoflowers Start Flowering?
Autoflowers may begin flowering as early as three weeks into the grow. As you may be aware, autoflowers begin flowering automatically, without the need to change the light cycle.
Autoflowering strains are hybrids that contain Cannabis ruderalis genetics. This means that the flowering period is triggered by the plant's maturity rather than by the amount of light it receives. This results in shorter grow times, and your harvest may be ready in just 8–10 weeks.
Many cannabis growers are choosing autoflowering strains because of the shorter grow times and the lack of a need to adjust the lighting conditions.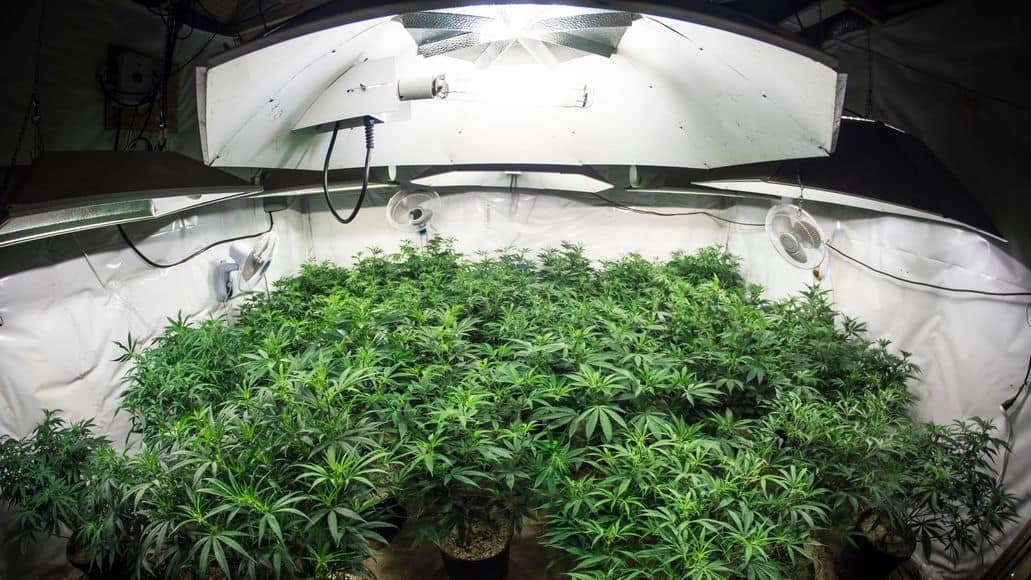 Unlike photoperiod strains, whose flowering is triggered by the amount of light they receive, autoflowering strains begin to flower after a certain period of time, based on the plant's maturity.
This means you don't need to reduce the amount of light that your plants receive, in order to trigger the flowering stage. And the longer exposure to light should lead to more growth and better harvests. And growing autoflowers outdoors can mean multiple harvests per year.
Autoflowering strains are particularly appealing to beginner growers, because they are a little easier to grow.
In the past, the big drawback was a much lower yield and also a lower quality yield. But that is no longer true. The highest yielding autoflower strains now match photoperiod strains. You can also find tips on getting bigger yields with autoflowers here.
While autoflowers are easier to grow and they start to flower without the need to alter their light cycle, you still need to be able to recognize the different stages of the plant's growth so you can adjust the nutrients accordingly.
To that end, read on to see how you can recognize the different stages of growth, including the beginning of the flowering stage, and then you will be able to give your plants the correct amount of nutrients to ensure a healthy harvest.
Stage One: Vegetative Stage
After germinating your seeds and planting the young plants, their first stage of growth is referred to as the "vegetative stage." This is when the plant grows quickly, the stems lengthen, and more and more leaves appear.
This stage is important, because more leaves means that the plant will be better able to photosynthesize—turn the light into chemical energy for further growth.
During this stage, your plants will need water, but you have to be careful when adding nutrients. The plant's young root system can be susceptible to nutrient burn.
Nutrient burn can lead to the death of young plants or can at least cause damage to the plant, which may result in a poor yield. You can add small amounts of nutrients during this stage, but the safest option is to just water the plants for the first couple of weeks.
Stage Two: Flowering Stage
After a couple of weeks, you should start looking out for signs that your plants are entering the next stage—the flowering stage. Different strains will have slightly differing growth rates, and there is not one magical amount of time after which all autoflowering strains enter the flowering stage.
But the rule of thumb is that the flowering stage could start after two to three weeks when growing autoflowering strains.
Once the vegetative stage is underway, you will notice your plants start to grow their distinctively-shaped fan leaves. More fan leaves mean that the plant can obtain more energy for further growth
The first sign to look out for in order to be sure the flowering stage has begun is the appearance of pistils. The pistils are the female or seed-bearing organs of a flower, and you should notice them beginning to form at the point where the fan leaves meet the main stem.
They appear as tiny, white, hair-like structures at first, and eventually the buds will form at this site. If you do not see them form, then you know your plant is a male not a female.
Once the pistils are apparent, you can start to think about adjusting the nutrient levels. During this stage, to encourage the growth of the flowers, your plants will need plenty of phosphorus and potassium. Learn about the effects of a potassium deficiency here.
When choosing nutrients, you should pay attention to the levels of nitrogen (N), phosphorous (P), and potassium (K), which are usually displayed on the packaging as a ratio.
A good ratio for autoflowering plants at this stage is a NPK ratio of 5:15:10, meaning it has lower levels of nitrogen and more phosphorus and potassium.
Bloom booster nutrients add a lot of phosphorus and potassium, so they are a good choice. But you need to be careful not to use them to early. Learn when to add bloom booster in that article.
Stage Three: Bud Production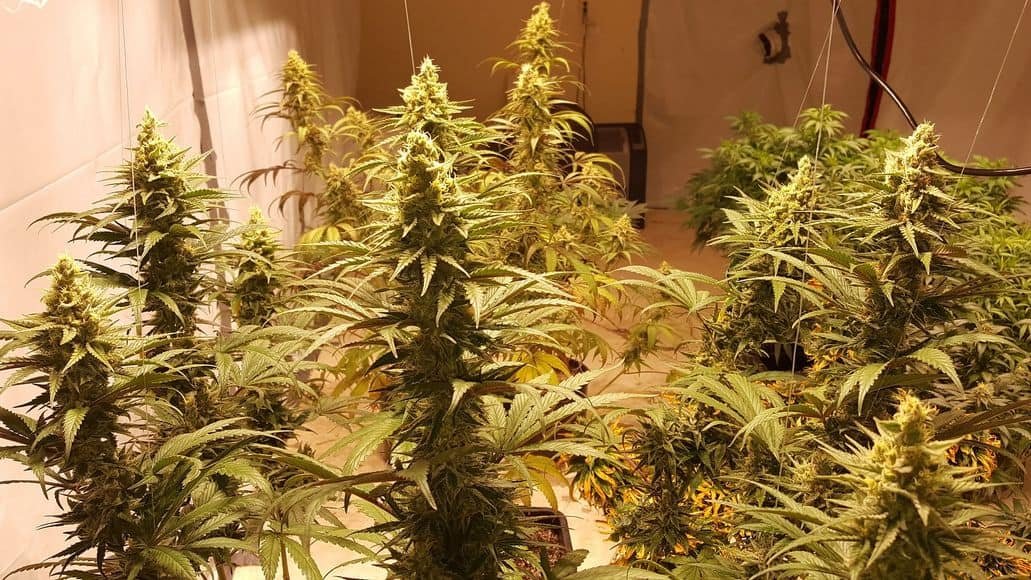 Between weeks four and five, you should start to notice the buds forming and fattening at the sites where we first noticed the pistils forming. Your plants are now entering the latter stages of flowering.
As your plant progresses, you will notice trichomes appearing on the buds, which will initially appear to be clear. Eventually, the trichomes will start to look milkier before beginning to turn amber. The pistils will also begin to turn amber at this point, signaling you are approaching harvest time.
We have an article on how to grow bigger buds, but we only suggest worrying about that after you have a few successful grows under your belt. Best to get the basics right first, before you move on to more advanced techniques.
Stage Four: Harvest
Once you start to see the pistils and trichomes changing color, you can start preparing to harvest your crop. A week before harvesting, you should start to flush out any nutrients by only giving your plants water.
This will help remove any traces of excess nutrients, which may affect the taste of your buds. Flushing out the nutrients with water should ensure your buds have a pleasant, enjoyable taste.
But don't be too hasty in sampling your harvest; you still need to hang the crop to dry it out. And after that, you should cure the buds before smoking. Many growers are in a hurry and skip the drying and curing process with autoflowers, but that results in harsher tasting flowers.
Autoflowering Cannabis Flowering: Related Questions
Next, we will answer some common questions related to autoflowering marijuana plants. If you have any additional questions, please feel free to ask them in the comments below.
What Does Photoperiod Mean?
A photoperiod is the amount of time a plant is exposed to light. When a cannabis plant or strain is described as being a photoperiod plant, it means that its flowering stage is triggered by the amount of light it receives, rather than by how mature the plant is. Photoperiod plants typically start the flowering stage when they receive 12 hours of light and 12 hours of darkness.
What Is Cannabis Ruderalis?
You are probably already aware of the terms "Cannabis sativa" and "Cannabis indica." These are the two common species of cannabis plant. Ruderalis is perhaps another. Botanists are still debating whether Cannabis ruderalis is a third species or a subspecies of the others.
Cannabis ruderalis plants are autoflowering, whereas the other two varieties rely on light to trigger the flowering stage. Autoflower strains are hybrid plants that contain the genetics of Cannabis ruderalis, which is what makes these strains able to flower automatically.
When Autoflowers Start Flowering: Final Thoughts
When exactly an autoflowering marijuana plant starts flowering depends on a number of factors. In general, you can expect them to enter the flowering stage as early as three weeks. In some cases, maybe even sooner, but usually a bit later.
If you are looking for good autoflowering seeds, check out our article reviewing the best autoflower seed banks here.