Why is it so hard to find a good small grow tent?
First of all, sites don't make it easy to sort by size. If it's possible at all.
And even if you can, how do they define small?
Is it a small foot print? Or a low height?
A tall tent with a small footprint and a short tent with a larger base fulfill two very different purposes.
But both are considered mini grow tents.
For that reason, we made sure to include some of each in our list of the best small grow tents on the market.
That way, you should be able to find the right tent for you, no matter your specific needs. Let's take a look.
Best Small Grow Tents Compared
Model
Size (L

x

D

x

H)
Purpose
Price
Rating
Dark Propagator 60
Check Price
23.5" x 15.5" x 23.5"
Seeds
Clones
$$$
4.9 / 5
Hydro Shoot 80P
Check Price
31.5" x 23.5" x 31.5"
Seeds
Clones
$$$
4.9 / 5
Crystal Room 70
Check Price
27.5" x 27.5" x 25.5"
Seeds
Clones
Mother Plant
$
4.7 / 5
TopoGrow D-Door
Check Price
16" x 16" x 48"
All Stages
$$
4.5 / 5
VIVOSUN 2x2x3
Check Price
24" x 24" x 36"
Seeds
Clones
Veg
$$$
4.6 / 5
VIVOSUN 2.5x1.5x3
Check Price
30" x 18" x 36"
Seeds
Clones
Veg
$$$
4.6 / 5
Small Grow Tent Reviews
The following are the smallest grow tents on the market. There are very few options at the smallest sizes, which is why we wrote this article.
I noticed similar articles always list tents that are somewhat larger, which doesn't really make sense. There are tons of those and they really aren't hard to find.
That said, if you do need something a bit larger, but still small, check out the last three options below. When you go to the product page, you will notice that they have multiple size options. The ones listed here are the smallest.
Secret Jardin Dark Propagator 60: 23.5″ (L) x 15.5″ (D) x 23.5″ (H)
The Dark Propagator 60 from Secret Jardin is by far the smallest tent on this list. It is only 2 feet wide by 1 and a third feet deep and 2 feet tall (60 x 40 x 60 cm). If you need a bit more space, the Dark Propagator 90 is 35.5 by 23.5 by 35.5 inches.
This obviously makes it unsuitable for growing plants from start to finish. This micro tent is meant for clones or seedlings. The name "Propagator" should make that clear.
Secret Jardin tents are always higher quality, which is why we included several on this list. The only other brands that make tiny grow tents are Chinese brands and they just don't have the same level of quality control.
The tent is made from a 190D tear-proof canvas fabric. The inside is lined with 95% reflective Mylar to keep all of the light from your grow lights inside the tent and reflect it back on your plants. The Mylar is washable.
The poles are made from galvanized steel and connect to extra-strength PP transparent plastic corners to create a sturdy structure. The DP60 ships with 2 holders for lights and filters that can support up to 20 pounds each. A pair of straps for a filter and a pair of hooks for lighting are also included.
The tent comes with 2 larger 6 inch plastic ring openings for air intake and exhaust and a smaller 3 inch opening for cables. All openings are sealed with double socks and tightening strings.
One thing that might put off some is that there are no actual holes in the tent. You will have to cut them yourself and then put in the supplied openings. It's easy to do, though and it means you can put the vents in the exact spots you want them.
A water tray in the bottom of the clone box catches drippings, to make cleanup and maintenance easy. You also get 15 clips so you can fasten cables or a net.
The best lights to use in this tent are two foot T5 LED bars or regular T5 fluorescent bars. CFL bulbs work fine too. Due to the low height, HID lights are far too powerful, as are larger LED fixtures. LED strip lights could work well, too.
Pros
Extremely compact so it will fit almost anywhere
Excellent build quality, especially considering the price
Includes a drip tray
You choose where to place the vents (this could also be a con for some)
Cons
You'll need to cut the openings for the vents yourself
Slightly more expensive
Too small for vegging or flowering
Secret Jardin Hydro Shoot 80 Propagator: 31.5″ (L) x 23.5″ (D) x 31.5″ (H)
Hydro Shoot is Secret Jardin's low cost line of tents. They use slightly lower quality materials to cut production costs and sell for a lower price. Actual build quality is not compromised.
The primary difference is that the canvas and the supporting poles are not as thick as their more premium lines. But they are still a bit thicker than the Dark Propagator line, which is specifically just for clones. Hydro Shoot tents are meant for full grows, but this particular model is an exception.
It stands only a little over 2 and a half feet tall, making it another cloning and seedling specialist. It is just as wide as it is tall and just slightly under two feet deep. In centimeters, it measures 80 by 60 by 80. In short: it is a bit larger than the previous model above.
As mentioned, the materials are very similar, with a 210D canvas fabric, instead of the slightly lighter 190D. The interior is also covered in 95% reflective Mylar.
This model only has one vent for ventilation, with a second one for cables. The ventilation opening is about 6 inches in diameter (15 cm) and the one for cables is about 3 inches (7.5 cm). A water tray is included here, too.
As for lighting, you'll want to use the same type of lighting as for the previous tent. HID or larger LEDs will simply be too powerful.
Read our review of Secret Jardin grow tents for more on all of their lines.
Pros
Small size means you can set it up almost anywhere
Excellent build quality, especially considering the price
Includes a drip tray
Cons
Too small for anything other than clones or seedlings
Secret Jardin Crystal Room 70: 27.5″ (L) x 27.5″ (D) x 25.5″ (H)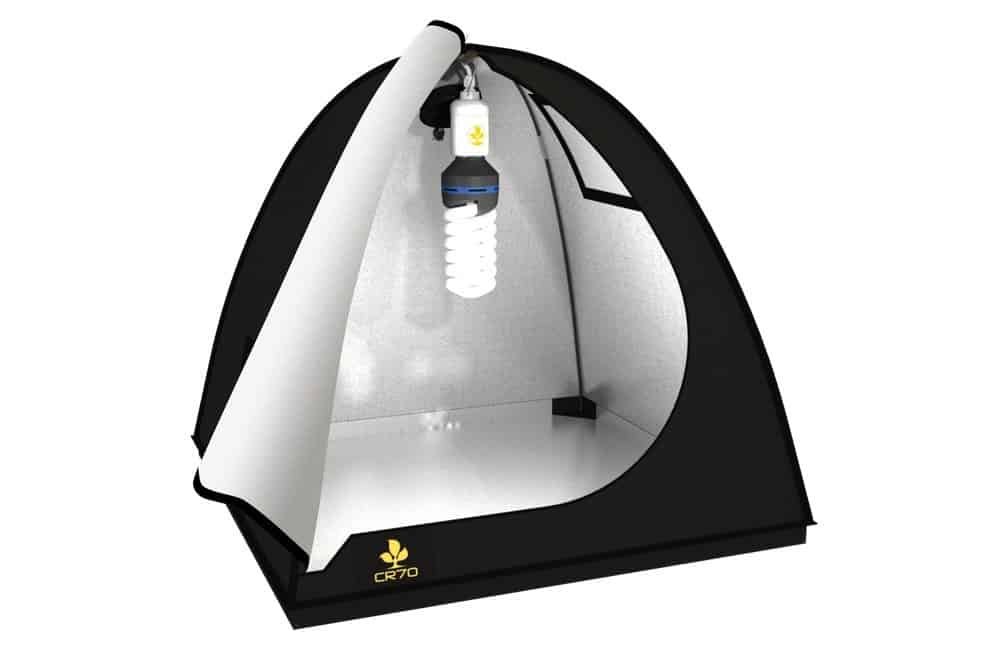 The Crystal Room 70 (also sometimes referred to as the Green House 70) is the final Secret Jardin tent on this list, I swear. But there's a reason we included 3 models from this company. Two reasons actually.
The first is that very few companies make tents with low ceiling heights and none of the others are reliable. Their products have a high failure rate and they are usually out of stock, too. So SJ is usually the only option. Even when the other tents are available, none offer close to the same price to performance ratio as Secret Jardin.
This specific model is a bit specialized. Due to the dome top, you are more limited in the type of lighting you can use. It is basically meant for a single CFL bulb hanging vertically, but the dome shape does result in better light reflection.
The Crystal Room 70 measures 27.5 inches in each direction at the base and has a height of 25.5 inches. It is ideal for seedlings, clones, or for hosting a mother plant. If you need more space, the Crystal Room 110 is slightly larger, with a height of 43 inches and a base of 41.
It comes with holders for lighting and filters, but they only support a maximum weight of 3 kg. You should not need more than that, though. A water tray is integrated, so it is not removable like with the previous two models. That obviously makes clean up a bit more difficult, but it's still pretty easy overall.
The cover is made from 210D canvas like the previous model, but the poles are made of fiberglass, not steel. The tent has vents that can be used for intake, exhaust, or for cables.
Pros
Great for housing a mother plant
Dome shape reflects light better
Cons
Unusual shape limits potential uses
Floor tray is not removable
Not as strong as previous models
TopoGrow D-Door: 16″ (L) x 16″ (D) x 48″ (H)
Have you noticed how the previous three small grow tents all had names? It seems only Secret Jardin does that. Other brands just use their brand and the size, or perhaps one distinguishing feature, like a material. Or in this case, the door.
The TopoGrow D-Door has a door that opens to one side and forms an opening in the shape of the letter D. I know. Not the most creative name. To open the door completely, you need to zip the zipper across three sides of the tent, which can be a bit difficult, depending on where you have it placed.
But if you make sure both zippers are in the front, you can choose to only zip it open as far as one side or two.
This is the tallest tent on our list at 4 feet, and thus the only one that has space for a full-cycle grow. If you keep your plants small, of course. With a 16 inch width and depth, you can really only fit one plant in the tent anyway. If you need a bit more size, the product page has multiple size options.
You could use a somewhat more powerful LED light here, but I would not recommend HID in such a tight space. The Spider Farmer 600 would be sufficient, but the 1000 would be a bit better, if you wanted to maximize yields. The two top support bars can hold about 20 pounds each, which is plenty for any light you might want to put in there.
The tent material is 600D oxford cloth. The inside is lined with 96% reflective diamond Mylar. Sturdy metal rods and heavy duty zippers complete the robust construction. Double stitching prevents light leaks.
There are two round vents for ventilation with drawstring sock seals. They measure 6 inches in diameter. There are 2 additional 16 by 8 inch ventilation ports with mesh screens. A removable floor tray is also included.
Pros
Enough space to grow a single plant from start to finish
Very small footprint, so you can fit it in small spaces, like a closet
Sturdy construction
Large doorway
Tent available in many sizes
Cons
Four foot height means you need to keep your plant short
Door zipper on multiple sides can make opening and closing more difficult
VIVOSUN Mylar Hydroponic Grow Tent: 24″ (L) x 24″ (D) x 36″ (H)
Here is another tent with no real name. This model from Vivosun gives you a bit more floor space with 2 square feet, but is a foot shorter than the previous model. That means it isn't as suited to all stages of growth. You could flower a plant in here, but it would have to be a very short plant.
Of course, if you want something a bit larger, there are tons of different size options on the product page. The button below the pros and cons list will take you there.
Because of the 3 foot height, you definitely do not want to use HID lights in here, but LED lights with smaller diodes (no COBs) would work great. The Spider Farmer 1000 is our choice, but any similar light from HLG or Kingbrite would work just as well.
The outer material is tear proof 600D oxford canvas. It is double stitched to prevent light leaks. The inside is lined with 98% reflective diamond Mylar which means as much light as possible from your fixture is reflected back onto your plants. Strong metal poles ensure everything is held up.
The tent has both a door and an observation window. The door unzips across three sides, but as long as you keep the zippers in the middle when closing it, you can open it partially across just one or two sides.
This hydroponic tent also has two round holes for ventilation, so you can run ducting into it. The square openings at the bottom ensure additional ventilation. The package includes a tool bag and a removable waterproof floor tray.
We also have a more detailed review of Vivosun's grow tents.
Pros
Strong 600D Oxford fabric
Highly reflective (98%) interior lining
Large door and observation window
Includes tool bag and floor tray
Tent available in many sizes
Cons
Not the cheapest tent on the market, but given the better quality, this is not really a con
Door zips across 3 sides, which can make it complicated if the tent is in a corner or closet, etc.
VIVOSUN Mylar Grow Tent: 30″ (L) x 18″ (D) x 36″ (H)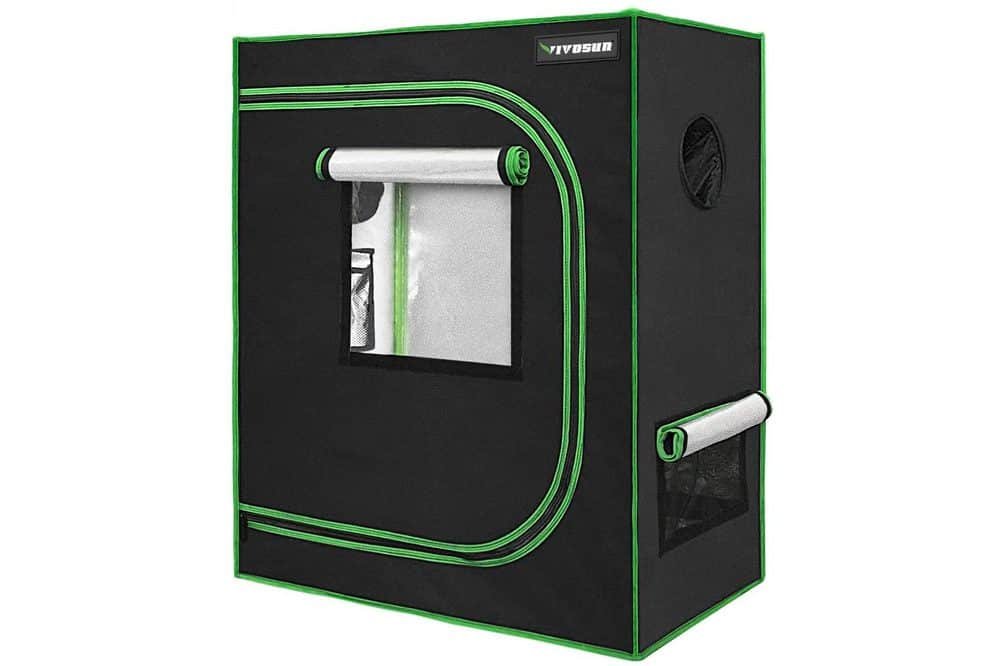 This tent is virtually identical to the previous one from Vivosun. The only difference is a different footprint that is longer, but less deep. The height is the same, but the base measures 30 by 18 inches, instead of 24 by 24.
We wanted to include it here as another option for those who need a different shape. Apart from that, it really is the same.
The rectangular shape means a light with a rectangular footprint would make more sense than one with a square footprint. but the difference is not really that big, so we actually still recommend the exact same lights as we would for the previous tents.
Since everything else about this mini grow room is the same as the previous hydroponic grow tent from Vivosun, there is no point in repeating everything.
Pros
Strong 600D Oxford fabric
Highly reflective (98%) interior lining
Large door and observation window
Includes tool bag and floor tray
Cons
Not the cheapest tent on the market, but given the better quality, this is not really a con
Door zips across 3 sides, which can make it complicated if the tent is in a corner or closet, etc.