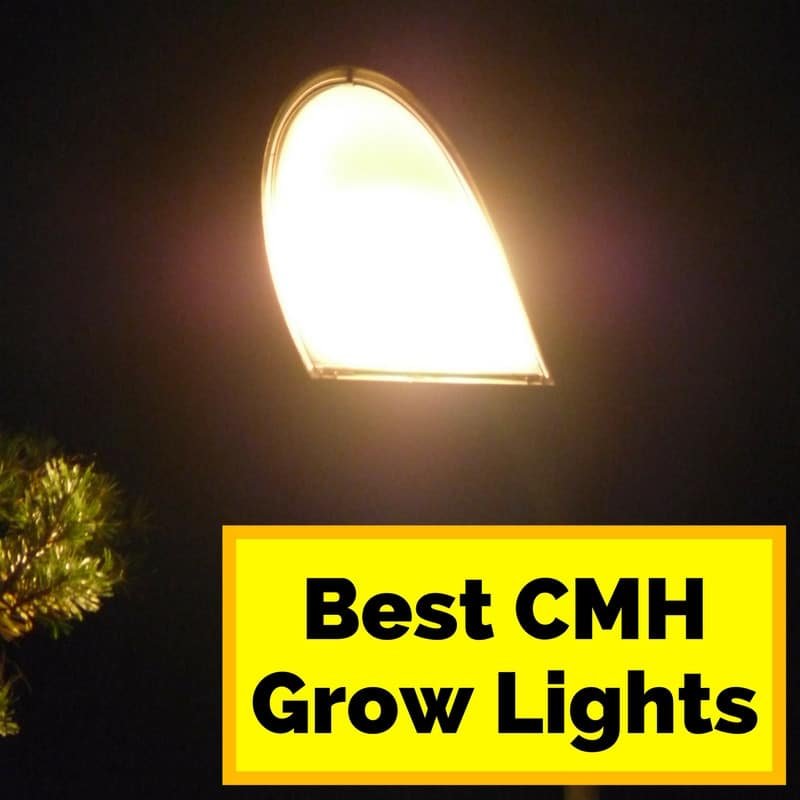 CMH or LED are the only types of grow lights I would consider anymore.
Nothing else currently available can touch them.
I'm partial to LEDs, but there is no denying the appeal of ceramic metal halide lights.
But before we get to the pros and cons of LEC (Light Emitting Ceramic) lights, I just want to cut to the chase and give you our picks for the best CMH system.
I'll also give you our choices for the best grow bulbs, since it's always good to have a backup. Plus you'll need a replacement eventually anyway.
Note that I said CMH system.
I definitely recommend you buy a complete kit.
Not only does it save money over buying the components individually, it also ensures that all the components are compatible. Compatibility can be especially problematic with the ballast. More on that below.
CMH Grow Lights Compared
11/30/2023 11:51 pm GMT
If you want to know why we chose these systems and bulbs as the best, there are reviews of each product further below.
What Is A Ceramic MH Grow Light?
First, let's clear up a point of confusion. I'm sure you've seen (even just in this article), several different terms and abbreviations.
Ceramic Metal Halide (CMH), Light Emitting Ceramic (LEC) and Ceramic Discharge Metal Halide (CDM) all refer to the same thing. CMH is the most common term.
Another point of confusion concerns their relationship to metal halide lights.
CMH grow lights are a variation of MH, but they are quite different. Instead of using a quartz tube, they use a ceramic one (more here), similar to an HPS bulb.
This allows a higher arc tube temperature, which in turn allows a better mix of gases to produce a more optimal spectrum (more on this below in the sections comparing CMH to MH and HPS).
The light produced by a CMH bulb is much closer to natural sunlight than either metal halide or high pressure sodium (with a CRI of 96). It is, for practical purposes, a perfect combination of MH and HPS in a single bulb.
Advantages Of CMH Light
Spectrum
The CMH light spectrum combines the red-heavy HPS spectrum with the blue-heavy MH spectrum in one bulb, making it the perfect light for all stages of growth.
With a high CRI, it is extremely close to natural sunlight, which is great for your plants and for your eyes (plants look more natural, making it easier to spot any discolorations or other issues).
Efficiency
Ceramic metal halide gives you a much higher PAR (the amount of light that is usable by plants) per watt than any other type of lighting, apart from the most expensive LED fixtures.
UV Light
The CMH light spectrum also contains UV light of all type. Since UV-C light is harmful, the lamps use a glass filter to block that range.
This leaves only UV-A and UV-B light, which many feel is beneficial to yield quality. There is no need for supplemental UV lights when using CMH grow lights for indoor growing.
Lower Heat
CMH grow lights run much cooler than their MH and HPS counterparts. This reduces (or eliminates) the need for additional cooling equipment. They run hotter than light emitting diode lights, though.
Long Lifespan
CMH bulbs last much longer than other HID or fluorescent lights. The standard rule of thumb for HPS or MH bulbs is to replace them after 10,000 hours of use. Good ceramic MH bulbs last over 20,000 hours.
Moreover, they still retain 80% or more of their initial light output after 20,000 hours. HPS and MH lamps deteriorate much more quickly.
Disadvantages Of CMH Grow Lights
Higher Initial Cost
The average ceramic metal halide system costs twice as much as a comparable HPS/MH system.
Of course, you will easily recover that expense within a year or two. The bulbs don't use as much power to generate the same amount of light and don't create as much heat either, resulting in lower cooling costs.
You also won't need to change them as often. All of this is reversed when compared to LED (see below).
Heat Generation
I know this is also listed as an advantage above. Quality CMH grow lights emit much less heat than HPS or MH, but still more than LED. You'll still need to cool your grow tent.
Flowering
CMH grow lights are very good at flowering, especially those with a warmer color spectrum (around 3000K), like the Philips 3100K bulb we recommend.
That said, high pressure sodium grow lights are better, since they contain even more red spectrum light. The problem with HPS is the lack of blue light. They are not good at vegging. CMH bulbs work great for the whole grow cycle.
Ballast Compatibility
Most standard electronic ballasts, the kind you would use to control other forms of HID lighting, can not be used to run a CMH bulb. These ballasts have very high frequencies, which make them incompatible with ceramic metal halide lamps.
There are some quality electronic ballasts that have the right microprocessors to power CMH grow lamps, but your best bet is to use only ballasts specifically designed for CMH grow lights.
These square wave ballasts are better anyway. They produce a steadier stream of light and use a much lower frequency, which has the added benefit of reducing RF interference to the point that it is virtually nonexistent.
As stated above, the easiest and most cost effective solution for growers is to just buy a complete kit to start with. That way you won't have to worry about the compatibility of your ballast at all.
How Do CMH Grow Lights Compare To HPS, MH And LED?
You've probably noticed that some of the points above were both advantages and disadvantages. That's because CMH lights generally fall in the middle between traditional HID and LED.
CMH Grow Lights Vs. HPS Grow Lights
High pressure sodium grow lamps have a spectrum that is very heavy in reddish/orange light, but contains almost no blue. This makes them ideal for flowering, but not great for vegging. Using an HPS bulb during vegging results in weak, spindly plants.
CMH bulbs are great for flowering, too, but not as good as HPS bulbs. They are much better at vegging though, making them the perfect full-cycle bulbs.
CMH lamps are generally a bit more expensive than their HPS counterparts, but they make up for it with double the usable lifespan. They also use less power and emit less heat.
CMH Grow Lights Vs. Metal Halide Grow Lights
As previously mentioned, although ceramic metal halide bulbs are derived from metal halide, they are very different and they can not be run in the same system. They need a different ballast.
Metal halide grow lamps are slightly better at vegging than CMH bulbs, but the difference is minimal. And it is debatable, at that. The added red light is actually a benefit, even during vegging.
As a result, the only real advantage of MH bulbs is a lower price. That said, they only have half (or less) the usable lifespan of a ceramic metal halide bulb, so that easily makes up for the cost difference.
CMH bulbs also use less power than MH and emit less heat. There is basically no reason to go with MH over CMH systems, unless you already own the appropriate fixtures and ballasts.
CMH Grow Lights Vs. LED Grow Lights
This is where things get a little more complicated. If you are comparing CMH to high-quality LED grow lights, then all of the advantages CMH has over traditional HID lamps are now disadvantages when compared to LED and vice versa.
CMH lights emit more heat, use more power and have a shorter lifespan. On the flip side, the initial cost is much lower.
Good LED lights also have a light spectrum that is perfectly tailored for plant growth, easily beating even the sun-like CMH spectrum. Plus, you can often control the spectrum, modifying it to suit your needs.
The decision basically comes down to two things: initial cost versus operating cost and yields.
Top quality LED lights cost more upfront, but they save money in the long run and result in better growth and yields.
When you compare CMH lights with cheaper LED lights, the decision is much less clear-cut. Now CMH bulbs are actually more expensive, though not by much.
They also outperform cheaper LEDs, but again, not by much.
To me, this decision comes down to three things:
the purchasing risk of getting a cheaper light (it should be fine, but you might get a defective unit and have to waste time returning it)
the simplicity of light emitting diodes (you really just need to hang it and turn it on)
the heat output (even cheaper fixtures emit less heat than a CMH bulb).
Best Ceramic Metal Halide Grow Lights Reviewed
Below are brief reviews of the best ceramic metal halide grow light kits and the best ceramic metal halide (cmh) grow lamps currently on the market.
Best CMH Grow Light Kit: Sun System LEC 315
Sun System 315 Watt Ceramic Metal Halide System
Pros:
All-in-one construction — ballast is built into the hood, making this kit much more compact than others

Bulb hangs vertically — more even light spread than horizontal bulb

Huge amount of light — given the 315w consumption, the bulb gives you a huge 33,000 lumen intensity

Long lifespan — the high quality bulb is rated for 20,000 hours and retains 85% of its PPF output in that time

Square wave ballast — no issues with RF interference and a much more steady stream of light

Low heat — this light does not need to be ventilated

Free ratchet hangers — a free set of ratchet hangers is included
Cons:
High price — higher price than competing lights, but, as usual, you do get what you pay for
View On Amazon
We earn a commission if you make a purchase, at no additional cost to you.
The Sun System Light Emitting Ceramic Metal Halide lights is by far the best option on the market in 2019. Nothing else really comes close in terms of quality.
Naturally, that means it's a bit more expensive than most competing brands, but if you can afford it, it's worth the extra cost.
It includes everything you need to light your plants, so you can just plug it in and start growing.
You get an all-in-one hood reflector, which means it contains the ballast needed to power the lamp.
The bulb socket is at the top of the hood, so the bulb hangs vertically. This makes for a more even light spread than a horizontal bulb.
The inside of the hood is 98% reflective German aluminum with 95% reflective textured corners.
This ensures optimal output and uniformity, meaning you are losing as little light as possible from the reflection and there are no hot spots that can burn your plants. It gives you a coverage area of 4 by 4 feet.
Along with the quality hood, the kit also includes a Philips Master 315W CMH bulb.
The kit linked to here includes the 3100K bulb, but there is also a kit available with the 4200K bulb instead. The 4200K bulb is better for vegging, so some growers use it if they are getting a light for the whole grow cycle.
Personally, I think the 3100K does fine with vegging. And it's much better at flowering.
I would just go with that one for everything, unless I was going to use the light for vegging only.
Basically, the increase in vegging efficiency of the 4200K spectrum is more than offset by the increase in yield of the warmer 3100K spectrum.
The Philips bulbs have have an initial lumen output of 33,000 and a very high 1.95 PPF (photosynthetic photon flux) per second. In short, they give you a huge output considering they only consume 315 watts.
Their open rated construction reduces radiant heat from the arc tube. As a result, this kit runs much cooler than a comparable HPS or MH light.
Furthermore, these lamps last a long time, with an expected lifespan of 20,000 hours. More importantly, they retain 90% of their lumen output after 8000 hours of use and still retain 85% of their PPF output after 20,000 hours.
It should come as no surprise that this quality bulb is also our recommendation for the best CMH bulb (see below).
The ballast included in the reflector is a 50/60 Hz low frequency, square wave, electronic ballast, with a rated lifespan of 50,000 hours.
Square wave is a newer technology that provides a more constant maximum voltage to the lamp, resulting in a more steady light. Also, their lower frequency means no issues with RF interference.
The whole Sun System CMH kit is covered by a 1-year warranty and there is also a 240 V version available. It gets a rating of 5 out of 5.
Best Budget CMH Kit: Grow Co CMH 315W System
The Grow Co Ceramic Metal Halide Lighting System is not the cheapest one available, but it is easily the best of the lower cost options.
It generally costs slightly more than half as much as the Sun System kit, but contains all the same components.
The difference is the quality.
The Grow Co kit is very good, but it still can't come close to the Sun System kit. The most noticeable difference is the external ballast.
Sun System has the ballast inside the reflector, but the Grow Co kit has an external ballast (as do most CMH fixture kits). That said, it is still attached to the reflector. This mainly just makes the system bulkier, but that can be a big concern for some.
Apart from that, it is a low-frequency square wave ballast with a fully sealed ballast housing, so you don't have to worry about RF interference.
The bulb included with the Grow Co system is the same Philips bulb as the one in the Sun System kit. You can read about that bulb in the review above or in the bulb review below.
The reflector is made from high-reflective hammer tone aluminum, but the manufacturer does not provide any info concerning the percentage of reflectivity and this is impossible to measure on your own without the proper equipment.
Since they do not include this info, I have to assume their reflector is not quite as reflective as the Sun System one.
The Grow Co kit linked to here includes the ballast, reflector, bulb and a free set of ratchet hangers. In other words, the exact components as the other kit. However, Grow Co offer several other options as well.
They have the same kit without the bulb and hangers, they have it with a 240V cord instead of the standard 120V cord and they sell a 630 watt version, in which the reflector holds two lamps, doubling the effective light intensity.
You can get the 630w kit with or without bulbs. All Grow Co LEC kits are covered by a 2 year warranty on the fixture and ballast and 1 year on the bulb.
Best CMH Grow Bulb: Philips Master 3100K GreenPower Elite Agro 315 Watt CMH Lamp
Philips Master GreenPower Elite Agro 315W 3100K Lamp
Pros:
Huge output — given the 315w consumption, this bulb gives you a huge 33,000 lumens

Long lifespan — the bulb is rated for 20,000 hours and retains 85% of its PPF output in that time

1.95 PPF/w/s — incredible efficiency, with very high lumens per watt consumed

Low heat — this light does not need to be ventilated
Cons:
High price — higher price than competing brands, but as usual, you do get what you pay for
View On Amazon
We earn a commission if you make a purchase, at no additional cost to you.
11/30/2023 11:51 pm GMT
If you've read everything written on this page so far, you'll already be familiar with this grow bulb. It is the one included in both of the kits we reviewed above—and for good reason.
The Philips Master 3100K GreenPower Elite Agro 315 Watt CMH Lamp is as good as it gets.
It gives you 33,000 lumen of intensity, which is incredible for a bulb that only uses 315 watts. Moreover, it retains 90% of that after 8000 hours of use.
The rated lifespan of this CMH lamp is 20,000 hours and even at that point, it still retains 85% of its initial PPF, which is an unbelievably high 1.95 PPF (photosynthetic photon flux) per watt per second.
Philips uses a unique open rated grow lamp construction that reduces radiant heat from the arc tube and makes their bulbs perfect for open fixtures.
Simply put, they emit far less heat than comparable HPS and MH grow lamps, greatly reducing the need to cool your grow space.
The grow bulb we've linked to in this review has a 3100K color spectrum, which is our preferred bulb to use for all stages of growth. It is a flowering monster and does well in vegging too.
There is a 4200K version available as well, the Elite MW 4200K Master Color CDM Lamp, for indoor growers who plan on only using it for vegging or for those who prefer a full-cycle bulb with more blue spectrum light (to me, flowering performance is the most important).
Best Budget CMH Bulb: Protopia CMH 315 Watt Lamb
Protopia CMH 315W Grow Light Bulb
Pros:
Low price — costs considerably less than the brand above

Great initial output — the Protopia even beats the famous brand above with 37,000 lumen

1.81 PPF/w/s — great efficiency, with very high PPF per watt consumed (just below the Philips)
Cons:
Faster deterioration — the grow bulb becomes less bright much more quickly than the previous grow bulb above (but similar to most others)

Shorter lifespan — the Protopia does not last as long as our top choice for indoor growers
View On Amazon
We earn a commission if you make a purchase, at no additional cost to you.
11/30/2023 11:46 pm GMT
If you're looking to save some money on grow bulbs, there are a lot of options available, considering that the Philips grow lamps are among the most expensive.
Unfortunately many of the cheaper models simply are not very good. An exception are the Protopia 315 watt CMH bulbs. They come in a 2000K, a 4000K, and a 6000K version.
In terms of intensity, this grow bulb is actually slightly more powerful than the Philips initially, with an output of 37,000 lumen.
The problem is that this deteriorates much more rapidly than it does with the Philips. The rated lifespan of this bulb is 15,000 hours. There is a 1 year warranty on the bulb, too, guaranteeing the lifespan.
The listed PPF per watt per second is also slightly lower. The actual efficiency is likely to be lower still. You might get one that is more efficient, or one that is less. With cheap bulbs like this, quality control just isn't as good.
All that said, given how much less the Protopia grow light bulb costs than the Philips bulb, it is definitely worth considering. It easily outperforms other similarly priced ones.
Best CMH Grow Light: Final Thoughts
The best CMH grow lights are still quite expensive. The prices were coming down, but the supply chain problems the world is currently experiencing have changed that trajectory.
In general, it is worth paying more for a high quality fixture. It will last you longer and the chance of getting a defective product is lower. You'll also have a lot less hassle trying to get a replacement.
That said, if you just don't have the budget for our top choice, the budget options presented above are a great alternative. They still grow plants just as well and they cost considerably less.