If there is the one thing just about every indoor cannabis grower struggles with, it's heat.
During the summer months, the combination of hot weather, growing in a confined space, and heat generated from grow lights and other equipment drives temperatures far beyond what is healthy for marijuana plants.
If you want your plants to make it to harvest, you need to do something about the heat.
Luckily, there's a lot you can do. Growers have been successfully dealing with heat problems for decades. And so can you.
Read on to learn the best ways to keep your grow tent cool, even during the hottest days of summer.
How To Cool A Grow Tent
Depending on the climate where you live, the type of grow lights you are using, and numerous other factors, you may have a serious heat problem, or a relatively small one.
All of the methods for cooling your grow tent listed below can make a difference. But most won't be enough on their own, unless you only have a limited amount of excess heat to deal with.
If you have a bigger problem, you'll need to combine several methods. And if you are worried about detection from a helicopter with thermal imaging it gets more complicated still. Read "Do Grow Tents Stop A Helicopter From Detecting Heat?" for more on that.
That said, even if you don't have a huge heat issue, combining several methods is always going to be the most effective and it is definitely what we recommend.
Switch To LED Grow Lights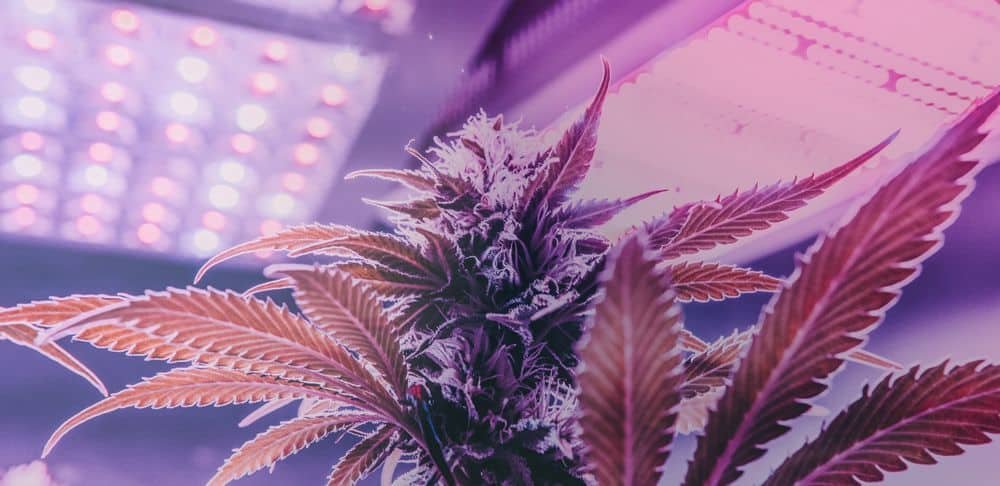 If you're still using HPS or MH grow lights, it's time to switch to LED. Or at the very least, to CMH. If you're just starting out, don't even think about going with HPS or MH.
Newer LED grow lights (and CMH too) are simply better than HPS or MH in every single way (except initial cost, though even that is fairly close these days).
LED lights use less power to give you the same output and they produce less heat. The new all-white LEDs (both COBs and quantum boards) also have a much better spectrum. And you won't have to change bulbs every grow or two.
If you're not sure which LED grow lights to get, we have a ton of posts on this site covering that. To save you some reading, go with the the American made HLG grow lights if you have the budget.
If your budget is more limited, go with one of the Chinese HLG clones. Spider Farmer is easily the best, but if your budget is even more limited, try the Viparspectra Pro Series lights.
Put Ballasts Or Drivers Outside The Grow Tent
If you are using HID lights and plan to stick with them, you can reduce their heat output inside the grow tent somewhat, by putting their ballasts outside the tent.
The ballasts produce a good amount of heat themselves, so having them outside can help. You can also dim the ballast to reduce the output of the lights and the heat output of the ballast itself.
Even with LED grow lights, this could be an option. Many of the new styles have external drivers. Quantum fixtures and the Spyder style fixtures both do. Some COB grow lights do as well.
If you have an LED grow light with an external driver, it should be possible to detach it from the fixture and place it outside the grow tent. This can have a pretty solid impact on the heat inside the grow tent, especially a mini grow tent with no ventilation.
Cycle Air In And Out Of The Tent
To do this, you'll need an exhaust fan and some ducting, at the very least. You're also probably going to want a carbon filter. And if you are using a big grow tent, you'll need an intake fan as well.
For help on the size of fan you need, read our article What Size Fan Do I Need For My Grow Tent?
Use the exhaust fan to pull air out of the grow tent. You could simply vent it into the room, but then the room would heat up and you'd eventually have a similar problem. Unless the room is well air conditioned.
But even then, you're better off using the ducting to vent the air out a window or into the attic. Basically, send it anywhere it can be dispersed without causing further heat increases to your grow space.
You should probably use a carbon filter to remove the odor from this air, before sending it out into the world. Even if growing weed is legal where you live, it's always better if no one knows about it.
You can put this carbon filter outside the grow tent to save space, but it is usually best to put it inside, if at all possible.
In a small tent, the air that is sucked out can be passively replaced through an intake vent. The intake should be at the bottom of the tent, because cold air stays low. For the same reason (hot air rises), the exhaust vent should be near the top of the tent.
For a larger grow tent, the exhaust fan will have to be quite strong, so you'll need an intake fan that can keep up with the exhaust, to suck fresh air into the tent. The intake air generally just comes from the room outside the grow tent.
Keep the room outside the tent at a cool temperature. In hot climates, you'll need to air condition it. You could also put an air conditioner directly in the tent (see below). Both options work well.
There are a few things to pay attention to when ducting. Light can enter through the ducts, which will be a huge problem during flowering, when your plants need 12 hours of darkness every day.
To combat this, use light proof ducting and create a u-shaped bend at some point, to ensure no light comes in from the opening at the end.
In addition to light, pests, like aphids, can get in through the ducting, or the intake vent. To keep them out, consider putting a screen over each opening.
Run An Oscillating Fan In The Grow Tent
Even if you are ventilating your grow room, you should always have at least one oscillating fan inside the grow tent. In large tents, you'll want several. Learn which fans are best for grow tents here.
These fans ensure a steady air flow over the plants. Not only does this help keep them cool, but it also prevents mold from forming.
This is especially important in the earlier grow stages, when you want to boost humidity levels in the grow tent, and in the later stages, when large buds and fan leaves impede air flow.
Put A Swamp Cooler In The Tent
Swamp coolers cool air through the evaporation of water. They are also called evaporative coolers for this reason. They are more efficient at cooling air than other types of coolers (like standard air conditioners), but they add moisture to the air.
If you need to increase humidity, this is a great thing, but if your grow environment is already too humid (or it's just right), you should not use a swamp cooler. Use a regular air conditioner instead.
Put An Air Conditioner In The Tent
This is the fastest way to cool down the air inside your grow tent. But it is only something you'd want in a larger tent, since it takes up space and cools the air quite a bit. It also lowers humidity in the grow tent.
In most cases, an air conditioner in the room outside the tent will suffice. It cools the air outside the tent, which is then sucked into the tent through the intake.
Run Lights At Night
If you are growing indoors, there is nothing that says your plants need to have the same daytime hours as you do. Their daytime can be our nighttime. Temperatures are cooler at night, so this will help offset the heat from the lights.
And there might be an added bonus. Some power companies offer lower electricity rates during nighttime hours, so you could save a bit of money, too.
But you do have to make sure your tent is sealed up tight, in terms of not letting in any light. Flowering plants like marijuana need 12 hours of continuous darkness every single day. A light leak could negatively affect their growth and yield.
Move The Grow To The Basement
As we mentioned above: heat rises. This means that the lower reaches of your home are going to be cooler than the upper reaches. If your grow tent is currently located upstairs somewhere, moving it to the basement means a somewhat cooler ambient temperature, which also makes it easier to keep your tent cool.
Cooling A Grow Tent: Final Thoughts
Keeping your growing environment cool enough to maximize growth and yields is perhaps the biggest hassle marijuana growers face. Sure, there are plenty of things you can do, but all involve time, effort and money.
You just have to look at it as an essential component to growing indoors. Accept that you are going to have to purchase fans, ducting, filters and perhaps air conditioning units. Ideally, you should also purchase LED grow lights, instead of outdated HPS or MH lights (we still recommend CMH, though we prefer a quality LED).