Small selection. Higher prices. Few payment options.
Plus a website that looks kind of cheap.
At first glance, Crop King Seeds does not look like it belongs on our list of the best places to by marijuana seeds.
But it's on there. And near the top, too. Why is that?
Because they do a lot of things right and they ship worldwide. Discreetly and with guaranteed delivery. 80% germination is guaranteed as well.
Read the detailed review below to find out where else Crop King Seeds shines and where they fall short. By the end, you'll know if it is the right online seed store for you.
Crop King Seeds Review: Overview And Features
Crop King Seeds is different from the other online seed banks we've reviewed, in that they have actual physical locations. They have more than a 100 locations all across Canada, in fact.
The fact that you can visit one of their stores and actually talk to real people, along with their long history of delivering only the top quality seeds, means this vendor has one of the best reputations among seed banks.
They also ship worldwide and accept a number of different payment option, so you'll be able to order from them no matter where you live.
Shipping is not free, however (apart from large orders), and the overall pricing is a bit higher than most competitors. But they have a germination guarantee, which most other stores do not.
Their website looks a bit amateurish, to be honest. Their logo is a huge reason for that. The site is easy to use and navigate and it has tons of info, but a redesign, especially of the logo, could make it look more professional.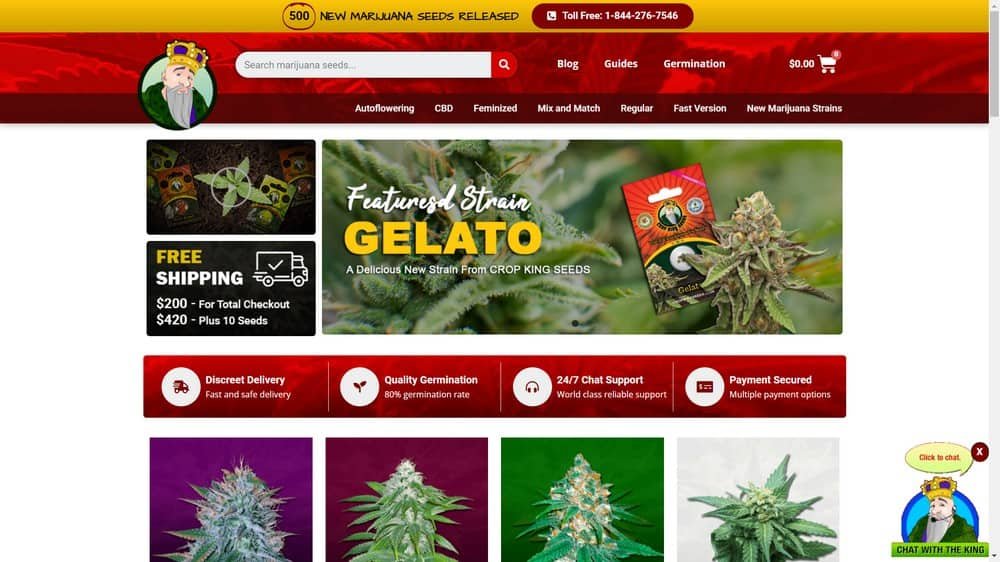 Pros
80% germination guarantee
Quality strains
Fast shipping to Canada and the US
Worldwide shipping
Delivery is guaranteed
Stealth shipping
Live chat available
Cons
Limited selection
Prices on the higher side (but quality is also better)
Minimum $20 shipping charge for orders under $200
$30-$40 shipping charge to most countries
Limited payment methods (credit, debit, Bitcoin, Interac)
Features
Crop King Seeds was originally launched at the beginning of the century, but they had to shut down in 2005, due to Canada's laws governing marijuana.
It took 8 years, before they were able to return to Canada, setting up their headquarters in Vancouver. They also opened their first physical location in Calgary. Now that recreational cannabis use is legal in Canada, they have expanded to have their seeds sold in over 100 retail locations across Canada.
Limited Selection, But All High Quality
Crop King Seeds definitely subscribes to the "quality over quantity" philosophy. They only offer a fairly limited selection of strains, but that is because each one is precisely and carefully engineered.
They are a breeder, not simply a store that resells strains from a bunch of different seeds banks. This means that they offer fresh genetics directly from their own labs.
They offer regular strains, feminized, autoflowering, fast flowering and CBD. They are constantly coming up with new strains as well, so it pays to check back regularly. They are one of out top choices for the best seeds banks for autoflowers.
New Marijuana Seed Strains at Crop King Seeds
Crop King Seeds is always on the go to find new marijuana strains they can introduce to their customers.
It is always their goal to bring the world premium quality marijuana seeds so you can have access to your own supply of quality buds.
They have a very strict set of standards in choosing which cannabis strain to carry, thus you are assured that what you buy is of a high quality standard.
Shop Now
We earn a commission if you make a purchase, at no additional cost to you.
Germination Guarantee
Crop King offers an 80% germination guarantee, whereby they will send you new seeds if 80% of yours do not germinate. The only caveat is that you have to follow the germination guide on their website (using the paper towel method). They have a link to this in the header, so it is easy to find.
Very few seed banks offer any type of guarantee. They only ones we know of are ILGM with their industry-topping 100% germination guarantee and Pacific Seed Bank, which has a 90% guarantee.
Fast And Secure Worldwide Shipping
CKS ships worldwide, but they do charge, unless your order total is over $200. The minimum shipping charge is $20, which is what you will pay in Canada and the US. In other countries, shipping charges can go up to $40, though they are $30 for most countries.
This fee gets you express shipping with tracking and a guaranteed delivery. 5% of all orders are seized by customs, so the guarantee ensures they will reship any order that does not arrive.
In Canada, where seeds are legal, they ship in standard seed packaging. In other countries, the seeds are hidden inside some other object (flashlight, greeting card, etc.), which is also included in your shipping fee.
Shipping times in North America are 2 to 7 business days. Shipping to other parts of the world can take longer, depending on the country. It usually doesn't take more than a week or two, but could take up to several weeks.
Multiple Payment Options
Crop King Seeds accept credit cards and Bitcoin. Canadian customer can also pay using Interac E-Transfer. Prices on the site are displayed in US dollars and that is the currency used for worldwide transactions. Canadians pay the same amount in Canadian dollars.
There is no discount when paying with Bitcoin, like some sites offer. You can not buy seeds using PayPal.
Great Website
At first glance, we're not fans of the website. It looks a bit amateurish, with the colors and the logo. But once you get past that, it's not too bad.
The main menu has headings for different categories, like autoflowering, fast flowering (called 'fast version' for some reason), and more. Most are useful categories, but 'Cannabis Seeds USA' makes no sense.
That category simply leads to a page that lists all available seeds. I guess it's true that they're all available for US customers, but they're also available for customers anywhere else in the world.
Once you click on one of the headings and go to a category page, you also get a sidebar on the left side of the screen that lists every available strain, broken down by category. But it's only there on a desktop, not on mobile.
The actual product pages are simple, but they contain the essential information about the strains. The info is also summarized in a little graphic, which is a nice touch. It makes it easy to see everything at one glance. Take a look.
As you can see, it shows you the percentage of Sativa, Indica and Ruderalis, as well as the THC and CBD content. It also summarizes the essential grow info.
In addition to these graphs and a written description of each strain, the product pages also have a lot of customer reviews, which really helps paint a picture from the point of view of actual growers who have tried the seeds in the past.
Great Customer Service
Crop King Seeds are reliable, so it is unlikely you will ever have to deal with their customer service. If you do, it will probably be due to seeds not being delivered, in which case they simply ship new ones.
If you do need to reach them, you can do so by phone, email or the chat function on their site. Yes, they have a chat function. I don't believe any other online seed bank has one, unless that has changed. Whichever method you prefer to reach them, it's nice that it is easy to get ahold of a real person.
Customer service personnel are generally friendly and efficient, but there are some reports of people having less-than-stellar experiences. The most common complaint is that the representative was blunt or abrupt.
We haven't found that to be the case, but we did find that some of them are very matter-of-fact. They don't do small talk and prefer to get right to the issue. We like that, but perhaps not everyone does. Or perhaps, some agents on some days do get a bit impatient. Just because we did not experience that does not necessarily mean it never happens.
Crop King Seeds Vs Pacific Seed Bank
Pacific Seed Bank has one major thing in common with CKS: they both ship worldwide. Apart from that, they differ considerably.
PSB has a much nicer website. It looks far more professional than CKS's. However, their seeds are not as high quality, though they do have a much larger selection. Their prices are a bit lower, too, but CKS's seeds are a better value overall. That said, Pacific has a 90% germination guarantee, compared to Crop King's 80%.
While Crop King is located in Canada, Pacific is headquartered in Europe, with an office in the US. The end result is the same: fast shipping to North America. But Pacific ships more quickly to Europe. Their shipping costs are also lower, but their discreet shipping is not as good.
PSB has fewer payment options. They do not accept credit cards at all. Overall, we definitely prefer Crop King Seeds. They are the best seed bank if you are located outside the US. In the US, we like I Love Growing Marijuana just a little bit better.
Learn more in our Pacific Seed Bank review.
Crop King Seeds: Conclusion And Rating
Crop King Seeds is our favorite place to buy cannabis seeds if you are located outside the US and Australia. In those countries, we prefer I Love Growing Marijuana due to their 100% germination guarantee and the free shipping in the US.
Anywhere else, Crop King gives you the best value for the money, despite slightly higher seed prices and shipping costs. They simply have better quality seeds and they have great customer service that is willing to help if anything goes wrong with delivery.
The biggest issue we found (apart from the relatively high shipping costs, though this does buy you excellent stealth shipping and a delivery guarantee), is the somewhat cheap-looking website. Hopefully they update it again. The last update was a huge improvement, but there's still a long way to go.
Overall, we give Crop King Seeds a 4.8 out of 5. We like ILGM better in the US, but only slightly. Outside the US, Crop King is our favorite source for weed seeds.