Vivosun makes budget grow tents.
In fact, they are probably the best-known and best-selling low-cost tent manufacturer out there.
But are their grow tents any good? Or are you better off spending more and getting a higher quality brand?
Keep reading for a look at the main advantages and disadvantages of Vivosun's line of grow tents, plus a direct comparison with Gorilla grow tents.
We chose Gorilla for the comparison, since they are the top-of-the-line brand. We wanted to see how the much cheaper Vivosun stacks up.
The bottom line is that most people are better off spending a lot less and getting a Vivosun model.
Vivosun Grow Tent Sizes
11/30/2023 03:46 am GMT
Vivosun Grow Tent Review
Vivosun hydroponic mylar grow tents are all-in-one, easy-use, prefabricated grow tents you can get set up in just a few minutes and start growing your plants indoors. They come with observation windows and floor trays.
It is big enough for a handful of plants, but it will not replace a full-size grow tent. It is set up for hydroponics which will involve some water piping set up, and you will need to set up an air system, too.
It is a bit of work, but Vivosun made this as easy as possible for beginners or hobby growers, making their tents an excellent choice.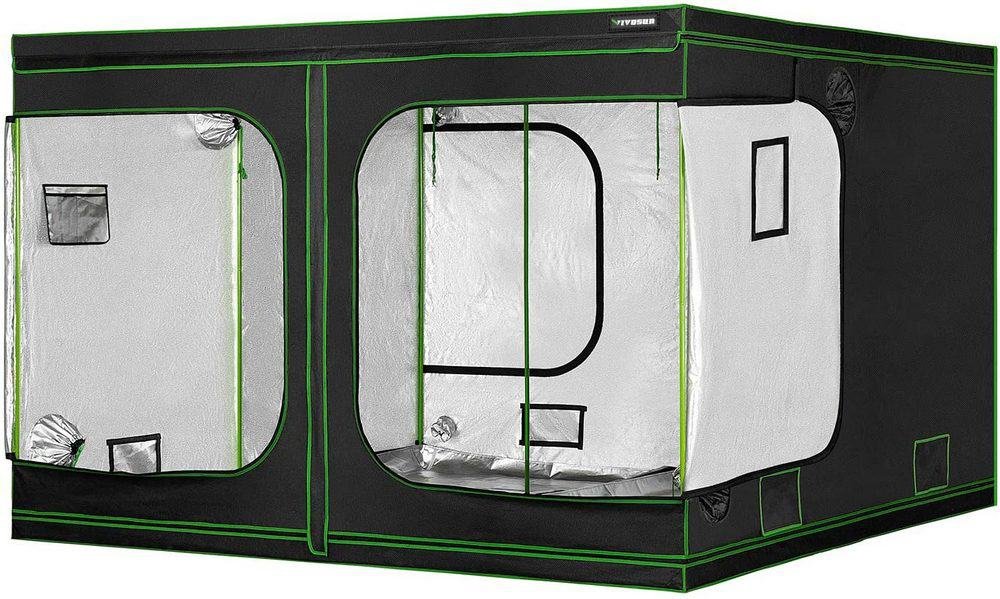 Let's take a look at the key features and the major pros and cons of Vivosun tents. Then we will do a direct comparison of the 4 x 2 foot Vivosun tent with the Gorilla Grow tent of the same size.
Key Features
Keeps all light inside the tent:  this Mylar tent has zipper seals that keep 100% of the light inside the tent, making sure no electricity is wasted.
Easy to check on plants: the door is easy to unzip and is at standing height, so you don't have to hurt your back bending or opening heavy doors.
Fast to install: no tools are needed to set it up, which is a nice change from the hassle of setting up tables or desks from Ikea (oh my god those are awful!)
Thick and sturdy: the material is thick and when it is set up it does not feel flimsy or weak like some other more bargain brand tents.
Vivosun Vs Gorilla Grow Tent
These are two of the most popular small form pre-made indoor tents, but they target very different customers. Gorilla makes expensive high-end tents, while Vivosun makes deep budget tents.
So how do they compare? Is Gorilla worth all the extra money?
Let's find out! We'll compare the 2×4 grow tents from both brands, making a direct comparison easier.
Gorilla Grow Tent 2 x 4 Foot Tent
The Gorilla 2×4 is another small grow tent you can set up fairly easily. It is made of canvas and has reflective material on the entire inside of the tent.
It comes with interlocking poles for strength and has windows as well as a floor tray. It is height adjustable and comes from Gorilla, arguable the best-known maker of high-end grow tents and accessories.
Vivosun 4 x 2 Grow Tent
As stated earlier, Vivosun tents are also easy to set up and made of a thick strong mylar material. This one is no exception.
It is an affordable small-size tent made to fill the needs of beginner growers, or growers with limited space for their operations. It has mylar material for the walls and steel poles that interlock for the frame.
Differences Between Gorilla And Vivosun
The first big noticeable difference is the price. The Gorilla Grow is near double the price of the Vivosun, putting it out of reach for many growers on a budget.
Though they are roughly the same size, the Gorilla feels like it has slightly less floor space.
The Gorilla is made from higher-quality and heavier material and it is more solid with stronger, interlocking poles.
Functionally they do similar things, but the Vivosun is more focused on hydroponic specific growing where the gorilla could do either hydroponic or traditional, since the floor tray is removable.
The Gorilla could probably survive in a backyard for a while with the thick canvas material, but I would not try that with the Vivosun.
The Gorilla tent is height adjustable. Optional extension kits add 1 or 2 feet.
Similarities
Both companies make tents in many sizes, although Gorilla has a lot more options, including several quality (and price) levels.
Both are made for indoor growing; set them up inside any room and you can grow as much as you can fit inside.
Both are 'complete' solutions in one box; complete is in quotes because you still need to purchase things like good grow lights, extension cords, ventilation, and other grow tent accessories.
They both allow you to set up a small grow operation with minimal expense for the structure you need; if you consider what they do, even the more expensive Gorilla is a great deal, if you have the money.
Why Get A Gorilla Tent
If you need something more durable and sturdier, the Gorilla is  the better choice out of the two. The same goes if you need a tall tent. But you will be paying quite a bit more for that strength and height, even with the cheaper Gorilla LITE line.
Gorilla also makes sense if you need a very large grow tent, since Vivosun does not make any models to rival the largest Gorilla tents.
Why Get A Vivosun Tent
Anyone who wants to get into indoor growing on a budget should consider Vivosun over Gorilla. Although Gorilla definitely makes the better tents in every way, they also charge a lot more for them.
For most of us, the Vivosun level of quality is sufficient and we don't really have the budget for a Gorilla tent anyway, since we already have to spend a lot on lights and ventilation systems.
In the end, Vivosun does basically everything the Gorilla does and you'll have a lot of money left over. But if you want the best quality you can get, then forget Vivosun and go with Gorilla.
Vivosun Grow Tent Review: Conclusion And Rating
There are a ton of different grow tent brands to choose from, especially in the budget range. Vivosun grow tents are the best of the bunch.
We compared the 4 x 2 foot size, which can handle enough plants to keep you happy. but not enough to make you rich. It is just the right size for a hobby grower to set up in a house or apartment.
You are still going to need to buy some things to go with it, so don't think once you buy the tent you are done spending money. That is just not the case.
You can spend a bit more and get a fancier tent, but for the money, you can't beat Vivosun. If your budget is limited, it gets you the best value for your cash.
Once you have it, be prepared to spend a bit of time figuring out all the specifics, but it is quite simple to get it set up initially.
It can get pretty hot in the tent thanks to those grow lights, so be ready for the room you place it in to heat up quite a bit, too. But obviously, this is not something specific to a Vivosun tent. It is going to happen with any grow tent you purchase.
Because they offer so much value for a low cost, we give Vivosun tents a rating of 4.8 out of 5.