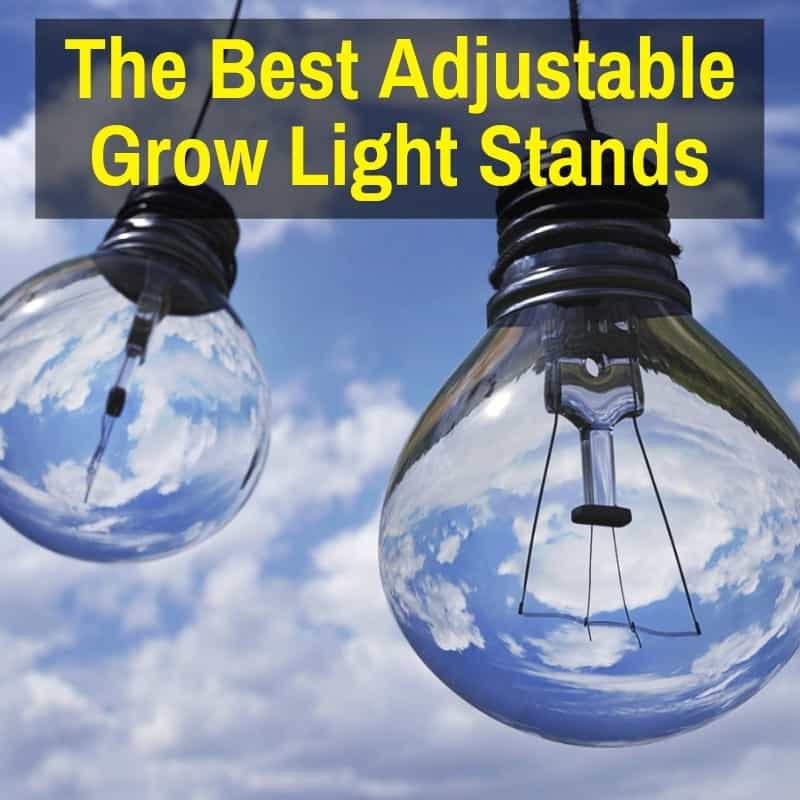 Can't you just hang them from the ceiling?
Sure, if you've got a large indoor garden in a dedicated space, hanging your grow lights makes sense.
But for a small garden it often doesn't.
Even more so if you plan to move your plants to different locations.
Then you want a grow light stand. Or a full-on shelf system.
Something that allows you to get your grow lights above your plants no matter where they are.
Unfortunately there are surprisingly few good options. That's why many people just build their own.
But if you have better things to do with your time, there are thankfully still a few good stands that can make your life so much easier.
I've done all the research and found the best, so you don't have to waste your time on that either.
I'll begin with a stand only (i.e. no light included) and then give you a few great stands that come with lights. The first three come with LED grow lights and the last three with T5 fluorescent lights.
Grow Light Stands Compared
Here's a quick summary of my findings. If you're curious why I chose these stands, you'll find brief reviews for each below.
Model
Verdict
Dimensions
Light Type
Rating
Cost
VIVOSUN Light Rack
Check Price
Best Stand Without Light
54.8" L x 39" H
Fluorescent or LED (light not included)
9.2 / 10
$
Stack-n-Grow LED
Check Price
Best Modular LED Stand
31" L x 15.5" W x 21" H
6500K white LED
9.5 / 10
$$$
Root Farm LED
Check Price
Best Table Top LED Stand
24.4" L x 12.13" H x 4.38" W
Red, blue, white LED
9.0 / 10
$$
SunLite Gardens LED Shelf
Check Price
Best 3-Tier LED Stand
51" L x 14.6" W x 68.5" H
6500K white LED
10 / 10
$$$$$
Stack-n-Grow System
Check Price
Best Modular Fluorescent Stand
31" L x 15.5" W x 21" H
6400K fluorescent
9.5 / 10
$$$
SunBlaster SBL1600200
Check Price
Best Table Top Fluorescent Rack
23.2" L x 3.1" H x 2" W
6400K fluorescent
8.7 / 10
$$
SunLite Gardens Fluor Shelf
Check Price
Best 3-Tier Fluorescent Stand
51" L x 14.6" W x 68.6" H
6400K fluorescent
10 / 10
$$$$
Which Grow Light Stand Is Best For Me?
It really depends on the size of your garden more than anything.
Well, that and whether you already have a light.
If you have the light and just need a stand, the first option below is easily the best choice.
After that, take a look at the other options and see which best fits your need. The modular ones allow you to start small and add shelves and lights as your garden grows. The tabletop ones are for a few small plants only. And the large 3-tier systems are for larger gardens.
As for the LED vs. fluorescent question, the answer is simple.
I always recommend LED over fluorescent tubes.
They cost far less to operate (5 times fewer bulb changes and half the power usage) and, while they do cost more, it is not a huge difference. You'll easily make up for it within a year, thanks to the cost savings of running LED.
Best Grow Light Stands
Best Stand Without Light: VIVOSUN 4 Foot Foldable Light Rack
There are very few grow light racks available without included bulbs. This 4 Foot Foldable Stand by Vivosun is easily the best deal among them. You can also get it with included bulbs, but I would only get this stand on its own.
The included T5 bulbs are not very good. They are fairly dim and don't last as long as you'd like. If you're looking for a stand with bulbs included, there are tons of choices. I recommend this one from iPower. It offers the best value for money.
Back to this Vivosun rack.
It is meant for T5 fluorescent bulbs, but works just as well for an equivalent LED bar. If you've got a UFO fixture or a panel, it can hold those as well. Obviously, it is not mad to support a massive light, but you can easily hang 15 pounds (8 kg) of lights from it.
The stand is easy to assemble and is foldable, which makes it portable. It is made entirely from stainless steel and measures 55 inches in length and 39 inches in height, while the feet take up 19 inches in depth.
The stand includes the ropes to hang the light. They are attached to a rope ratchet that allows you to easily adjust the hanging height of the light. 
Pros
Stand only, so you can use it with any lights you already own
Adjustable hanging height
Foldable and portable
Low cost
Cons
Limited light capacity (up to 15 pounds)
LED Grow Light Stands And Shelves
Best Modular Stand: LED Stack And Grow Light System
The Stack N Grow Light Shelves are a great modular system. The unit pictured here is the base unit. It has two shelves and two 3 foot long LED grow lights.
There is also an add-on available that adds another layer with an additional set of two lights to go on top of this one. You can stack up to two on top of this base unit, giving you the option to expand your indoor garden in the future.
The unit is very easy to assemble, requiring no tools at all. It only weighs 7 pounds, but is sturdy enough to hold up to 110 pounds. The unit is 31 inches long, 15.5 inches wide and 21 inches tall.
The two included LED bars emit a 6500K full spectrum white light, that is very similar to the light from a T5 fluorescent bulb, except they last 5 times longer than fluorescent tubes and only use half the power. They also feature a blue spike (additional blue light in the spectrum), to really boost plant growth.
The stack and grow planter is also available with T5 fluorescent lights instead of the LED bars (see below), but I definitely recommend this LED version. It costs slightly more, but will quickly pay for itself through lower electricity costs and not needing to replace the bulbs every year or two.
Pros
Modular system allows you to add on shelves as needed
Included LED bars use half the power and last 5 times as long as T5 tubes
Great spectrum for seedlings and vegging plants
Cons
Not set up for other lights (apart from the included ones)
Lights are great for seeding, cloning and vegging, but not ideal for flowering
Best Table Top Grow Light Stand: Root Farm All-Purpose LED Grow Light
The Root Farm 45 Watt LED Stand is the smallest model on this list, but also one of the most flexible.
Not only can you use the stand to position the light above your plants, but you can also use the included hanging kit to hang it above them, when they grow too big for the stand.
The stand legs are also adjustable, which means you can easily raise or lower the light as needed. They can extend up to 16 inches above the surface.
The LED light includes red, blue and white diodes. Most of them are white, which gives you a full spectrum light similar to what you'd get from fluorescent tubes. The added blue diodes give it a boost for seeding and vegging and the red diodes help with flowering.
That said, the light isn't really powerful enough to flower anything large on its own. It is ideal as a vegging light or to grow seeds. The added red light helps out a lot with that (plants want red during vegging as well, contrary to popular belief). Used for vegging, I give the Root Farm TableTop LED light and stand kit a Grow Light Info rating of 4.5 out of 5.
Pros
Versatile: comes with adjustable legs and a hanging kit
Great color spectrum for seeding and vegging
Extremely portable (weighs 6.1 lbs.)
Low cost
Cons
Not powerful enough to flower
16 inch maximum stand height may be too low for many plants
Best 3-Tier Grow Light Stand: SunLite Gardens Heavy Duty LED Shelf System
If you're looking for something more heavy-duty, the 3 Tier Shelf System from Sunlite Gardens is the best set of grow light shelves on the market. It is not cheap, but is durable and includes 6 LED tubes, making it a great bargain.
This indoor grow rack includes everything you need. It comes with 3 light fixtures and two LED tubes for each one (total of 6), plus watertight shelf trays for each shelf. It also has a set of wheels, making it easy to move to whole unit to a new spot when needed.
The light fixtures are adjustable, allowing you to raise and lower them as needed. The LED tubes are rated for 50,000 hours and emit a full spectrum white light with a color temperature of 6500K. The additional blue light they give you is perfect to maximize plant growth for your seedlings and when vegging.
50,000 hours of use means you won't need to replace your bulbs for many years. In fact, they last 5 times longer than the T5 fluorescent tubes they replace and also only use half the power to operate (20 watts). This saves you a ton of money in the long run.
The shelf trays ensure no spills drip through to the lower levels. Each tray measures 46-5/8″ (L) x 15-1/2″ (W) x 2″ (D). The whole unit is 51″ (L) x 14-5/8″ (W) x 68-1/2″ (H) and the three shelves combines provide 15 square feet of grow space.
This unit is also available with T5 fluorescent lights instead of the LED lights. That version costs a bit less, but since this LED version costs much less in the long run (far fewer bulb changes and half the power usage), I recommend this version. The difference in cost will easily pay for itself many times over.
Pros
Includes 3 reflectors and 6 LED bulbs
Bulbs use half the power of fluorescent and last 5 times as long
Includes watertight shelf trays
Set of wheels for portability
Strong build for durability
15 square feet of grow space
Cons
High price
Not great for flowering
T5 Fluorescent Grow Light Stands
Best Modular Stand: Stack N Grow Light System
This Stack And Grow Light System is basically the same as the one mentioned above, except it comes with T5 fluorescent bulbs instead of LED tubes. As a result, it costs less, but the operating costs will be higher (as mentioned, I recommend paying a bit more and getting the LED version).
Like the other version, this one begins with the base unit pictured here. You can then add up to two add-on pieces that each features another two grow bulbs and an additional shelf. Combining the snap-together pieces is just as simple as the initial setup and neither requires any tools.
The frame is made from 100% recycled polypropylene. It only weighs 7 pounds, but can hold up to 110 pounds per shelf. One shelf can accommodate up to 72 seedlings.
The base unit comes with two high intensity full-spectrum T5 fluorescent bulbs. They are set in newly designed reflectors that direct 58% more light down onto your plants, for healthier growth and less glare.
The lights are 36 inches long and the unit as a whole is 31 inches long, 15.5 inches wide and 21 inches tall. You can buy height extenders separately that double the vertical space between the shelves, in case you have taller plants, making this one of the most flexible indoor plant grow light stands.
Pros
Very flexible: add on extra lights and shelves or extend space between shelves
Easy to set up and take down, so you can store it away when not being used
Lightweight, but incredibly strong
Cons
Fluorescent lights are much less efficient than the LED lights in the LED version
No wheels
Best Table Top Light Rack: SunBlaster SBL1600200 Grow Light Garden
There are a lot of compact hydroponic light stands that include T5 bulbs. Among them, the SunBlaster SBL1600200 is easily the best value on the market.
You're basically getting a complete little tabletop garden. It comes with two SunBlaster Nanotech reflectors and two high output 6400K 17 watt T5 fluorescent tubes, an adjustable canopy and reservoir base, a raised platform and wicking mat for auto watering and 4 seedling trays.
The raised platform, wicking mat and seedling trays work in conjunction to automatically give your pants the right amount of water. You never need to worry about whether they're getting enough water or too much. They also ensure proper aeration.
The whole plant stand grow light system measures 23.2 x 3.1 x 2 inches. The powerful lights are great for vegging and seedlings or cuttings, but they are not as good for flowering. The whole system is a bit too small for most flowering plants anyway.
Pros
Includes everything for a complete garden system
High output bulbs are incredibly bright for the size
Adjustable height
Auto watering system, so plants always get the exact amount they need, when they need it
Cons
Limited size
T5 bulbs are specialized size, so you can't just replace them with any bulb
Best Indoor Grow Light Rack: SunLite Gardens 3-Tier Stand
The SunLite Garden Indoor Plant Stand With Grow Lights is the same as the other Sunlite Garden model above. The reason it costs less is that this one comes with T5 fluorescent bulbs instead of LED bulbs.
The initial cost might be lower, but the operating cost will be considerably higher. Not only do the T5 tubes use twice as much power (for the same output), but they also need to be replaced 5 times more often. For these reasons, I always recommend paying a bit more upfront and getting the LED version.
That said the fluorescent tubes included here are better than most. They give you a higher output and last up to 10,000 hours. They also use up to 45% less energy than standard T5 tubes (104 watts per fixture, which is still far more than LED)
The fixtures have built-in electronic ballasts to eliminate any buzzing sound. The fixtures are extra wide at 14″, to give a footprint that covers the entire shelf. Despite all that, they weigh only 6 pounds each. Chains make it easy to adjust the height of the lights.
The frame is constructed from powder-coated aluminum and the total dimensions of the unit are are 51″ (L) by 14-5/8″ (D) by 68-5/8″ (H). Three watertight trays are included to protect the lower shelves and your floor from spills. Each of these trays measures 46-5/8″ (L) by 15-1/2″ (W) by 2″ (D). The three shelves combined give you 15 square feet of growing space. Wheels on the bottom make it as easy as possible to move the entire shelving unit.
Pros
15 square feet of growing space
Three wide light fixtures with 2 high output T5 bulbs each
Full spectrum light that is perfect for plants
Sturdy build and comes with watertight trays
Wheels for portability
Cons
Great for seeding and vegging, but lights not powerful enough to flower most plants
High price