Autoflowers. For the longest time, they had a bad reputation.
Lower quality and lower yielding than traditional, photoperiodic cannabis strains.
And honestly, that reputation was warranted.
But not anymore
Thanks to the hard work and dedication of a handful of top-class breeders, things have changed in the last decade.
Now, the best autos can match photoperiods in both quality and yield.
Keep reading for our list of the best-yielding autoflower strains available. With these strains, you can get similar results to top photoperiod strains.
Highest Yield Autoflowering Strains
If you're looking for the highest-yielding autoflower strains on the planet currently, you're in the right place. Here are our five top picks for maximum yield potential.
Gorilla Cookies Auto by Fast Buds
If you are looking for a massive yielder and huge levels of THC, Gorilla Cookies Auto by Fast Buds is the strain for you.
GCA comes in with a whopping 28.5% THC potential, making it the highest test autoflower in the world to date.
Fast buds has been on top of the autoflowering genetics game for a couple of years now, and with the new addition of Gorilla Cookies Auto, it looks like they are perfectly poised to stay there for the foreseeable future.
As with all strains, the key to getting the absolute maximum yield is to provide the perfect growing conditions.
Gorilla Cookies Auto by Fast Buds loves indoor cultivation (although she works great outdoors also) with the temps stable at around 23° Celsius.
In good growing conditions, this strain is capable of reaching heights of 1.5 meters and producing 550 to 650 grams per square meter indoors, or more than 350 gams per plant outdoors.
Diesel Autoflower by Home Grown Cannabis Co.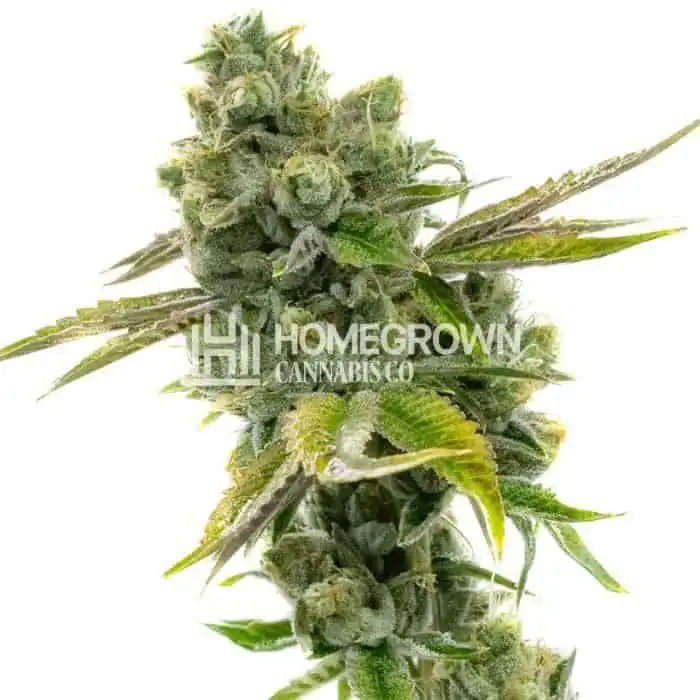 Diesel Autoflower Marijuana Seeds
THC Content: 15%
CBD Content: <1%
Indoor Yield: 350-400 gr/m2
Outdoor Yield: 480 gr/plant
Flowering Time: 6-8 weeks from seed
Learn More
We earn a commission if you make a purchase, at no additional cost to you.
Diesel Autoflower by Home Grown Cannabis Co. is a multi-award winning autoflowering strain from the legendary US-based seed house. This 70% Sativa dominant strain boasts some insane yields and a THC potential of around 19%.
Diesel Autoflower loves both indoor and outdoor cultivation. Outdoors she works better in a slightly warmer climate with maximum sunshine.
Indoors, you want to keep this strain under at least 20 hours of light a day. You can expect yields in the range of 350 to 400 grams per square meter, or up to 480 grams per plant outdoors.
This is a very forgiving strain, which makes it perfect for novice growers. We do, however, recommend supplementing with light plant training during the vegetative stage, in order to ensure maximum yield potential. Tying down or setting up a SCROG net is definitely recommended.
Super Lemon Haze Autoflower by I Love Growing Marijuana
Super Lemon Haze Autoflower Fem Seeds
THC Content: 22%
CBD Content: <1%
Indoor Yield: 500 gr/m2
Outdoor Yield: 400 gr/plant
Flowering Time: 50-60 days from seed
Learn More
We earn a commission if you make a purchase, at no additional cost to you.
Super Silver Haze Auto is one of the highest-yielding old-school strains and one of our absolute all-time favorites.
With a 20% Indica 80% Sativa split, THC levels of up to 22%, and a much faster lifecycle than the photoperiodic version of this plant, there's really not much to hate. And that's not even mentioning the yield potential.
Now, keep in mind that with all of the strains mentioned here today, yield potential is the key. There is absolutely no guarantee that you are going to reach this potential unless you give the plant what she wants.
Sure, all of these strains will give you the best shot at huge yields, but you are going to have to put in the work to get there. In this case, Super Lemon Haze Autoflower likes a lot of sunshine and warm climates.
But what she really craves is an indoor growing environment, with very little variability in terms of temps and humidity levels.
In good growing conditions, Super Silver Haze Auto can produce up to 500 grams per square meter indoors, or up to 400 grams per plant outdoors.
Banana Purple Punch Auto by Fast Buds
This is another Fast Buds option, and also one of their newer genetics. Fast Buds really are knocking it out of the park recently, and the fantastic Banana Purple Punch Auto only proves this once again.
This is our number one pick for outdoor autoflowering big-yielders, and it comes with the added bonus of packing in purple hues!
This is a solid Indica dominant strain with one of the shorter cultivation periods (just 56 days in perfect conditions), a THC peak of 26%, and a final yield potential of 450 to 550 grams per meter squared indoors, or over 200 grams per plant outdoors.
There's really not much more you could ask for from an auto! If you are planning on growing outdoors, make sure to check out our guide on how to grow autoflowers outdoors.
Purplematic CBD Auto by Royal Queen Seeds
CBD-dominant autoflowering genetics were, until very recently, pretty low-yielding options. But that has all started to change. And with Royal Queen Seeds' new offering of Purplematic CBD Auto, medicinal users can now be assured of decent to huge yield sizes with a beautiful, CBD rich autoflowering strain!
When cultivated indoors, this strain can offer 375 to 450 grams per square meter and grow upwards of 120 cm. Outdoors, and in warmer climates with full sun coverage, Purplematic CBD Auto can get even bigger (up to 140 cm) and is known to produce over 5 ounces per plant!
With approximately 17% CBD and less than 0.5% THC, users can be sure of a clear and motivating effect without any chance of actually getting high.
What Exactly Is An Autoflowering Cannabis Strain?
Just in case you are not sure, autoflowering cannabis strains are those that switch from the vegetative to the flowering stage automatically – usually after a few weeks of age.
This differs from photoperiodic cannabis strains, which require you to manually change the light cycle in order to induce flowering, or for the natural sunlight hours to decrease as the season changes.
As such, you can complete an autoflower grow cycle in as little as 7–10 weeks (from seed to harvest), making them the perfect choice for novice growers, or those looking to get multiple harvests in a single season.
This is all thanks to Ruderalis genetic heritage that all autoflowering cannabis strains share, which allows them to flower independently of the light cycle.
If you want to see the different types of autoflowering seeds that are available, you should check the best autoflower seed banks. You can find them listed here.
High Yield Autoflower Strains: Final Thoughts
The days of autoflowers underperforming are long gone. Modern autoflowering seeds produce plants that grow faster than photoperiods, but yield just as much and give you buds of a comparable quality.
Of course, genetics do matter. You want to make sure you buy only the highest yielding autoflower strains. Any of the 5 strains listed above fits the bill. You can't go wrong with any one of them.