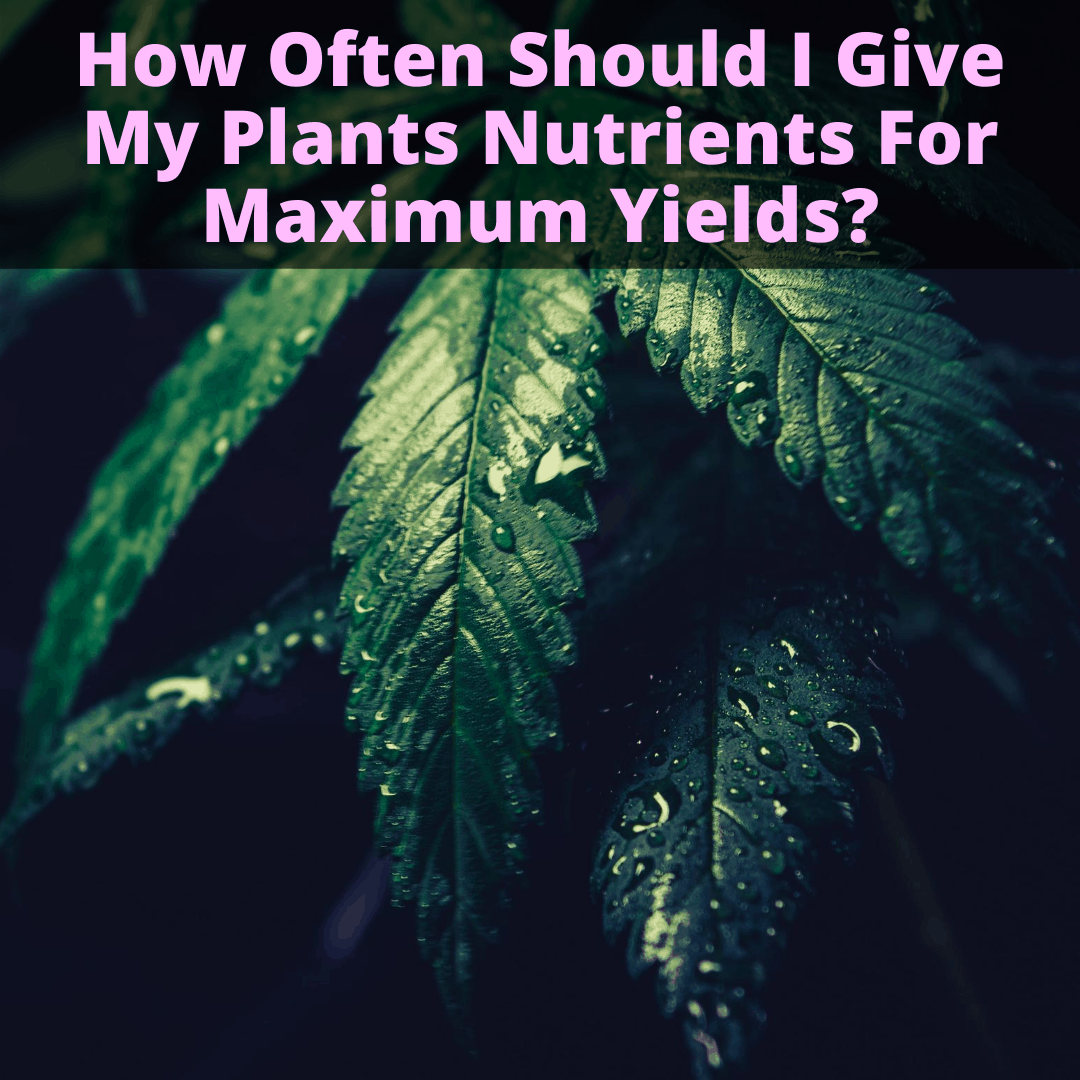 Cannabis plants are resilient.
They grow just fine without any nutrients. They will even yield some buds.
But if you want to maximize yields and get the kind of monstrous buds you see in photos from professional growers, you need to use nutrients.
And you need to use them correctly.
Over or underfeeding will impact yields and can even kill your plants. That is why you need to now how often you should give your plants nutrients. Let's find out.
How Often Should I Give My Plants Nutrients?
There is no hard and fast answer. It simply depends on far too many factors (see below).
But there is an easy answer to get you started: begin by following the nutrient schedule that comes with your nutrients. Watch your plants closely and adjust as needed (more on this below as well).
But don't follow the amount the schedule recommends.
Nutrient companies obviously benefit if you run through your supply faster and have to buy more. for that reason, their recommendations are generally higher than necessary.
We recommend starting with half of the recommended amount and adjusting up from there.
As for how often to feed your cannabis plants nutrients, the schedules are always on a weekly basis. So you can feed the entire amount once per wee or break it up over multiple waterings. Which brings us to another common question.
Should I Use Nutrients Every Time I Water?
This depends on a number of things, most of all the pot size. Larger pots do not need watering as often, so you may only water your plants once a week, or perhaps even once every two weeks. In that case, you obviously feed every time you water.
But in smaller pots, you may need to water several times a week. What do you do then?
Some people still recommend adding nutrients to the water every time you water your plants. They say a consistent supply of nutrients is better than giving a lot in one watering and none the next.
This actually makes a lot of sense, but it's also more trouble and not something I usually recommend as a result. You would have to know how much water you will provide each week and divide up the weekly nutrients so that each watering contains an equal amount.
Obviously you don't have to be exact, but it's still more work than simply providing the full amount in one watering. I doubt whatever benefit you get is worth the extra trouble.
A good alternative could be to split the nutrients up over two waterings, with the second mid-week. Then give plain water the rest of the week, whenever the plants need it.
You may have come across suggestions like "feed, water, water, feed, water, water" or some variation. This simply means to provide nutrients and then water twice without them. Since the amount of time between watering can vary, this method could potentially lead to problems.
Bottom line: just keep it simple. Feed the plants once or twice (with half the amount of nutrients each time) a week and give plain water the rest of the time.
As you near harvest, most growers recommend withholding water altogether. This causes the plant stress and it responds by putting all of its resources toward bud growth, resulting in larger and more potent buds.
When should you stop watering before harvest? This varies, but generally from 1 week to 3 days before harvest. The ideal time depends on the strain, but any time within this range will result in better buds.
How Often To Add Nutes During Flowering
The answer to this common question is the same as above: follow the nutrient schedule. That generally means feeding once a week, but you can break down the weekly amount over multiple feedings, if you are using smaller pots that need water multiple times a week. I wouldn't go more than two or three, though. Keep it simple.
The last few feeds before harvest should be just water, to flush the nutrients out of the buds before harvesting. Buds full of nutrients do not taste as good.
The nutrient schedule provided by your nutrient brand should have this flushing period on it. The best water for cannabis flushing is pure and neutral. If you are not sure how to flush cannabis plants, read that article.
Factors Affecting How Often To Feed Marijuana Plants
As mentioned above, a lot of different factors determine how often you will need to feed your weed plants. We are going to take a look at the most important ones here, starting with the growth stage.
Stage Of Growth
Marijuana plants have vastly different nutrient requirements, depending on their current stage of growth. And the requirements do not just differ in the amounts of nutrients overall, but the amounts of individual nutrients as well.
You can probably guess that young plants require fewer nutrients than more mature ones. Seedlings won't need feeding at all. Once they enter the vegetative stage, you want to start them on nutrients, gradually increasing the dosage throughout veg. They need a lot of nitrogen during this phase.
Once they enter the flowering stage, they need more potassium and less nitrogen. Keep increasing the amounts of nutrients until the very end of the bloom stage. At that point, you should cease all feeding and flush the plants with only water.
Some growers stop using nitrogen completely toward the end of flowering. But it is fine to keep giving them some. The choice is yours.
Grow Medium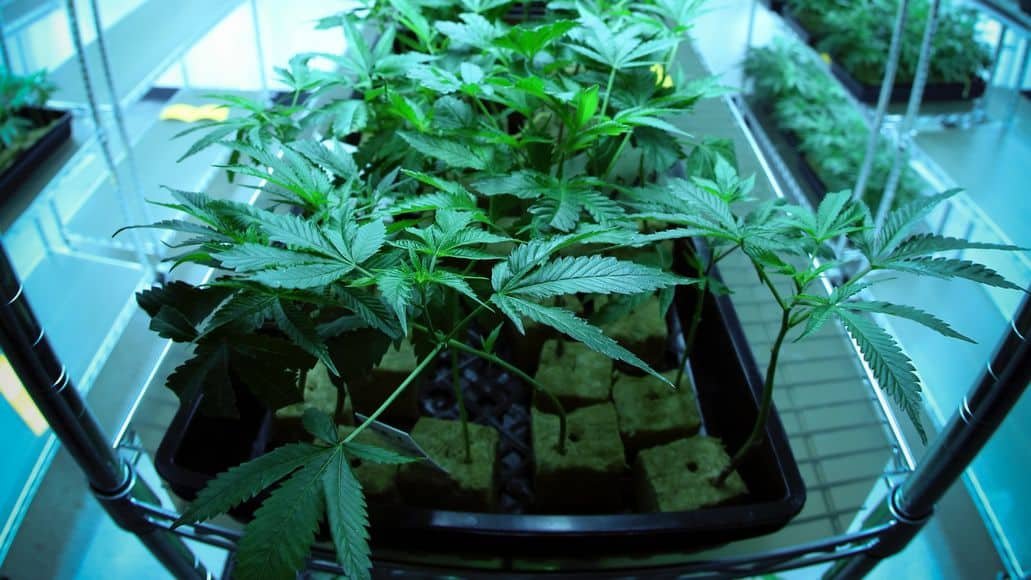 The grow medium you are using has a large impact on the nutrient requirements. If you are growing in coco, nutrient requirements will be high, because this medium does not contain any nutrients of its own.
Soil, on the other hand, already contains nutrients, so you will need to feed your plants less. Some soils contain so many nutes that you won't have to feed at all for the first few weeks.
If you are growing using hydroponics, you will need to be very exact with your nutrient ppm and continually monitor it to ensure a steady supply.
Types Of Nutrients
Different lines of nutrients have different concentrations. Obviously you will need to feed less often, if your nutrients are more concentrated, and vice versa. As mentioned, follow the nutrient schedule included with your nutes (but cut down on the recommended amounts).
Recognizing Nutrient-Related Problems
As mentioned, the recommendations given are only a guideline—a good starting point. You will need to adjust from there.
How do you know what to adjust?
Your plants will tell you. But you have to know how to read their language. Let's take a look at some common nutrient-related issues and the signs your plants will exhibit to inform you of each one.
Nutrient Burn
Nutrient burn happens when the plants are getting too many nutrients. This either means you are overfeeding them, or there is a buildup in the medium.
Generally, you will first see darker green leaves, with tips that are yellowish and brownish. They will also bend upward. The marijuana plant stems may also turn purple or deep red.
If the problem is not rectified, the discoloration will expand until there is a halo of sorts around the normally colored center of the leaf. Eventually, the leaves will twist out of shape.
In flowering, the calyxes and the sugar leaves might turn yellow and then shrink fast. You can prevent nutrient burn by starting with fewer nutrients than recommended and increasing very gradually. Keep track of everything.
If your plants are already suffering from nutrient burn, flush them with pH neutral water for a week and then begin feeding again. Feed much lower amounts than before and increase gradually.
Nutrient Deficiency
Causes of nutrient deficiency are underfeeding and nutrient lockout. General signs of a deficiency are dry leaves that begin turning yellow, brown or rust colored. Stems also get discolored.
You can find more specific symptoms for individual macro and micro nutrients in our detailed nutrient deficiency chart for cannabis. Finally, we have an entire article on potassium deficiency in weed plants here.
To treat a nutrient deficiency, you can't simply feed more nutrients. If the cause of the deficiency is a lockout, increasing the amount would actually make things far worse. So you first need to determine if you have a nutrient lockout on your hands. If you do not, go ahead and increase nutrient levels.
Nutrient Lockout
Nutrient lockout means that something is prevented your plant from absorbing one, or more, nutrients. It can be a pH imbalance or a buildup of nutrients around the roots.
Too much of one nutrient can hinder the absorption of another. In terms of pH, each nutrient is best absorbed within a specific pH range.  Luckily, there is overlap, so that all nutrients are absorbed well at a pH of 6.8 in soil and 5.8 for hydro and other soil-less media.
To fix either cause of a nutrient lockout, you need to flush with pH neutral water. And establish the correct pH level for nutrient absorption. Once you have achieved that, you can begin feeding again.
How Often To Feed Marijuana Plants: Final Thoughts
The frequency of feeding is not as important as the amount. You can feed more often, but you need to reduce the amount you feed each time. Or you can reducing the number of feedings, but you'll need to increase the amount.
The overall amount depends on a lot of factors. your best bet is to take the amount suggested on the feeding schedule that is included with your nutrients and cut it in half.
Begin with that amount and gradually increase it, while monitoring your plants closely. They will let you know when you have exceeded the amount they want and then you'll know the ideal level. Read all about growing cannabis here.