Secret Jardin is not the first name you think of when looking at grow tents.
But that may change. It should change, anyway.
That's because Secret Jardin makes multiple lines of tents at various quality levels and price points.
In other words, they have something for everyone.
And all of the Secret Jardin lines are incredible value for money.
In this Secret Jardin grow tent review, we will compare all of their lines in a table, and then dive a bit deeper into the Dark Street line, because it is the most popular entry level line of tents.
Secret Jardin Grow Tent Lines
Secret Jardin Grow Tent Review
Secret Jardin are based in Belgium and have been in business since 2006. They are picking up momentum in the marketplace, but are not yet as popular as some of the other, older brands you may have seen or heard of.
As you saw above, they have a ton of different tent models at basically every quality and price level.
For this review, we are going to focus on the Dark Street 120, which is a 4 by 4 foot model. Dark Street is probably the most popular line with beginning growers and the 4 x 4 is a good size for a home grow.
Secret Jardin Grow Tent Overview And Features
The Dark Street Grow tent is a premade rectangular free-standing grow tent much like others you have seen on the marketplace. It uses super reflective mylar as the main material and the frame is constructed of Q195 poles which are 16mm thick.
The Dark Street line is on the budget size, meaning you get more tent for your money than with more expensive lines or higher-end brands like Gorilla (see below for a direct comparison).
For example, the Dark Street 4 x 4 costs around the same as some other brands' 2 x 4 tents. You also have the option of adding a one-foot extension that increases the height of the tent.
Features
4 x 4 Size: this form factor is much more functional than the 4×2 models; even though it seems like only 2 extra feet of floor space, it is actually 8 extra square feet, or double the size, so you can fit in twice as many plants; but it does take up more space, obviously.
Q195 Steel Poles: these are strong, well made poles that make the tent sturdy and durable; they are not too heavy; they are similar to the poles you would get with a full-size camping tent.
Includes Ducting And Cable Flanges: these accessories make it easier to set up and get ready.
Highly Reflective Interior Walls: the silver reflective walls on the inside are more reflective than many competing models, which helps maximize your light sources; those are always expensive, so you want to get the most out of them.
Secret Jardin Vs Gorilla Grow Tent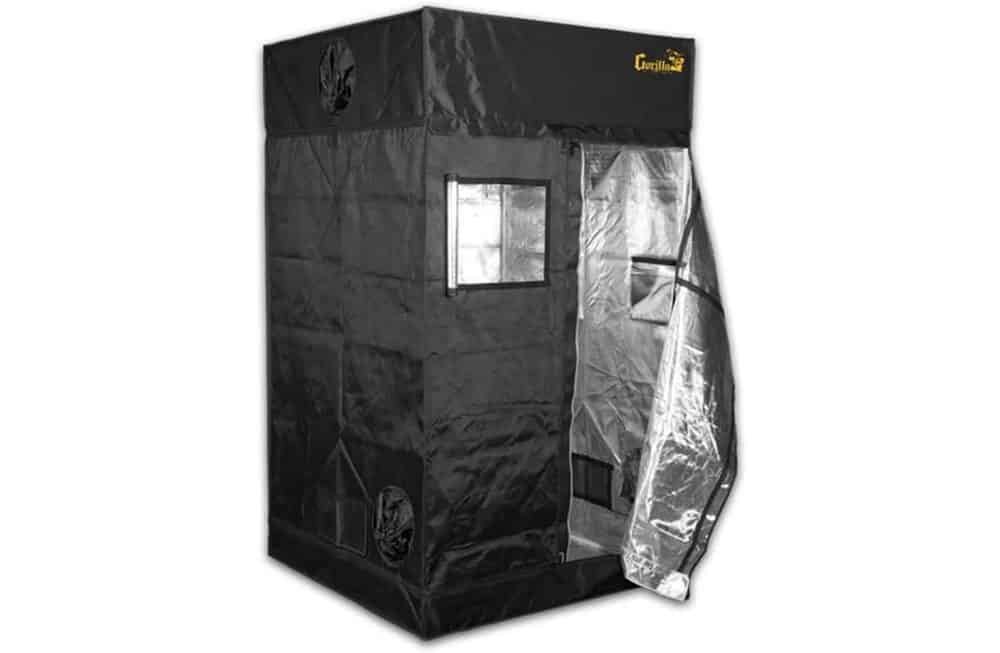 Gorilla is the foremost grow tent brand, but their tents are more expensive than most. The highest quality Secret Jardin lines are a similar quality, but the Dark Street is not.
Naturally, it is also much cheaper. Let's find out if you're better off paying more for a Gorilla, or if the Dark Street is the better value. To do so, we'll compare the 4 x 4 models from each line.
Secret Jardin Dark Street 120 Grow Tent
The SJDS 120 is a 4 x 4 x 6.5 all-in-one style grow tent for indoor growing. It is a budget-priced model aimed at newer growers or experienced growers that are trying to save some money for other important equipment or investments.
It is not the cheapest tent of this size, but it is the best deal in this size and price range, when you look at all the specifics and other competing tents.
Gorilla Grow Tent 44
The Gorilla 44 is a heavy-duty reflective hydroponic grow tent that is the same size as the Secret Jardin Dark Street tent. It has a height extension kit which will give you an extra foot of space.
Similarities Between SJ Dark Street And Gorilla
They have the same 4×4 floor area, which is a common size for pre-made tents, just big enough for a handful of plants and not too big to fit in most normal homes.
Both tent manufacturers do a poor job of explaining exactly what you get when you purchase a tent. They both say you get accessories, but neither has a simple bullet list of all the pieces you get.
They both have reflective interior walls that reflect light back onto the plants, maximizing the use you get from your grow lights.
They are both black on the outside and have zipper doors to get in and out of the tent.
They are both made for indoor growing and are not going to last long outside.
They both have multiple sizes available, and also additional lines at different quality levels and price points (Secret Jardin has far more, though).
Differences Between Secret Jardin And Gorilla
The Gorilla Grow Tent is much more expensive than the Dark Street, but the higher end Secret Jardin Intense line of tents costs about the same
Gorilla Grow Tents has been around longer and has more name recognition.
The walls are much thicker on the Gorilla tent, but higher end Secret Jardin tents can match that
The Gorilla Tent comes with a free 1-foot extension to make it taller, while the Secret Jardin Dark Street line does not
Why Get The Gorilla
If you value durability above price, the Gorilla tent is the better option for you. Or go for one of the higher quality Secret Jardin lines. They tend to give you a better value for money.
Gorilla also includes a free one-foot extension kit, that gives you some extra height if you need it. It boasts that it is the thickest, strongest tent and plenty of customers agree. It is a strong, sturdy choice.
I am not sure how much durability matters unless you are beating up your tent, but for some people, it is a big deal. For me, I would keep the extra money and get the Dark Street which does the same thing with fewer fancy details.
Why Get The Secret Jardin Dark Street
If price is more important than name recognition or high quality, the Secret Jardin Dark Street is the better choice for you.
I would personally buy the Dark Street over the Gorilla simply because the price difference is quite significant. With the money you save on the Dark street, you could get some timers or fans, or good seeds.
Budget-minded shoppers will do fine with the Dark Street, just don't expect the same level of quality you are going to get with the more expensive Gorilla tent, or with more expensive Secret Jardin lines, like Dark Room or Intense.
Secret Jardin Grow Tent Review: Conclusion And Rating
Secret Jardin Grow Tents come in multiple lines, ranging from entry-level to professional in terms of price and quality.
The Dark Street grow tent line we looked at in more detail is a solid budget-minded choice. It is not as fancy or well made as some others, but it does the same job for much less money.
It is well made sturdy and quite affordable, but it will not hold up to abuse like the Gorilla tent or the Secret Jardin Intense line will.
It is an incredible value for money though, and the same is true for all Secret Jardin tents. They don't have any deep budget models, so if you are looking for that quality level, check out Vivosun grow tents, a Chinese brand.
But if you a bit better quality for not all that much more money, you simply can't beat Secret Jardin. That's why we give their tents a rating of 5 out of 5.