Quictent is another deep budget grow tent brand.
But if you compare their tents directly with their competition, you'll notice their prices are slightly higher.
What do you get for that extra bit of money?
Is it worth paying a bit more for a Quictent grow tent, or are you better off getting the absolute cheapest models available?
Keep reading our Quictent grow tent review to find out. We'll also compare Quictent directly with Vivosun, which is the top deep budget tent maker.
Quictent Grow Tent Sizes
11/30/2023 07:51 am GMT
Quictent Grow Tent Review
As mentioned, Quictent is a deep budget grow tent brand from China. That brings with it everything you expect from Chinese brands.
You save a lot of money, but you get lower quality, along with poor quality control and customer service.
Is it worth it?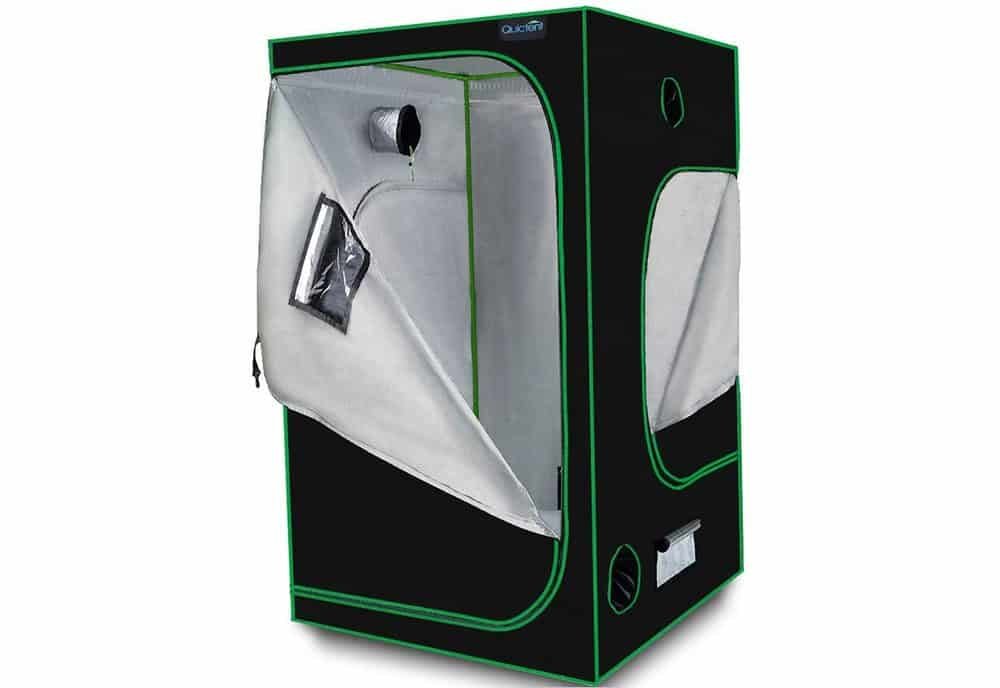 Only you can decide. For most, the risk of getting a bad unit and having to go through the hassle of returning it is worth the huge price savings over a US brand like Gorilla grow tent or the European Secret Jardin grow tents (both brands whose tents are also manufactured in China).
For this review, we will focus specifically on the 4 by 2 foot tent size, which is one of the most popular sizes for home growers. Everything below goes for the other sizes as well, apart from size-specific features.
Quictent Overview And Features
The Quictent 48 x 24 x 84 inch reflective Mylar hydroponic grow tent is a pre-made grow tent aimed at the home cannabis growing market.
It has an alloy steel frame. The inner skin material is a silver reflective Mylar material to help use the light most efficiently.
This tent has many features you would expect from an indoor grow tent in this price range. It has a window on the front door which allows you to check on your plants without having to open the whole door.
Of course, this is a budget tent. As such, the canvas material is not as thick as with more expensive tents, and the poles and corners are not quite as sturdy. But you pay a lot less, making Quictent a great value.
Features
2-Year Warranty: there are a handful of tents in this size and price range that offer warranties, but this warranty is better because it also offers lifetime replacement for all connectors, which is not something I have seen on other tents.
98% Reflective: the more light reflected back onto the plant, the lower your energy costs
600D Oxford Cloth: sturdy canvas material keeps out light
Upgraded Zippers: this model has upgraded the normal zippers to heavy-duty zippers that will not break or snap under heavy use; the cording that goes around the zipper has also been upgraded to a thicker string and a new color.
Observation Window: the large observation window allows you to see inside without having to open the door and let the air or heat out, or light in.
Tool-free setup: Quictents are easy to set up with no tools needed; they come with good instructions to follow.
7 Different Sizes: there is a size for almost all needs, apart from extremely large grow tent sizes.
Quictent Vs Vivosun Grow Tents
Vivosun is the most popular deep budget Chinese grow tent manufacturer, so it only makes sense to do a direct comparison between them and Quictent.
We'll use the 2 by 4 foot models from each brand for this comparison. All of the points below, apart from the size-specific stuff, goes for all other sizes as well.
Quictent 4 x 2 Foot Grow Tent
This is the same size we looked at more closely above. For that reason, there is nothing we need to add here.
Vivosun 4 x 2 Foot Grow tent
The Vivosun 4 x 2 Mylar grow tent has an observation window and a floor tray and it is in a similar price bracket as the Quictent. It is a direct competitor with the Quictent, having many of the same features and a very similar look.
You would be forgiven if you thought they were the same tent at first glance. They look remarkably similar. But when you dig deeper you realize they are quite different tents.
The most noticeable differences are the price and the height. You pay a bit more for the Quictent, but you also get 2 extra feet of vertical space.
Similarities Between Quictent And Vivosun
Look: the look of the tents is nearly identical; they have the same color mylar material, the same color piping, and the same form factor; the vents are in the same place, the window is in the same place, the list goes on.
Window: they both have an observation window.
Floor Tray: these tents both come with a floor tray, which is another expense you won't have to pop for. Floor trays are not expensive, but when they come with the tent, it does save you some money, which is always appreciated.
Tool-Free Setup: they claim to both have tool-free setup, but that's only for the tent; you will probably end up needing a screwdriver or pliers when adding your fans and other equipment to the tent.
Dual Vent: both tents have dual vents so you can have an intake fan and an exhaust fan if you want, with no need to cut holes in the mylar or customize the tent to get your ventilation set up correctly.
Differences Between Quictent And Vivosun
Price: the Quictent is more expensive than the Vivosun.
Size: the Quictent is just a little bit taller than the Vivosun; the Quictent is 84″ high and the Vivosun is 60″ tall.
Selection: Vivosun offers more size options than Quictent.
Why Get The Vivosun?
If you are budget-minded and looking for an entry-level hydroponic tent without spending too much money, the Vivosun is the best option for you.
The other possible deciding factor favorable to the Vivosun is the smaller height. 60″ is five feet tall, which is a standard height for growing tents like this.
If you need more vertical space, obviously this is not the tent for you. But if you have limited height in your grow area, a tent with a standard height like this one is exactly what you need.
Why Get The Quictent?
Since the Quictent is slightly taller than the Vivosun (2 feet taller at 7 feet total), it is better suited to anyone who wants to grow taller plants, and who has the vertical space in their grow area to accommodate the higher tent.
The extra height can certainly help out a lot, giving you a bit more room to hang things like fans or lights or other accessories.
Quictent Grow Tent Review: Conclusion And Rating
Quictent Grow Tents are solid hydroponic tents with a higher ceiling and a slightly higher price tag than direct competitors.
Quictent tents come with observation windows and floor trays. Their line of tents has been upgraded from previous models, with better zippers and piping.
Setting up the tent is easy and requires no tools. Yes, is a bit more expensive than some other options with the same footprint, but you have to consider the cheaper tents of this size are 2 feet shorter.
It is a great choice for anyone who is planning to grow taller plants. The extra 2 feet come in very handy for grow lights, fans or other gear.
That said, if you don't need to extra height (or if you don't have enough space to accommodate a taller tent in the first place), you're better off with a cheaper brand like Vivosun, or a higher end brand like Secret Jardin.
For that reason, we give Quictent tents a rating of 4.5 out of 5.