Let me guess.
You've been struggling to find a definitive answer to the question of how much weed a single marijuana plant will yield.
There's a reason for that.
A cannabis plant can grow to vastly different sizes. Obviously, a larger plant will yield more than a smaller one.
Many other factors affect yield as well, from your skill level, to the strain of cannabis, to the lighting.
We'll give you some estimates for various plant sizes, but there is obviously no guarantee you will see the same results.
To help you get the best yields possible, we'll also give you some guidelines for increasing yields.
How Much Does One Weed Plant Produce?
If you are growing cannabis outdoors, where cannabis plants can grow as large as they like, you can expect 500 grams (17.5 ounces) per plant. This assumes ideal conditions.
Growing indoors, things get a little more complicated. The size of the plant is restricted by the size of the grow room, but you choose how large you let it get. For a very rough estimate, you can figure on about an ounce per foot of height.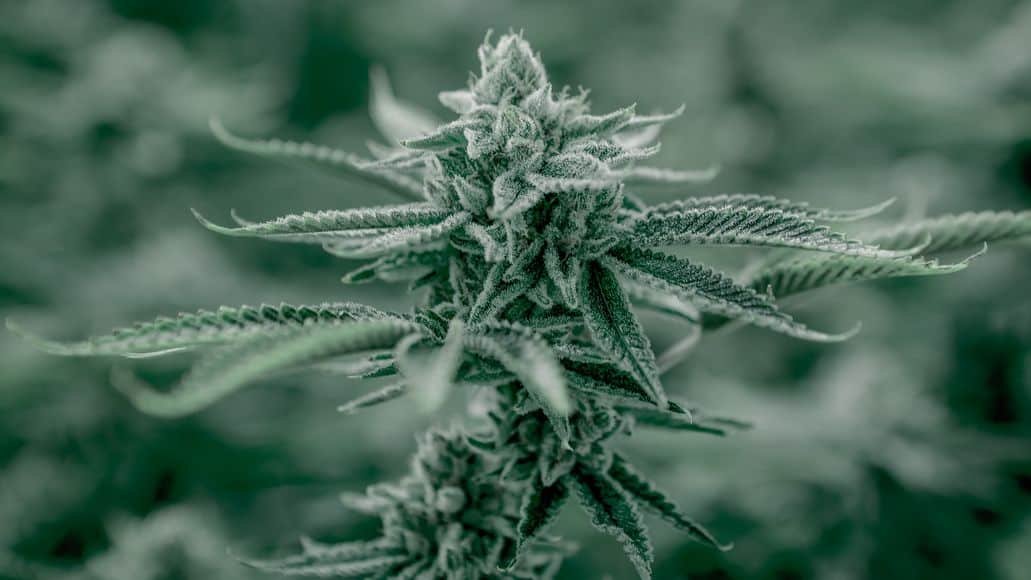 Because plant size is so variable, it is not the best way to estimate yield. A much better method is to use the strength of your light. Using the size of your grow area works as well.
Using The Amount Of Light To Estimate Yield
You can put one large marijuana plant or 20 tiny ones underneath the same light and you will end up with approximately the same yield. However, the yield per plant is obviously vastly different. That is why lighting is a better predictor for yield than the number of plants.
If you provide good growing conditions and you don't make any big mistakes, you can expect a yield of about 1 gram per watt of light (0.035 oz/w). Thus, you can expect a yield of around 1000 g, or 1 kg, from a 1000 watt light.
If you grow 20 smaller plants under that light, your yield per plant will be 50 grams (1.76 oz). But if you grow four larger plants, each one will yield 250 g (8.82 oz).
The grow area and the amount of light are the same, as is the expected yield. But the yield per plant is vastly different. That is why it is meaningless to ask how much weed one plant yields.
Note that the wattage we are using here is for HID grow lights. It would work for fluorescent as well. But LED grow lights are different.
LED lights have an actual wattage and a second number that is sometimes the HID equivalent, but often much higher than that. The second number is what the manufacturers usually use in the name, but it does not generally tell you much about the actual power of the light.
For that reason, you'll want to use the actual wattage. But it does not work for the above calculation, so you have to use it to approximate the HID equivalent wattage.
To do this, simply increase the actual wattage by 50%. In other words, multiply it by 1.5. For example, a light with an actual wattage of 650 would thus have an HID equivalent wattage of 975.
This is obviously a very rough estimate and something that varies greatly from one light to another. I'm sure you know that a good LED grow light will give you a higher output for a given wattage than a lesser light.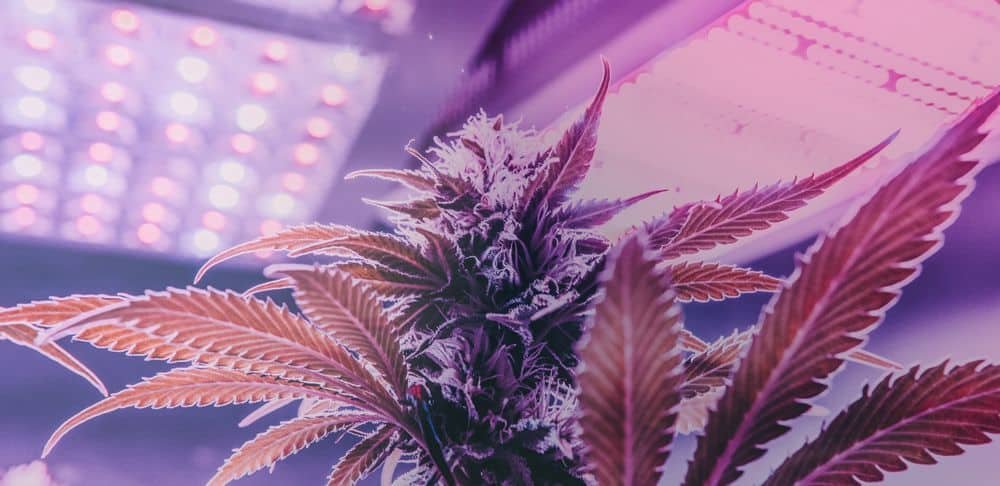 Nevertheless, this quick calculation will allow you to get an estimate for the HID equivalent wattage, which you can then use in the same way we used the HID wattage above to figure out the expected yield (1 gram per watt). The LED light used in the example above with an actual wattage of 650w—and an HID equivalent of 975w—would thus yield around 975 g
Using The Size Of Your Grow Area To Estimate Yield
Using the size of your grow room, you can count on around 2 ounces per square foot. That equates to around 600 grams per square meter.
Let's say you have a 4 by 4 foot area. That is 16 square feet. At 2 oz/sq ft, you can expect to harvest around 32 ounces, which is 907 grams. If you light the area with a 1000 watt light, the previous calculation above estimates a yield of 1000 grams, so you can see these two methods end up giving you fairly similar estimates.
Dry Vs. Wet Weight
All weights used in these calculations are for dry bud. Wet buds weigh a lot more. If you weigh wet buds, you can expect your numbers to be about 4 times higher. That means you'd want to divide your weight by 4 to get an estimate for what it would weigh when dry.
Tips For Maximizing Yield
The numbers above all assume you know what you're doing. If you're a beginner with no experience growing cannabis, you will not likely see those kinds of yields. But it's not that hard to come close, even if you know very little about cannabis cultivation.
Maximizing marijuana yield is simply a matter of providing the right growing environment and using good strains.
Do that and you could potentially get the kind of yields experienced growers get, even on your fist grow—assuming you do not make any major mistakes, of course. And growing indoors, you get to control everything.
Adequate Lighting
Cannabis plants need plenty of light. You want to make sure that you provide at least 100 umol/m²/s everywhere in your grow area. This should be the minimum amount of light in the corners of the grow room.
The middle of the grow area should get much more. This article helps you figure out how much light you need so that your plants grow large and strong.
Ideal Temperature And Humidity
During vegging time the ideal temperature is between 70 and 85° F (20 and 30°C), with a relative humidity of 40 to 60% (I'd stay over 50%).
Once you make the switch to flowering, you want to lower humidity to 65 to 80° F (18 and 26° C) and maintain a relative humidity between 40 and 50%. During the final weeks of flowering lower the humidity to 40 to 45%.
Our marijuana growing guide has much more information for the beginning indoor grower.
Nutrients And pH
This post has all the info you need concerning root pH and nutrients. Basically, you want to keep the pH between 6.0 and 7.0 when growing in soil and around 5.8 when growing hydroponically, or in some other soil-less medium.
As for nutrients, if you are growing in soil, that soil likely contains nutrients that will keep your plants fed for a few weeks. After that, use a nutrient solution specifically made for cannabis, like the Fox Farm Nutrient Trio.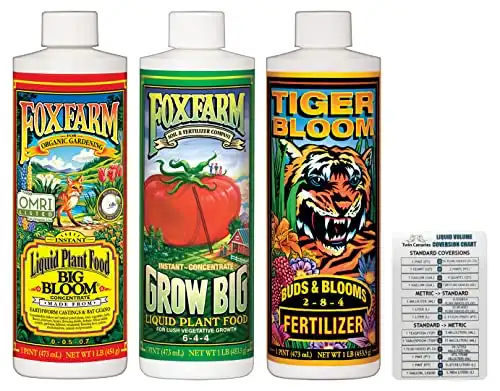 In soil-less media, you will need to use nutrients throughout and be very specific with the amounts. You also need to make sure you add specific nutrients, like bloom boosters, at the right time. Learn when to add bloom boosters here.
Trimming, Pruning And Training
Shaping your plants to ensure the greatest possible number of bud sites, and to ensure that those sites are all exposed to the light, can go a long way toward boosting yields.
Techniques like SCROG (Screen Of Green), that create a spread out plant and a flat canopy, will maximize the number of colas.
You should also combine this with lollipopping, to make sure your strains use all of their resources for viable bud production, and don't waste any energy on feeding areas that don't get adequate light anyway.
Genetics
Genetics also play a large role in yield. Some strains simply produce larger buds than others. To help maximize yields, grow a quality high-yielding strain like Gold Leaf.
High Yield Strain
Gold Leaf Feminized Seeds
60% Indica 40% Sativa
High THC levels up to 21%
Consistently grows high yields
Robert Bergman's own strain!
Feminized seeds for guaranteed results
Shop Now
We earn a commission if you make a purchase, at no additional cost to you.
Whether you are growing indoors or outdoors matters also. Choose cannabis seeds that do best for your situation. Some strains work better for an outdoor garden, while other are better indoors.
Hydroponics
Growing hydroponically generally results in better yields than growing is soil. But the difference is not huge and it is more difficult to grow this way. For that reason, we don't usually recommend it for a beginning indoor grower.
Re-Vegging
Some growers take flowering marijuana plants back to veg after they have harvested the buds, in order to get another harvest from the same plant. Usually this second harvest is larger than the first, so this is a good way to boost your yields from a single plant. It is not an easy thing to pull off well, though.
Yield From A Single Cannabis Plant: Final Thoughts
The yield you can expect from a single weed bush varies greatly. It depends on a number of factors, but the primary one is the size of the bush.
For that reason, it is much better to use the power of your lighting, or the size of your grow area, to estimate yield. Then you can fill that area with one large marijuana plant, several smaller ones, or many tiny ones.
Each option has its advantages. This article covers that and helps you figure out how many plants to grow in a given space.
And a final word of warning: once you have your yield, do not ruin it by hurrying the drying process. Many impatient growers do this and the result is marijuana with a strong hay smell and a harsh flavor.