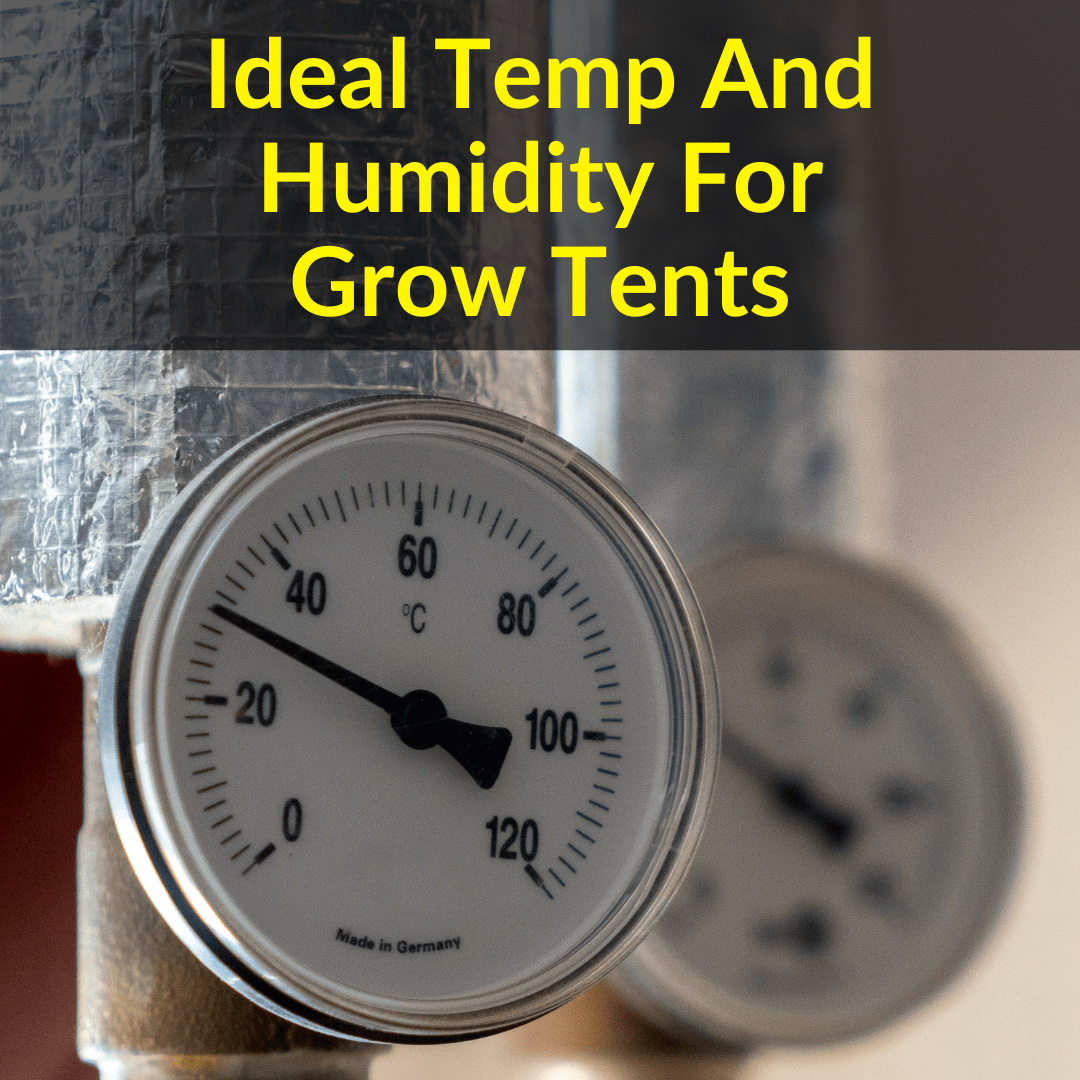 All the advice on growing can be quite misleading.
It often makes it sound like you need to do everything perfectly or your plants will die.
The truth is: cannabis is very easy to grow. You don't really have to do anything apart from give it light and water.
But if you want to maximize your harvests, you'll need to provide the ideal conditions.
That's what all the grow guides are teaching you.
And the environmental conditions are some of the most important.
So what are the ideal temp and humidity for grow tent marijuana grows? Keep reading to find out.
Ideal Temp And Humidity For Grow Tent
The ideal temperature and humidity for a grow tent depends on the growth stage of the plants inside. There is no optimal condition that works for all stages of the plant's growth.
If you want to be lazy and you don't care about maximizing your harvest, you could keep your temperature at about 80° F constantly. But you'd still need to lower the grow tent humidity at the budding stage.
Seedling Stage: 75° – 85° Fahrenheit / about 70% humidity
Vegetative Stage: 70° – 85° Fahrenheit / about 40% humidity (do not exceed 55%)
Flowering Stage: 65° – 80° Fahrenheit / 40% humidity (do not exceed 50%)
Because the cannabis plant's needs are different at each stage (technically it is a different plant as a seedling than it is as a mature flowering adult) the humidity and temperature need to change with them.
That is why most professional growers have multiple rooms (or several huge grow tents) with each room holding plants in a specific growth stage.
This usually means a flowering and a vegging room, and often a third one for seedlings. This allows easy control of the environment and allows for twice as many harvests per year.
We'll go a bit deeper into the ideal conditions for each growth stage below. First, let's take a look at the two tools you'll need to ensure you keep the ideal temperature and humidity for a grow tent.
Tools Needed To Maintain Ideal Temp And Humidity
To keep your grow tent in the ideal condition for healthy plants you are going to need some important tools to measure the environment.
Thermometer
I'm sure you're already familiar with thermometers, but if not, it is a simple tool that has been around for over a hundred years that tells you the temperature of your environment.
Thermometers vary in effectiveness and fanciness. In general, a good digital thermometer will do the job best. A wall mount model is good, but keep in mind it will only measure the temperature in the area where it is mounted.
You should also have at least one small portable thermometer you can easily carry around your tent to get accurate readings at various spots, especially near all your plants.
You will find as time goes on that certain areas are naturally hotter or colder than others, and this data can help you place your plants in the ideal areas.
This does not matter of course if you have a tiny grow tent with only a few pots in it.
One of the best reasons to have a portable thermometer is to 'fact check' your equipment. If you have an air conditioner (which will have a thermostat) you can use your portable thermometer to check if the readings match.
Sometimes with A/C units or other big machinery the temperature reading ability can be off significantly. You need to make your decisions based on good data, especially in a commercial or semi commercial operation.
Hygrometer
This tool measures the amount of water vapor in the air. It is another simple tool and you can find wall mount models and portable models, much like thermometers.
Ideally you will own both a mounted hygrometer and a portable one, for the same reasons mentioned above with the thermometers. You can also get a combination unit that measures both temperature and humidity.
A hygrometer may be the most important tool you own. Excess humidity can destroy your entire garden, and it can sneak up on you without much warning.
Keeping humidity from getting too high can literally save your entire crop. If your buds get the bud rot, it is game over (cue Ice-T on the car shield commercial).
Having an accurate hygrometer (or a few) is critical to measure the humidity in your garden. You'll know as soon as it starts creeping up too high and can intervene in time to save your plants' lives!
The way a hygrometer works is actually quite interesting (to me at least), you can check it out in detail  here.
Humidifier Or Dehumidifier
In most cases, you probably won't need either of these. But if you live in an especially humid climate, you may need a dehumidifier as part of your basic grow tent setup.
And if you live in an especially dry climate, you may need to get a humidifier. The good news is that neither is overly expensive. Even the best humidifier for grow tent costs under $50.
Ideal Conditions For Seedling Stage

As mentioned above, the temperature should be between 75° and 85° F with 70% relative humidity. Seeds need to germinate, and germination requires humidity and heat (just not too much).
When these conditions are met and enough time passes, the seeds will sprout, and the little baby plants will peek out and start shooting up.
There is not too much change needed between the seedling and the early leafy growing stage, but the little that is needed is a game changer if it is not done correctly.
Perfect Conditions For The Vegetative Stage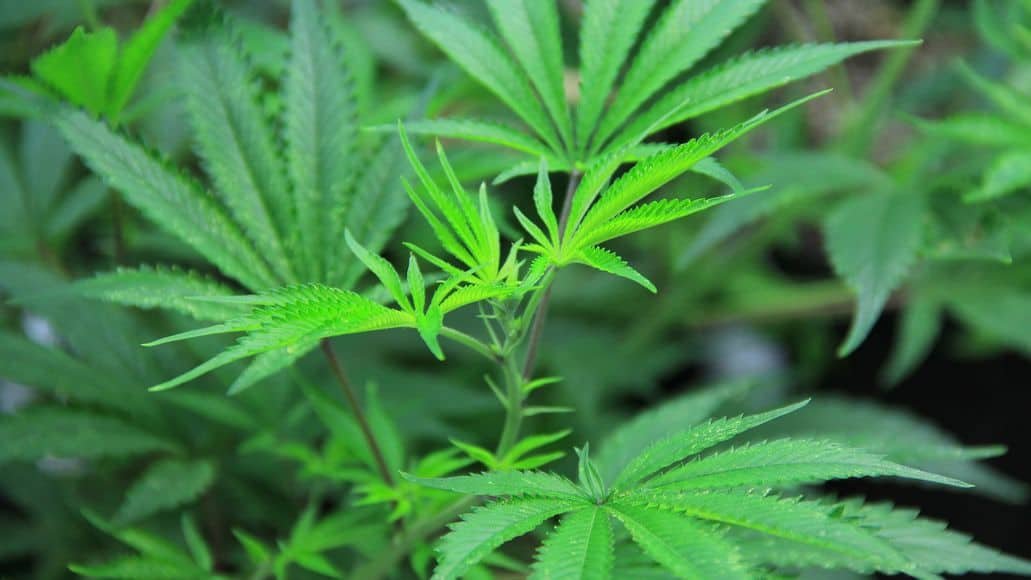 Ideally, you want the temperature for this phase to be around 80° or so, with the RH being 40%. As you may have noticed the temperature does not change at all between the seeding and growth stages. The humidity requirement, however, is a massive change.
Seedlings love that moist air, but too much moisture saturating those leaves can lead to a grow tent apocalypse, and I am sure you do not want that! The reason for the dramatic decrease in required humidity between seeding and vegging is simply that leaves like drier air.
If the air gets too wet, the leaves become saturated and are not able to shed as much oxygen. This leads to them becoming unhealthy and absorbing less light and fewer nutrients, weakening the critical photosynthetic process.
Ideal Temp And Humidity For Bloom
As the plants come into the final stage, they like the air to be a bit cooler and the humidity to come down a little. Technically the humidity window gets narrower in this phase versus the previous one.
Humidity can be anywhere from 40 to 50% in this phase, which is a little less than the prior stage. The reason for this is that buds are fickle.
Too much heat means more capacity for the air to hold water. More dense air means less evaporation of surface moisture on the buds, and constant moisture on the buds without evaporation leads to bud rot, which is the angel of death for your plants.
Keeping all this in mind (or better yet in a notebook you carry around) can help your grow tent be the ideal place for your plants. As you have learned, the temperature is important but not as important as the overall humidity of the air.
The main reason temperature matters is because it effects the air's ability to hold water, which comes back to humidity. This does not mean temperature is not important, because it is.
But if you slip up and it gets too cold or hot for a little while, you are not going to lose your harvest. On the other hand, if humidity gets to high and you plants get bud rot, you have a real problem. So make sure you always have sufficient fans in your grow tent.
Ideal Grow Tent Humidity And Temp: Final Thoughts
Maintaining the ideal temperature and humidity in your grow tent is vital in maximizing the yield you harvest from your marijuana plants. It is also a key step in our article on how to get denser buds.
But the temp and humidity your plants want does not stay constant throughout the grow.
In the early stages of growth, plants need warm and humidity conditions. As they move toward the later stages, the temperature and humidity need to come down.
If you follow the guidelines above, your plants will not suffer any ill effects from a poor environment and they will reward you with massive harvests. Assuming you are doing everything else right, of course.
Growing weed is simple, but cultivating marijuana and getting the best possible harvest requires everything to be perfect.
That said, you don't have to buy the highest quality and most expensive grow tents to successfully grow weed. Some deep budget brands work perfectly well and save you a ton of money. Check out our Quictent grow tent review for one such brand.