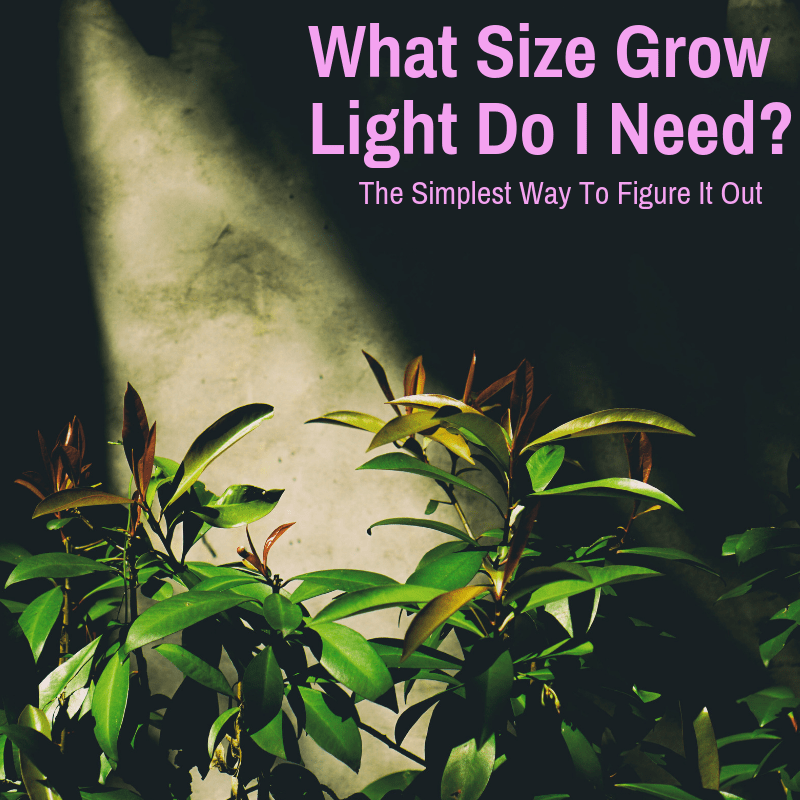 Determining what size grow light you need can get a bit complicated.
It depends on so many different factors: the type of lighting you want, the plant(s) you are growing, the size of your grow area, etc.
In this article, I break the issue down and make it as simple as possible.
There are three things you need to know before beginning: the light requirement of your plant(s), the type of light you want to use and the size of your grow area.
1. Light Requirement
For the light requirement, you really only need to know if it has a high light requirement or a low one.
Plants with a high light requirement are generally plants that flower and/or bear fruit, like tomatoes, citrus, orchids, cannabis, etc. Plants with a low light requirement are ones that do not flower, like herbs or leafy vegetables like lettuce.
2. Type of Lighting
If you are unsure which type of lighting you need, go with fluorescent lights if you only have one (or maybe two) plants and LED or CMH lights otherwise. I recommend LED over CMH, because they're easier to use, they cost less to operate, the generate less heat and they last longer.
3. Size of Growing Area
If you do not know the size of your grow area, measure it. Or measure the plant(s). Or find out how large the plants you plan on growing get.
Once you have those three pieces of information, you are ready to begin.
Scroll down and find the type of type of lighting you plan to use below. Then follow the instructions to figure out the size of light you need and how many lights you need, if more than one.
How To Determine The Size (And Number) Of Grow Light(s) You Need
I will begin with HPS and MH lighting, then cover CMH, then LED, and finally fluorescent.
What Size HPS And MH Lights Do I Need?
High pressure sodium and metal halide are the easiest type of lighting to figure out (along with CMH below). There are two methods you can use.
By Coverage Area
If you know how large your grow space is (for example, the size of your grow tent), you can easily figure out which light(s) will best cover it. The following are the approximate maximum coverage areas for the most common wattages of MH and HPS bulbs:
150 watt: 2 x 2 feet (or 4 square feet)
250 watt: 2.5 x 2.5 feet (or 6.25 square feet)
400 watt: 3 x 3 feet (or 95 square feet)
600 watt: 4 x 4 feet (or 16 square feet)
1000 watt: 5 x 5 feet (or 25 square feet)
From that, you should be able to figure out which size light is best for you and how grow lights many you will need.
All else being equal, 600 watt lights are the most efficient (meaning you get more output per watt of electricity used) and 1000 watt bulbs are second best, so you always want to see if those will work for your space first.
For example, say you have a space that is 10 by 20 feet, or 200 square feet. That is perfectly divisible by 4 (the 150 watt bulb) or 25 (the 1000 watt bulb).
That means, you could light the area with 50 bulbs of 150 watts each (200/4=50) or with 8 bulbs of 1000 watts each (200/25=8). The eight 1000 watt bulb option is far preferable.
That said, you could also light the area using 600 watt bulbs.
The area is not perfectly divisible, but 200 divided by 16 gives you 12.5, so you would just use 12 or 13 fixtures and make them fit.
In this case though, I would go with the 1000 watt option, since 8 of them perfectly cover the area.
One thing to note: this is based on the maximum coverage areas for each bulb strength.
That means that the number of bulbs you determine necessary from this method are closer to the minimum light requirement for plants with high light requirements.
The next method makes that clear and gives you better results if you want to give your plants plenty of light to maximize yields.
By Wattage
The other way to figure out your MH and/or HPS lighting needs is to use the wattage requirement. To grow a plant with a high light requirement, like cannabis, you want 30 to 70 watts per square foot of canopy.
I would go for a minimum of 50 watts per square foot. If budget and heat is not an issue, bump that up to 65 watts per square foot.
Let's look at the example from above again. The one with the 200 square foot area.
If we shoot for 50 watts per square foot, we would need a total of 10,000 watts to cover this area (200 x 50 = 10,000).
That means we would want ten 1000 watt bulbs (10,000 / 1000 = 10) or seventeen 600 watt bulbs (10,000 / 600 = 16.67, which we round up to 17).
You can see that this method says we need more lights than the previous method.
If we work backwards, the previous method would give us a coverage of 40 watts per square foot (8 bulbs x 1000 watts = 80,000 total watts / 200 sq ft area = 40 watts per square foot). That is still plenty of light, but we would get better results with more light.
If you're not sure which brand is best, read my reviews of the best value HID kits.
What Size CMH Grow Light Do I Need?
Ceramic Metal Halide is even easier to figure out, since there are only two wattages commonly available: 315 watts and 630 watts (which is a fixture with two 315 watt bulbs in it).
The easiest way to think of them is to consider the 315w bulb equivalent to 600w of MH or HPS light and the 630 watt dual bulb fixtures equivalent to 1000 watts.
That means that you can expect a 315 watt fixture to cover up to 4×4 and the 630 watt fixture to cover 5×5. I would go for more intensity and would use a 315w fixture to cover a 3×3 area and a 630w fixture for a 4×4 area.
If you don't already know which ceramic metal halide light you want, read my reviews of the best value CMH kits.
How Many Watts Per Square Foot For LED Grow Lights?
Watts per square foot is the most common way people determine what size LED light(s) they need, but it is not the only way. It is also not the most accurate way, but it is a good compromise between accuracy and simplicity.
Because the truth is: determining how powerful an LED grow light to get, and how many of them you need, is the most complicated of all types of lighting. This is due to the huge variation in lights and to the fact that most manufacturers flat out lie about the specs of their lights.
That doesn't mean it's impossible to figure out.
There are three methods I would consider. I will list them in order from the easiest (and least accurate), to the most difficult to figure out (but also the most accurate).
Using The Coverage Area Provided By The Manufacturer
Most manufacturers provide the coverage area of their lights and you can use that to figure out which light will be able to cover your grow space.
Nice and simple, right?
If only it were that easy. Unfortunately, many manufacturers (most Chinese ones and quite a few American as well) exaggerate the area their light will effectively cover.
Perhaps they give you the coverage area for a plant with a low light requirement (not a high requirement, like marijuana) or they give the coverage for vegging, which is always larger than the coverage for flowering.
This makes it difficult to know if you can trust the manufacturer-provided coverage area. Unfortunately I do not have a good solution for this.
If the light is reviewed on this site, I make sure to point provide the actual area you can expect it to cover. For lights I haven't reviewed, you'll have to try to find that info online.
Using The Wattage
To grow a plant with a high light requirement, you want 30 to 40 watts per square foot of canopy area.
Again, there is one huge problem. Most LED brands give both an actual wattage and a theoretical wattage (what the light would consume if the chips were all driven at full power, which they never are).
Important! For this calculation you want to use actual wattage.
This requires you do a bit of research and find out a light's actual wattage. Most American brand make this information readily available, even if they name their light using the theoretical wattage.
Many Chinese brands don't even use theoretical wattage. Instead they use some completely made up number. Roleadro's 2000 watt light, for example, actually draws 230 watts (Roleadro is one of the absolute worst offenders when it comes to blatantly making up numbers).
The good news is that they usually do provide the actual wattage somewhere. They often hide it somewhere far down the page, but it is almost always there.
Once you have the actual wattage, you can use that to figure out if that light will cover your area (or how many of them you need).
Let's look at an example.
Above, we used a grow space that was 10×20 feet, or 200 square feet. If we want to light that area with LED grow lights, we would need 6000 watts in total if we were shooting for the low end of 30 watts per square foot.
If we were looking to light that area with a BestVA 3000, we would need 10 of them. This light has an actual wattage of 615w, so ten of them would give us 6150 watts in total.
If you have a smaller area and only need a single light, the calculation is even easier.
Say you have a 3×3 grow tent. That makes 9 square feet. At 30 watts per square foot you would thus want 270 watts in total. If you went up to 40 watts per square foot, you would want 360 watts in total.
Thus you would want an LED grow light with an actual wattage of 270 to 360 to light this area. If you're considering one of these CREE CXB3590 COB lights, the largest one uses 320 actual watts, so it would fit in there perfectly.
Of course, this method does not take into account the efficiency of the light. One light that uses 400 watts may have a much higher output than another light that uses 400 watts.
Wattage is used as a good approximation for the amount of light a fixture will provide, but the actual output will vary greatly from one manufacturer to the next.
For example, the Phlizon COB lights get a large amount of output for the wattage they consume, while competing lights give you far less output for the same wattage. Phlizon lights are simply far more efficient.
And that brings us to the most accurate method: using the actual output.
Using The Output
While this method is the most accurate, it is also the most difficult to use, because many manufacturers do not provide a lot of (if any) good data on the output of their lights. This is especially true with the Chinese brands.
Even if they do provide output info, they often only take a reading dead center below the light, where the output is strongest. They do not give you readings for the rest of the coverage area, usually because the light is very weak around the outside of the area.
All lights will be stronger dead center, but good lights will still get you decent readings around the outside.
I'm sure you're wondering how output is measured and what amount of output is good.
Light output can be measured in a number of different ways, but the most useful measurement for plants is ppfd, or Photosynthetic Photon Flux Density.
It is measured in umol/m²/s and it tells you how much light is present in the wavelengths that are used by plants for photosynthesis.
This contrasts with another light measurement lumen, which measures the amount for light that is visible to the human eye.
To get optimal results you want plants to get around 300 to 600 umol/m²/s during the vegetative stage and 600 to 1000 umol/m²/s during the bloom stage.
Plants will do fine with less than that, but those are the numbers to shoot for if you want to optimize yields.
At a minimum, you want to get 100 umol/m²/s.
How do you know the PPFD of a light?
Good manufacturers will provide a PPFD footprint (also referred to as a PAR footprint or a PAR chart). These footprints show the PPFD output of a light at various locations in the coverage area.
The best lights will not have sky high readings in the middle (and thus much smaller ones around the outside, even if the manufacturer only provides the figure for the middle), but good readings all around. Even the far corners of the coverage area will ideally be over 100 umol/m²/s, or at least close to 100.
What Size Fluorescent Grow Light Do I Need?
Fluorescent lights only make sense for a plant or two. Any more than that and they become too inefficient.
This article covers how to determine how many fluorescent bulbs you need.
If you don't feel like reading that, you basically want 60 to 100 actual watts per square foot of growing space.
What Size Grow Light You Need: Final Thoughts
Hopefully this article has helped you figure out exactly what size grow light you need to adequately cover your grow area. There are a lot of factors that go into it, but if you followed this guide, you should now know what you need.