It's all light, isn't it?
Yes, that is true.
But there are some key differences between grow lights and regular lights.
The most obvious if you're shopping for lights, is the price.
Grow lights cost a lot more. Or do they?
If you compare lights with a similar output, you'll see the price difference is actually quite small.
And the many advantages of specialized grow lights easily outweigh the small price difference.
Keep reading to learn exactly what differentiates specialized weed grow lights from regular lights. We'll cover everything you need to know.
Grow Light Vs Regular Light
Giving your cannabis plants the correct amount of light is essential for growing strong and healthy plants. During photosynthesis, plants convert light energy into the chemical energy they need to grow strong and healthy.
And with cannabis in particular, light also fuels the production of the all-important buds.
Different plants require different amounts and different spectrums of light. And different types of artificial light emit different spectra of light.
If you're wondering if you can use regular lights to grow your cannabis plants, the short answer is 'no'. The longer answer is 'it depends'.
Regular lamps, such as floor lamps or desk lamps that you might have in your home, do not put out the ideal spectrum of light to grow marijuana plants. They also don't generally give you a lot of power.
Furthermore, they are usually more inefficient. They use far more electricity than grow lights to give the same output. At least that is the case for regular lamps with incandescent light bulbs. Those also get very hot.
That said, technically, you can use any light as a grow light. As long as you have enough of them to get the output you need. Most regular bulbs may be less efficient, but they do still work. Let's get more into the differences between grow lights and regular lights.
Difference Between Grow Light And Regular Light
As a cannabis grower, it's essential to understand the differences between grow lights and regular lights. Cannabis grow lights are designed to provide the specific wavelengths of light that are optimal for growing cannabis plants, while regular lights are designed for general home and office illumination purposes.
Tailored Spectrum
The best cannabis grow lights emit a full spectrum of light that closely mimics natural sunlight, whereas regular household lights typically give off a more limited spectrum of light. You can also get grow lights with a red/blue spectrum instead of white, though the blurple spectrum is no longer in favor in the industry.
High Output
This is the main reason to use dedicated grow lights when growing weed plants. In addition, grow lights are typically a lot brighter and more intense than regular lights. Marijuana plants need a lot of light to grow fat buds and grow lights work better at providing that.
Efficiency
Cannabis grow lights are also designed to use energy more efficiently than regular lights, which can save you money on your energy bill, especially with the current cost of electricity.
Lifespan
Finally grow lights typically have a longer lifespan than regular lights, which means you won't have to replace them as frequently. How long do grow lights last? That article covers the subject. The focus is on LED grow lights, but it compares them to all other types of grow lights.
Cost
Dedicated grow lights cost much more than regular lights. There is no denying that. However, if you start to look at regular lights that deliver the same level of output as a grow light, then the difference becomes negligible.
Different Types Of Cannabis Grow Lights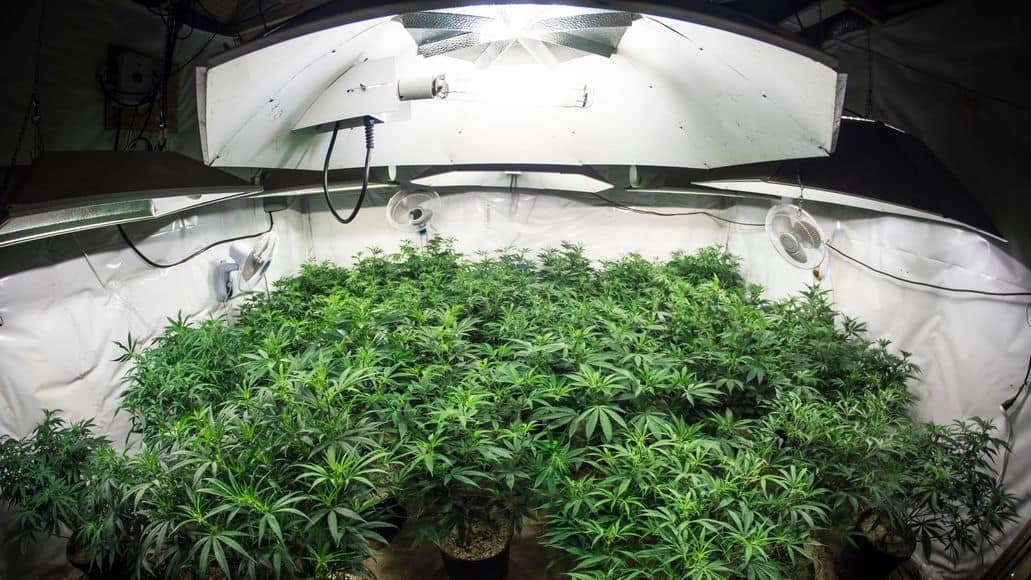 Just to make life a little more complicated, there are a few different types of grow lights to choose from, each with their own unique characteristics and benefits.
Here are some of the most common types of grow lights you may come across when choosing your grow lights:
Why You Should Use Cannabis Grow Lights
Using specialized grow lights offers several benefits to your crop of cannabis plants. Here are some of the benefits associated with using specialized plant grow lights:
Improved plant growth and yield: Cannabis grow lights are designed to provide the specific spectrum of light that plants need for optimal growth, which can lead to healthier plants and higher yields.
Enhanced resin production: Some types of cannabis grow lights, like many modern LED lights, can help increase the production of THC in your plants.
Energy efficiency: Grow lights are designed to be energy efficient, which means that they can save you money on your electricity bills compared to using regular lights.
Longevity and durability: Cannabis grow lights are built to last, with high-quality components and materials that are designed to withstand the rigors of constant use.
Factors To Consider When Choosing Grow Lights
When choosing the right grow lights for your specific needs, there are several factors you need to consider. First, think about the size of your grow space.
Different lights have different coverage areas, so you'll need to choose a light that can adequately cover the size of your grow space. This article will help with that.
Also important is the strain of plants that you are growing. Some strains require more light than others, so you'll need to choose a light that can provide the optimal amount of light for your specific crop. The top seed banks all provide this info about their strains.
Your budget is also an important factor to consider. Grow lights can vary widely in price, so it's important to determine how much you're willing to spend before making a decision.
Finally, think about your energy efficiency goals. Some lights are more energy-efficient than others, which can help save on electricity costs in the long run. Factor in the wattage of the light and its efficiency rating to help determine which one is right for you.
What Spectrum Of Light Do Cannabis Plants Need?
The blue light spectrum between 400 and 500 nanometers (nm) is optimal for cannabis plants throughout their vegetative phase. At 460 nm, plants receive the signal to produce resilient, broad leaves.
During flowering, red light with a wavelength between 620 and 740 nm becomes more important. Providing large amounts of red light during flowering improves the yield.
But plants need light in other colors too. That's why full-spectrum white LED grow lights are ideal. The white light contains all colors, but these lights usually have additional red diodes to boost yields.
What Are The best Lights For Growing Cannabis?
For most plants grown indoors, LED lights are the way to go. Bright, white LED lights cover both the red and blue ranges of the color spectrum. LEDs deliver more output for less input and they run cooler. Now that prices have come down so much, they are easily the best choice for marijuana growers.
Even though they do not emit as much heat as other types of light, they do still emit some. You will need to hang the lights high enough above your plants to avoid them burning the leaves.
During the flowering stage, place LED grow lights 16 and 36 inches from the top of your plant. Moving the grow light closer will increase the light intensity, which can maximize photosynthesis, but you need to be careful to avoid burning your plants by putting the lights too close.
Each light is different and each garden is different, so you will need to try different hanging heights to find the sweet spot for your setup.
During vegging, either hang the light further from the plants (generall 2 to 4 feet), or dim the light intensity, if your fixture has dimming capability.
Difference Between LED Lights And LED Grow Lights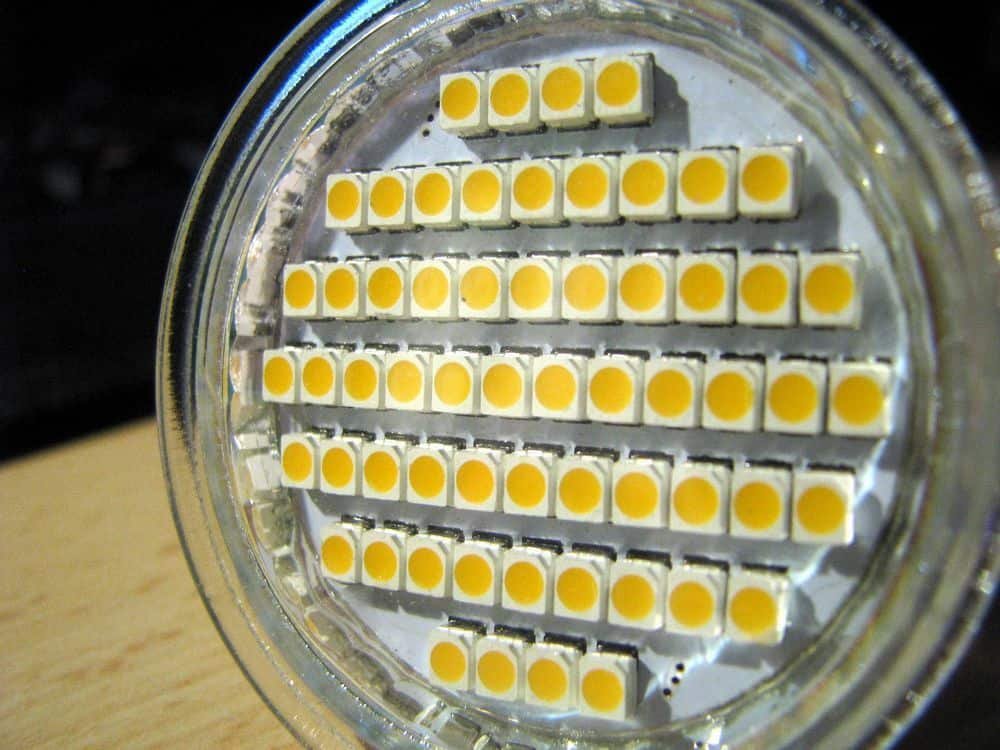 If we are talking about LED lights specifically, the primary difference between LED lights and LED grow lights is in the output and the spectrum. Regular LED lights usually have a white color spectrum. This is actually the same as the most popular LED grow lights.
What is the difference? The best LED grow lights have a specific color temperature of white light that is ideal for marijuana plants. And yes, you can find regular lights with the same color temperature.
Can I use normal LED light to grow plants indoor then? You can. But dedicated LED grow lights often have additional diodes with deep red light, or IR or UV. Regular lights do not have this.
More importantly, regular lights have a lower output,. This means you would need more of them, or much larger ones, to get the output your plants need. Once you add up the cost of all these lights, regular LED lights and LED grow lights end up costing about the same, for the same output.
Difference Between Grow Light And Regular Light: Final Thoughts
Specialized grow lights give your plants the spectrum they need and the power they need. Regular lights tend to be less powerful. In terms of spectrum, the white light most regular lights give you works well for plants.
Due to the lower cost of regular lights and the decent white color spectrum, many growers with only a plant or two choose to go with them over specialized grow lights.
However, if you look at regular and specialized lights with similar outputs, the cost ends up being very close. For that reason, it makes sense to get true grow lights if you are going to grow cannabis.