I remember when I first decided to grow plants indoors.
I knew people used grow lights for that, so I started researching.
My first discovery: those things are expensive!
Prices have come down a lot, but they are still a considerable cost.
That sticker shock led me to the next obvious question: how do grow lights work and can I just use a regular light instead.
I learned I could use a regular light, but it would end up costing me more in the long run. Grow lights simply work better and pay for themselves many times over. Let's find out exactly how they work.
How Do Grow Lights Work?
Grow lights work by providing your plants with the energy source they need to flourish and grow strong. Grow lights are designed to mimic the natural light from the sun.
And with the changes in technology over the years, grow lights are now more capable than ever of achieving this.
Since plants can need different types and amounts of light during different growth stages, modern grow lights are fully adjustable and can produce a full spectrum of light. You can set up your grow lights to give off a bluer light during the vegetative stage and a redder light when they reach the flowering stage.
Different Types Of Grow Light
The first generation of grow lights featured incandescent bulbs, which were replaced by fluorescent grow lights. The next iteration of the grow light featured high-intensity discharge (HID) technology. And the more modern grow lights use light-emitting diodes (LEDs) to produce their light.
While each of these types of grow lights performs the same function, they do so in slightly different ways and with different levels of success. So, let's have a quick run-through of each type of grow light available.
How Do LED Grow Lights Work?
LED grow lights use light-emitting diodes (LED) to generate light. LED lights use semiconductors and electroluminescence to generate light, and they are free from hazardous materials.
In high-end LED grow lights, small reflectors and other engineered parts help to amplify the light and make it more focused. LED grow lights offer the advantage of being able to plug directly into a standard wall outlet, and they do not require a ballast.
Since their introduction, technology has continued to improve, and they have taken over as the most popular form of grow lights. LED grow lights offer the most versatility and control over the light emitted.
And aside from their initial cost, they have few major drawbacks. Even the initial cost is no longer that much higher. When it comes to cheap grow light setups, LEDs are actually a better choice for all but the smallest grows.
How Do Fluorescent Grow Lights Work?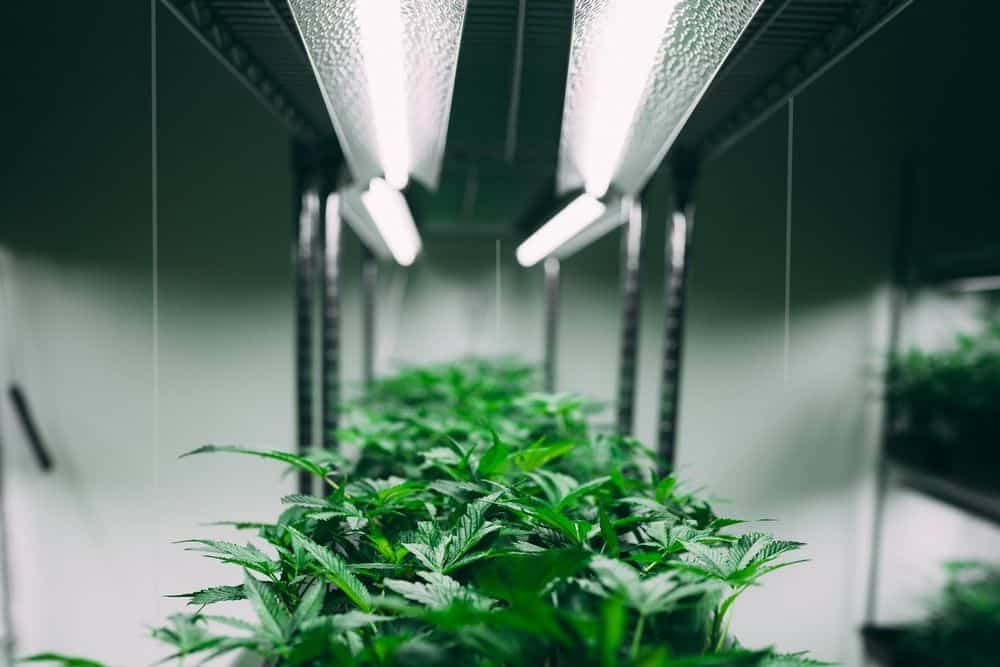 Fluorescent grow lights were once the most popular grow lights on the market, before the arrival of newer and more advanced technology, such as LEDs and HID lights. Fluorescent grow lights work by exciting mercury vapor in a glass tube with an electrical current.
his electrical stimulation leads to the gas emitting photons at ultraviolet frequencies. These ultraviolet photons are then converted into visible light by a coating of phosphorus on the inside of the tube.
Fluorescent grow lights are still reasonably popular, because they are quite simple to use and the initial price to buy a fluorescent grow light setup is relatively low. And they do work quite well to help plants grow.
How Do HID Grow Lights Work?
HID grow lights, or high-intensity discharge lights, produce light by passing an electrical current through a tube filled with gas and metal salts. HID grow lights replaced fluorescent grow lights as the most popular choice for many gardeners, once their price dropped a little.
Modern HID lights are still some of the most efficient lights on the market. However, LED grow light technology has advanced so much and come down so much in cost that it has taken over the mantle of being the most energy-efficient, and cost-effective, grow light.
There are a few different types of HID grow lights, including Metal Halide (MH), high-pressure sodium (HPS), and Ceramic Metal Halide (CRH).
Many growers tend to use MH HID lights for the vegetative stage of growth before switching to HPS HID lights for the flowering stage, though this combo is becoming less and less popular. CMH light is far better for plants than either MH or HPS.
The versatility and efficiency of HID lights made them popular, but the advent of the LED grow light led to HID losing its spot as the most popular choice. In addition to being more versatile, LED grow lights also have the advantage of are being less expensive to run and more energy-efficient.
How Are Grow Lights Different From Regular Light Bulbs?
Grow lights and regular light bulbs differ considerably. While it's true that LED lighting is becoming ever more popular, many regular light bulbs in use today are still of the incandescent type. Incandescent light bulbs, although they have been used to grow plants, are not ideal.
Your plants will need different colors of light, with blue light needed to fuel the vegetative stage and red light more useful when they enter the flowering stage. Typically, incandescent light bulbs emit warmer light, which is more beneficial to your plants during the flowering stage.
Where they really fall short is their efficiency. They burn too hot and use too much electricity to be of much use as a grow light. The bulbs also have a short lifespan.
Of course, incandescent bulbs are not the only type of regular lighting. Fluorescent lights get heavy use too. They are better than incandescent, but also fall short in the efficiency department. Our article comparing fluorescent and LED grow lights has more on that.
Finally, LEDs are becoming more popular for all-round lighting needs too.
An LED grow light is designed and fitted with the ideal LEDs to boost your plants' growth and to provide blue and red light as and when needed. General use LED lights emit a white light that. The light is not ideal, but you can use a normal LED light to stimulate plant growth reasonably effectively.
The white light emitted does contain blue and red wavelengths of light, but they are not adjustable at different stages of growth as a specific LED grow light will be. And dedicated grow lights often have additional blue and red diodes. Learn more in our comparison of regular LEDs and LED grow lights.
The Way Grow Lights Work: Additional Questions
Next, we will answer a few additional questions related to grow lights and how they work. If you have any further questions, please feel free to ask them in the comments below.
Are Grow Lights Actually Good For Plants?
Grow lights allow you to successfully grow a wide variety of plants in any climate at any time of the year. Grow lights are specially designed to mimic natural light from the Sun, which stimulates photosynthesis and provides the right color spectrum to enable the plant to flourish.
Do You Leave Grow Lights On All Night?
Generally speaking, you should not leave your grow lights on all the time. Plants need a light-dark cycle to develop properly. It's believed that they need to "rest" during periods of darkness, and that they use this time to shift nutrients towards their extremities while taking a break from processing light energy.
What Grow Light Is Closest To The Sun?
Full-spectrum grow lights offer the closest thing to real sunlight and will help your plants grow the best throughout their growth cycle. Natural sunlight emits all spectrums of light, including ultraviolet and infrared, which aren't visible to the naked eye. Full-spectrum LED is the type of grow light that comes closest to natural sunlight.
Of course, that means they also present similar dangers to the sun. Grow lights that emit UV radiation can cause the same problems as overexposure to the sunlight's UV, though most do not emit nearly as much as the sun. This means grow lights can fade furniture, or cause harm to our eyes and skin. They can even cause cancer.
How Grow Lights Work: Final Thoughts
Grow lights work by emitting a light that included all of the wavelengths plants need to stimulate photosynthesis. They also emit a powerful enough light so that plants get all of the intensity they need.
Those two things are the main differences between dedicated grow lights and regular lights. If you are considering just using a regular light for your plants, you certainly can. I'd suggest using a regular LED light, since they are the most efficient.
But you need to make sure that it has a good color spectrum for plants and that is gives you a powerful enough light. For those reasons, most people are better off getting a dedicated grow light.
With thoise, you don't need to worry about the spectrum and output, since the light was specifically designed for plants. Grow lights also have better heat management than regular lights, since they are made to work in a confined grow room.
They also are more resistant to moisture for the same reason. And prices have come down so much, that even the top LED grow lights on the market cost far less than they used to.