Have you spent any time in growing forums?
Then you've certainly come across posts telling you LED grow lights are a waste of money.
That you can just use regular LED lights to grow your marijuana and save a lot of money.
Is that true?
Is there really no difference between LED lights and LED grow lights?
No, there is a difference. Apart from the rather large difference in price.
Keep reading to learn all about the differences between LED grow lights vs normal LED lights. You will see that there are cases where either of them may make more sense. It just depends on what you are trying to grow with them.
Difference Between LED Lights And LED Grow Lights
We will start out our comparison of LED lights vs LED grow lights by looking at each lighting type individually, before comparing them directly and getting into the distinct advantages of each. We will finish by helping you decide which type is right for you and your weed plants.
LED lights
Light-emitting diode lights, commonly referred to as LED lights, are a type of lighting that is favored among consumers for their superior energy efficiency over traditional incandescent lamps and fluorescent lamps.
In addition to being more energy efficient, they are also longer-lasting and contain fewer harmful components, such as mercury, than other lighting systems.
They are fast becoming the norm for many lighting needs, and in particular for lighting the home. The initial price may be higher than some of the older alternatives, but the long lifespan and energy efficiency offset this. LED lights are currently the best option in many situations.
LED Grow Lights
LED grow lights are a type of LED lighting that has been designed for a specific job, i.e. to promote plant growth. In line with standard LED lighting used to illuminate your home, LED grow lights are also more energy-efficient and longer-lasting than other types of grow lights currently available.
LED grow lights are designed to emit the correct amount and wavelengths of light to promote photosynthesis within plants. They are designed to mimic the sun's light and, as such, emit a full spectrum of light. This includes the all-important red and blue light, which promotes healthy growth through both the vegetative and flowering stages of your plants' growth.
Similarities Between LED Vs Grow Lights
In terms of their basic designs, there are many similarities between a standard LED light and an LED grow light. The base technology is pretty similar, since they both incorporate light-emitting diodes to produce the light.
Both LED lights and LED grow lights are more energy-efficient and cost-effective in the long run, compared with the other options on the market.
Difference Between LED Grow Lights And Regular LED
While a standard LED light will be able to provide some of the lighting requirements that your plants need, it probably won't emit enough red and blue light for your plants to truly thrive.
LED grow lights are specifically designed to emit the right wavelengths of light that a growing plant craves, whereas standard LED lights are designed to emit the correct light to illuminate your home or office, meaning light that is pleasing to our eyes.
During the vegetative stage of growth, your cannabis plants need a lot of blue light, which encourages the formation of large, healthy leaves. As your plants enter the flowering stage, they need to receive a higher concentration of red light to encourage bud formation.
Traditionally, growers used metal-halide (MH) lighting during the seedling and vegetative stages and then switched to high-pressure sodium (HPS) lights to provide the red light as the flowering stage begins.
With a full-spectrum LED grow light, you can give your plants the correct lighting for each growth stage more easily. A standard LED light will not emit a broad enough range of light to fulfill your plants' needs. But you can use a normal LED to grow plants. It just isn't as efficient.
Advantages Of LED Lights
The main advantage of LED lights over conventional lighting is their money-saving ability. While the initial outlay may be more expensive than it is for incandescent lights or fluorescent lights, LED lights are more energy-efficient, and you will notice your monthly energy bills are a little lower
Coupled with their longevity, which sees them needing to be replaced far less often than an incandescent bulb would, in the long run, LED lights will save you money.
As for the advantages of normal LED lights over LED grow lights for growing plants, there is only one. They are cheaper. If you are only growing a single plant and you are on a tight budget, it may make sense to save money and just go with a regular LED light.
Advantages Of LED Grow Lights
For cannabis growers, the advantages of an LED grow light are not just limited to the long- and short-term costs. While you will also see the savings on your electricity bills, the main advantage of choosing LED grow lights to grow your cannabis plants is that they can emit a better range of light and encourage growth throughout the growth cycle.
A full-spectrum LED grow light can provide the blue light your plants need during their early growth stages and can also provide the red light needed to encourage bigger and better bud formation.
In addition to the broader range of light emitted, LED grow lights are also more powerful and can include features such as daisy chaining and dimmer switches, to help you control the amount of light your plants receive. Should you dim LED grow lights? Yes, it is a good idea to sim them when you don't need the full power output.
Why To Use Regular LED Lights
As mentioned earlier, a standard LED light will provide the light your plants need but not in the ideal configuration. It will not contain as much red and blue light as plants like and it probably won't be powerful enough to flower plants, so you may need several. It also won't be as efficient.
If you're just growing a single plant, a standard LED light can make sense, because it is much cheaper. It can help your plants grow, but not to the same level of effectiveness as a specific LED grow light can. An LED grow light will always work better.
If you're having technical issues with your main grow light, you could use a standard LED light as a quick fix while you repair or replace your main grow light. It can also make for great supplemental light to fill in darker areas, in conjunction with a true grow light.
Why To Use LED Grow Lights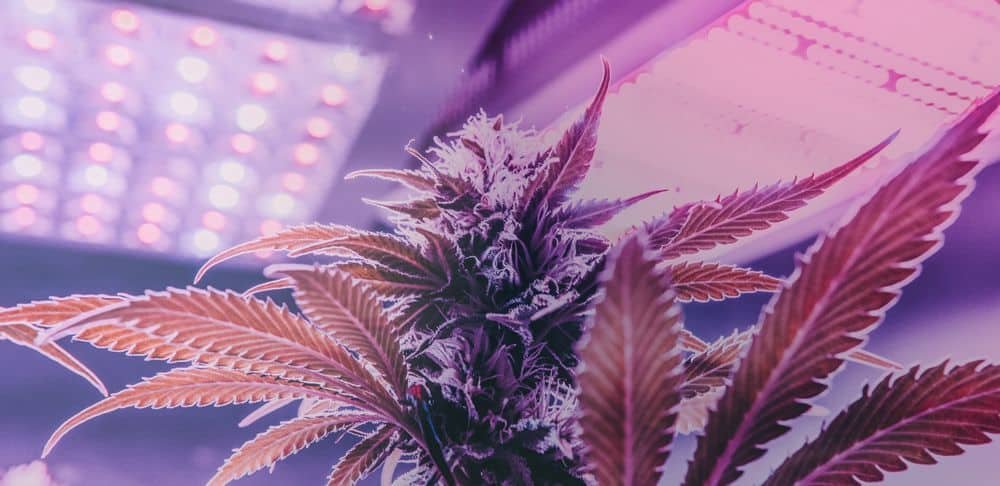 If you're new to the cannabis growing scene or are looking to upgrade your current, older lighting system, then you should at least have a good look at the LED grow lights currently available.
As lights that are tailor-made to your job-in-hand, they are able to provide your plants with the correct type and amount of light needed throughout the different stages of growth. This will lead to much healthier and denser plants and, most importantly, an improved yield.
In addition to the cost-effectiveness and excellent ranges of light they produce, LED grow lights also produce less heat than traditional grow lights and can also help save additional pennies this way, too, since you will need to work less to keep your grow space cool.
All-in-all, LED grow lights are the best way to meet your plants' needs throughout the growth cycle, and you should consider them the next time you're looking to invest in new grow lights. If you're not sure which LED grow lights are best, start here.
LED Grow Lights Vs Normal LED: Final Thoughts
The most obvious difference between led lights and led grow lights is the price. But it is not the only difference. LED grow lights are specifically designed to grow plants. As such, the good ones have the ideal spectrum for the task and they are powerful enough to flower marijuana plants.
The higher price is more than justified. But regular LED lights can make sense for a small grow. They do get the job done; they just won't get it done as efficiently and there will be a slight decrease in yield an in the quality of the harvested buds.