Do you plan on growing plants indoors?
Then you probably need grow lights.
Depending on what you grow of course. And where.
But since you've landed here, it's safe to assume you need them
The question is: which ones. Knowing how to choose grow lights for your plants is not hard.
But you need to know what to pay attention to.
Keep reading to learn the most important factors in choosing gro wlights. We will walk you through the process of deciding on the right lights step by step.
How To Choose Grow Lights
Follow the steps below to figure out what type of grow lights, and how many of them, you need. The actual lights and amount depends on many factors, plus personal preference, so we can't just recommend a specific light.
Step 1: Assess Your Plants' Light Needs
The first step is to evaluate the size and layout of your indoor grow space. Consider the available space and how many plants you plan to grow within it.
Once you have this information, you can then determine the number of grow lights you'll need and how to place them for maximum coverage.
You should also be aware that different plants have differing light needs. You should research the plants you intend to grow. Some plants thrive in full sun and need lots of indoor light, while others prefer partial shade.
Take into account the types of plants you intend to grow and research their specific light needs for different stages of their growth cycle. Cannabis has a high light requirement, for example (around 800 to 1500 µmol/m2/s during flowering).
Depending on the type of plants you are planning to grow, you may want grow lights that emit a full spectrum of light, or ones that can produce plenty of blue light to aid vegetative stages and red light for flowering stages of growth.
Step 2: Understand The Different Types Of Grow Lights
Once you have assessed your plant's light needs, it's time to dive a little deeper into the world of grow lights, so you understand the different types of lights available for indoor plants and can make a more informed decision.
The three main types of grow lights for plants are fluorescent, HID (high-intensity discharge), and LED (light-emitting diode). Each type having its own characteristics and benefits.
Fluorescent Grow Lights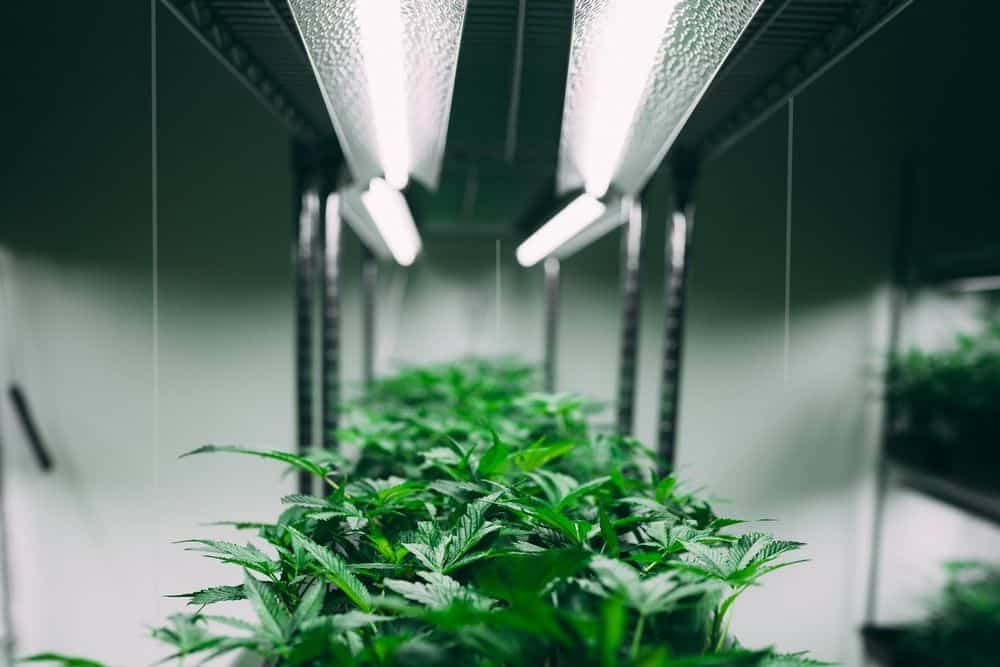 Fluorescent lights are a popular choice for beginner indoor gardeners due to their affordability and ease of use. They come in two main types: compact fluorescent lights (CFLs) and T5 fluorescent lights.
CFLs are energy-efficient and emit a balanced spectrum of light that is suitable for most plants. T5 fluorescent lights, on the other hand, provide high-intensity light and are better suited to plants in the vegetative stage. Our comparison of fluorescent and LED lights can help you figure out which is right for you.
HID Grow Lights
HID lights, such as ceramic metal halide (CMH), metal halide (MH) and high-pressure sodium (HPS) lights, are known for their high light output.
MH lights tend to emit a bluish light spectrum, which is beneficial for vegetative growth, while HPS lights produce more red light, which is ideal for the flowering stage. CMH lies in the middle. CMH is a newer technology and better for plants than the other two.
We have an article discussing ceramic metal halide lights in detail that can help. We also have a comparison of LED and HID grow lights.
LED Grow Lights
LED lights have gained popularity among indoor growers in recent years, due to their energy efficiency and versatility. They consume less energy, have longer lifespans, and can be customized to emit specific light ranges tailored to your plants' needs.
LED grow lights also produce less heat than other types, reducing the risk of heat damage to your plants. Their big drawback was always the initial cost, but the prices have come down considerably.
You can now get excellent LED grow lights for not much more than an equivalent HID light. Spider Farmer lights are the best budget brand, though there are definitely cheaper ones that are still pretty good, like BestVA.
Both Spider Farmer and BestVA do come from China, though. For the best budget American brand, check out HLG lights.
Step 3: Consider Light Output And Coverage Area
The next step is to think about the total light output needed and how much space you need to cover with light. The intensity and coverage of the light are crucial factors in ensuring your plants receive enough light to grow strong and healthy.
You should first research the light preferences of the plants you intend to grow, because some plants enjoy high-intensity light while others prefer lower levels.
When you have figured out how much light your plants will need, you can calculate the total required light output needed to cover your grow space and all of your plants.
Grow light manufacturers typically provide recommended light intensity values in terms of photosynthetic photon flux density (PPFD) within the technical specifications for their lights. PPFD measures the number of photons reaching the plant's surface per square meter per second.
With some simple mathematics, you can determine how many lights you would need to adequately cover your entire canopy. I also have an article that helps you figure out exactly how many grow lights you need.
Step 4: Evaluate Energy Efficiency And Cost
And next comes the more painful step of factoring in the financials. You need to determine how much grow lights cost to buy, to set up, and to run, and how that fits in with your overall grow budget.
Being aware of different initial costs and varying levels of energy-efficiency can help you stay within your budget and ensure you have a happier growing experience.
In terms of running costs, LED grow lights are known for their superior energy efficiency, consuming significantly less power than fluorescent or HID lights.
By choosing energy-efficient grow lights, you can reduce your environmental footprint and keep long-term running costs at a minimum. However, LED grow lights tend to be a little more expensive to buy initially (though far less so than they used to be, as mentioned).
LED lights also have the advantage of having longer lifespans than fluorescent or HID lights, which means you'll have to replace them less frequently over time.
Fluorescent and HID grow lights may need more replacements during their lifespan, but the costs involved are lower than with LED lights. When it comes to staying within your budget, be sure to take into account the total cost, including the initial purchase, energy consumption, and replacement costs.
Step 5: Pay Attention To Light Spectrum And Color Temperature
By now you may have already narrowed down your search and it's time to look at the specifications a little more closely. When choosing grow lights, it's also crucial to pay attention to the light spectrum and color temperature emitted by the various models.
Different plants have specific light requirements at various stages of their growth, and different grow lights emit different ranges of light.
Once you know the light requirements of your intended crop, you can dive into the manufacturer's specifications for each model to see what type and range of light each model emits.
For beginner indoor marijuana growers, LED grow lights are generally the best choice, since most models emit a full spectrum of light, and higher-end models are also adjustable to suit different stages of growth.
Adjustable LED grow lights allow you to give your plants more blue light during the vegetative stage and switch it to emit more red light as your plants begin their flowering stage.
Step 6: Consider Heat Management And Cooling Requirements
Finally, you will also need to pay attention to keeping your plants healthy while under your new grow lights by ensuring correct ventilation and heat management. Failing to control the temperature in your grow space will lead to a spoiled crop.
Different models and types of grow light emit different amounts of heat. HID lights, such as metal halide and high-pressure sodium, produce more heat than LED lights and fluorescent lights.
This means you will need more ventilation. By installing fans or ventilation systems you can ensure adequate air circulation and temperature control, but your running costs will also start to increase.
Choosing Grow Lights: Final Thoughts
Settling on a type, brand, and model of grow light can seem overwhelming. And then you also need to figure out how many of those lights you need. But you can make the decision easier on yourself.
When you break the process down into steps, it becomes much simpler. And that is exactly what the above guide on how to choose a grow light helps you with. Hopefully you now have a good idea of exactly what type of lights you need, and how many of them.