I'm sure you've heard all about the advantages of LED grow lights.
They use less electricity than other types of light.
They emit less heat. They have a better color spectrum.
And they last longer.
But what does that actually mean?
How long do LED grow lights last exactly?
And what does that mean in practical terms. How many grows can you get out of an LED grow light fixture.
Keep reading to find out. We're going to break that down and also compare it to the average lifespan of other common types of grow lights.
How Long Do LED Grow Lights Last?
LED grow lights last 50,000 to 100,000 hours. At least that's what most manufacturers claim. And you have probably heard all about the superior longevity of LEDs over other types of grow lights. But that does not tell the whole story.
In order to find out exactly how those 50,000 to 100,000 numbers translate in terms of how many grows you will get out of a light, you will need to make a few simple calculations.
We'll have a look at how the longevity of LEDs holds up against other types of grow lights, how to calculate a more accurate lifespan for your lights, and some tips on how to extend the lifespan of your LED grow lights. We'll begin by looking at the lifespans of other types of grow lights.
How Long Do Grow Lights Last Of Other Types?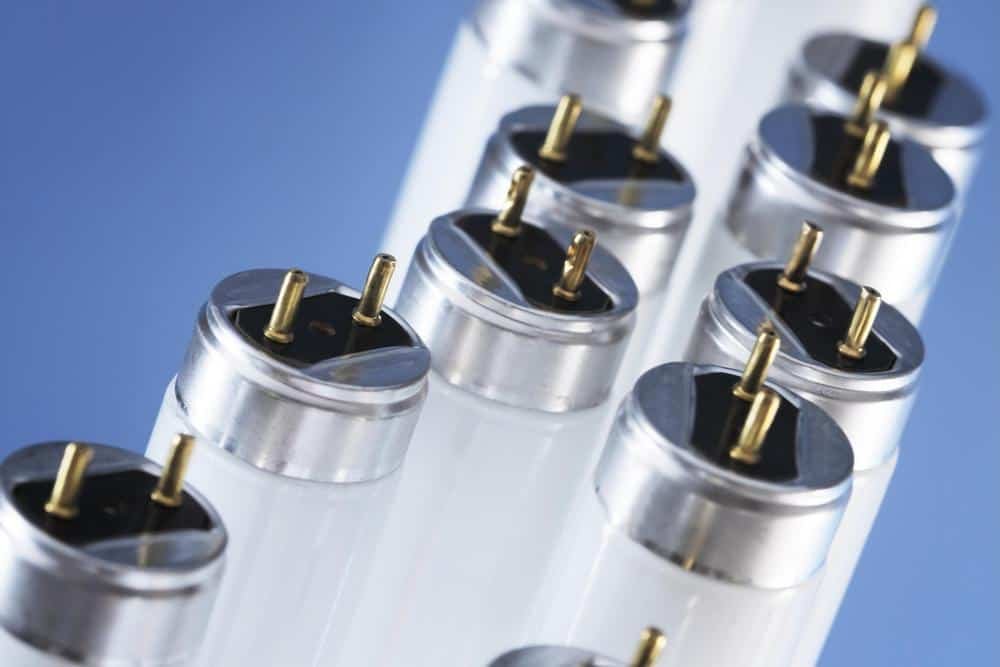 Before we get into exactly how long you can expect your LED grow lights to last, we want to see just how long other types of grow lights last. We'll look at incandescent lights, fluorescent lights and HID lights.
How Long Incandescent Bulbs Last
Incandescent light bulbs are the type of electric light that many are most familiar with. They incorporate a wire filament, which is heated to a high enough temperature that it begins to glow and to emit visible light.
Incandescent bulbs are, as an older technology, much less efficient than most other types of electric lighting. While they are a cheap option, they only convert up to 5% of the energy they use into visible light.
They also need replacing frequently, making them more costly and impractical for use in the long run. The average lifespan of an incandescent bulb is around 1,200 hours.
How Long Fluorescent Tubes Last
Fluorescent tubes, another form of lighting that many will be familiar with, use much less energy than incandescent bulbs do. They also last last up to ten times longer than incandescent bulbs.
While fluorescent tubes are initially more costly than incandescent bulbs because they require a ballast to regulate the current, the lower overall energy cost and the longer lifespan typically offsets the higher initial outlay.
In everyday use for home or office lighting, fluorescent tubes last around 30,000 hours. However, when they are used as grow lights, this life expectancy can be extended a little due to the way grow lights are used.
The additional longevity associated with fluorescent grow lights is due to the longer burn times per use (they are typically on for 12 hours straight), which causes less degradation than when they are turned off and on more often.
How Long HID Grow Light Bulbs Last
High-intensity discharge (HID) lights come in a variety of types. The most common ones used in grow lights today are high-pressure sodium lights.
HID lights begin their shelf life by emitting lots of light. But over time, the output decreases. The lifespan of a HID light is defined as the point at which the light bulb has degraded to the point where it is only providing 60% of its original light output.
The length of time it takes to reach this reduced level of output can vary, but on average it tends to be around the 24,000 hour mark. At this point, a high-pressure sodium light will begin cycling—turning off and on again—and that's your signal to replace it.
How Many Grows LED Grow Light Diodes Last
In terms of longevity, the LED is king. Light-emitting diodes are generally purported to last for between 50,000 and 100,000 hours or more. They may degrade a bit before they get to that point, but they should still be usable.
Of course, this only applies to the best LED grow light brands. Most of the cheapest brands will claim the same longevity, but they are simply lying. You will find that the lights degrade far sooner and you may end up with flickering LED diodes, or even a fixture where half of the LED diodes have stopped working.
But if you go with a good brand, you will get your money's worth. LED grow lights may be more expensive than other types of grow lights initially, but their efficiency and longevity more than make up for that in the long run.
As a newer technology, their efficiency and lifespan easily outstrip those of their older grow light contemporaries. It is one of the main reasons they are the most popular choice for grow lights nowadays.
While 50,000 and 100,000 hours sound like a long time—100,000 hours is over ten years—what do those numbers mean in a more practical sense? To find out how many grows you will be able to run from your LED grow lights, you will need to recall some of your high school mathematics.
How To Accurately Calculate The Lifespan Of LED Grow Lights
So, if you have your calculator at the ready, we'll run through the calculations you need to make in order to work out how many grow cycles you can expect your LED grow lights to last for.
Bear in mind that different strains and different growers' preferences can have an effect on these example times. You should make your own more accurate calculations based on your personal growing needs.
Hours Per Day
When growing cannabis, your plants will need different amounts of light at different stages of their growth cycles. Typically, growers will look to light their plants for 18 hours during the vegetative stage, so we'll take that number for our example.
Days In The Vegetative Stage
Again, this can change from strain to strain and can be affected by other varying factors. Different growing methods can have an effect, as can the type of seeds you are growing.
While auto-flowering seeds can vegetate for as little as four to six weeks, grows that incorporate low-stress training can have vegetative stages that last for a few months. For our example, we'll choose a vegetative stage of three months, or 90 days.
So far, we have had our LED grow lights running for 18 hours per day over a 90-day period. Now, let's look at the all-important flowering stage.
Hours And Days In The Flowering Stage
Again, this can vary depending on the strain and your preferred growing methods. In general, during the flowering stage, most growers have their grow lights on for twelve hours, followed by a 12-hour period of darkness.
Depending on the strain and other factors, the length of the flowering stage can differ considerably. For this example, we'll go with a flowering stage that lasts for two months, or 60 days.
Divide The LED's lifespan By The Total Hours
So now we're ready to start crunching those numbers. During the vegetative stage, you will have the lights on for a total of 1,620 hours (90 days multiplied by 18 hours), and during the flowering stage, the lights will be on for 720 hours (60 days multiplied by 12 hours).
This gives you a total of 2,340 hours during the growth cycle.
If your LEDs are rated to last 100,000 hours, you just need to divide this number by the total number of hours per grow to determine how many grows your LED grow lights will last for.
In this case, that gets you 42 grows.
Tips For Extending The Life Of Your LED Grow Lights
There are a few simple things you can do to ensure your LED grow lights last as long a possible.
Prevent Overheating
When growing your cannabis plants, the integrated cycles of darkness do allow the LEDs to cool down. While some growers opt to kick start their plants by starting the vegetative stage with a few days of constant light, doing so will reduce the lifespan of your LEDs a little.
You can also help your LEDs live longer by keeping the grow room from getting too hot.
Follow The Manufacturer's Guidelines
Make sure you have set up your LED grow lights in a way that follows the manufacturer's guidelines. Read through any literature that came with your setup and double-check that you have everything setup according to the instructions.
Lifespan Of LED Lights: Final Thoughts
Most LED grow lights last 50,000 to 100,000 hours, according to the manufacturers. For good brands this is accurate. For most of the budget Chinese brands, this is an outright lie, as many have learned the hard way.
It is never a good idea to buy the cheapest lights on the market. There are some great budget brands that are still quite inexpensive, though they do cost a good bit more than the absolute cheapest. But that is money well spent.
The best budget brand is Spider Farmer. You can find more information on their lights in our SF review.