Specialized LED grow lights are not cheap.
The cost has come down considerably, making LED the clear best choice among grow light types.
But these LED grow lights still cost far more than regular LED lights.
This begs the question: can I use normal LED light to grow plants indoor?
And this question makes even more sense nowadays, since the top LED grow lights on the market use mostly white LEDs now.
That gives them a spectrum similar to regular light, at least at first glance.
So is this a good way to save a lot of money? Keep reading to find out. The answer may be a bit unexpected, coming from a website dedicated to grow lights.
Can I Use Normal LED Light To Grow Plants Indoor?
Yes, you can use normal LED light to grow plants indoors. But using an LED grow light specifically designed for the purpose of growing plants is preferable.
Regular LED lights are designed to provide illumination. They emit a white light of varying color temperatures. This can grow plants, but they grow much more efficiently under a grow light that provides the exact spectrum they need.
Regular LED lights also do always not direct all of the light on the right direction, are often not powerful enough to flower plants, and do not deal with heat as efficiently as true grow lights.
Let's take a look at the way plants develop and their lighting needs throughout their development. After that we will go over the important factors when choosing lighting for your plans and why using normal LED lights is possible, but not recommended.
Basics Of Cannabis Growth And Lighting Requirements
You already know that light is essential for plant growth and development. Light provides the energy needed for photosynthesis, the process by which plants produce their own food.
When it comes to plant growth, the type and quality of light are just as important as the quantity of light. The light spectrum, or the range of wavelengths of light that plants can absorb, directly affects their growth and development. Different light spectrums affect different stages of cannabis growth, such as the vegetative growth and flowering stages, in different ways.
Understanding the role of photosynthesis in the growth of your plants can help you choose the best LED grow light. During photosynthesis, plants absorb light energy and convert it into chemical energy, which is then used to produce glucose and oxygen, which fuel plant growth.
This process requires the right amount and wavelength of light, which is why choosing the right LED grow light is crucial for cannabis growth.
There are various types of LED grow lights available on the market, including full-spectrum white LED lights and "blurple" LED lights, which us a mix of blue and red (and sometimes white) diodes.
Each of these LED lights has a specific light spectrum that affects cannabis growth differently. Full-spectrum LED grow lights are the best option for cannabis growers, because they provide a balanced spectrum of light that covers all the necessary wavelengths that your precious plants need throughout the growth cycle.
Factors To Consider When Choosing An LED Grow Light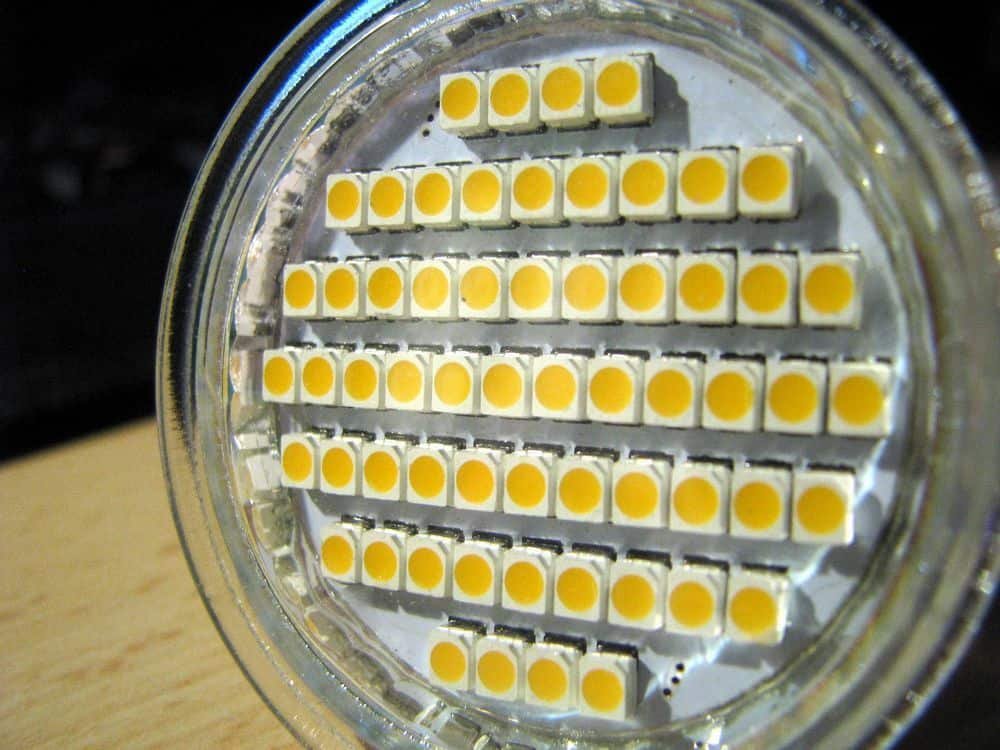 The following are the main factors you need to consider when deciding on which LED grow light to buy. If you prefer to go with a normal light, the same factors apply. You'll have t figure out if the light you are considering meets the requirements.
Intensity
The first factor to consider is light intensity, which refers to the brightness of the LED grow light. The light intensity required for cannabis growth varies depending on the growth stage of the plant.
During the vegetative stage, plants require lower light intensity than during the flowering stage. Therefore, it's essential to choose an LED grow light that can provide the appropriate light intensity for each growth stage. Most modern lights have dimmers to accomplish this easily.
Spectrum
The next crucial factor to pay attention to is the light spectrum. As mentioned earlier, different light spectra affect cannabis growth differently. The light spectrum of an LED grow light determines the wavelengths of light that your plants will receive, affecting their growth and development.
When choosing an LED grow light, make sure to select one with a spectrum that matches the growth stage of your crop. Again, a full-spectrum white LED grow light does this best.
Efficiency
Energy efficiency is also important when choosing an LED grow light. LED grow lights as a whole are known for their energy efficiency, but some are definitely more efficient than others. How much do grow lights cost to run? That article will help you figure it out.
And it's always good to choose a light that can help save you money on your electricity bill. However, energy efficiency should not compromise the light intensity and spectrum required for cannabis growth. Otherwise, you will end up with small electricity bills as well as small, undernourished plants that give a low and less-potent yield.
Heat
Finally, heat output is another important factor to think about when choosing an LED grow light. Cannabis plants are sensitive to temperature, and excessive heat can damage the plants.
Make sure you buy a light that can help you maintain the right temperature for your plants. LED grow lights come with heat sinks or fans to help dissipate excess heat and reduce the need for extra cooling equipment.
However, it is important to understand that they do not get rid of the heat. They simply dissipate it away from the light. It is still going to be inside your grow space, so you will have to ventilate it out somehow. Obviously, getting lights that run cooler means less heat to deal with.
Common Misconceptions About Using Normal LED Light
Regular LED lights, such as those used for household lighting, do not provide the ideal light spectrum required for cannabis growth. They also do not generally provide sufficient light intensity and may produce excessive heat, which can damage your plants.
Using unsuitable LED lights for cannabis plants can also pose potential risks to your crop. For instance, using LED lights with an inadequate light spectrum may result in stunted growth, reduced yield, and poor-quality buds.
Similarly, using LED lights with excessive heat output may cause the plants to wilt, or even die off completely, unless managed correctly.
It's also essential to note that using unsuitable LED lights may affect the chemical composition of your buds. The light spectrum and intensity affect the level of cannabinoids and terpenes produced by your plants.
Using the wrong LED grow light may result in lower THC or CBD levels, negatively affecting the potency and quality of your buds. And nobody wants that!
When Normal LED Lights Can Work Well
Normal LED lights can work well, if you get one with a great spectrum for growing plants and you get enough of them (or one powerful enough) to provide the intensity you need. This generally means that they are most effective for small grows.
If you only have a plant or two, a regular LED light can work just fine. But once your grow gets larger, the inefficiency of regular lights versus dedicated grow lights starts to make a big difference.
Will LED Lights Grow Plants: Additional Questions
Below, we will answer some additional questions related to the use of regular LED lights to grow cannabis plants. If you have any further questions, please ask them in the comments below.
What color light is best for cannabis plants in the vegetative stage?
Plants need more light in the blue light spectrum between 400 and 500 nanometers (nm) during the vegetative stage. Blue light signals the plants to produce healthy, broad leaves, allowing them to photosynthesize better.
What color light is best for cannabis plants in the flowering stage?
During the all-important flowering stage of growth, red light with a wavelength between 620 and 740 nm becomes most important to maximize the yield of buds. But plants still need light in other colors, too. Red is just the one they need the most.
Are LED grow lights better than HID grow lights for cannabis plants?
An LED grow light with a similar power output to a HID grow light uses less power to get that output, which means a much lower power usage. It also produces significantly less heat. This means you won't need to spend as much energy and money on cooling your grow space with an air conditioner.
Can Any LED Light Be Used As A Grow Light: Final Thoughts
You can certainly use a normal LED light to grow plants indoors, but you probably won't want to. These lights are less efficient than specialized grow lights. In many cases, they also don't have an ideal spectrum, may not be powerful enough, and emit to much heat.
That said, they can still make sense for a small grow. You just want to make sure you get one with a good spectrum and that you get one powerful enough to flower your plants. Or several, to give you enough of an output when added together.