You basically have two options.
You can run ducting from the exhaust on your grow tent and send it into a different room or outside your home.
Or you can simply vent it into the same room in which you put the tent.
The second option is obviously much easier. It also avoids the major problem of venting outside your home: an obvious heat signature.
Many people vent their tents into the attic, to dissipate the heat signature somewhat. But that requires a lot of ducting.
So, does it make sense to go with the easy option? Is venting a grow tent into the same room a good move? Keep reading to find out.
Venting Grow Tent Into Same Room?
Venting your grow tent into the grow room is not ideal. But many growers have no choice. If you have to do it, there is a right way.
We will go over that below. First, we think it's important to explain why you need to vent your tent in the first place.
Why Venting Your Grow Tent Is Important
Having ventilation for your grow tent is critical. Without a steady air exchange with fresh air coming in and stale air going out, plants can become anemic and probably wither and die.
We all need fresh air and a sealed environment like a grow tent does not have any ventilation by design. Grow lights also generate a lot of heat, which can harm your plants if you allow your grow tent to get too hot.
Ventilation replaces the hot air in the tent with cooler air from outside. Of course you could simply leave the door open to get some ventilation and avoid your plants dying.
But this is not the best solution, unless your grow tent is small. For one, it defeats the purpose of growing in a tent in the first place. Much better to use inline fans for your grow tent, to suck air out and bring fresh air in.
Why Good Circulation Makes Better Plants
Air circulation involves 2 components: air coming in (intake) and air going out (exhaust).
Each component serves an important function. Fresh air coming in brings in new carbon dioxide and other compounds from the air the plants need to thrive.
Exhaust gets rid of the air that has waste or toxins or spores in it. Getting rid of the bad air is just as important as bringing in fresh air.
Both together create a circulation system that, when done properly, will help your plants reach their fullest potential. Proper circulation in your grow tent has some important measurable benefits.
Many growers also add CO2 to their grow tent to increase yields. No matter how you add CO2 to the grow tent, you need to keep it circulating.
Stronger Stems
The first and most obvious of these is stronger stems. As plants in nature get blown back and forth by the wind, they grow stronger to combat being ripped out of the earth by a strong gust. By having moving air inside your tent, you are mimicking this natural process.
That said, you can accomplish this with a simple oscillating fan inside the grow tent. There is no need for a ventilation system solely for this purpose. But it is a nice bonus.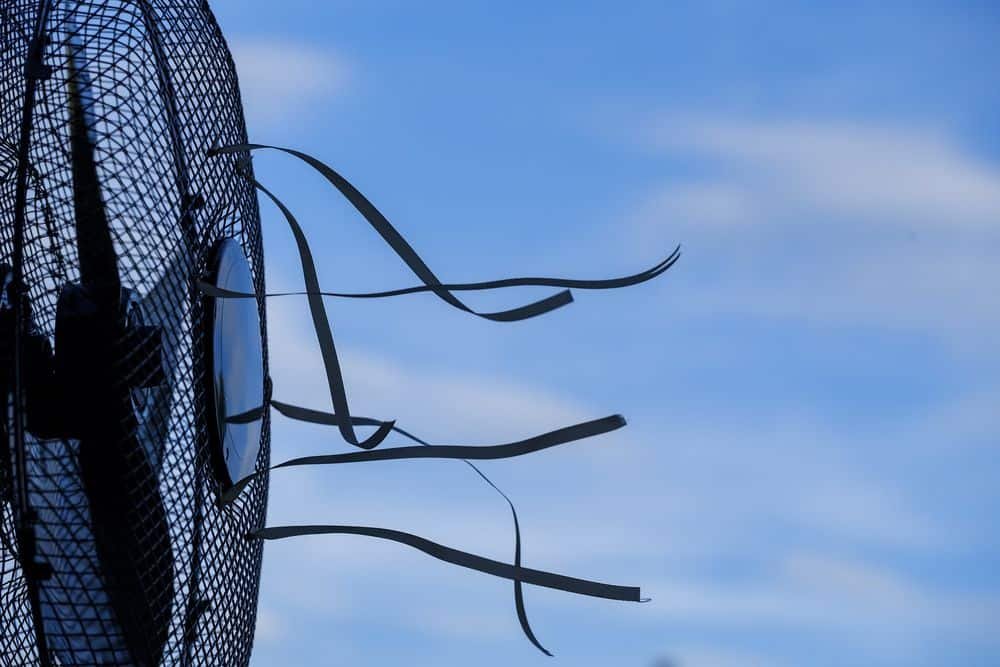 Temperature And Humidity Control
In addition to your lights and other equipment like a dehumidifier, your ventilation system also plays an important role in maintaining the ideal temperature and humidity in your grow tent.
As water vapor accumulates in the air in a sealed environment it will land on your plants and cause a host of problems. The ideal humidity for a grow tent is around 50% during flowering and vegging. A good circulation system will help to remove the saturated humid air that could harm your plants.
Helps Protect Against Pests And Mold
Mites and mold do not like windy environments. But they will thrive in a static environment. Both pests can have a terrible effect on your plants. Spider mites on weed plants are especially destructive.
Making sure you have a good circulation system in place will help avoid any terrible results that come from the presence of either of these pests. Good air circulation is also a good way to get rid of aphids before they take hold.
Circulation also helps prevent fungus from taking hold. Fungus attracts fungus gnats. The gnats are harmless, but the larvae feed on the roots, which can stunt growth. Eliminating gnats from your grow room can be a pain, so why not prevent them in the first place?
If you do end up with some pests, the exhaust function can push them out with the bad air as well, keeping your air inside the tent pest free.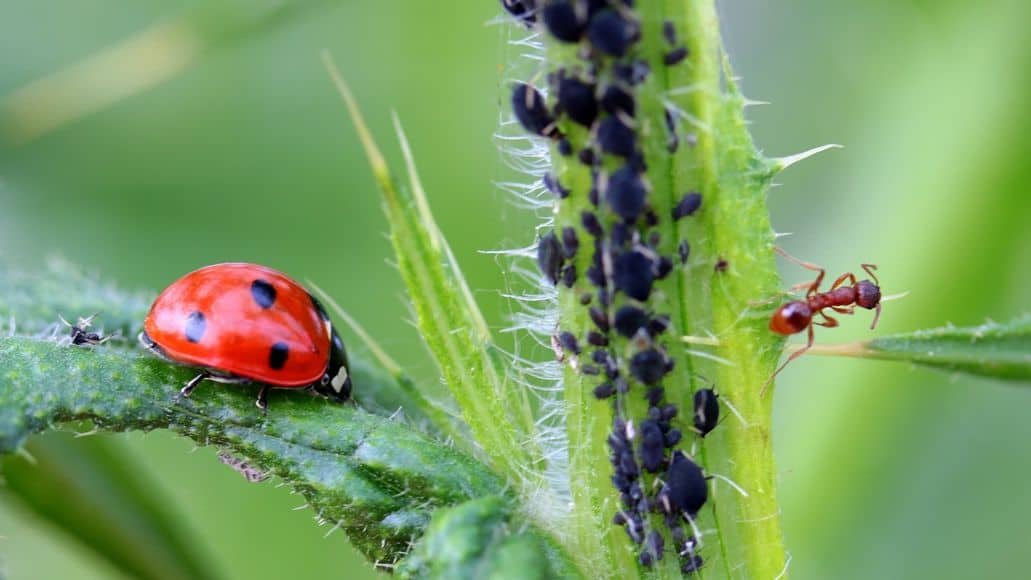 How To Vent Your Grow Tent Into The Same Room Safely
The first thing to consider in this situation is that we are talking about 2 different environments. One of the environments is your grow tent, which is placed inside a completely different one: your room.
That seems almost pointless to explain here, but it is critical to understand the difference between grow tents and grow rooms. When venting the exhaust from the tent into the room outside it, you are simply sending the bad air into a bigger room.
The air can then eventually find its way back into the tent via the intake. This is simply recirculating the same air and is not proper ventilation.
Make Sure the Room Is Properly Ventilated (Air Conditioned)
Since the room outside your tent is just another (larger) contained environment, it also needs to have exhaust and intake of fresh air. The easiest way to accomplish this is simple air conditioning.
Most residential homes have air conditioning of some kind. An evaporative cooler (or swamp cooler) is not the same as an air conditioner and is not a good idea to use in the room with your grow tent.
But even with ventilation for the room outside the tent, you do not get an ideal system.
As your tent pushes out the bad air, it will go into the room and mix with the good air. This mixture will eventually find its way out the exhaust vent and exit the room. But not all of it.
Since the bad air is mixing with the good air before it goes outside, some of it will make its way back to the intake of your tent. This means that the 'fresh' air going into the tent isn't as fresh as it could be.
In other words, you plants are never getting truly fresh air. And the temperature of the air will continue to increase over time as well (unless you cool it).
Another issue is one of heat signature. The air temperature in the room will increase considerably, which makes detection from IR cameras more likely. In some areas, you may even have to worry about a helicopter detecting the heat from your grow operation.
The good news is that you can take additional measures to improve the situation and make it more viable to vent your tent directly into the surrounding room.
Use A Large Room
The larger the room, the better. As stated earlier, the exhaust of your tent will be going into the clean air of the room, which is the same air being pumped back into your tent.
The idea behind using a bigger room is to have a much larger supply of clean air to bring in.
When the dirty air mixes with a huge volume of clean air, the harmful components of the dirty air will be largely dissipated, especially if proper filtration is done on the intake side. Of course, this assumes you don't have a giant grow tent.
Bring In Fresh Air From Another Room Or Outside
Since recirculating dirty air from one space to another is not ideal, and you are forced to exhaust your tent into the same room it is in, why not get some fresh air from elsewhere?
Just because you are venting into the room containing your tent does not mean you must get your fresh air from the same room.
You can set up a simple intake fan system with the opening in an adjacent room of the building or even from outdoors. You can find the flex tubing needed and the intake fan at any hardware store or even online.
Simply set up an intake air system to suck in fresh air from a different room and blow the exhaust out in the room where your tent is. This is the best solution, though it does require some extra work.
The work involved is not difficult, however. If you have ever set up a dryer and had to ventilate it outside, you have done all that is needed to accomplish this.
This is as close to ideal as you are going to get if you must use a grow tent that vents out into the same room in which it is placed.
Of course, if you are going to the trouble of running ducting to get air from another room or from outside, why not just run ducting to send the exhaust to a different room or outside?
Vent Grow Tent Into Same Room: Final Thoughts
Venting your grow tent into the same room is fine, but it is not ideal. If you take the additional measures described above, you improve the situation somewhat.
But it is still best if you can run ducting to carry the grow tent exhaust further away. The best way to set up up a grow tent is to send the exhaust to another room or outside your home. As mentioned, many home growers favor sending it into the attic.