The terms "grow tent" and "grow room" get thrown around a lot.
Often, they are even used interchangeably.
But they don't mean the same thing.
They are similar, but there are key differences.
If you're planning on growing marijuana, you're probably going to use one or the other. Unless you're just going to put a plant in a closet or on a windowsill.
But which one is right for you? And why?
Keep reading for an in-depth comparison of grow tents and grow rooms, including the advantages of each and why you should use one over the other.
Grow Tent Vs Grow Room
To begin our comparison, it is important to define exactly what a grow room and a grow tent are. Only then can we get into the differences and similarities and make a determination which one is best for your situation.
What Is A Grow Tent?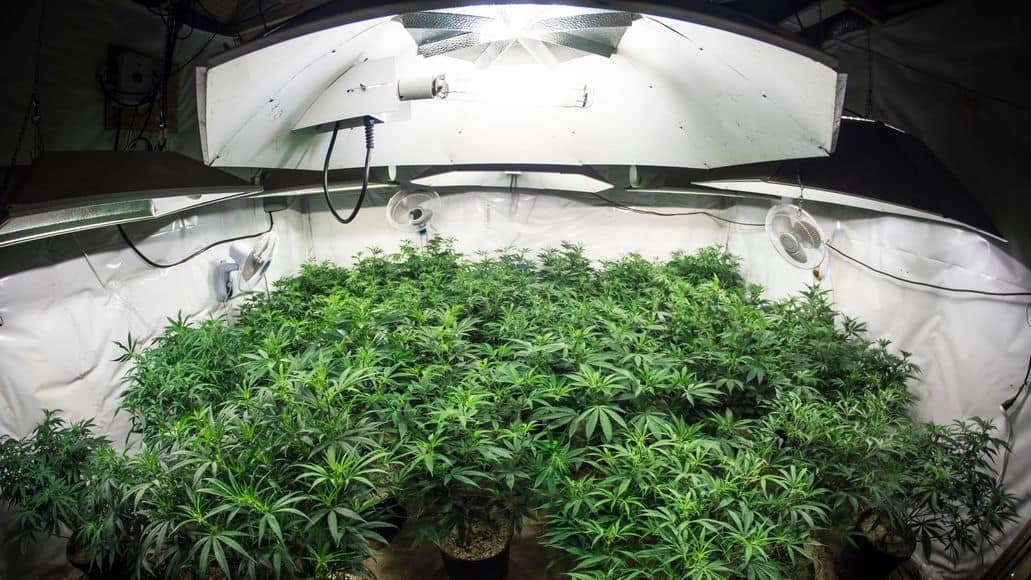 A grow tent is a covered space in which you can control the growing environment for your cannabis plants (or any other plants, but we know what most of our readers are growing).
Water, temperature, light, and humidity are much easier to control in a closed environment like a grow tent.
There are tons of pre-made grow tents available that are designed specifically for cannabis cultivation. Most are affordable and some will even do the job well.
The need for growing tents became widespread when growing cannabis became legal in many states. You can check out the best grow tents for the money in our buying guides for small grow tents and for large ones.
Grow tents consist of the shell, which is the actual material that keeps the outside out and the inside in, and poles.
The shell is typically made of either cotton-based canvas or a synthetic material like polyester, and then it is bonded to a reflective layer on the inside to reflect the light from your grow lights back at the plants.
Poles are used to hold the shell up and keep it from collapsing in on itself. Many of the premade tents also have built-in ports for you to attach your ventilation system, so you can keep fresh air coming in and blow stale air out.
There are more features than just the shell and poles, like windows and doors. Some tents provide removable floors. In short, grow tents are a cost-effective and convenient way to grow cannabis on a budget.
What Is A Grow Room?
Grow rooms are spaces, usually inside of an existing building (but sometimes standalone buildings) whose sole purpose is for growing marijuana plants. There are a few different types of grow rooms.
Standalone Buildings
Stand-alone grow rooms can be warehouses that have been converted to a grow space, or existing greenhouses that are being used for cannabis.
They are large enough to grow a significant number of plants. These buildings cost a lot of money to keep going, with electric bills, rent, and other expenses.
These buildings typically produce more than enough revenue to pay the bills and still make a good profit.
Small Standalone Buildings
These are storage sheds or small back houses. They are nowhere near the size of the larger spaces, but can be significantly bigger than the typical grow tent.
Smaller standalone buildings usually have an extension cord bringing electricity in from a nearby building or house, no water supply of their own, and are made of metal or wood.
Rooms Inside Existing Buildings
Some growers choose to have a grow room inside their house. Usually, it will be in the back bedroom or the garage.
The benefit to this type of grow room is the convenience of being near where you live, and not having to worry about the security of your plants.
The downside is that a grow room inside your house can make the whole house smell like cannabis. While this may sound like a great idea to many stoners, it is quite unpleasant when you are forced to smell it all day and night.
Most growers using rooms inside homes or garages find a creative way to vent the room and keep the smell and the carbon dioxide from filling up the house. Or they make sure to construct an odor-proof grow room from the start.
Differences Between Grow Tents And Grow Rooms
These are the biggest differences between a grow room and a grow tent.
Size And Capacity
Most grow tents are small enough to fit inside a normal bedroom of a house, or a garage. There are many sizes of grow tents, but the most popular are 4 by 2 feet, 5 by 5 feet, or 4 by 8 feet.
The small 2 by 2 foot tents do quite well, too. These tents can get quite big, but by the time you are paying for a 12 by 12 foot grow tent, you should consider using a garage or room of your house instead,  since they can get quite expensive when you get into the large sizes.
Grow rooms on the other hand can be much bigger. Buildings made of wood or metal can be physically bigger and sturdier than a canvas or mylar tent.
There is no way to fight the physics of it.  Grow rooms are by far the better solution for long-term grow operations.
Larger spaces mean more plants which means more profit you can use to get more space… and it goes on and on. Grow rooms are bigger, longer-term solutions for growing cannabis. It's what all the big growers use.
Cost
This is a tough one. If you have to purchase the grow room, then grow tents are always going to be the less expensive option.
However, if you are already living in a house with a room you can use, or a garage or shed, then the cost of the grow room would be zero initially.
Either way, the initial cost of either a room or a tent will not be the biggest expense.
Electricity and lighting are significant costs to consider with either a grow room or a grow tent. Tents do not come with light fixtures and while many rooms already have a basic light fixture inside, you probably will not want to use a normal light fixture for grow lights.
Both a tent and a room will require a significant investment in proper lighting. The difference is in how much floor space is filled with plants that you need to illuminate. The fewer plants, the less you need to spend on lighting.
Convenience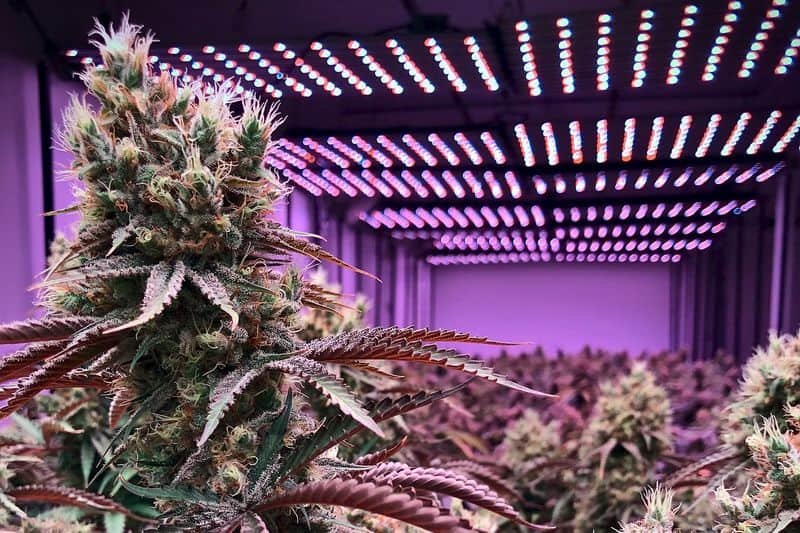 If you set up a grow room in your house, you can't do much better for convenience. You can set grow tents up in a house, too, so that is convenient as well.
I suppose the most convenient option, in this case, would be a grow tent, simply because you can contain the plants inside that space, without having to modify the space too much.
If you were to set up a grow room without a tent in a bedroom or garage, you would need to make some modifications to the room. It would also be harder to contain the smell, control the environment, etc.
Similarities Between Grow Rooms And Grow Tents
Either option allows you to produce cannabis, which is the goal. They are both convenient and can be cost-effective, whether you are selling your weed or using it for yourself.
If you are growing for personal use, you can still consider it making money because if you are using the cannabis you grow, it means you do not have to spend 15 bucks a gram at a dispensary.
They are both fairly easy to set up once you know. It makes no difference if you are using a tent or a room or both, you will need to set up lighting, ventilation, humidity, and filter the air somehow.
Both of these options will produce a strong pungent smell that will be noticeable for a considerable space around the tent or room.
They also both cost a significant amount of money to set up and run. Lighting, electricity, gadgets like fans, filters, and humidifiers all add up to you spending a lot of money to get your growing system set up.
The good news is that once you are up and running, the profit of the yield will far outpace the cost to produce it.
Setting up and maintaining a grow tent or grow room will both take some work. You will need to hang lights, plan exhaust systems, set up drips, etc.
In either situation, it will take way more work than you think. However, most growers have fun doing it, because they know the result will be worth it.
Advantages Of Grow Tents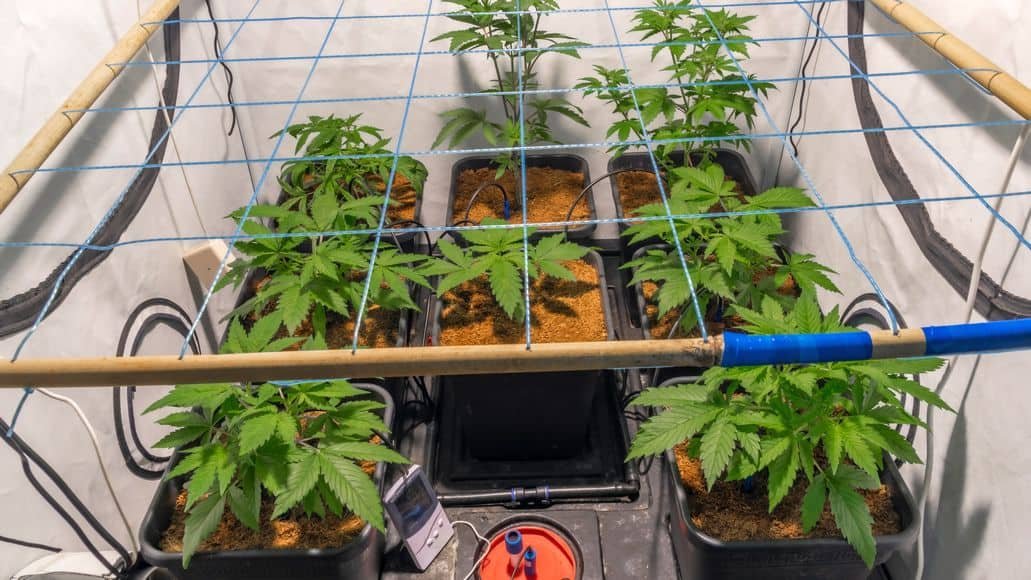 Grow tents are faster to set up, if you do the bare-bones basic setup. You can simply put the poles where they need to be, drop a lamp inside, put your plants inside and you are done. This is not an ideal setup, but it will work.
Grow tents are also quite convenient, at least initially.
You have a contained space where you can place your plants without needing to hammer wood or build a structure. This is why many people opt for grow tents. They are fairly quick and easy to get going. Installing grow lights in a grow tent is simple.
They also make it much easier to control the environment, since they are self-contained spaces. This allows you to dial in the ideal humidity and temperature for your grow tent much more easily than in a larger room.
Advantages Of Grow Rooms
Grow rooms are more spacious and allow you to put more plants inside. They have sturdy ceilings and walls, so you can safely mount fans and other gadgets without worrying about the walls caving in. They are also sturdier and are a longer-term way to grow your crop.
Grow rooms that are inside a house, or are a standalone building, also benefit from having climate control built-in. Air conditioning and heaters can help to keep the environment ideal for growing cannabis.
In a grow room like this, you may be able to get away with not needing to buy standalone coolers or heaters.
Grow rooms are more secure. You can lock them and some of them can have alarm systems. Tents, on the other hand, can easily be pilfered.
That said, most tents are inside buildings, so they benefit from the security of the buildings in which they are housed.
Why To Use A Grow Tent
If you live in an apartment or a rental home where growing weed is either frowned upon or against the rules, a grow tent is a good way to get around the rules.
You can set up in a bedroom and keep the evidence you are growing a secret, for the most part. The smell will eventually give you away, though, unless you take steps to eliminate it.
New growers may also want to opt for a tent, because they are an easy and cost-effective way to get started with a closed grow environment.
Why To Use A Grow Room
If you have the money, use a grow room. You can fit many more plants inside and customize it to your liking. The expense of running it is easily offset by your profits.
Grow rooms are the ideal way to grow cannabis, because they allow you to mount things wherever you want and keep your operation under lock and key. It is also easier to control the climate in a building vs a canvas tent, once you have it all set up.
Grow Rooms Vs Grow Tents: Final Thoughts
Grow tents and grow rooms fulfill the same function. But they do it in slightly different ways.
In general, smaller growers will be better off with a grow tent, while larger growers will almost certainly want to use a grow room.
But this is not always the case.
Many smaller growers use grow rooms. It usually just comes down to the space you have available. If you have an enclosed space that you can easily seal off and convert to a grow room, then that is the way to go.
If the space you have is not suitable as a grow room without a lot of modifications, it is generally best to stick a grow tent or two inside the space and grow in the tent(s).