Cannabis crops attract a number of unwanted guests.
Perhaps the most unwanted is the spider mite.
This annoying pest is destructive, hard to get rid of, and even hard to see in the first place.
So what can you do if you have spider mites on your weed plants?
There are a few steps you can take to get rid of them, using natural pesticides. Chemical ones do not work.
But what is even better is to prevent spider mites from infesting your marijuana plants in the first place.
Keep reading for a detailed guide on how to identify spider mites, how to prevent them in the first place, and how to get rid of them if they do show up uninvited
Spider Mites On Weed Plants
There are a lot of different nasties that can threaten your cannabis crop – but none quite as destructive as the spider mite. These little buggers have their own special way of wreaking havoc on your plants and can be tricky to get rid of, once they've taken up residence in your grow room.
To try and prevent that from happening let's take a deep dive into the world of spider mites. We'll learn how you can identify them, what you can do if you suspect they have turned up, and what you can do to prevent them from ever working their way into your favorite crop in the first place.
Identifying Spider Mites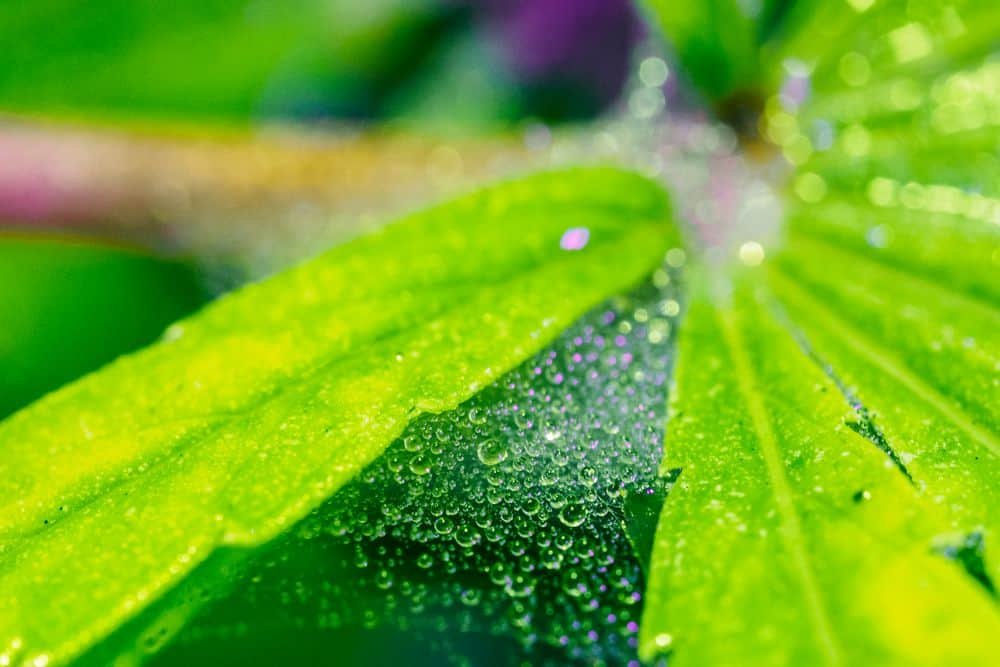 You usually find spider mites living in colonies on the underside of cannabis fan leaves (although they are also known to reside on budding sites). But did you know these pests are not actually insects?
They are part of the arachnid family and closely related to spiders and ticks. They are incredibly small and can be difficult to spot with the naked eye.
To detect them, you are going to need to inspect your plants very closely. These mites are usually almost totally indistinguishable to the naked eye, which is why they can be so destructive.
You may need a magnifying glass to get a proper look at them. This is a tool you should have anyway, since several of the common cannabis pests are also microscopic. A good magnifying glass or microscope will help you get a good look so you can properly identify them (and it comes in handy for trichome inspection).
Look out for tiny 'dots' that may appear as yellow or green speckles, but more often as a reddish brown color. There are over 1200 species of spider mites, which is why they can present in a range of colors. You may also see a fine layer of protective silk web.
They lay clumps of translucent eggs that hatch after only 3 days. These hatchlings reach sexual maturity after 5 days and have a full lifecycle of around a month. Females can lay up to 20 eggs a day. Do the math: 20 eggs times 25 days. That's up to 500 eggs from a single lady spider mite. Sheesh.
How To Prevent And Control Spider Mite Infestations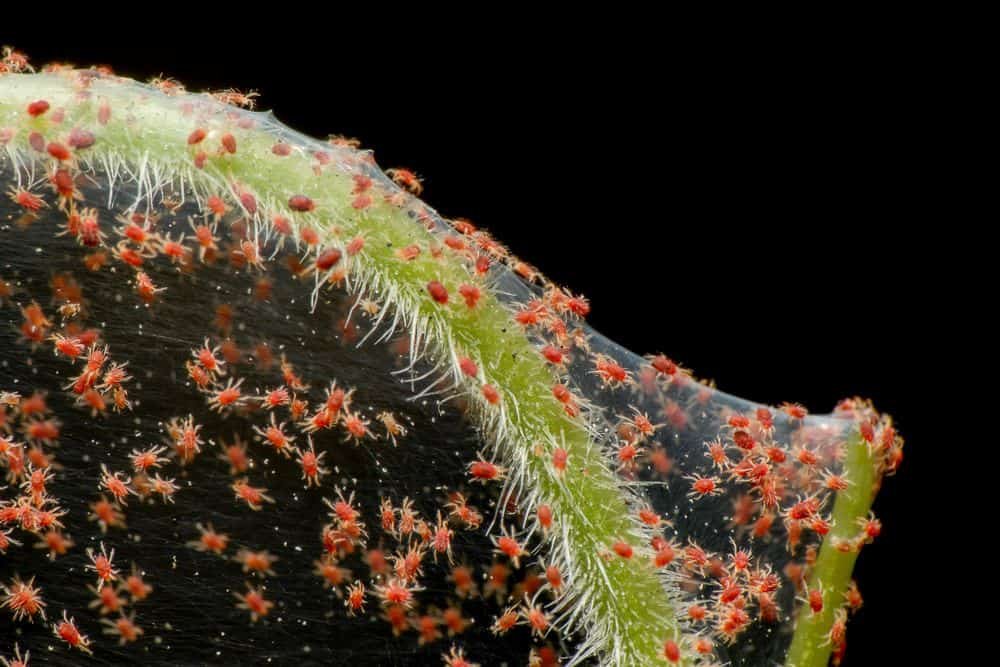 If you are worried that your weed plants may be a target for spider mites, it's best to take early preventative measures. Spider mites are notorious for being resistant to chemical pesticides, which can actually do more harm than good by killing off the natural predators and allowing the spider mites to flourish.
So, if you can't use chemical pesticides to control spider mites, what can you do?
Natural Pesticides Can Make A Huge Difference
There are some incredible natural pesticides and insecticides out there that can help to keep spider mites at bay.
Neem Oil
Neem oil is a great all-natural pesticide that works by disrupting the life cycle of these pests. It also acts as a fungicide and penetrates the cuticles of insects upon contact, making it an effective weapon against spider mites.
Trifecta Crop Control
There are also products like Trifecta Crop Control. This is a blend of essential oils that have been proven to be an effective preventative measure against a wide range of pest and fungal issues that commonly affect cannabis crops.
Isopropyl Alcohol
Another option is diluted isopropyl alcohol. Mix 9 parts water with one part isopropyl alcohol and give the whole crop a good spray down. This is a great solution if your crop is in the vegetative growth stage, but be careful if your plants are flowering. It can affect flower production, if sprayed directly on the buds themselves.
Insecticidal Soaps
Insecticidal soaps are great for spot treatments, but again be careful not to spray the buds, if they have begun to form.
Natural Predatory Insects Offer A Defensive Barrier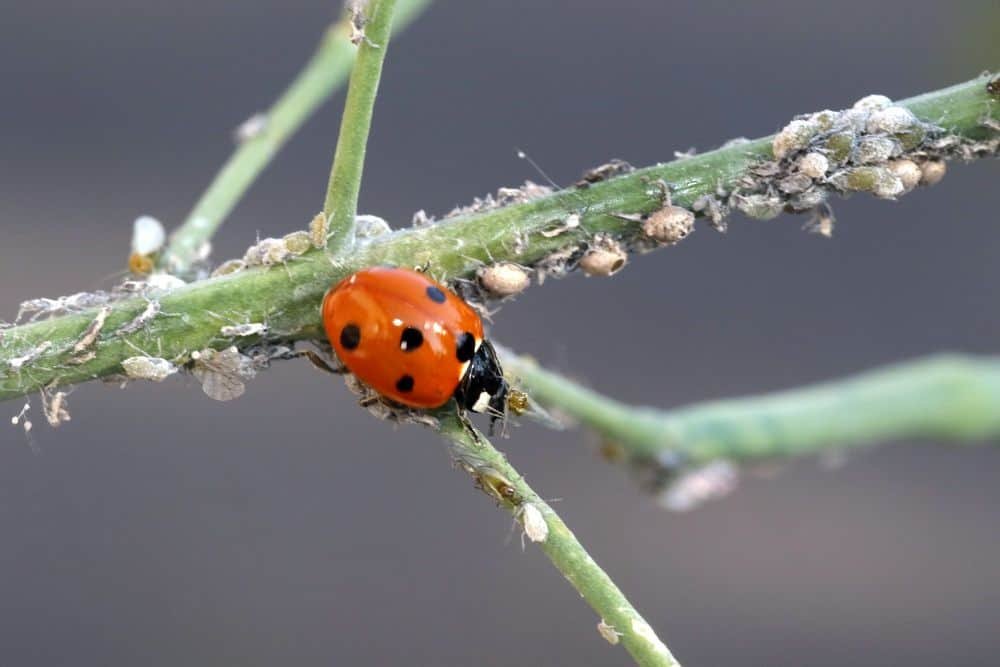 You can also use natural predators to help control spider mite populations in your grow room. One such predator is the aptly named 'predatory mite', which feeds on the eggs and larvae of these uninvited guests.
Ladybugs are another great option for pest control in cannabis crops. They love nothing more than chowing down on a wide range of weed pests, while leaving the crop totally alone. Lacewings, six spotted thrips, western flower thrips, and minute pirate bugs (what a name) are also good choices to try.
Pruning Is Your Best Course Of Action
As far as things you can do as the cultivator, pruning your plants is one of the best solutions. Not only will it help keep your canopy tidy, but it can also greatly reduce the number of spider mites present in a crop, by removing infested parts and cutting off their food source and abode.
If you spot any signs of spider mite infestation on your cannabis crops, it's essential that you act fast and remove all infected leaf and bud sites. If the infestation has really taken control, it might be best to cut your losses.
Diatomaceous Earth Rips Them To Shreds
Diatomaceous earth is a great natural pesticide to help keep these, and other, pests away. It is made from the fossilized remains of tiny aquatic organisms and works by piercing the exoskeletons of insects, causing them to dehydrate and die.
Simply sprinkle a thin layer around the base of the plant, and in any areas where pests may be living. It is important to only use food-grade diatomaceous earth on any plants you intend to ingest, so keep that in mind for your cannabis crop.
Spider Mites On Buds At Time Of Harvest
If you have spider mites on your buds at the time of harvest, I'm afraid to tell you, the buds are ruined. You can try getting rid of the mites prior to harvest using any of the methods above that do not involve putting harmful products ont he buds.
If the infestation is small, you may still be in luck. But if the mites are present when you actually begin harvesting the buds, you are going to have to throw them away. I suppose you can consume them yourself, if you do not care, but there has not been any official research on the effects of eating or smoking mites. I would recommend against it, that's for sure.
How To Get Rid Of Spider Mites On Weed Plants: Final Thoughts
Getting rid of spider mites once they have taken hold is difficult, especially with large infestations. If they are smaller, you will have a much better chance. Try some of the methods above and see if they do the trick.
In the future, practice prevention. Preventing spider mites in the first place is the much better course of action. Use our tricks above to keep these annoying pest out of your cannabis garden.