Plants need fresh air.
All of them. Including cannabis.
Providing fresh air effectively is one of the keys to a successful indoor grow operation.
You need to make sure you get the used-up air out of the grow tent or room and replace it with new air.
And you need to do it constantly.
Exactly how often should air be exchanged in a grow room?
Keep reading to find out. We will cover everything you need to know about setting up proper ventilation to ensure the best possible harvest from your indoor marijuana grow.
How Often Should Air Be Exchanged In A Grow Room?
Ideally, air should be exchanged every 5 to 10 minutes in a grow room with an open-loop ventilation system. At this rate, plants receive adequate carbon dioxide and the mechanical equipment can also maintain the humidity and temperature at optimal levels.
Your weed plants require atmospheric CO2 at all stages of growth. While atmospheric CO2 varies based on your geographic location, planetary CO2 averages 420 ppm (parts per million).
In CEA rooms (Controlled Environment Agriculture), you can maintain close-to-atmospheric levels of CO2 using either an open-loop ventilation system, closed system, or hybrid system. Let's take a look at the two options that work best for our purposes.
Two Types Of Ventilation Systems
We will take a closer look at an open loop ventilation system and a hybrid system. Most cannabis growers will want to use an open-loop system in the setup of their grow tent.
Open Loop Ventilation System (Atmospheric Carbon-Dioxide)
In an open-loop ventilation system, you use fans, filters, and ducts to exchange the low-CO2 air from inside the room with the fresh outside air that is rich with atmospheric CO2.
Here is how you can set up a typical open-loop ventilation system:
A fan-powered exhaust is hooked to an odor-mitigation system. You duct the exhaust to the highest exterior point. This will help you achieve the greatest reduction in odor.
As the exhaust draws out the air from the room, it creates a vacuum that helps draw fresh air from the outside. Air is drawn in via a fan-free passive intake. This is a simple wall penetration usually on the opposite side of the room to the exhaust and is fitted with a HEPA filter.
Exchanging the air continuously at an appropriate rate ensures that the plants use it up and the depleted CO2 is replenished with fresh atmospheric CO2.
To maintain close to 420 ppm CO2 inside the garden, the above open-loop system should exchange air at a rate of 5-10 minutes. You can achieve this using
Properly sized exhaust fan
Good intake and exhaust filtration and ducting
Naturally, if the exhaust system is undersized, the complete exchange can take more than 10 minutes. This means that your plants won't have adequate access to CO2 for healthy growth.
On the other hand, if you use an oversized exhaust fan, the air exchanges may occur faster than 5 minutes. The in-room climate control equipment like air conditioners and dehumidifiers may not have time to function effectively.
This means that the air will be hotter, colder, more humid, or drier than desired. Also, the HVAC equipment may not be able to keep up and adequately temper this rapid exchange of air.
This is why an air exchange rate of 5 to 10 minutes is optimal. At this rate, your plants can receive the optimal level of atmospheric CO2 and your ventilation equipment can also maintain the right temperature and humidity.
Hybrid Loop Ventilation System
This system typically uses a fan, carbon filter, ozone generator, and exhaust ducting, although the dusting is a lot smaller than the one used for the open-loop system described above.
This system depends on a minimum rate of exhaust for maintaining net negative pressurization in the grow room.
Such ventilation systems should use an exchange rate of 20 to 30 minutes. This is slower than the open-loop system, but it is fast enough to maintain negative pressure for odor control and slow enough to maintain CO2.
How Do I Get Fresh Air In My Grow Room?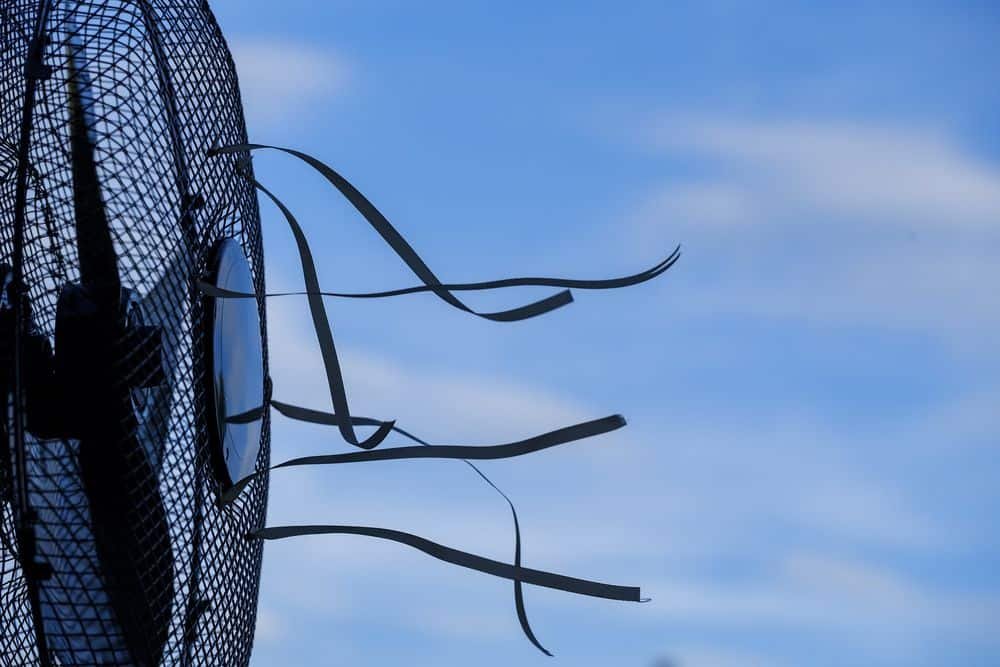 All marijuana grow rooms need some sort of ventilation system. It could be something as simple as an open door or window, but these can be inconvenient.
Therefore, most growers install a vent fan system. Most choose to install an open loop system system like the one discussed above, but some prefer a closed or hybrid loop system.
If you live in a state where it is illegal to grow cannabis, using roof fans and vents may be the most inconspicuous way to get fresh air into your grow room. For security, you will need the fan to be discreet and quiet and not leak light or tell-tale odors.
A vent fan can pull air out of a room at least 4 times more efficiently than a fan can push it out. When choosing a vent fan, check its CFM rating. CFM stands for cubic feet per minute. It is the quantity of air in cubic feet the fan can move.
Ideally, the vent fan you select should be able to replace the entire volume of the grow room (length x width x height) in under 5 minutes.
Once evacuated, the air should be replaced with new CO2-rich fresh air through an intake vent. Larger rooms may also need an intake fan to bring an adequate volume of fresh air into the room quickly.
How Do You Calculate Ventilation In A Grow Room?
The easiest way to determine the ventilation requirement of your grow room is to first determine the room's volume in cubic feet. You get this by multiplying its length by its width and height.
To select a fan, you need to know its CFM (cubic feet per minute) rating. All fans are sold with this rating displayed on them and it is an indication of how much air the fan can move in a minute.
A simple ventilation system uses a fan having CFM greater than the volume of your grow room in cubic feet divided by two. So if you room is 2 by 4 by 6 feet, its volume is 48 cubic feet. Divide that in half to get you minimum ventilation needs: 24 CFM. Get a fan with this rating or higher.
Why Do Cannabis Plants Need Ventilation? Should I Keep The Exhaust Fan On All The Time?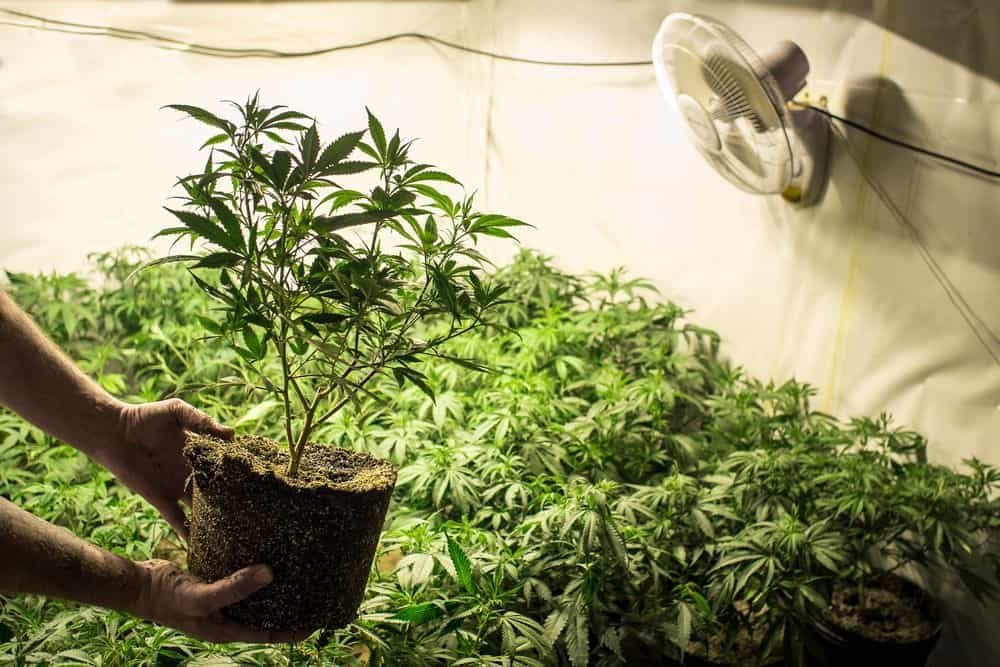 Yes, an exhaust fan is necessary to keep proper ventilation in your grow room. Cannabis plant grow rooms need proper ventilation for the following reasons:
For optimum humidity levels. Too much moisture in the air can cause mold and make your plants susceptible to bacteria as well. Ventilation using a filter, fan, vents, and ducts along with a dehumidifier/humidifier can keep the optimum humidity levels of 70% at the seedling stage and 30% at the flowering stage.
For optimum carbon dioxide. The need for optimum CO2 levels was explained above.
For optimum temperature. If you use grow lights, the temperature inside your grow room can increase. To keep the temperature at the optimum range of 75° to 85° F, you need proper ventilation.
What Equipment Do You Need For Ventilating A Grow Room?
Different grow rooms need different ventilating equipment as follows:
Grow Tent Or Micro Cannabis Grow Room: These need an extraction fan plus a carbon filter (where to put it) with activated carbon. The fan will push cleaned air through ducting.
Rooftop Greenhouse: Auto opening shutters with large fans.
Basement Grow Rooms: Wall or roof vent with powerful extraction fans.
For all of these, you should use additional clip-on fans (oscillating fans are our recommendation) above and below the canopy to eliminate stale pockets of uncirculated air. You can also read this guide on how to build a smell-proof grow room.
Air Exchange Frequency In Grow Room: Final Thoughts
The air in your grow room should be exchanged every 5 to 10 minutes. That is the sweet spot for getting fresh air in, but not replacing the air so often that temperature and humidity control become a problem.
If you follow the guide above for an open-loop ventilation system using a quality grow tent fan, then you should have no issues with your weed plants getting the proper amount of carbon dioxide.