The problem is always the same.
Money.
Unless you're one of the few with an endless supply of it, lack of money will always hamper your plans.
Cannabis cultivation is no different.
Even a simple marijuana grow takes money to set up. And the lights are the most expensive component.
But a cheap grow light setup is possible.
You just need to make sure you save in the right places, and don't cut corners in the wrong ones.
Keep reading to learn how to light your weed plants on a budget. We'll go over some tricks to squeeze the most out of your lights and
Cheap Grow Light Setup
To set up a smaller-scale grow on a budget, you will need a grow light, a light-proof grow space (such as a grow tent), an automatic timer for your lights, and a fan to control the heat within the tent.
In order to see how and where you can best save a few pennies when lighting your plants, it's important to understand the components of a grow space and how they work together to provide the ideal environment for growing your cannabis plants.
Grow Area Requirements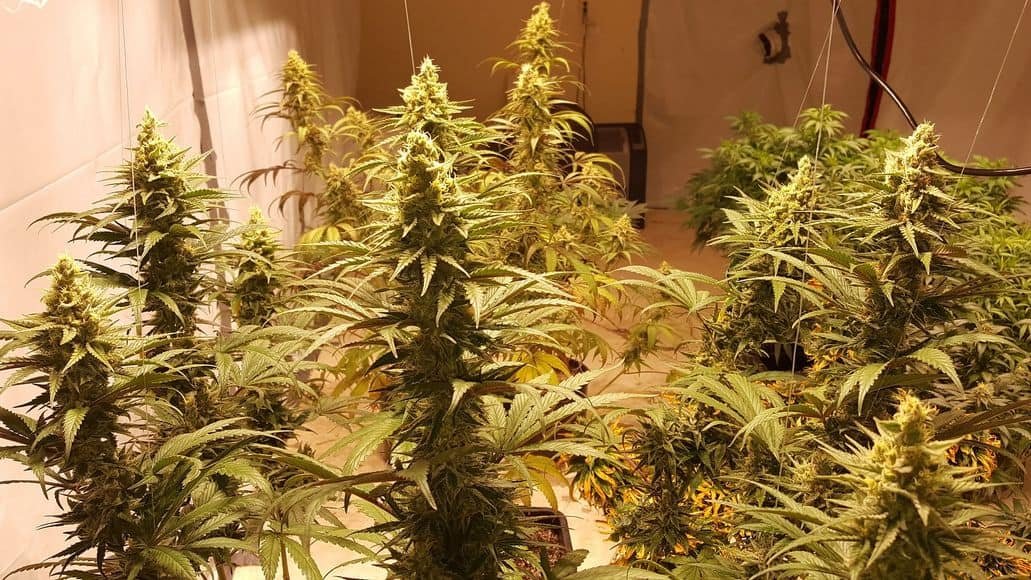 Sure, you can very easily run to the store and grab a grow light, plug it in, and light your plants. But understanding what your plants need and how to set-up a grow space properly can help you light your plants in a more beneficial and cost-effective way.
Light Proofing
To get the most from your budget grow light set-up, you will want to maximize the light your fixtures emit. Growing your plants in a lightproof environment can help with this.
One of the best options for setting up a grow space on a budget is to invest in a small grow tent. Grow tents are designed with the task-at-hand in mind and part of that is  to give you a lightproof grow space.
Light-proofing is essential to give your plants time in the dark. Growing your plants in a space that lets in light can disrupt your plants natural growing rhythms, and lead to less than ideal yield.
This is especially true when growing photoperiod plants. Getting the correct amount of darkness is what triggers the flowering stage of the growth cycle.
Reflective Surfaces
Grow tents are also lined with reflective surfaces which help redirect stray light back towards the leaves of your plants. Receiving more light should translate to more growth.
By ensuring you have reflective surfaces within your grow space, you can make more efficient use of the light produced, save some money on energy bills, and get more bang for your buck from your grow lights.
Air Flow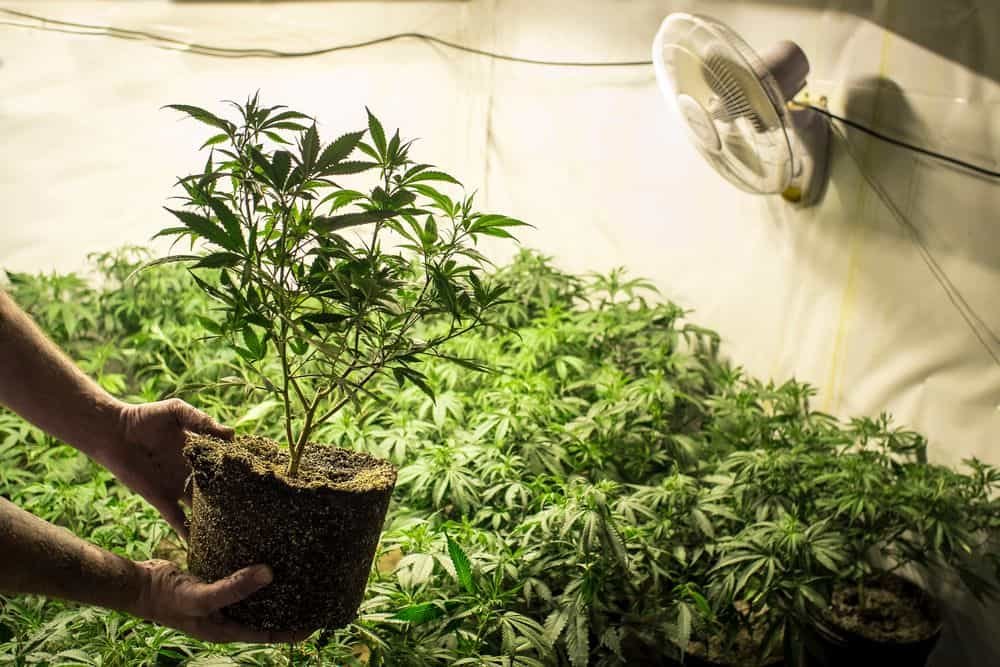 You will also need to manage the airflow within your grow space to ensure healthy plant growth. Your plants need fresh air to be circulated, so they can get enough carbon dioxide, which is converted to oxygen and sugars.
To this end you will also need to fork out for a fan to keep air circulating. A standard can keep fresh air circulating, but you may also need a duct fan and some ducting to help you dissipate any heat emitted from your grow lights. It depends on the climate where you live and the amount of heat your lights emit.
Automatic Timing Device
As mentioned earlier, your plants will need to spend some time in the dark, and some time receiving beneficial beams of light. During the different stages of your plants' growth cycle, they will also have different needs for the amount of light they receive.
Getting a timing device for your lights makes it easier to set a fixed schedule of light and dark periods to suit your plants current needs. There are some great grow light timers available for very little money, so this is not a large expense.
The Lights
And last, but by no means least, you will need the lights themselves. If you have already started shopping around, you may have noticed there are different options on the market.
There are LED grow lights, HID grow lights, incandescent grow lights, and fluorescent grow lights. And each of them will have different price tags affixed.
And the problem for new growers is that the price tag does not tell the whole story. Scanning prices, you may notice that good quality LED grow lights tend to have a higher initial price than the HID or fluorescent options.
However, to ensure you stay within your budget, you need to also factor in the associated running costs.
LED grow lights are the most energy-efficient option currently on the market, but they have that higher initial outlay. While looking at the price tag alone will lead you to believe that HID grow lights are cheaper than LED lights, if you are planning a long-term growing project the higher monthly energy bills will start to add up.
That is one reason LED grow lights are becoming increasingly popular, not just among horticulturists. And as a result of the popularity, initial prices continue to drop. Our article comparing LED vs HID grow lights has more.
These days, you can get some great LED lights at much lower prices than just a year or two ago. My favorite brand is Spider Farmer. They are a budget brand, but they make high quality lights. However, their prices are higher than deep budget brands.
If you are looking for deep budget lights, things get more difficult. Most brands are unreliable. Some good options in a lower price range are Aglex, BestVA, or KingLED.
There are cheaper options (you'll find them on Amazon) but those are quite risky. You can give one a try, as long as it has a solid return policy, but know that the chances are high you will have a light fail on you mid grow. Haver a backup plan, if you go this route.
If you are still struggling with your budget after checking LED grow light prices, you could also look at the fluorescent options.
Fluorescent lights are often used for small-scale operations or for providing supplementary lighting to larger grow spaces. They are also reasonably energy-efficient and ideal for use during the vegetative stage of plant growth.
But lack the customizability of spectrum afforded by the LED grow light and are they are less powerful and less efficient. If you are looking to only grow one or two plants on a budget, they can be a good option. Otherwise, they begin to get too expensive in the long run.
Can any light bulb be used as a grow light?
A regular, incandescent light bulb can help plants grow, but the results will not be as impressive as those provided by LED grow lights. That's because LED grow lights emit a full spectrum of light that meets the needs of your plants better, which incandescent light bulbs cannot do.
Furthermore, incandescent bulbs are extremely inefficient. They use far more power for the same output and they give off a ton of heat.
That said, other types of regular light bulbs can make good grow lights. This article goes into detail, but basically, regular fluorescent bulbs, or regular LED fiuxtures can work well as grow lights, as long as you get the right types.
What color LED is best for cannabis plants?
Blue light helps plants produce chlorophyll, which they need to grow. And red light helps plants during the flowering stage. That is why most LED grow lights use4d to have red and blue diodes. Those work, but plants do need light in other colors too.
That is why most manufacturers add some white diode into the mix of red and blue. That is a big upgrade. However, the growing community has moved on from that as well, and now prefers full-spectrum LED grow lights over the red/blue ones.
White light contains red and blue spectrum light. It works better and also looks better. Many manufacturers also supplement the white light with additional red diodes for a boost during flowering, resulting in larger and higher quality buds.
Cheap Grow Light Setup: Final Thoughts
At first glance, it may seem like the cheapest grow light setup is one that uses fluorescent bulbs, but that won't be the case in the long run. And certainly not for larger grows. But if you are only growing a plant or two and are not sure you will continue growing long term, CFL or T% fluorescent grow lights probably make the most sense.
If you are setting up a full grow, even if it is small, the best cheap grow light setup is one that uses LED grow lights. They may cost a bit more upfront, but they will save you money in operating costs in the long run. They also deliver better results than fluorescent lights, in terms of yield quality and quantity.