Why make a dimmable ballast if not to dim it?
True, but it depends on how you use the dimming function.
Using it to dim down a bulb, for example to run a 1000w watt bulb at 600w, is not ideal.
We delve into why that is below.
The better use is to dim the ballast down to 600w and then use it to run an actual 600w bulb.
That is the big advantage of a dimmable ballast: it allows you to power bulbs of multiple wattages.
Dimming a bulb down to a lower output is also possible, but it is not advisable.
That said, there are certain circumstances where doing so makes sense. We cover those cases below.
First, let's take a closer look at the original purpose of a dimmable ballast and see why it is not a good idea to run a powerful HID bulb at a lower output than 100%.
The Purpose Of A Dimmable Ballast
A dimmable ballast has a dial or buttons that lets you select a pre-defined output wattage. The options on the original dimmable ballasts actually give us a huge clue as to the intended use of the dimming function.
They had settings like 400/440/600/660/1000/1100. This shows that they can run 400w, 600w and 1000w bulbs and boost each by 10% above their rated wattage.
If the ballasts were designed to dim a 1000w bulb down to different settings, they would look more like: 400/500/600/700/800/900/1000/1100.
Wouldn't that make much more sense?
Based on this alone, it seems obvious that dimmable ballasts were originally designed to have the ability to run various wattages of bulbs, and not to run higher-wattage bulbs at lower output.
This conclusion makes even more sense when you consider the negative effects of dimming a bulb.
Why You Should Not Dim Bulbs Below Their Rated Power
In short: efficiency.
HID grow lamps are at their most efficient when run at their full power. Check out the following graph.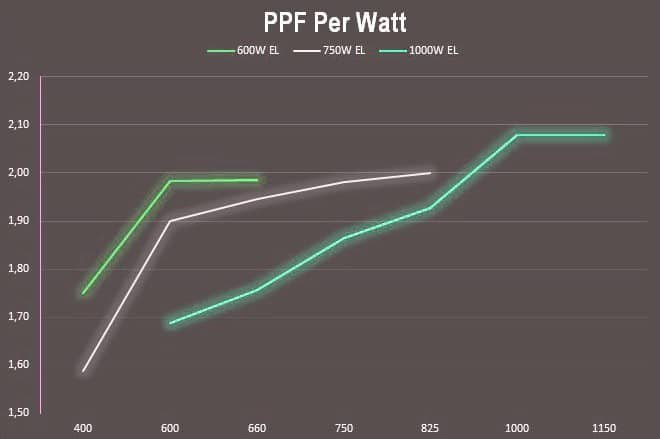 It shows the performance of a 600w, a 750w and a 1000w bulb at different ballast output settings. The numbers on the vertical axis show the efficiency in light output (PPF) per watt, while the horizontal axis shows the wattage setting on the ballast.
You can see that a 600 watt bulb run at 600 watts is more efficient than a 750 watt  bulb run at 600 watts and far more efficient than a 1000 watt bulb run at 600 watts.
This shows that it is always best to run a bulb at full power. As soon as you dim it down, it becomes less efficient.
But it doesn't stop there.
The spectrum of the bulb actually changes when you dim it down. The change is small, so it is not a huge deal, but it does have an impact. Much more so if you are running many lights.
The main impact on the spectrum when dimming the ballast is a decrease in the amount of red light, while keeping green and yellow the same. Basically, as the bulb is dimmed, it experiences a slight shift in the peak from red toward green.
Finally, any new lamp need to first stabilize chemically, before you should even think about dimming it.
If you dim it right off the bat, you end up with ignition failures, reduced lamp lifespan and a lower overall lamp output. To stabilize it, run it at full power for at least 100 hours, before running it at a lower power output.
Also, you should be aware that some lamps can not be dimmed at all. This is more common with metal-halide lamps than with high-pressure sodium ones.
Whichever type of HID bulb you have, make sure to always read the guidelines from the manufacturer (and follow them) before dimming your ballast. And remember: it is always best to just buy a complete grow light kit, to ensure that all components are perfectly compatible.
Why Should I Dim My Ballast?
Obviously there are also several advantages to dimming your ballast, but in most cases, they are far outweighed by the disadvantages. Nevertheless, there are some instances where it makes sense to go ahead and run a bulb at a lower output wattage than its rated wattage.
People will often tout cost savings as the main reason for dimming down the ballast. It is true that dialing back on your power usage when you don't need the full brightness makes a lot of sense, but dimming a powerful bulb down is not the best way to achieve that.
Using a less powerful bulb and just dimming the ballast to accommodate that bulb is much better.
Here are two cases where dimming a more powerful bulb makes sense, despite the huge loss in efficiency.
Vegging And Flowering In The Same Room
If you are vegging and flowering in the same room, you will want your lighting to be less powerful during vegging. Since the lights stay on longer during vegging (18-24 hours versus 12 during bloom), the overall light your plants get is 33% to 50% more during vegging, if the lights are always run at full power.
This makes no sense.
You want the same overall amount of light (i.e. total light during the entire day) during vegging and flowering. To achieve this, you need to run your lights at a 33% reduction in power if you veg for 18 hours a day and a 50% reduction if you veg for 24 hours.
The best way to achieve this is to use lower wattage bulbs. If you use 1000w bulbs for flowering, use 600w bulbs for vegging and dim you ballast to 600w for those bulbs.
If  you do not want to change bulbs, then it would make sense to simply dim the 1000w bulbs down to 600w, although this is obviously much less efficient.
In this case, a great trick (if you can even call it that) is to always change your old bulbs for new ones at the beginning of the flowering cycle, not at the beginning of the grow. This allows you to take advantage of the full power of brand new bulbs when your plants need that power the most, instead of wasting it on vegging.
Temperature regulation on hot days
If your grow room gets too hot, your plants will quickly suffer the consequences. During periods of extremely hot weather, it thus makes sense to dim your lights to cut down on the heat they generate. Having less light will not hurt your plants (it simply slows down growth), but overheating will.
How To Dim Properly To Minimize Impact
As we've seen, there are instances when it does make sense to just dim down a more powerful bulb. While this is never ideal, here are a few things you should do to minimize any negative impact.
Always Follow Manufacturer Guidelines
I've mentioned this already, but it is worth repeating. Before you dim any bulb, read the manufacturer's guidelines carefully. You need to first determine if the bulb can even be dimmed. Many MH bulbs cannot. If it can be dimmed, you want to make sure to follow all pertinent instructions to avoid damage.
Allow New Lamps Time To Stabilize
As already mentioned, new lamps need to stabilize chemically before it is safe to dim them, so give them at least 100 hours of 100% power, before you run them at lower power settings.
For MH lamps, you want to make sure to always start them at 100% and them dial down the ballast. Do not start them in a dimmed setting. Similarly, bring them back up to 100% before switching them off. Doing this prevents ignition problems.
Is It Safe To Boost A Bulb?
In general, driving a bulb beyond its rated wattage reduces its lifespan. But that is not always a problem. Most growers replace their bulbs every year anyway, so reducing the lifespan a bit doesn't really matter.
Plus, most bulbs can handle a slight boost without significant consequences. A 10 or 15% boost shouldn't harm the bulb too much, but always make sure to check, and follow, the manufacturer's recommendations.
If they say it is safe to boost the bulb 10%, you can go ahead and do so, but make sure you do not exceed the recommended 10% boost.
Best Practices For Grow Rooms
Professional growers almost always have a separate room for vegging and the main reason for this is the inefficiency of running bulbs at a dimmed ballast setting.
You want to have fewer lights (or lower wattage lights) during vegging, as already mentioned above, but dimming down your existing lighting is not the way to achieve this. Replacing all the bulbs is not exactly efficient either.
Having a separate vegging space allows you to use fewer lights in that space. It also allows you to use different lights, if you choose to do so. For example, you could use bulbs with a color spectrum that is more beneficial for vegging.
Finally, you can take advantage of the fact that plants are smaller during vegging to position them closer together. This means you need much less space to veg a certain number of plants than you need to flower the same number of plants. This saves space and energy costs.
Finally, having a separate vegging room allows you to veg one set of plants, while another set is flowering. This effectively doubles the number of harvests per year, increasing your profits.
Dimming Your Ballast: Final Thoughts
In general, dimming your ballast in not ideal. The disadvantages far outweigh the advantages in most cases. If you do decide to dim your ballast, follow the tips above to ensure minimal impact.
What about LEDs? Should I dim my LED grow lights, or is it the same as HID? If you are using LED grow lights with a dimmer on the driver, things are different. LED diodes handle dimming well, so go ahead and dim them down when you don't need full power.