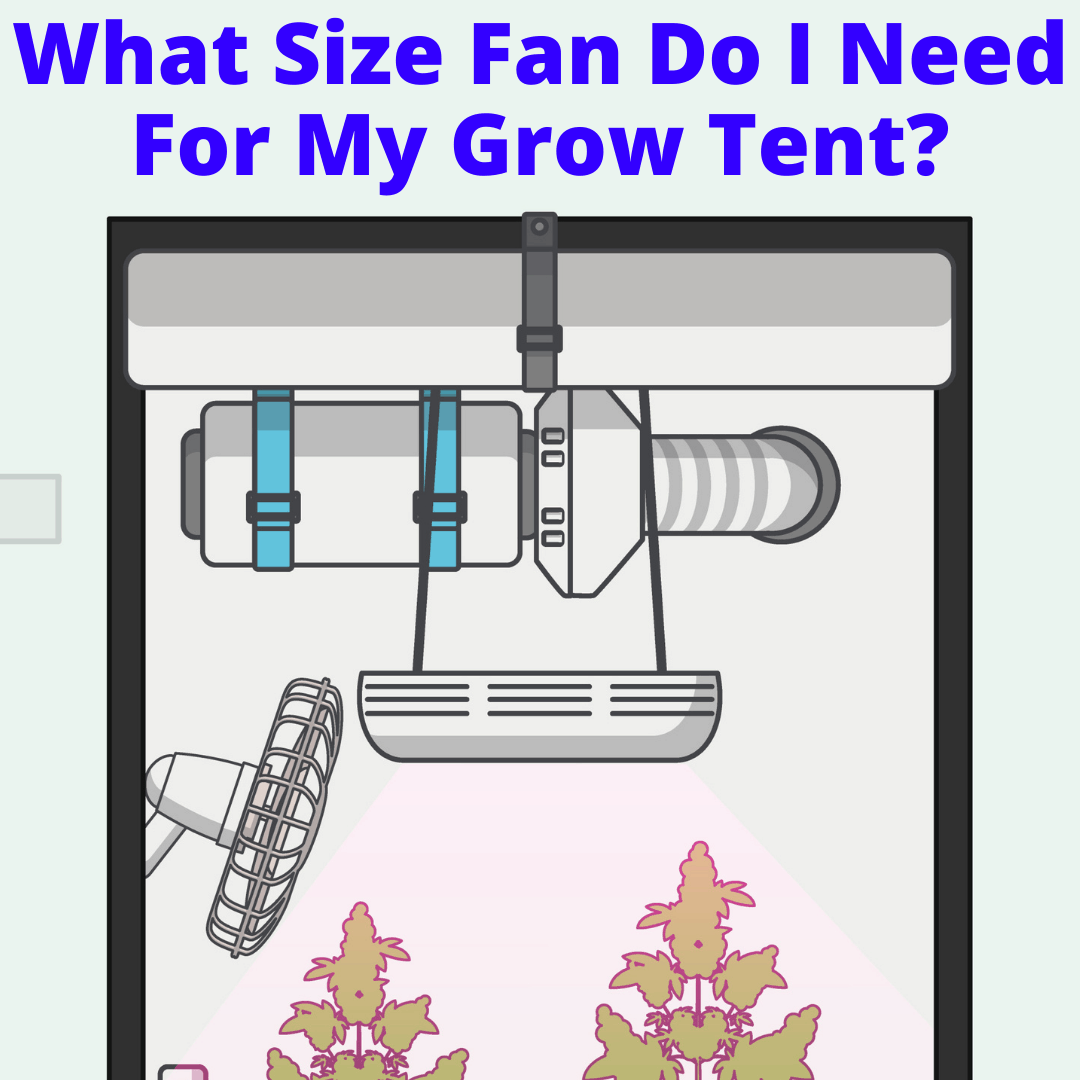 First, the bad news.
You may have to do some math.
The good news?
It's easy math. And we'll walk you through it step by step.
Plus we'll give you a handy table that includes common grow tent sizes and setups.
Chances are you can find your info in the table and avoid having to do the calculation at all.
What Size Fan Do I Need For My Grow Tent?
Fan size is not what's important. It is fan capacity.
First you need to figure out the capacity you need. And the capacity then determines the fan size. For most home growers this will end up being a 4 or a 6 inch fan.
How do we figure out the fan capacity you need for your grow tent fan?
By following the calculation we'll cover next. Or you could scroll down to our table and see if your tent size is on there.
Then you can just use the capacity provided in the table.
Calculating Base Fan Requirement For Your Grow Tent
The first piece of information you need is the total volume of your grow tent or grow room, if you are not using a tent. To get that, simply multiply the width by the length by the height.
Volume of grow tent = width x length x height
(Note that we are using feet for our calculations, because fan capacities in the US are given if cubic feet per minute. The calculation is still the same if you use meters).
Let's say you have a 5 by 5 foot grow tent with a height of 78 inches, which is 6.5 feet. The total volume would be 162.5 ft³.
Total volume = 5 x 5 x 6.5 = 162.5 ft³
In order to replace all the air in that tent in one minute, you'd need a fan with a capacity of 162.5 cfm. Fan capacity if measured in cfm, which stands for cubic feet per minute. Makes sense, right?
Generally, we recommend you aim to replace the air in the tent once per minute. However, if you are not dealing with major heat issues, you could get by replacing it once ever two, or even three, minutes.
In that case, divide the total grow tent volume by 2, or 3, to get the base fan capacity you need.
Now that we have the fan capacity, we're done, right?
Not so fast. You didn't think it would be that easy, did you?
What we have is the base fan capacity needed, if you only have the fan removing air and nothing else. But your setup is likely to have several other components that reduce the fan's ability to move air. Plus factors that increase the capacity needs
So we need to make some adjustments.
Adjusting For Ducting, Filters, Lights, Etc.
Components like ducting and filters all reduce the capacity of your fan. You have to account for this in your calculation and get a fan that is more powerful, to make up for this reduction.
Other component like lights increase your cooling needs. You'll want to add some capacity to account for those. If your tent is in a hot location, you should also add some capacity.
Here are common components and factors you should account for and the effect the additional capacity you'll want to add, in terms of a percentage increase.
lights: 10% increase for each grow light
filters: 25% per filter
ducting: 1% for every foot of ducting
bend in ducting:  30% per 90° bend (15% per 45° bend)
external heat: 10% increase if your grow tent is in a warmer location (e.g. the attic or a sunny room) and/or is not well insulated from the external environment
Add all of the increases up to get a total percentage increase. For example, lets say we have a single grow light, one filter, and 6 feet of ducting with one 90 degree bend. But the tent is not in an especially hot location.
Total percentage increase = 10% (grow lights) + 25% (filter) + 36% (ducting and bend) = 71%
Then you want to take this percentage as a decimal and add it to 1.0.
For example, the 71% from above would become 1.71.
An increase of 44% would become 1.44.
An increase above 100% is treated the same (added to 1). Thus, a 125% increase would become 2.25
Take note that an increase under ten has a zero in front of it. Thus, 5% would be 1.05 (and not 1.5, which is a 50% increase).
Multiply this new number by the original base capacity we calculated above. In our example, that was 162.5 cfm.
Capacity required = base capacity + multiplier
In our example, the capacity needed = 162.5 cfm x 1.71 = 277.875 cfm
That means we would want a fan with a capacity of at least 277.875 cfm. However, it is generally a good idea to by a fan that has around 25% more capacity than you need.
Get A Fan With More Capacity Than Required
We highly recommend getting a fan with more capacity than you need. Running fans at 100% capacity puts more strain on them, so they won't last as long. It also makes them noisier.
If you run a fan below its maximum speed, it lasts longer and runs more quietly. It also allows you to increase capacity should your cooling requirements increase in the future.
You never know, there could be a heat wave, for example. Or you might start by venting the grow tent directly into the same room, but decide later that you want to add ducting to vent it outside.
Adding 25% to our example above works the same as before: multiply the capacity by 1.25. That gives us an ideal capacity of 347.34375 cfm.
Just round up to the nearest capacity fan of the type you want to get. In this case, that would probably be the 6 inch version of the fan we recommend in the next section. It has a capacity of 402 cfm.
What Is A Good Fan To Get?
There are a lot of different fans on the market and most of them will do a good job. Generally, the more you pay, the better quality you get. This usually means that the fan runs quieter, is more efficient (higher capacity per wattage used) and lasts longer.
The AC Infinity Cloudline fans are our favorite. They are not the cheapest or the highest quality. But they are the best value. You pay a little more and you get much more.
Their 4 inch fan has a capacity of 205 cfm, the 6 inch is 402 cfm, and the 8 inch is 807.
In large tents, you may need more capacity than even the largest fans can handle. This means you would need to get several fans.
Table Of Fan Requirements For Common Grow Tent Sizes
The following table shows the strength (in cfm) of fan you need for common grow tent sizes. If the height of your tent is slightly different, it's not a problem. The capacity given will still work just fine for you.
Similarly, if you have a few extra feet of ducting (or a few feet less), you can still use the closest situation in the table. Since you should be getting a fan that can handle about 25% more airflow than your requirement, you have some room to play with, if you end up needing a bit more power.
The table assumes the standard number of lights for all of the tents. That means one light for everything up to the 5×5, two lights for the 4×8 and 5×10 and four lights for the largest two.
It also adds 25% to the final capacity. That means the cfm value given is your final number and the one you should look for in a fan.
For anything under 205 cfm, we recommend the 4 inch fan from AC Infinity. For everything under 402 cfm, we recommend their 6 inch fan. For everything under 807 cfm, we recommend their 8 inch fan. For requirements above 807 cfm, you'll need to put several fans in your tent.
Do I Need An Intake Fan?
For small tents you generally won't need an intake fan. Simply having intake vents may suffice, assuming you have enough of them, or they are large enough.
The general rule of thumb is that you need opening intakes that are three to four times the size in total as the outtake vent(s). This means you could have one large intake opening, or three smaller ones that are each as large as the outflow opening.
If your tent does not have enough, or large enough, intake openings, you will need an intake fan.
Your intake fan does not need to be as powerful as the exhaust fan. It can have around 25% less power.
To figure out the strength you need, take the amount you plan to extract from the tent (what you calculated above) in cfm and multiply by 0.75.
Of course, you should also take into account any ducting and bends in the ducting that are attached to the intake fan. Use the same method above to do this.
For example, if you have 5 feet of ducting with one 90 bend attached to the intake fan, you need to increase its capacity by 30% (25 for the bend and 5 for the ducting length), so you multiply by 1.3.
As before, it is best to get a fan with 25% more capacity than you actually need.
What Size Carbon Filter Do I Need?
There are really only two things to pay attention to when getting a carbon filter. The first is that the flange size needs to match the fan.
If you get a 4 inch fan, make sure you get a 4 inch filter.
Second, make sure the capacity of the filter (also in cfm) matches, or exceeds, that of the fan. A good idea is to get filters from the same brand as the fans. If you go with the AC Infinity fans we recommend, they also have matching filters, for example.
Where To Place Fans And Filters
You have a lot of leeway here. The first decision you have to make is whether to put both the fan and filter inside or outside the tent. You can also have one inside and one outside.
Inside is usually easier, but may not be an option if you don't have the space. Read "Carbon Filter Outside Grow Tent" if you are considering putting yours outside.
If you have the fan and filter inside the tent, you want to put them at the top of the tent. Hot air rises to the top and your exhaust system will be much more efficient if it is located where the hot air is.
The intake vents (or fans, if you use them) should be located at the bottom, in order to draw in cooler air.
Fan Size For Grow Tent: Final Thoughts
Figuring out the correct fan size for your grow tent might seem complicated, but it doesn't have to be. If you follow the rules of thumb we gave you above, you'll end up with a fan that effectively removes all excess heat from your tent, whether you have a huge grow tent or a mini grow tent.
Most likely, your tent size was included in our table and you were able to avoid the calculation altogether. But even if you had to do the math (or did it just to run through it yourself), it really wasn't that difficult, was it?
If you need help with the rest of your grow tent set up, we have an entire article on the best grow tent set up here.