If you water plants, they grow. Right?
Yes. But it's not so simple.
The better the water, the better plants grow.
Giving your cannabis plants the best water possible ensures stronger, faster growth and larger and higher-quality yields.
But what makes one container of water different from another?
And what makes for the best water for weed plants?
Keep reading to learn exactly what type of water your marijuana plants need, how to test your water to see how it stacks up, and how to adjust it to make it perfect.
Best Water For Weed Plants
Did you know that water temperature if important when watering your marijuana plants? The temperature, ph, and PPM all play a big role in optimizing plant growth and yields.
But most home growers only worry about pH levels, PPM ranges, and water temperature once they notice health issues in their plants.
That is a mistake. Getting these factors right from the start can be a gamechanger.
Water quality is a fundamental aspect of good gardening. Inappropriate heat, acidity, and chemical composition can stunt development and harm your sticky buds.
Your plants might be healthy and grow just fine, but they would do so much better with better quality water
This is true whether you're cultivating cannabis autoflower seeds or cloned photoperiods. So let's find out how to ensure you give your plants the exact type of water they need. We'll begin with a quick overview of just how important water is for your weed plants.
The Importance Of Water For Cannabis
Water is essential for all plants, including marijuana. Moisture plays a role in several essential processes:
Photosynthesis—water provides the hydrogen molecules, generating a carbohydrate source for growth
Nutrient transportation—water carries nutrients through the roots and into the stem, branches, leaves, and buds
Structural support—water keeps the plant cells strong yet flexible, moving with the wind and receiving sunlight
Transpiration—water evaporates on the leaves, cooling the structure and preventing overheating
Now, not all water is made equal. Providing the highest-quality H₂O for each watering optimizes these processes, prevents numerous crop diseases, and helps your marijuana garden flourish.
Best Water Temperatures For Cannabis
Let's start with the ideal temperature ranges for cannabis. This aspect is the most straightforward, letting you improve your gardening skills step-by-step.
The ideal water temp for growing weed is 68° to 73° F. The warmer water gets, the less oxygen it holds. And oxygen around the roots helps them breathe and stretch.
Suboptimal oxygen levels create an anaerobic environment for the root zone. This setup increases the risk of diseases like pythium, an infection that hinders crop development.
The opposite extreme is bad news, too. Water below 55° F can shock the plant, reducing its metabolic capacity. Growth and bud production suffer.
Pro Tip
Tackling a strain that's especially vulnerable to root disease?
Stick to the lower end of the temperature range to reduce the chances of contamination. Anything over 60° F is okay, but watch for signs of cool shock.
Optimizing Water Temperature
If growing in soil, stick a thermometer into your can to ensure each watering is just warm enough. If the reading veers off the desired range, add more hot or cool water to reach the perfect temperature.
Maintaining the right temps is a bit trickier in hydroponic systems. Try the following solutions if the setup is too hot or cold:
Employ heating/cooling equipment
Drop hot/ice bottles into the reservoir
Move basins to a hotter/cooler area
Pro Tip
Does the water warm up as soon as you cool it down?
Paint your reservoir white, so it reflects heat, instead of soaking it in.
Note that smaller basins are more prone to temperature fluctuations. Large equipment keeps things steady for longer, reducing the need to check and adjust.
Best Water pH Levels For Weed
pH is shorthand for the potential of hydrogen, measuring the acidity or alkalinity of the water source, nutrients, or medium. It's expressed in a 1 to 14 range. A reading of 7 is neutral. A lower value denotes acids, and a higher alkaline solutions.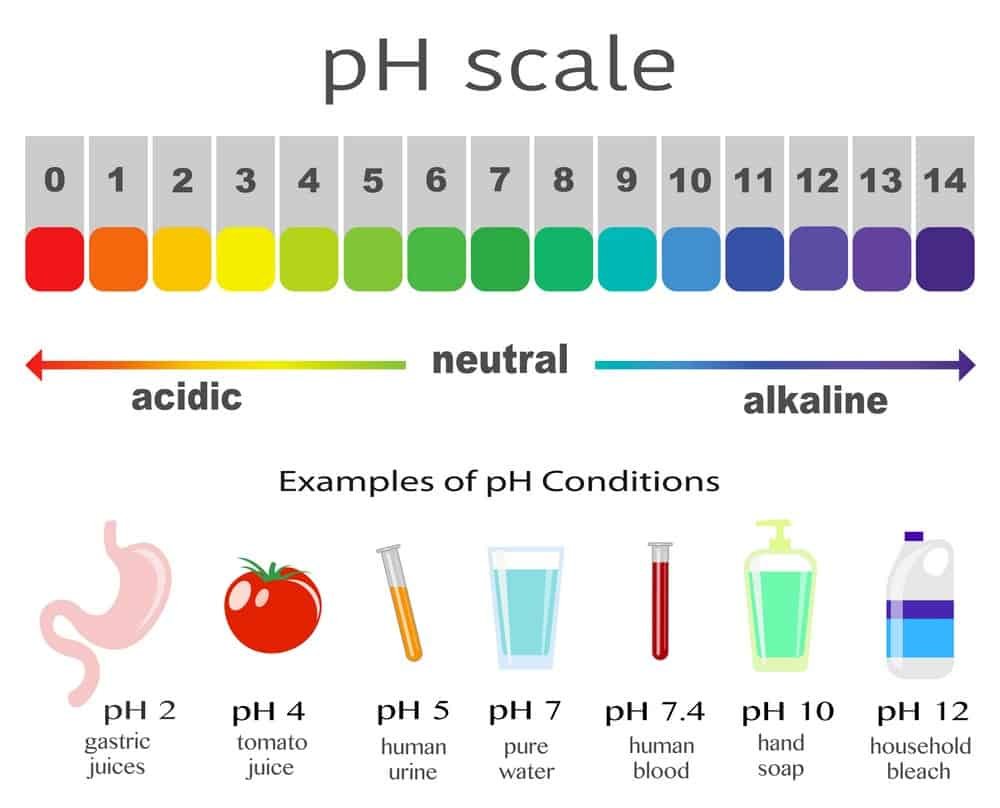 Marijuana likes its water slightly sour. When it comes to pH ranges, the best water for weed plants is:
pH of 6 to 6.8 in soil
pH of 5.5 to 6.5 in hydroponics
Low pH increases the solubility of micronutrients in your substrate. They become more easily available for consumption. But you can have too much of a good thing.
pH levels below 5.5 lead to oversaturation. It's not long before you see nutrient burn on leaf tips.
High pH makes the nutrients inaccessible to the roots. Alkaline environments are the leading cause of deficiencies in cannabis.
Research shows that cannabis is resistant to pH shifts. Not every imbalance means a ruined harvest. Regardless, preemptively checking your water lets you nip many annoying problems in the bud.
Testing Water pH
Checking the pH levels of your liquids is as simple as getting a digital meter or a drop-based measurement kit. Both options are reasonably affordable and easy to use. I prefer a meter, since you only have to buy it once.
If watering soil with nutrient-enriched water, always perform measurements after adding all solutions to the liquid. It's only then that you can judge what your plants are getting.
If using hydroponics, dip your tool into the reservoir.
Pro Tip
Testing runoff water lets you check whether your soil is too alkaline or acidic. Take the liquid that gathers at the bottom of your pot after watering.
You don't need to test the pH every time, as it usually remains stable with the same water source. Once you know your water has the right levels, you can stick to monthly checkups.
Optimizing Water pH
Humans enjoy our H₂O on the alkaline side. If you are using any form of potable water, like tap or bottled, you're likely to see a reading outside the optimal cannabis range.
Quick adjustment can save you from a lot of trouble down the line.
The easiest way to shift pH is by using 'pH Up' and 'pH Down' solutions available at most grow stores or on Amazon. Flush your pots or reservoir with clean, pH-neutral water before watering generously with your optimized liquid.
Want to stick to organic products? There are a variety of natural replacements available:
Use manure, worm castings, pine needles, compost, and wood shavings to lower pH levels. These also establish a rich microbial life in the soil.
Vinegar and lemon juice immediately reduce pH levels, making them excellent in a pinch. Dilute small amounts in large amounts of water to avoid hurting the roots.
Lime and limestone in powder or pellet form raise soil pH levels quickly. Wood ash acts more gradually. These also feed the soil with micronutrients.
Measure pH levels weekly after adjusting, to stay on the safe side.
Best Water PPMs For Marijuana
PPM stands for parts per million, measuring the number of minerals in your water. 1 PPM equals 1 milligram of contaminant per liter.
Looking at PPM, the ideal water for cannabis should contain:
500 to 600 in seedling and early vegetative stages
800 to 900 in the late vegetative stage
1000 to 1100 throughout the flowering stage
The requirements are similar for soil and hydroponic setups, but they may vary between strains. Always check the needs of your choice cultivar.
Higher PPM counts denote an overabundance of nutrients in the liquid. Your crop is at risk of being overfed, which leads to lockout and nutrient burn. Suboptimal levels cause nutrient deficiencies.
Testing Water PPM
PPM levels in your water source depend on the location. City dwellers' tap water usually contains 50 to 300 PPM. Those in the American countryside might see PPMs of 700, if the water comes from wells rather than a centralized system.
Modifications are necessary in most cases, but you need to know what you're working with. Luckily, PPM is easy to measure with TDS meters, available on Amazon and at most grow stores. This is a great one.
To get a clear picture of the results, measure the PPMs in your water-nutrient solution before soaking your crops. Perform another test on the runoff and compare the results. The change shows how much of the nutrients your plants are taking up.
Ideally, there should be a lower reading in the runoff. If the difference is extreme, you should get more generous with your feedings.
Readings that are the indicate a pH imbalance, preventing your crops from absorbing nutes. Higher readings usually suggest a salt buildup around the roots. You can fix both issues by flushing your cannabis plants.
Hard Water Vs Soft Water
If you have a choice between hard water found in wells and soft bottled and distilled water, always go with the former. You'll need a filter to eliminate heavy minerals and bacteria, but its contents are more beneficial for the root system.
Soft water is excellent for humans, but it lacks the vital root-feeding microbes. Only use this source after treating it with a calcium-magnesium solution, otherwise you will likely end up with a cal mag deficiency in weed plants given the mineral-light water. This is our favorite Cal-Mag solution.
Optimizing Water PPM
Are you using any water source that you drink at home? You'll need to treat the liquid with minerals to make it plant-friendly.
If you suspect contaminants in your tap water, don't use it. Use distilled water as a base and add nutrients until you reach the sweet spot for each stage. The same goes for tap water with low PPMs. Just add less.
Are you dealing with high PPMs from wells? Clean your source by:
Carbon filtering
Distillation
Reverse osmosis
Once you purify the liquid, you need to provide an assortment of all essential micronutrients for healthy growth. A set of nutrient solutions is ideal for this: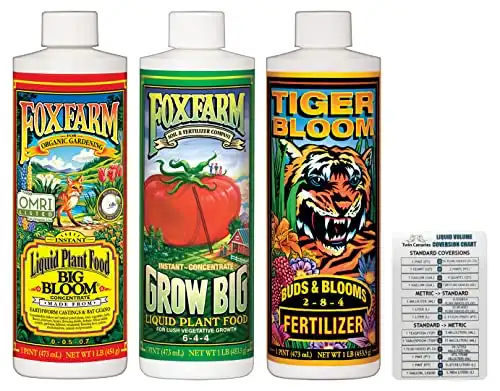 If you are seeing high PPMs in hydroponics, add distilled water to your reservoir and test until you reach the correct range. If facing a low PPM issue, top it off with nutrient-rich water.
Types Of Water For Cannabis Plants
The best water to use for marijuana plants is one with the right temperature, pH, and PPM levels. Achieving optimal levels is a different challenge based on your source, though.
Let's review the most common types used by growers and see which problems you may face with each.
Tap Water
Most states add chlorine to tap water to kill toxic microbes and bacteria. However, excessive chlorine levels can lead to a nutrient lockout and stunt growth.
You can use tap water, but let it sit for a day in the sun to let the chlorine evaporate. If that's not possible, adding a chemical solution, like sodium sulfate, will also do the trick.
Rainwater
Rainwater is typically pH neutral and contains good PPM levels for cannabis. This option is cheap and sustainable, if there's a lot of precipitation in your area.
That's before accounting for pollution, though. High levels of contaminants in the atmosphere can make rainwater too acidic. Collect a sample in a bucket and check the pH level, before using it on crops.
Bottled Water
Store-bought bottled water is an excellent alternative, if your region has unusually high PPMs or fluorine levels. Otherwise, it's equal in quality to tap water.
The best bottled water for weed plants doesn't contain fluorine. Find a reliable manufacturer that emphasizes this quality or test it before usage.
Distilled Water
Is distilled water good for cannabis plants? Reverse osmosis and other forms of soft water aren't good on their own, but they serve as an excellent flat base.
If you can afford the cost, use distilled sources and supplement them with nutrients. That way, you bypass potential contaminants in tap and rainwater and keep all three factors under your complete control.
Signs Of Water Issues In Cannabis Plants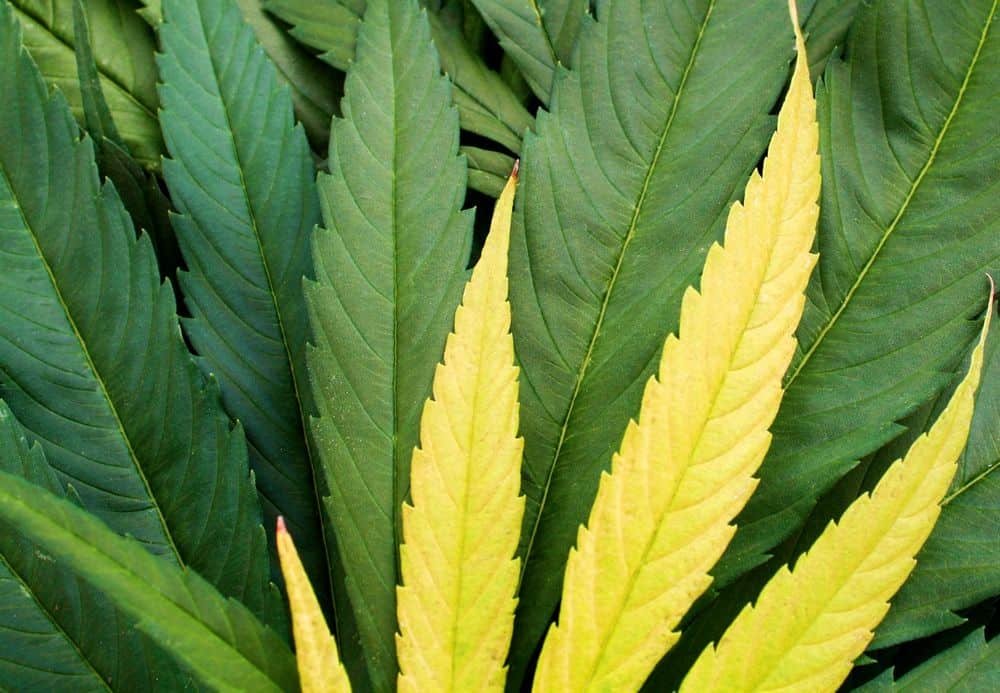 Water temperature, pH, and PPM affect nutrient availability. That's why we kept mentioning nutrient burn, lockout, and deficiency. These health issues signal it's time to take out your meter for some diagnostic action.
So, to round things off, let's see how you can recognize these problems.
Here are the symptoms of nutrient burn, which you'll see if the PPM is too high or the pH too low:
Yellowing or browning on the leaf edges
Leaf edges drying and curling inward
Leaves turning an oversaturated green
Nutrient deficiencies occur when the plant can't absorb nutrients. They share symptoms with lockouts. Both problems usually follow cases of low PPM and high pH. Warning signs include:
Stunted growth
Distorted foliage
Brown spots
Overall discoloration
Best Water For Cannabis: Final Thoughts
You've probably noticed a theme throughout this guide. Whether you're considering the best water temp for growing weed or its pH level and PPMs, one action remains crucial. Always test your water.
It's a step many growers disregard, but it might be what's standing between you and the harvest of your dreams.
Marijuana is sturdy, and it can take some fluctuations. Why let it struggle, though? Improving the water source helps take the output from acceptable to excellent.
Now that you know the theory, it's time to put it into practice. Buy seeds for an at-home cannabis garden. Then apply our tips, keep your plants healthy, happy, and safe, and enjoy the results!