We generally recommend keeping things simple.
At least on your first grow or two.
After that, go ahead and start experimenting with some of the millions of tips you find online.
One of the most common tips is to withhold water in the last few days before harvest.
Unlike many, this trick does have a positive effect.
The big question is: when to stop watering before harvest. The advice you see varies greatly.
There is a reason for this. We'll get into that and everything else you need to know about withholding water prior to harvest.
When To Stop Watering Before Harvest
To get the best yield, some growers say you should stop watering your plants about 3 days before you plan to start harvesting the buds. Others swear they stop a week before harvest.
The idea is to withhold water so the plants have a stress reaction like they do when a drought may be coming. They divert all their resources to reproduction, which results in bigger fatter buds.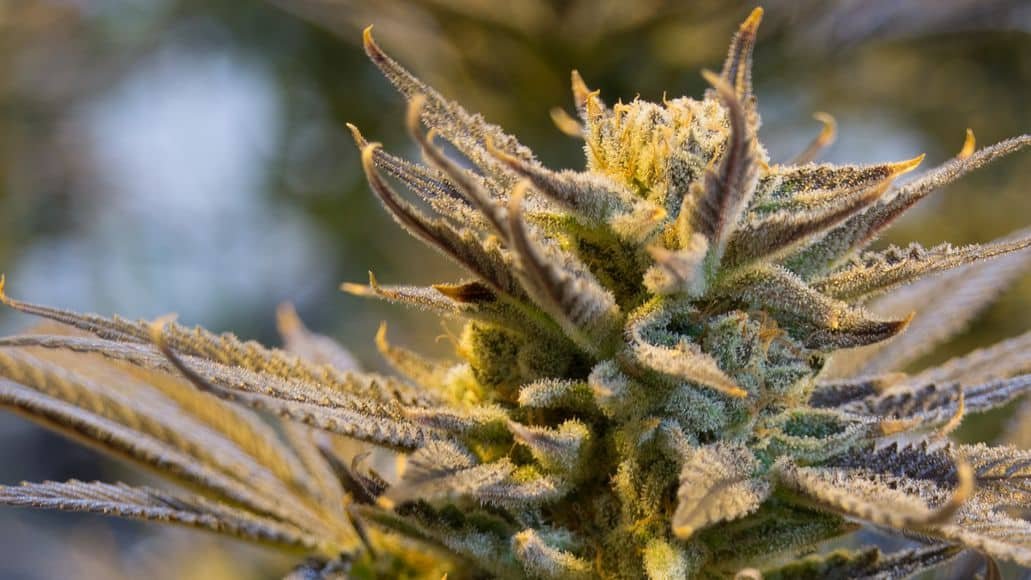 How long before harvest is ultimately up to you and may be unique to your situation. The ideal amount of time differs from one plant to the next. Overall, 3 days to a week seems to be the accepted wisdom.
Why Does Withholding Water Before Harvest Work?
There is a natural response in cannabis and many other flowering plants, where the plant will divert all its resources to the flower when it senses stress coming.
This is a form of plant parenting, and it is hard coded into their genetic code. When cannabis is stressed, and already in the reproduction phase (flowering), it will put all its effort into saving the buds.
Withholding water for a period before harvest is a severe form of stress to put on a plant that is used to getting watered regularly, and it produces a severe response.
Growers all agree that this tactic of stressing the plants by holding back the water makes a big difference in the size and density of the final bud harvest.
Depending on your strain of plants, you may need to adjust the drought period from between 3 days to a week. Each strain is a little different and has different requirements, but a week is a safe bet for all of them.
Other Water Changes To Make Before Harvest
There is a process called flushing which will also help increase the quality (not necessarily the quantity) of your yield. The idea is to give your plants only clean water with no additives for a period before harvesting, which cleanses the buds of the minerals and nutrients the plant needs to grow.
Harvesting without flushing will produce buds that contain the minerals and nutrients you were adding to the water.
When burned, this produces smoke that is too dense, because it is filled with other burned compounds besides the buds and the trichomes and THC.
In the wild, it is natural for the nutrients in the soil and water to end up on the flowers of the plants. This causes no problems for anyone or anything in nature. In fact certain plants benefit from this by making the flowers more fragrant and brighter colored, which attracts pollinators.
The issue with cannabis is that we are growing it to smoke it. And we don't want to smoke any additional compounds.
The soil nutrients and minerals that naturally make their way to the buds cause coughing, bad taste, and on overall unpleasant smoking experience. This is nasty and can ruin your entire crop. Flushing is the answer to stop this problem, but many people are doing it incorrectly.
How To Properly Flush Your Cannabis Plants
Follow these guidelines to ensure you flush your plants correctly and get the best possible tasting buds. We also have an entire article on how to flush marijuana plants.
Get the timing right
The best time to flush your plants is about two weeks before you plan to harvest your crop.
If you use a portable microscope to look at the trichomes (the little resin balls on the buds) you can tell if it is time to start the process of flushing.
Normally the trichomes are clear. If you notice them starting to appear a bit milky or cloudy, that is your clue that it is time to start the flushing process.
Now start the flushing
This is as simple as it sounds. At the time of day that you would normally feed your plants, flush them instead.
Use normal water (i.e. do not add any nutrients) and fill the pot with as much as it will hold. Wait and let the dirty, nutrient filled water drain away from the plant's roots. Once the soil is no longer saturated, repeat the process again and let the water drain out completely.
Measure the results
You should consider measuring the amount of solid minerals and other materials that are coming out of the bottom of the pot in the drained out water. This will give you a clear indication that you are getting the job done.
You can pick up a total dissolved solids meter (TDS meter) which will give you a numeric value. Ideally you want to flush until the total number is less that 50 to 70 ppm.
The caveat here is that all tap water has some solids in it, and if you measure the tap water before you start, it may already have a ppm over 70.
The number you get from the drain water should match the number you get from the raw tap water, indicating that there are no extra solids coming from the plants soil. If your tap water has a lot of dissolved solids, you might want to consider filtering it first, or using a different water source.
Other Watering Tips
New growers often over-water their plants. This is done with the best of intentions, but the results can be catastrophic for the plant. It can cause root rot and other issues.
A proper cycle of the roots being wet, and then dry for a period, is necessary to maintain a healthy plant. There is a reason cannabis does not grow well in boggy marshes. The roots need to dry out periodically.
Underwatering is also a huge problem. You can tell your plants are underwatered if they appear saggy and limp. They look sad, and if plants had emotions that is what an underwatered plant would be feeling.
How Often Should You Water Your Plants?
First off, there factors to consider because not every environment is the same. Consider the temperature outside, the stage your plants are in, and how big they are.
The general rule of thumb is to get your plants on a 2 to 3 day watering cycle. If you live in a very dry area, the soil will dry out faster than in a humid zone. Keep an eye on your plants and know your environment. If you can get them on a 3 day watering cycle you are doing it right.
When To Stop Watering Before Harvest: Final Thoughts
The reason you see such varied answers regarding when to stop watering your weed plants before harvest is that the ideal time differs, depending on the strain and a few other factors.
That's why we recommend keeping it somewhere in the rang of 3 days to 1 week for your first grow, and then adjusting from there. It will take you a few grows to get it perfect.
Of course, this assumes you are growing the same genetics each time. Either way, if you keep it in this range, you may not hit the exact perfect spot, but you will still see a marked increase in yield quality and quantity. So you really can't go wrong.