Pay attention.
When growing cannabis, it's always a good idea to be on the lookout for any changes in your plants' appearance.
One change you may notice is purple stems on your weed plants.
Are purple stems something you need to worry about? And if so, what can you do about them?
The truth is: it depends.
Sometimes purple stems are perfectly normal. Other times, they can indicate a serious problem.
Keep reading to learn when you should worry about cannabis plants developing purple stems and when it is fine. We'll also cover what to do about them and how to prevent the issue from occurring in the first place.
Purple Stems On Weed Plant
When growing weed plants, it's always a good idea to keep an eye out for any changes in your plants' appearance. One such change that often catches growers' attention is the development of purple stems.
In weed plants, purple stems are not necessarily a bad thing. But you do want to investigate the cause.
While some strains of cannabis are naturally prone to purple stems, their appearance in other plants may indicate an underlying issue that could be a result of incorrect light exposure, nutrient deficiencies, poor environmental conditions, or soil pH problems.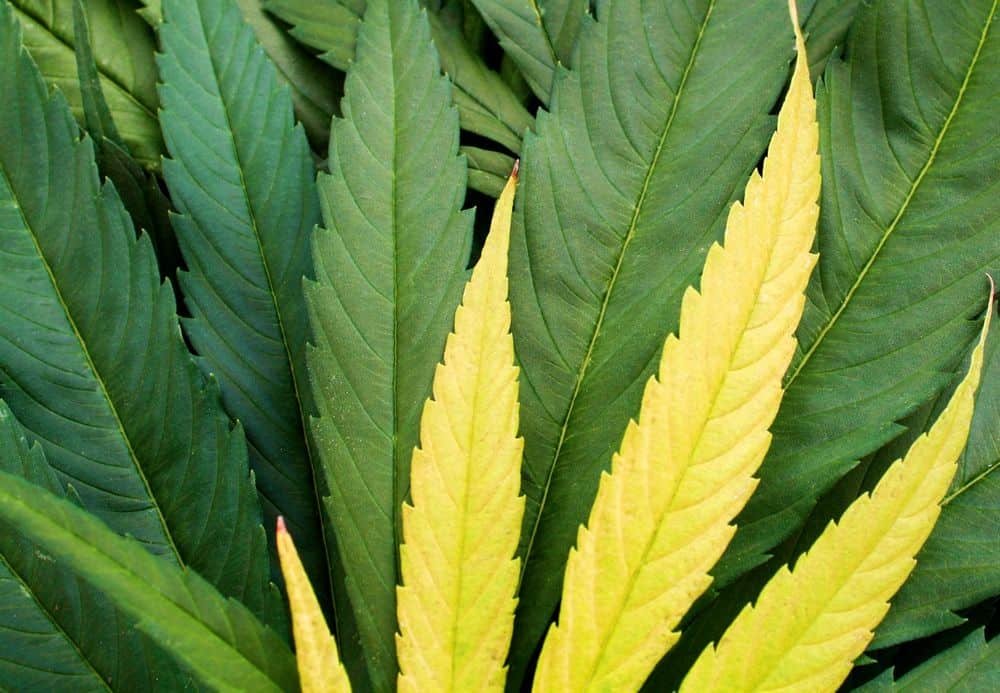 We are now going to look at the most common causes of purple stems in cannabis plants. This should help you identify the underlying cause of your plants' purple stems.
Causes Of Purple Stems On Weed Plants
There are several possible causes of purple stems in weed plants. While some strains may naturally develop purple stems, in other strains, their presence may indicate a health issue that you will need to rectify.
It is important to identify the cause of your plants' purple stems, so you can take steps to fix the underlying problem and ensure your marijuana plants continue to grow and produce a healthy yield.
Genetic Predisposition
If your plant looks healthy otherwise, the discoloration is most likely nothing to worry about. Some cannabis strains have a genetic predisposition to display purple stems.
If the strain has a history of producing plants with purple stems, it is likely that the purple coloration is due to genetics rather than any underlying issue.
Strains such as Purple Kush and Purple Haze, for example, naturally grow to have purple stems. As long as the plant displays no other worrying signs, you don't need to worry about the purple stems.
Incorrect Lighting
If you are not growing a crop of plants that are a naturally purple strain, you should investigate the cause of the discoloration further.
Stress can be an underlying cause of your plants' purple stems. A major cause of stress in cannabis plants growing indoors is improper lighting.
Cannabis plants require a specific amount of light to thrive. If the plants do not receive the correct amount of light, they may develop purple stems.
Too much intense light exposure can result in discolored stems. Usually, discoloration occurs in the leaves first, but the stems can also produce a similar purplish hue. This reaction is similar to human skin getting "discolored" by the sun.
Temperature Issues
Temperature is another critical factor in the growth of cannabis plants. Your weed plants can develop purple stems as a result of abrupt temperature changes
It's important to avoid a big temperature change between your plants' light and dark periods. Exposing your plants to a dark period with a much lower temperature can cause your plants to develop a purple tinge to the stems.
However, if you are growing a strain which is genetically predisposed to displaying purple shades, you should not worry.
In fact, growers often intentionally expose these plants to cooler temperatures to encourage the production of anthocyanins, the pigments responsible for the purple hue, in order to showcase the strain's vivid colors.
Incorrect Nutrient Levels
Cannabis plants require a balanced mix of nutrients to grow correctly. If the plants do not receive the proper balance of nutrients, they may develop various health issues, including purple stems.
Stems displaying a purple hue typically indicates a phosphorus, magnesium, or potassium deficiency, with a phosphorus deficiency being the most likely culprit.
Stunted leaves can also be a sign of phosphorus deficiency. If your plants are also exhibiting stunted leaves, then it's time to adjust your feeding to increase the amount of phosphorus your plants receive.
Plant Diseases
Plant diseases and pathogens can also cause purple stems on your weed plants. One of the most common plant diseases that can cause purple stems is Fusarium wilt.
This is a fungal disease that affects the plant's vascular system, resulting in purple stems and yellowing leaves. Other diseases, such as Pythium and Botrytis, can also cause purple stems.
These pathogens can spread rapidly through your crop, so it's essential to remove them from your grow room as soon as you become aware of their presence.
How To Fix Purple Stems On Weed Plants
If you are growing non-purple strains, but you notice that your plants have purple stems, it is important to take action before the problem worsens.
Since the causes of purple stems all have to do with the environmental conditions, the solutions to mitigate the issue involve altering your plants' current growing conditions, if they are not ideal.
Light: Ensure that your cannabis plants are receiving the appropriate amount of light. If your plants are receiving too little or too much light, adjust the distance and intensity of the lights accordingly.
Temperature: Maintain the correct temperature range for your cannabis plants. Keep the temperature between 68° F and 77° F during the day and between 62° F and 72° F at night.
Nutrients: Provide your plants with the appropriate mix of nutrients. If the plants are experiencing a nutrient deficiency, such as a lack of phosphorus, you can adjust your nutrient mix to ensure the proper balance.
If the purple stems are due to a plant disease, such as Fusarium wilt, using a pesticide may be necessary to eradicate the disease and promote healthy growth. In this instance, it is best to isolate infected plants. If they do not recover, you should destroy them to avoid contaminating the rest of your crop.
How To Prevent Purple Stems On Weed Plants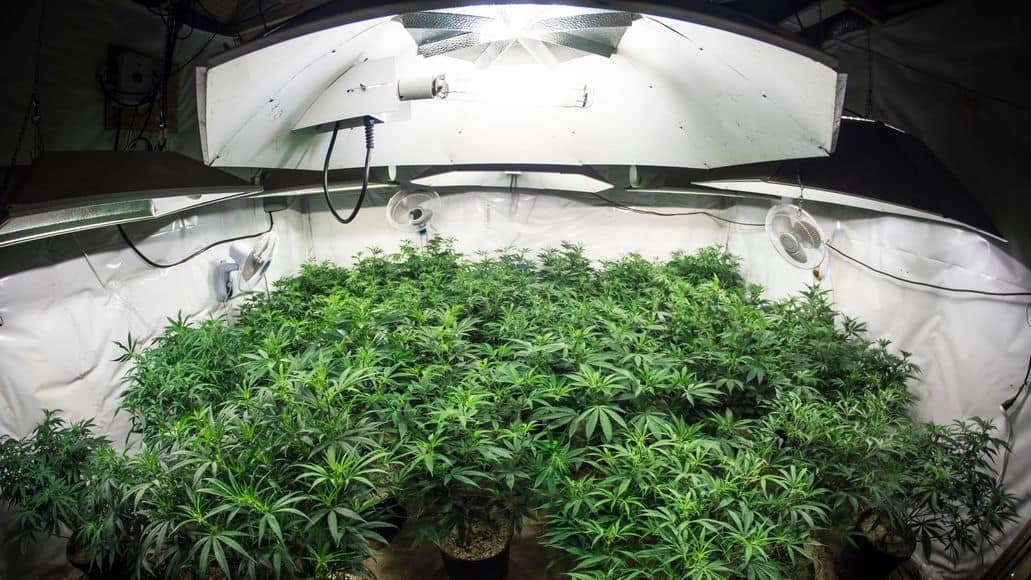 They say "prevention is the best cure," and this is also true when growing weed. If you have experienced your cannabis plants developing purple stems before, you will be better prepared to avoid the issue in the future.
Proper plant care and regular monitoring are both key to growing healthy cannabis plants. Here is what that involves.
Proper Plant Care
Maintain the right nutrient balance in your plant's growing medium.
Control humidity levels and ensure good air circulation to prevent mold growth.
Stick to a consistent light schedule, because irregular light can stress your plants.
Regular Monitoring
Keep an eye on your plant's growth and development, checking for any signs of stress or discoloration.
Regularly test the nutrient levels of the growing medium to ensure they are optimal.
Monitor the temperature and humidity levels of the growing area to maintain a healthy environment for your plants.
Purple Stems On Pot Plants: Final Thoughts
Purple stems on weed plants do not necessarily mean something is wrong. Some strains naturally tend to develop purplish stems.
However, if you also notice other signs of distress in your plants, chances are high they are not getting enough of something. Or they are getting too much of something.
Double check to ensure that you are providing your marijuana plants everything they need. It might take a bit of troubleshooting, but you should be able to figure out what is wrong. There are a lot of articles on this site about nutrient deficiencies and other issues that can help you figure it out.