Nitrogen is essential to the development of healthy cannabis plants.
It is one of the three primary nutrients that all plants require to grow.
If your weed plants do not get enough nitrogen (or too much of it), they will suffer severe growth problems.
But you can't just give your plants nitrogen and call it a day.
Your plants require different amounts of nitrogen at different times during their growth cycles.
You need to understand when your plants need more nitrogen, when they need less, and when to stop using nitrogen during flowering.
Keep reading to learn everything you need to know about marijuana plants and nitrogen. We will also discuss why you may not want to stop feeding the N at all. Not all growers cut out nitrogen completely.
When To Stop Using Nitrogen During Flowering
You don't have to stop using nitrogen during flowering. Some growers do and some don't. But you definitely need to reduce the amount of nitrogen you feed your plants.
We will detail when and how to do that below. In general, you want to reduce the amount of nitrogen you give your plants once they have entered the flowering stage and begun producing buds.
Many growers continue to feed nitrogen throughout flowering, but at significantly reduced amounts. Others continue to reduce the amount of nitrogen they give all the way to zero.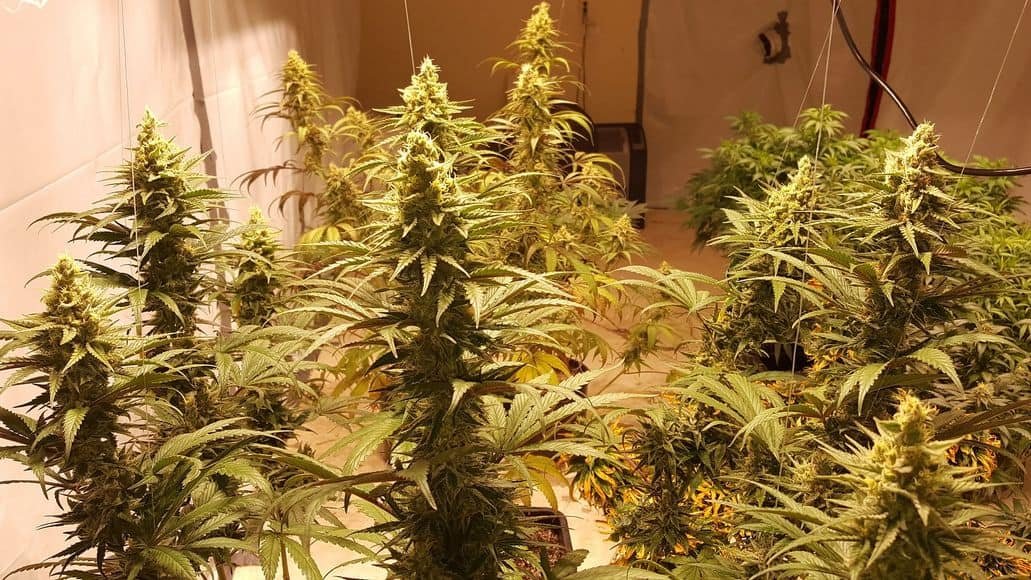 They usually stop giving any nitrogen 2 to 3 weeks before harvest. A good time to cut off all nitrogen is when you notice that the vegetative growth of your weed plants has slowed down and the older, lower leaves on your plants are turning yellow.
We will cover the different growth stages of cannabis and how much nitrogen your marijuana plants need during each stage. Before we get to that, it makes sense to include a quick refresher on what nitrogen is and what it does for plant growth.
What Is Nitrogen?
Nitrogen, with the chemical symbol N, is a macronutrient that is responsible for the production of chlorophyll, a plant's green pigment which is essential for photosynthesis.
Photosynthesis is the process used by plants to convert light energy into chemical energy, which can then be used to fuel their growth.
Without it, plants can't efficiently convert sunlight into energy, and their lower leaves turn yellow as the upper ones monopolize the available resources. This deficiency starves and stunts your plants, leading to stunted growth and a poor yield.
However, it is also important to understand that you can give your plants too much nitrogen, which will lead to nitrogen toxicity. Your plants go through different stages of growth, and you need to adjust the amount of nitrogen you feed them as they move from one growing stage to the next.
The Stages Of Cannabis Growth
One of the first things you need to understand when you first start growing cannabis is the difference between the different stages of growth. There are three main stages: germination, vegetative growth, and flowering.
Germination Stage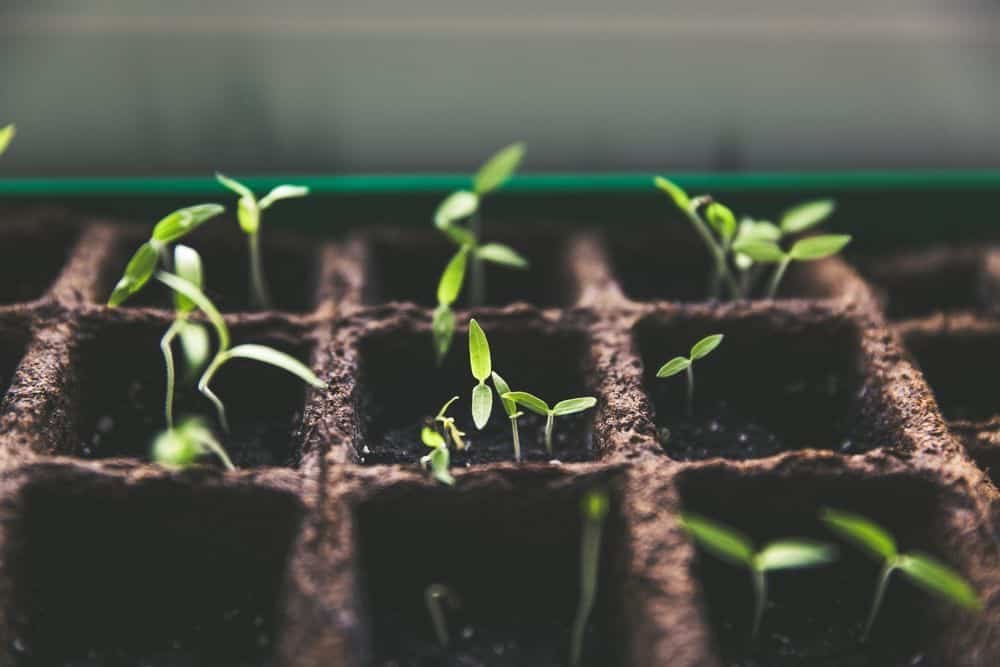 During the germination stage, you plant your seeds and wait for them to sprout. This stage typically lasts about one to two weeks. Once your plants have sprouted and developed their first set of leaves, they move into the vegetative stage.
Vegetative Stage
The vegetative stage is when your plants grow and develop the foliage needed to support their buds during the flowering stage. This stage typically lasts about four to six weeks, but it can vary depending on the strain and your growing conditions.
Flowering Stage
Following on from the vegetative stage, your plants enter the all-important flowering stage. This is when the magic starts to happen, and your plants start to produce lovely buds.
The flowering stage can last anywhere from six to twelve weeks, depending on the strain that you are growing and the growing conditions.
It's important to note that each of these three stages requires different nutrient ratios to ensure optimal growth and development. During the vegetative stage, your plants require higher levels of nitrogen to support leafy growth.
Developing more leaves is an essential part of the growth, because more leaves mean an increased capacity to photosynthesize, which means they can create more energy to direct towards further growth.
However, once your plants enter the flowering stage, it's important to stop using nitrogen to prevent issues with plant growth and bud production.
How Much Nitrogen To Give During Each Stage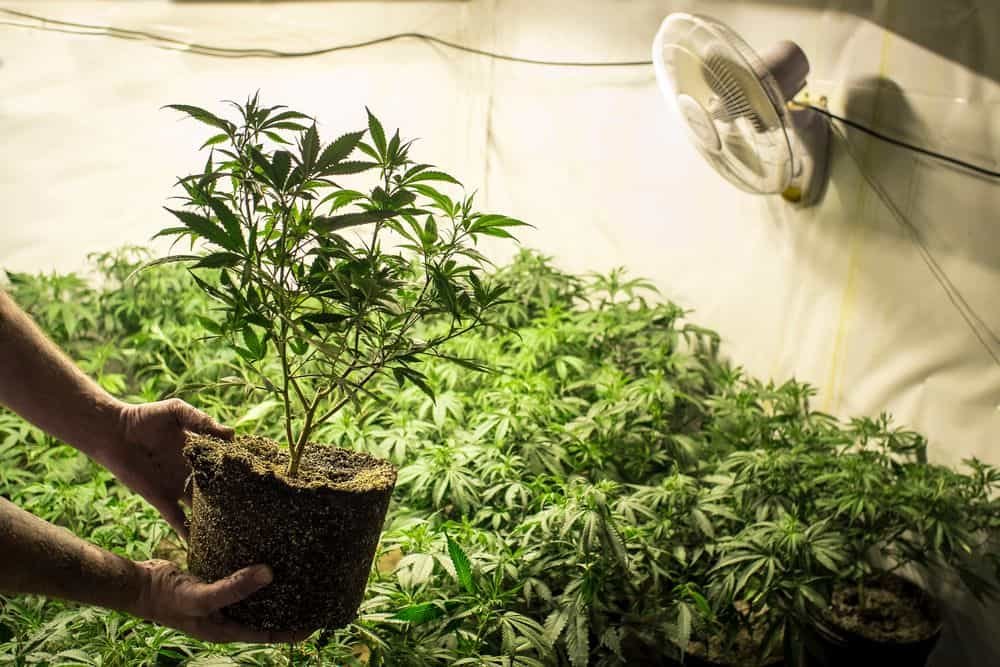 Along with nitrogen, your plants also need differing levels of phosphorus and potassium as they grow. Phosphorus has the chemical symbol P, potassium has the chemical symbol K, and nitrogen is denoted by the symbol N.
You should note how much of each of these nutrients is present in your fertilizer by checking its NPK ratio. Consulting the grower's notes for your selected strain should give you an idea of how much of each nutrient to give your plants at each stage of their growth.
When it comes to the amount of nitrogen to give during the vegetative stage, you should aim for a higher level of nitrogen to encourage healthy foliage growth.
Typically, a ratio of around 3-1-2 (N-P-K) is recommended for vegetative growth. However, it's important not to overdo it with nitrogen, because excessive amounts can lead to nutrient burn and affect the plant's ability to absorb other necessary nutrients.
During the flowering stage, it's important to reduce the amount of nitrogen given to the plant to encourage bud growth and production. Excess nitrogen during this stage can result in tall, lanky plants with fewer flowers, and can even delay the flowering process.
Instead, aim for a nutrient ratio of around 1-3-2 (N-P-K) during the flowering stage, with higher levels of phosphorus and potassium, to promote healthy bud development.
It's also important to keep an eye out for nitrogen deficiency symptoms, which can include yellowing of the leaves and stunted growth. If you notice these signs, it may be necessary to supplement the plant with additional nitrogen.
By adjusting the nitrogen levels during each stage of growth, you can ensure that your plants receive the right balance of nutrients to thrive.
When To Stop Using Nitrogen
Typically, once your plants have entered the flowering stage and have begun to produce buds, it's time to reduce nitrogen, or even to cut it from their diet altogether.
Signs to look out for that indicate your plant is ready to stop receiving nitrogen include the yellowing of older, lower leaves and the overall slowing down of vegetative growth.
At this stage, it's important to transition to a nutrient regimen that is higher in phosphorus and potassium, since these nutrients are essential for healthy bud development.
When transitioning from the vegetative stage to the flowering stage, it's important to gradually reduce nitrogen levels over the course of a week or two to avoid shocking the plant.
You can do this by gradually lowering the nitrogen levels in your nutrient solution or switching to a bloom formula that is higher in phosphorus and potassium.
During the flowering stage, the plant's nutrient demands shift from needing nitrogen to needing more phosphorus and potassium.
Phosphorus is essential for root development and helps promote healthy flower formation, while potassium is important for regulating water and nutrient uptake and can help improve overall plant health and resistance to stress.
When To Stop Feeding Nitrogen During Flower: Final Thoughts
If you want to stop feeding your weed plants nitrogen, you should cut it out during the final weeks of flowering. When the lower leaves on your plants are yellowing, you know it is time to stop.
But not all growers stop giving their plants nitrogen altogether. They cut way back on the nitrogen, but continue giving their plants some, right up until the point they stop feeding any nutrients at all.