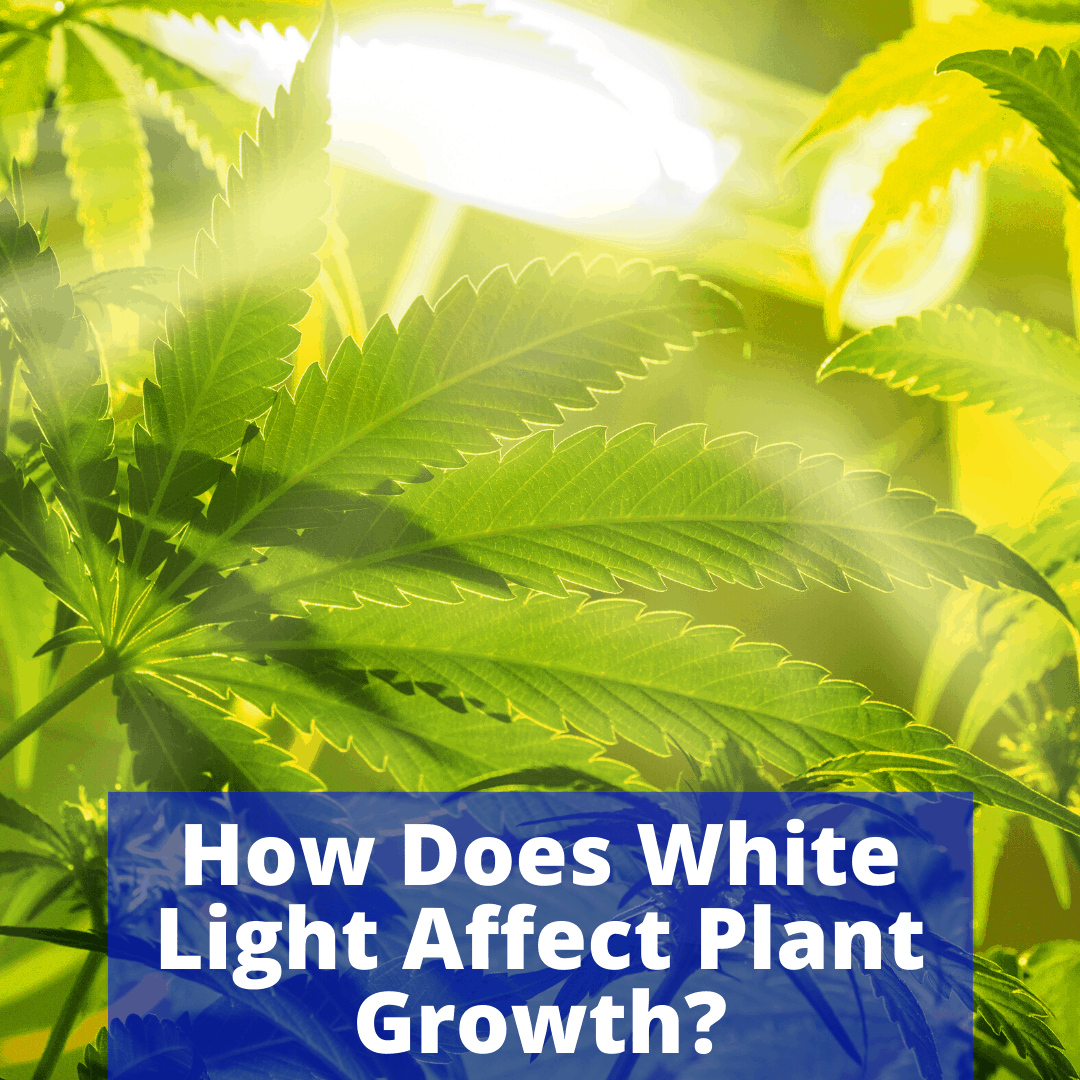 First we were told white light is too inefficient for plant growth.
A combination of red and blue light yields the best results.
Now we are hearing the exact opposite.
So which is it?
The truth is that white light works great to grow plants.
The sun provides white light, after all.
Red and blue wavelengths are the most important for photosynthesis, but plants use all wavelengths of light. And white light provides all wavelengths.
Let's take a closer look at the effect of white light on plant growth.
How White Light Affects Plant Growth
You may have seen the studies that showed white light resulted in the fastest photosynthetic rate, followed by red and blue. While this does show that white light is great for plant growth, it is also a bit misleading.
These studies used only a single color of light, meaning they used either red or blue. When that is compared to white light, which contains all colors, it should be obvious that white light would perform best.
No one has ever said that plants want only red or only blue. It is the combination of the two that was said to be ideal. That combination should have been compared to white light.
That said, the idea that plants use only red and blue has been thoroughly debunked. Plants use all colors and that is exactly what white light provides. Because it provides all colors, and because it is the light that plants receive out in nature, white light is the best light for plants.
High pressure sodium and metal halide bulbs have been growing plants successfully for decades. They provide white light. None of the red and blue LEDs ever really outdid HPS for flowering.
Ceramic metal halide light has improved on HPS and MH to provide a fuller spectrum that is much closer to natural sunlight. And now, white LED diodes are also able to provide a full-spectrum light similar to CMH and to natural sunlight. These white LEDs have finally been able to outperform HPS light.
And that should make the answer to the next question obvious.
Is White Light Good For Plants?
Yes, white light is great for plants. I mean, think about it. What color is sunlight?
It only makes sense that providing artificial light that has a similar spectrum to natural sunlight would work well for plants.
I'm sure you've come across some variation of the following.
Plants need mostly red and blue light for photosynthesis. White light, like sunlight,  contains large amounts of red and blue wavelengths. But it also contains large amounts of green, yellow and every other color.
Because plants absorb primarily red and blue light, those other colors go mostly unused. In the case of the sun, that doesn't really matter, since it is an endless energy source.
But when you grow indoors, you pay for the light. If you use white light, you pay for those unused wavelengths too. That is why the best lights contain only red and blue LEDs. You do not pay for any light that plants don't use, making these fixtures far more efficient.
Sound familiar. That's what we've been told for years.
And who told us this? Mainly manufacturers of "blurple" LEDs, which mix red and blue diodes to produce a pinkish, purplish light.
What a coincidence! The people who sell "blurple" lights are also the ones going on about how "blurple" light is perfect for plants.
But as we learn more about the types of light plants grow best in, the industry has begun moving away from "blurple" fixtures and toward fixtures that use mainly white LEDs. It turns out, the sun had it right all along.
Why White Light Is Best For Photosynthesis
The theory that red and blue light only is best for photosynthesis is based on the fact that plants are green. They are green, because they do not absorb green light, but instead reflect it back. Our eyes see these reflected green wavelengths, which is what gives leaves their green color.
The problem is that this is only part of the story.
Plants do absorb some green light. They just absorb a lot less of it than red and blue. What is more important is that not all of the green light that is not absorbed is reflected back.
Some of it goes through the leaves. Because the green wavelengths are not absorbed as much, they are more easily able to penetrate through the top canopy and reach the lower levels of plants.
This means that green light does a much better job of providing light to the lower parts of plants. In the absence of green wavelengths, these lower portions get virtually no light.
And this is the reason why white LEDs are now resulting in better growth and improved yields over traditional red/blue LEDs.
This wasn't always the case, but technological improvements have resulted in white LEDs that emit the full-spectrum of visible light. And that is the reason for the current white light revolution.
Several LED brands now offer white LED fixtures. Most of them supplement the white light with additional diodes, primarily deep red. This gives an extra boost during flowering and really sets these lights apart. But HID lights are also white and still work well to grow plants.
How To Get White Light
Traditionally, growers used HPS and/or MH light to grow indoors. Both provide white light and are still good options, though they are less efficient than CMH or newer LEDs.
If you want to go with an HID light, we recommend the newer CMH lights over HPS. They offer a fuller spectrum and they are more efficient as well. You can find our review of the best CMH lights here.
But even CMH isn't as good as modern LEDs. At least not the good LEDs.
And two types of white LED fixtures dominate the market: the so-called quantum board lights and COB lights.
Which is better?
That really depends. Both work great, so you can't go wrong with either one. But when it comes to quantum board vs COB, each has its advantages and disadvantages.
White COB LEDs
COBs are powerful LED chips. They pack numerous small LED emitters onto one surface, so that they combine to form a single, powerful beam of light. As a result, they get incredible canopy penetration.
The drawback is that the output is much higher directly beneath the COB and less intense as you move away from the middle, which is always the case when light emanates from a central point.
Powerful COBs also need more distance from the plants, in order to avoid bleaching. Finally, fixtures with multiple COBs will need to be actively cooled. This means noisy fans inside the light fixture.
The best-selling COB fixtures are those made by Amare and Optic LED. Both are American LED grow light brands, but they manufacture their lights in China. They charge a premium.
For that reason, we generally recommend going with a Chinese brand over Optic or Amare, and paying about half as much. The best Chinese brand that makes COB fixtures (ones that are very similar to Optic, actually), is Phlizon.
Phlizon surrounds the powerful white COBs with supplemental diodes that add red, blue, UV and IR light. Half of the COBs emit a 3000K warm white light and half a 6000K cool white light.
You can find our review of Phlizon COB fixtures here.
White Quantum LEDs
Quantum boards are, in many ways, the exact opposite of COBs. Where COB fixtures have a few extremely powerful LEDs, quantum boards have a whole bunch of weak LEDs spread out over a large surface area.
Having hundreds of smaller light sources spread out like that results in a much more even coverage area. It also means you can hang the light closer to the canopy without burning the plants. Plus, the fixtures don't need any fans. Passive cooling is enough.
Naturally, there is a drawback. The smaller LED diodes simply can't get the same deep penetration as a COB can.
HLG is the brand that first introduced quantum boards and they are still the top-selling brand. Their best-selling light uses 3500K warm white LEDs made by Samsung, with the addition of 660 nm deep red LEDs made by Osram.
You can find our review of HLG lights here.
HLG lights are priced well, but they are still outside the budget of many beginning growers. Luckily, there are a few Chinese brands making quantum board style lights that are actually reliable.
The best among them is Spider Farmer, whose lights are very similar to HLG, but with some slight differences in spectrum. They use a mix of 3000K and 5000K white light, plus 660 nm red and 760 nm IR. The main difference is that they cost a lot less.
Our review of Spider Farmer fixtures is here.
If you're looking for the lowest possible prices, you can actually buy directly from China on Alibaba. There are a whole bunch of brands selling quantum style lights on there, but most are not reliable.
The best brand on Alibaba is Kingbrite. They have a ton of options, too.
You can choose from 3 different color temperatures for the white diodes and get fixtures with only white, with white plus deep red, and with both white and red plus additional UV and IR. They also have a bunch of DIY kits, so you can save even more if you don't mind doing a little more assembly.
The problem is that buying from China directly brings a lot of risks and hassles. A few years ago, it might have been worth it, but not at the moment. With the current supply chain issues, there is just too much risk that you never get your light. Or if something is wrong with it (they have high failure rates) it takes forever to get a replacement and you have to ship it back at great cost to you.
As for which one of the above full-spectrum white LED lights we recommend, it really depends. If you want the deeper penetration and bloom boost of the COB fixtures, then go with Phlizon.
If you prefer the quantum boards and have the budget for the best, go with HLG. If you are on a limited budget, go with Spider Farmer. If even those are outside your budget and you can accept the additional risk and possible hassle of buying directly from a Chinese company, then give Kingbrite a try.
How Does White Light Affect Plant Growth: Final Thoughts
When LED grow lights first came out, every manufacturer tried to convince us red and blue light only is the best way to grow plants. Now we know that is not true. Plants need light in every color, and that is exactly what white light provides.
I mean, sunlight is white light, after all. These days, most LED manufacturers offer a number of different white light fixtures and the prices have come down too. This makes it much easier to give our plants exactly the light they need.