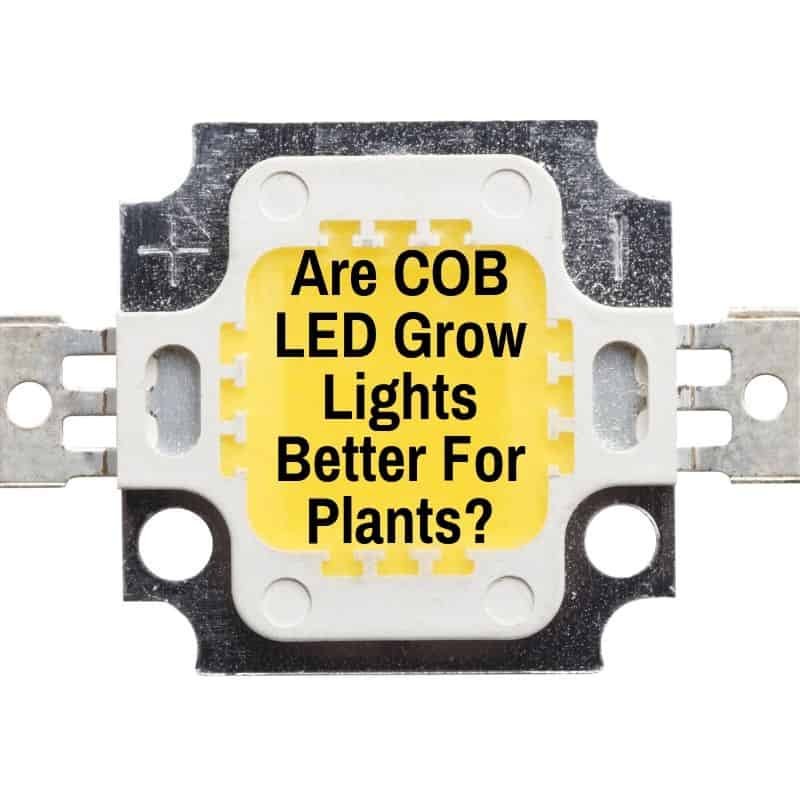 Are COB LED grow lights really better for growing plants?
That's not an easy question to answer with a simple yes or no.
But I can tell you this: they are very good at both growing and flowering plants like cannabis.
Better than most alternatives, that's for sure.
In this brief article, we will take a look at why COBs are so great and also make sure you know which ones are actually worth getting.
Not all are and many of the cheaper Chinese made COBs are actually completely worthless.
But before we get into that, let's cover the basics and see what a COB actually is and how it works as a grow light.
What Is A COB Grow Light?
COB stands for Chip-on-Board and refers to the way LED diodes are packed together. With chip-on-board technology, many tiny LEDs are mounted in close proximity on a substrate to form one single module.
In essence, they are combined to form a single, extremely powerful, light source.
This contrasts with a surface mounted diode (SMD) technology. SMD is how standard LED grow lights are built.
Single diodes are mounted individually to a surface. They can be fairly close together, but not nearly as close as the tiny diodes that make up a COB. As a result, SMD LEDs each function as a single point of light.
These points of light are generally 3w or 5w chips, with some manufacturers now using 10w chips. A single fixture contains many of these chips.
COB LEDs, on the other hand, function as a single powerful light source and a fixture is made up of only a few of them. In some cases, a single COB makes up the entire fixture.
How Does A COB LED Work?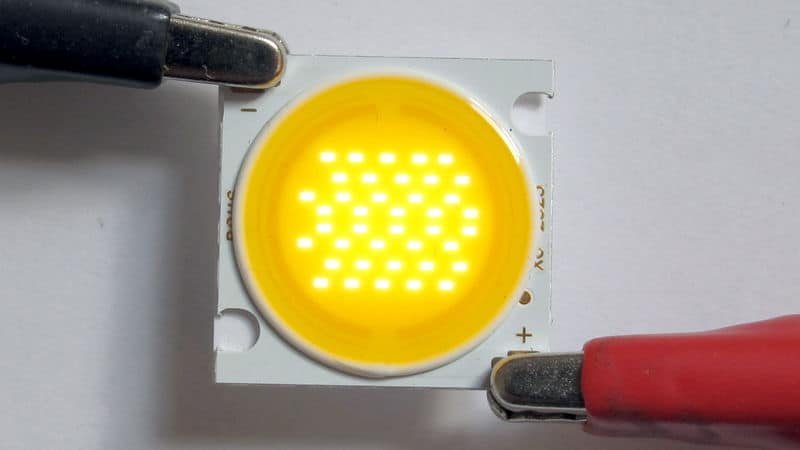 One of the big advantages of COB LED systems is their simplicity. You only need a handful of components and it is actually quite easy to just rig up your own grow light (many do just this). Here are the basic components you need:
the actual chip-on-board LED itself
a heat sink to keep the COB cool
an LED driver to power the COB
wires to connect the COB and driver
optional: COB holder
optional: reflector
Here's how a light with a single COB works. A light with multiple COBs works the same way, except you only need one driver to power multiple chips.
First you need to mount the COB. Most of them have screw holes in them, so you can just screw them down, but you are better off getting a holder.
Most COBs have matching holders that are specifically designed to both mount the COB to the heat sink and to make connecting the wires as simple as possible. It is definitely worth getting a holder.
The holder fits over the COB and then screws into the heat sink. You connect the wires by pushing them into the terminals of the holder, which leads to the contact points on the COB. Nice and simple.
The heat sink the holder screws into is a passive heat sink, which is basically just a piece of metal that the COB presses tightly against so that heat is transferred away from the delicate chip.
To get the best connection possible and draw away the largest amount of heat, you want to use a thermal interface, like a thermal pad or thermal paste. It goes on the back of the COB, where it presses into the heat sink.
You can also use active heat sinks, which are basically fans that blow air over the the chip to cool it down. They use less space, but if they fail, the COB overheats and is destroyed.
LED drivers take the alternating current (AC) from your outlet and convert it into the direct current (DC) that COBs require. They also allow you to dim the power, and thus the light.
The driver is wired to the COB. If you have several COBs, the driver is wired to each one and they are also all wired to each other.
If you want, you can add a reflector and/or a lens. Both help direct the light from the COB into more direct (and also more intense) beams of light or spread it out over a larger coverage area, which also makes the light less intense.
And that's basically it. That's how a COB LED grow light works. You can see why many people choose to simply build their own. It is not that difficult and it saves money.
That said, horticultural COB LED lights have come down drastically in price and you can now get some great ones for not all that much more than you would pay to buy all the components, especially if you buy cheaper Chinese made COBs.
I would not recommend that, however, and would make sure to use quality components.
What is a quality component? We'll get into that in a second.
First, let's see why you might want to go with COB LEDs to light your plants, as opposed to traditional LED light, or SMD (surface mounted diode) LED.
COB Vs SMD LED For Growing
Surface mounted diodes are still by far the most common type of LED grow light. Why, then, should you consider a COB LED grow light? Let's take a look at why you should and why you perhaps should not.
Advantages Of COB LED Chips
These are the biggest advantages of COB LEDs for growing:
Higher light density: many small diodes in a tight space makes for a much higher light density, meaning you need less space to produce more light
Deeper canopy penetration: since COBs function as one large LED chip (up to 120w) they are much more powerful than a single diode and penetrate far beneath the canopy
Great spectrum for plants: COBs are available in a number of colors, but the most common for growing are warm white and cool white; many fixtures combine the two for a great plant light spectrum
Great spectrum for humans: the white light means your plants look basically the same as they would under sunlight; no more pinkish or purplish glow that hides issues until its too late
Better light spread: since COBs are usually placed fairly far apart on large fixtures, they cover the plants below more evenly than a smaller light fixture that has to spread out from a central point
Efficiency: COBs give you more power per input watt and also product less heat
Disadvantages Of COB LED Chips
There are not many disadvantages when compared to SMD LED lights. If you prefer a light made up of mostly red and blue diodes, then COBs would not work for you.
As of now COBs are only available in some colors and the only ones that work well for growing are the white ones or the pink ones, with white being by far the most popular.
Another potential disadvantage comes if a COB fails. If you've only got a handful of them on your fixture, losing one means losing a large portion of light. With a SMD LED, losing one diode does not impact the overall output much.
That said, usually many diodes are connected to the same driver on SMD LEDs, so you would usually lose many at once.
COB Light Vs LED
I get asked about his a lot, but always find it strange, because COBs are LED lights. I know people who ask this mean standard SMD LEDs, but still. Anyway, the differences were already discussed above.
COB LED Vs CREE
CREE is a manufacturer of LED chips. They make COBs as well as standard diodes. They are widely considered one of the top LED manufacturers and their COB LEDs are the best on the market. Which brings us to…
Best Full-Spectrum COB LED Chip
The industry standard COB LED chip is currently the CREE CXB3590.
It is the chip used in most of the top COB grow lights on the market. It is also more expensive than most other chips, but the build quality and efficiency make it worth the price for many.
Take a look at the data sheet provided by CREE. It is long and full of figures, but it shows exactly why the CXB3590 is the gold-standard.
Should you pay more and get a light using these CREE chips?
That's up to you.
If you are making your own light, I'd definitely stick to the CREE CXB3590, or perhaps a Citizen COB.
If you are buying a ready-made light and want one with the CXB3590, take a look at the best COB lights on the market by Rapid LED.
Personally, I feel there are a two brands of ready-made lights that offer better deals.
One of them uses Bridgelux COBs and the other uses different model CREE COBs. As a result, both cost significantly less than lights using the CXB3590.
In addition, both brands combine the COB LEDs with supplemental diodes, which gives you an even better spectrum for plants.
Those two brands are Phlizon and Aglex and they make the two highest-scoring lights in this review and comparison of all the best COB LED grow lights on the market.
Are COB LED Grow Lights Better For Plants: Final Thoughts
COB LED grow lights are better than the traditional blurple lights. They get a better canopy penetration and they have a better spectrum. However, they are not necessarily better than quantum board style or bar style lights.
Both of those types get a much more even light spread than COBs. For most growers, this is what they need. However, if you only have a single row of plants, or even just a single plant, the light spread is less important. Then you want the deeper canopy penetration of COB LED grow lights.