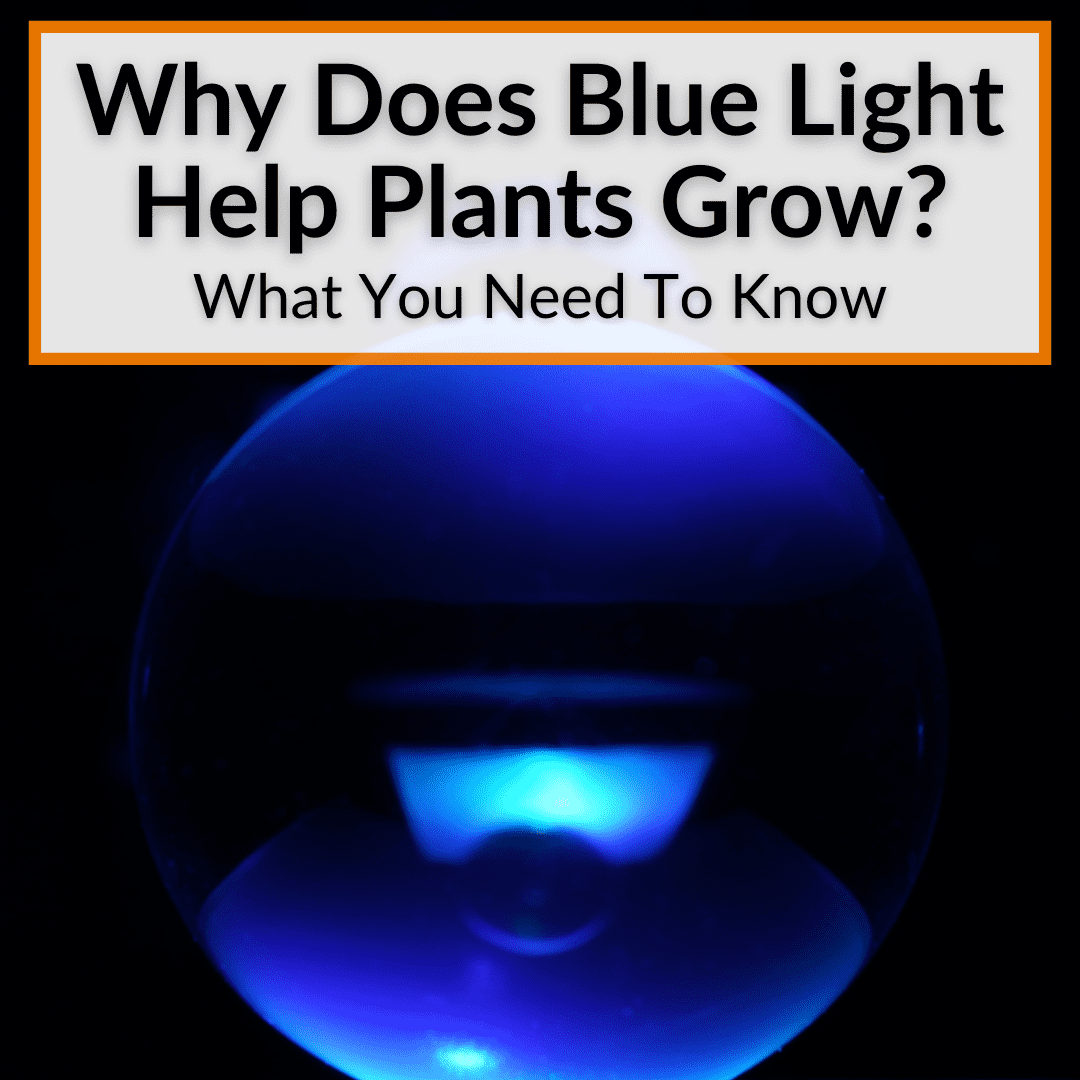 I think we all remember when LED manufacturers told us plants need only red and blue light to grow.
It was only a few years ago, after all.
Today, we know that plants use every color of light.
Although they do primarily need red and blue light.
Why is that? Why does blue light help plants grow?
And how does it compare to red light, in terms of what it does for plants?
Keep reading to learn all about plants and blue light. We will cover everything you need to know about the function of blue light in plant growth and development.
Why Does Blue Light Help Plants Grow
Blue light helps plants grow, because it stimulates the production of chlorophyll. Chlorophyll is the most important ingredient needed for the photosynthetic process. And that process is what causes plants to grow.
Let's look at how blue light promotes photosynthesis, before examining what blue light actually is and how it compares to other colors of light when it comes to plant growth.
Why Does Blue Light Promote Photosynthesis?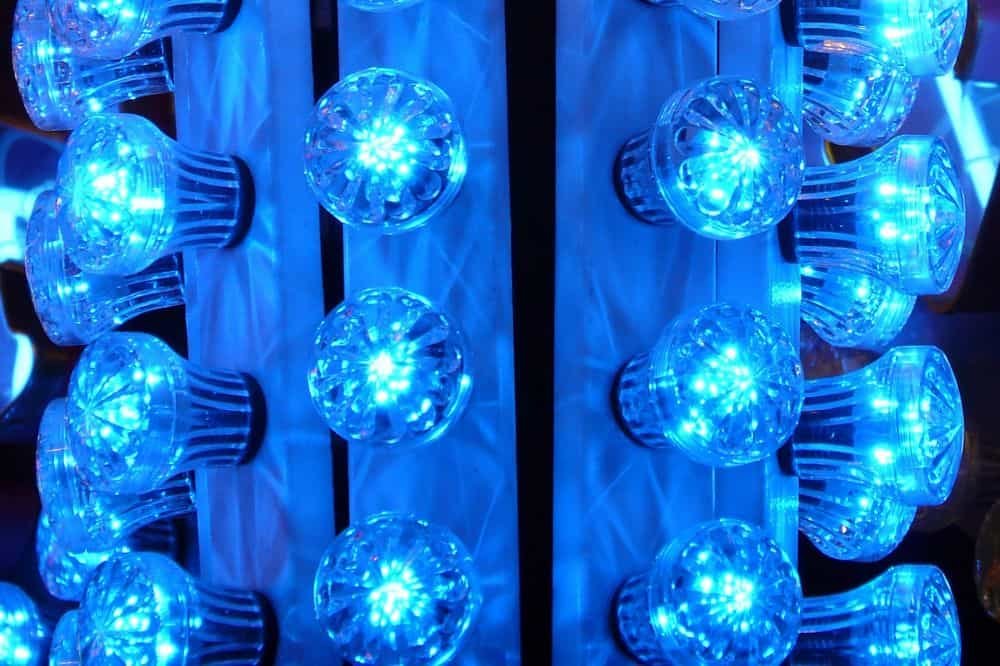 Blue light interacts with the leaves in such a way that the stomata on the tips of the leaves open up and let in more carbon dioxide. More carbon dioxide is essentially more fuel for the plant to grow.
Carbon dioxide along with water and nutrients from the soil all play an essential role in the photosynthetic process.
Something about the wavelength of the blue light helps the process along, although we are not certain, on a cellular level, what is happening when blue light interacts with the leaves of a plant. But we do know that blue light stimulates photosynthetic processes.
What Is Blue Light Exactly?
Blue light is part of the color spectrum, just like red or green light is. It is a high-energy visible light. It has a most beneficial effect on humans and plants, but where does it come from?
Blue light is blue because of its wavelength. Just as sounds sound different to our ears based on the frequency of the waves, light looks different based on its wavelength as well.
Blue-colored light has a wavelength between 450 and 495 nanometers. Red light, on the other hand, has longer waves, at 620 to 750 nanometers.
To put this in context, all of these these wavelengths are extremely short. A nanometer is one billionth of a meter, so these wavelengths are all only around 1/1,000,000th of an inch.
The shorter wavelengths mean blue light can penetrate water much better and deeper. That is why underwater plants need much more blue and much less red than other plants. If you use LED lights for coral or aquatic plants, a light with much more blue is ideal.
Is Blue Light Better Than Red Light For Plants?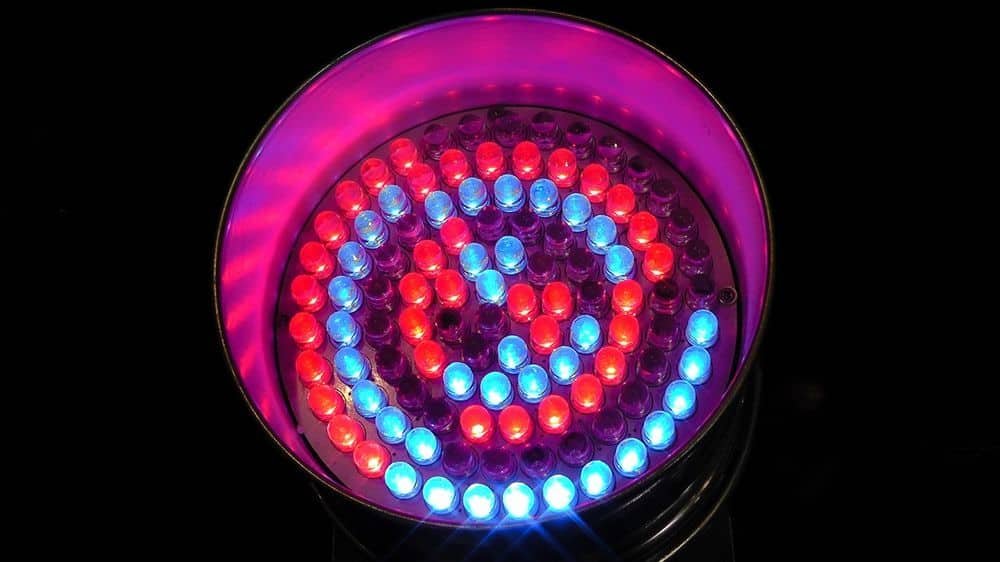 No. In fact, both colors are equally necessary for plant growth. This is the reason you used to see so many growers with those "blurple" lights in their grow rooms.
LED grow lights with primarily red and blue diodes were once almost the only type of lights that were available and they are still somewhat popular today.
But these days, the industry favors LED grow lights with full spectrum white light vs red and blue. But blue light and red light are the two most important colors for plant growth. They both do important, and different, things.
What Does Red Light Do?
Red light helps plants produce fruit and flowers. Red light is also important at the beginning of a plant's life. It helps the plant germinate, develop bulbs, and grow roots.
Overall, it is good at helping a plant grow and develop at the proper pace using the plant's resources in the best way possible.
If you have only red or only blue light hitting your plants, they would be missing key benefits that the other color of light provides. Ideally, you should have red and blue light in your setup.
Many argue that those are the only two important colors. That plants don't really need green or yellow light at all, even though they get tons of both from the sun. These days, far fewer people argue this point than before, but you will still hear it. Is there any truth to it?
Is Blue Light Better Than Green Light For Plants?
While there is serious debate whether green light has any effect at all, the answer to this question is not the least bit controversial. Yes, blue light does a better job than green light at helping a plant grow.
Plants are green, because the chlorophyll in their leaves and stalks is green. We see them as green, because they reflect green wavelengths back into our eyes, while absorbing other colors.
Because they reflect green light, they obviously don't absorb it. Not much of it anyway. That makes green light quite inefficient for the purposes of plant growth.
But this does not mean green light has no use. It is still part of the light spectrum and there is a lot of green light contained in sunlight, which is the best possible light source for any plant.
In other words, we now know that plants need mostly red and blue light to grow, but they also use light in all other colors. That is why the most popular LED grow lights on the market today all emit all-white light. It is closest to sunlight and it contains all colors of light.
Is Too Much Blue Light Bad For Plants?
This question can have several possible answers, depending on whom you ask and in what context you are asking the question. Too much light in general can be bad for plants.
Every living thing, plants included, needs to have a resting time, where there is no light. This is a time to repair and rest. For that reason, the standard recommendation is to provide plants at least a few hours a day without any light.
The other context where too much blue light can be bad is if it results in less red light. For example, plants that are exposed to only blue light tend to be shorter and have smaller and less robust bulbs and flowers.
Red light helps them grow taller and produce flowers and fruit better. Red light can also help make the root system more complete and stronger. So yes, too much blue light can be bad, if it means there is no dark period, or if it comes at the expense of red light.
Do Plants Need Yellow Light?
Yellow light is not very important to plant growth. But it does still serve a purpose. As mentioned, sunlight contains all wavelengths, including yellow. Plants don't use much yellow light , but they benefit from having some.
As with green light, this is the reason most growers now prefer LED grow lights that emit a full spectrum white light. That way the plants get all colors, just as they do in nature. Most of these grow lights have additional red diodes, since plants do need more red light.
The white light already contains sufficient blue light. Which brings us to our next question.
Do LED Lights Have Blue Light?
Yes, LED lights do have blue light. Modern LED grow lights that emit a white spectrum light give you all colors in the color spectrum. That is what white light is: a combination of all colors.
And of course, the traditional LED grow lights that had primarily red and blue diodes had a lot of blue light. And some LED grow lights are only blue. These are mainly good as a supplemental light, to add some extra blue light to your grow room, which can be helpful during vegging.
One of the main benefits of LED lighting is that you can have any color light you want. The light comes from individual diodes and you can engineer them to be any color.
Is Blue Light Efficient?
Although blue light is important to help plants grow, it is actually quite inefficient as a light. Most of the energy contained in blue light is not utilized by the plant. It is simply wasted. For this reason, not much blue light is needed in a growing setup.
As long as you have plenty of red light and some white light for illumination in the room itself, you just need a conservative amount of blue light. A little goes a long way and a lot of blue light has diminishing returns.
Blue Light And Plant Coloration
Blue light can influence the color of the leaves a plant produces. Since blue light helps promote the production of chlorophyll, a lack of blue light may result in discolored leaves. On certain plants with purple leaves, lack of blue light may result in the normally purple leaves appearing green.
Blue Light Precautions
Blue light is a very high-energy light and you need to respect this. You should not look directly into a blue light source, even if it appears to be very dim.
Our eyes are not as good at seeing blue light as other colors and blue light photons can cause damage to your eyes fast. The problem is that we perceive blue light to be dimmer than it is, so be careful.
How Does Blue Light Affect Plant Growth: Final Thoughts
Plants need blue light for photosynthesis, the process at the heart of plant growth. Without blue light, plants can't grow. But they need more than just blue light. They also need a lot of red light. Far more than blue, in fact.
And we now know that plants use light in other colors as well. They need primarily red and blue light, but also some light in every other color.
That is why the most popular grow lights today all emit full-spectrum white light, with additional red light diodes. White light contains light of all colors and the additional red gives plants a big boost, especially during flowering. These are the best LED lights for growing plants.