The LED grow lights we recommend on this site are mostly Chinese brands.
With one exception: our top recommended brand.
Simply put, the best Chinese brands offer a better value these days.
Many American LED grow light brands are horrible.
They sell the same lights that Chinese brands sell, but for several times the price. They simply slap their own label on them.
But there are also excellent US grow light brands.
Of course, their lights do cost a lot more. But for many, the higher price is worth it.
And the one exception we mentioned above actually keeps their prices quite low. That's why they are our top recommended brand.
Keep reading to learn which American brand is our favorite, plus the other top LED grow lights made in the USA. If you have the budget, these are the best lights on the market.
LED Grow Lights Made In USA
We will begin this list with our favorite LED grow light manufacturer of them all. As mentioned, we love them because they make simple, yet excellent lights and sell them at a price much lower than other US brands.
Horticulture Lighting Group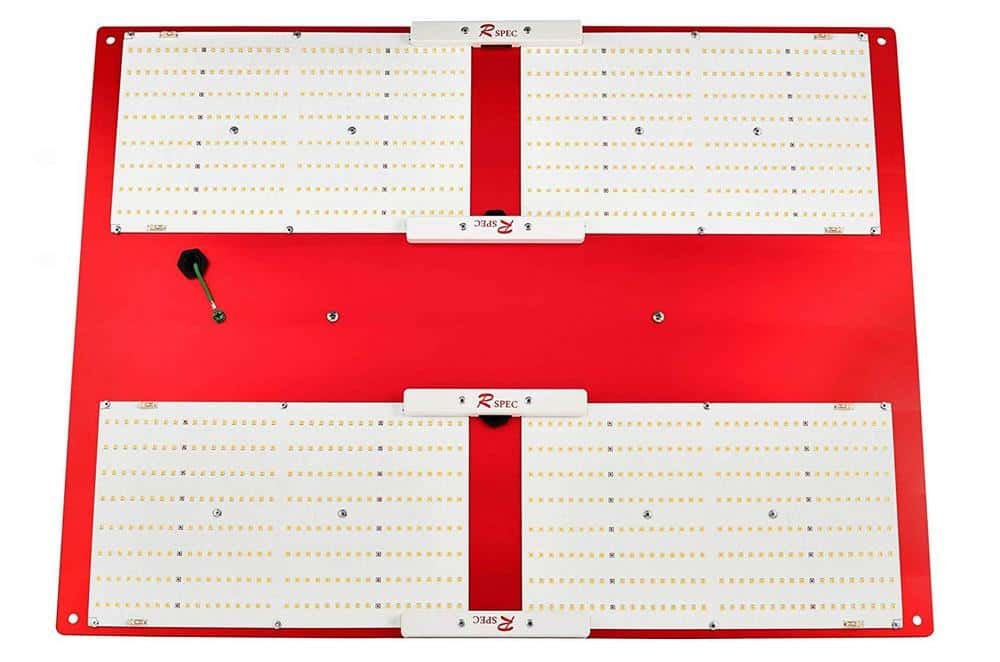 HLG is based in eastern Tennessee. They specialize in highly efficient full-spectrum LED grow lights for home and commercial applications.
While the detailed history and story of how the company began are not readily available, they merged out of two small (and somewhat shady) operations.
They have improved all areas of their operations and are currently one of the bigger players in the LED grow light game.
They are a manufacturer as well as a seller. They sell directly to consumers and offer wholesale sales to LED grow light distributors, too. They have a large catalog of lights and lighting accessories, more than most other smaller LED manufacturers here in the USA.
They have a unique product line that addresses the specific needs of cannabis growers, which is one of the key reasons they have grown to be such a major presence in the industry.
Products & Price Points
They produce very affordable and utilitarian LED light boards, among other things, but the key takeaway is that they offer LED boards that the average home grower could afford.
Their prices range from under $100 up to $1499 for the HLG Scorpion Diablo, which is the most expensive board they offer.
As mentioned earlier, they have quite a few LED lights, but the most common and popular format are their LED boards, which they named quantum boards.
These are basically flat surfaces with LED light strips mounted on them, in different configurations, sizes, and output capacities. Some of the most well-known are:
HLG Scorpion Diablo
HLG 600 Rspec
HLG 350R
HLG 250 Veg Pro
HLG Blackbird
HLG Blackwing
You won't find fans or fancy attachments, just good LED lights with power converters and quality mounting hardware.
They do offer some controllers and other devices, but the lion's share of their product line are utilitarian LED boards that almost any grower can afford. Of course, it is all made in the USA too.
You can learn much more in our review of HLG LED grow lights.
Chilled Tech
This USA-based LED grow light company operates out of Arlington, Washington. They have their own in-house R&D team and their own manufacturing capabilities as well.
They can build to order, which makes it easy for commercial growers to tell them exactly what they need and then they can build it to spec. This is not something every LED company does.
The business was started by Vitaly. When he got diagnosed with UC, a disease that attacks the colon and is very uncomfortable and makes life miserable, he decided he needed to start eating healthy foods to help his symptoms.
Unfortunately, the healthy food aggravated the symptoms. He had to eventually get surgery to remove his colon. With the colon removed he was finally able to start eating home-grown healthy greens and vegetables.
Because of the high cost of good greens and veggies and the need for him to get high-quality greens for his health after the surgery, he began growing plants in his basement.
When he discovered he needed some lights that would help the plants grow that did not cost too much money to run, he started experimenting with LED lights, and eventually figured out how to make his own.
He designed and built some lights and they turned out to be very effective. And so, the company was born.
Products & Price Points
They offer several commercial and DIY grow light options called the Growcraft line. These products are LED light bars mounted on 2 rails and they vary from 3-bar options to six-bar options. The six-bar options are called Growcraft X6 and cost about $999.
There is also a small mini grow light called the Growcraft X1 Mini, which is a 65W single-strip grow light. This small home grower light costs about $165.
At the top end of their product line is the Growcraft Ultra which goes from a 3-row fixture to a six-row fixture and tops out at $1799.
California Lightworks
California Lightworks make more than only LED grow lights. They also make enclosures, LED boards, and more.
The company has been manufacturing grow lights in the United States since 2008. They operate out of Canoga Park, California. They are focused on the environment and try to reduce the impact of their business on the environment at every step.
They have a reputation for outstanding customer service, and they offer industry-leading warranties on all of their commercial grow light products.
Products
California Lightworks offer a number of different LED grow light series. Let's take a brief look at each of them.
Megadrive Series
The Megadrive series consists of two different variations: the vertical line, and the linear. The premise of the series is to provide plenty of illumination without many other accessories or connections.
Megadrive Vertical Series
The Megadrive vertical series is a lighting system that removes the need for drivers and electrical connections over the canopy which saves money in the long run.
Megadrive Linear Series
The linear series is designed to be smaller and used as needed in any situation. The fixtures in the line can be used to supplement any system, whereas the vertical series is a full-system solution.
Solar System Series
The purpose of the Solar System Series is to replace your existing wasteful HID system. The lights in this line can be installed directly in place of your HID fixtures. They use up to less than 50% of the energy of traditional HID systems.
Solar Xtreme Series
The Solar Xtreme Series is the latest line from California Lightworks. This line features the new Optigrow light spectrum which is a great solution for all the phases of cannabis growth, not just flowering or vegetative.
Pricing
The company sells its products to distributors and other companies and prefers to quote prices on an as-needed basis. They don't provide pricing on their company website.
However, they are on the upper to middle end of the market when it comes to pricing, with their SolarXtreme series priced lower and other series priced higher.
You can learn more on their website.
Sylvane
Sylvane is well known for their climate control systems, air conditioners, and heating systems. The company's focus is on HEPA filters and other products that improve indoor air quality.
The founders started the company to solve the indoor air quality control issue that was rampant at the time.
Sylvane is not a grow light manufacturer. They are a middleman in the grow light industry. They sell only high-quality grow lights, though, so you could say they curate the best lights available.
Even though they are not an LED manufacturer, they are included in this list because they have a big name and lots of people buy their lights from Sylvane.
The grow light division is just a small part of the main company. The company does not focus on lighting. Instead, it is an indoor air quality company that just happens to sell some really good grow lights, right here in the USA.
Products & Price Points
They have a variety of LED grow lights for sale from many different manufacturers such as:
Horticulture Lighting Group
NextLight
ChilLED
ThinkGrow
And a handful of other well-known companies. They offer free shipping on orders above $35 which is easy to do since the average fixture is well over 300 dollars.
They do have a good reputation for fast shipping and good customer service as well. This reputation is one of the reasons they are on this list. Many companies and individuals buy lights from them based on their reputation.
Find out more on Sylvan's website.
Spectrum King
Spectrum King started as a little startup company in a Los Angeles garage. The founders were growers before they ever decided to try to make a lighting company.
During their years as growers, it dawned on them that working all day under the very hot and inefficient HPS lights was completely unnecessary.
They got tired of the ridiculous electric bills and uncomfortable conditions in the grow room, so they sought to make lights that had high output but not all the heat and waste.
The breakthrough finally happened when an experimental LED fixture produced much bigger and more substantial crops than ever before seen with LED lights. They patented their technology and began making more fixtures. And here they are now: one of the industry leaders here in the United States.
Products & Price Points
Spectrum King do not have a massive product line. In fact, they only have four offerings as of now.
Phoenix 1050W
The Phoenix 1050W is the most powerful light they have. It will cover a 6×6 foot area with full spectrum LED light. It has SK Cyro-Therm cooling technology which makes it burn cool and keeps the form factor smaller than the competition.
Phoenix 340W VEG
The 340W is designed specifically for the veg stage. It also uses SK Cryo-Therm tech. This fixture's light color spectrum is optimized to give plants the specific light they need during the vegetative stage.
Phoenix 680W
The 680W was made to replace the popular 1000W DE HPS fixtures, using 36% less power while delivering similar output.
Phoenix 840W
The Phoenix 840W is made for crops that need intense light. This fixture uses 16% less power than an HPS fixture. It saves money while putting out intense light. Be careful to use this only on your photon-hungry plants.
The prices for their fixtures range from $549 to $1,049.00
Spectrum King's website has more.
Black Dog LED
In 2010 the founder of Black Dog LED, Corey, spent more than a year looking for high-quality LED grow lights he and his grower friends could use.
The problem back then was that the LED grow light industry was mostly hype, and there were very few LED grow lights powerful enough to replace the wasteful and expensive HID lights that were the standard at the time.
So Black Dog LED was created out of necessity and frustration. The company is made up of engineers and growers who have a unique and qualified perspective. They are based in Colorado, where they research and manufacture high-quality LED grow lights.
Products & Price Points
They have a good number of products, which is impressive for the 12-year-old company. They have fixtures for commercial growing or residential growing setups. They also sell grow kits, accessories, and grow room optics.
They offer a 90-day warranty on all their products. Their most popular products are the Pytomax products. Some of these are:
Photomatix-3 Commercial LED Grow Lights
Phytomax-3 Professional LED
Phytomax-3 Home LED
Their Phytomax products are LED lights housed in an enclosure that has built-in ventilation systems and fans.
Their products are not cheap and have an average sale price of about 1500 dollars. Keep in mind their products are a complete solution in one box.
Learn more on the Black Dog website.
Scynce LED
This company, which pronounces its name like 'science', approaches the business with its main focus being on bigger, better yields instead of only focusing on power savings. The staff is a mixture of people who have years of experience in different industries such as:
Military
Marine
Architectural
Theatrical Lighting
All this experience in varied areas of expertise helps to inform the products and technologies they are focused on.
They are located in Mesa, Arizona, and manufacture their products here in the USA. They have been in business since 2008 and are in the INC 5000, which is impressive for a grow light company.
Products & Price Points
They have a handful of products, instead of a massive product line. This means the lights they do sell are well-refined and kept up to high-quality standards.
Their most popular product line is the Raging Kush line and the Dragon Alpha. This is not a complete list, but here are some of the most popular products they offer:
Raging Kush II Overdrive
Raging Kush II
Dragon Alpha II
Raging Kale II
Theia Echo Air
Theia Echo
Theia Tempo
Apogee PPFD sensor
The fixtures range from $1295 up to just about $1800, with some of the smaller items, like the Theia wireless controllers, priced from $395 to $995.
They are in the mid to mid-high end of the market, with a focus on commercial fixtures and applications.
Get more info on the Scynce website.
USA-Made LED Grow Lights: Final Thoughts
There are other American LED grow light manufacturers out there, but these are the largest and most reputable ones.
There are also a number of US brands that do not make their lights in the US. We left those companies off this list, but they include some of the bigger names in the industry, like Kind LED or Optic LED.
Since they manufacture in China, there are some quality control issues. Their customer service is also pretty bad, especially Optic's. If you're going to pay more for a US brand, stick to one of the ones above.
In general, HLG is our favorite, since they keep costs down and make excellent lights. Again, you can learn more about HLG in our review here, including an overview of their top lights.