Plants need light to grow.
In nature, the sun provides that light.
When you grow indoors, plan lights take over the job.
But not all plant lights are created equal.
These days, LED light is the best option for most. A big reason is the LED grow light spectrum.
Unlike other types of lighting, the spectrum of an LED light can be just about anything you want.
This allows manufacturers to give us the ideal light spectrum for plants. But there are different theories as to what the ideal light is.
And that has led to many different LED plant lights with varying spectra on the market. Keep reading to learn everything you need to know about the different spectra of LED grow lights.
LED Grow Light Spectrum
LED diodes can emit just about any color you want. And manufacturers can choose which colors, and how many diodes of each color, to include on a fixture.
This allows them to design light-emitting diode grow lights to provide different types of light for different stages of plant growth. They do this in varying ways, which has led to three main forms of LED plant lights.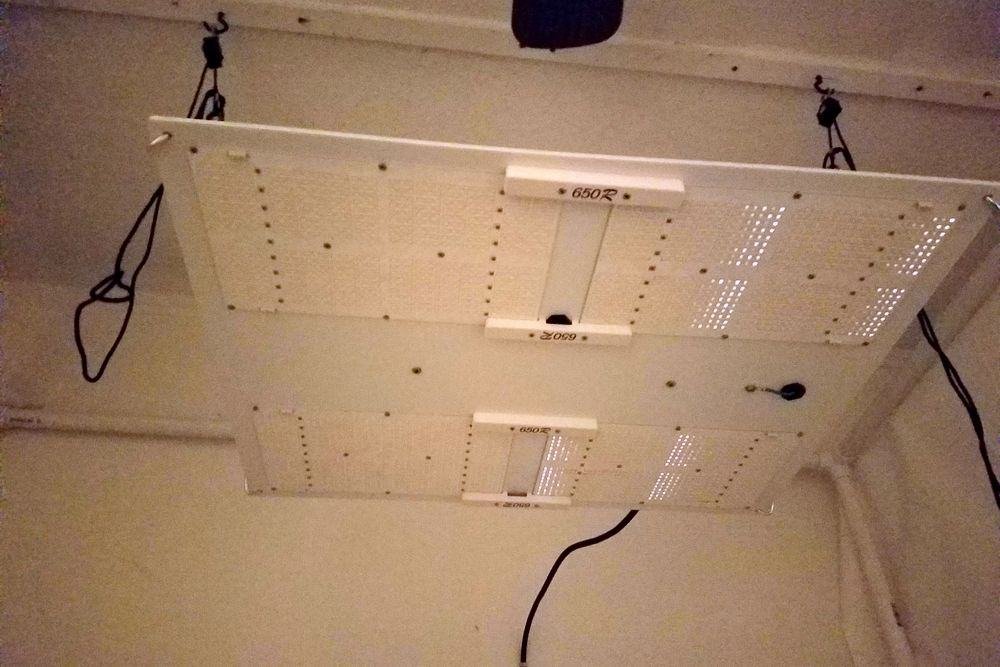 There are those that emit a full spectrum of light, those that emit a broad spectrum of light, and those that give you a targeted spectrum. Let's take a look at all three. But first, we need to define exactly what we mean by "light spectrum."
Light Spectrum Defined
The term "light spectrum" refers to the entire range of electromagnetic radiation, including both visible and non-visible light. Electromagnetic radiation consists of electromagnetic waves, which are synchronized oscillations of electric and magnetic fields.
Different frequencies of oscillation produce different wavelengths. Electromagnetic waves of different wavelengths will have different effects on your plants.
The full light spectrum contains, in order of decreasing wavelength, radio waves, microwaves, infrared radiation, visible light, ultraviolet radiation, X-rays and gamma rays.
But full spectrum LED grow lights do not emit all of these. Most emit only visible light, while some also have IR and/or UV diodes.
Full Spectrum LED Grow Lights
LED grow lights that are labelled as being full spectrum have been designed to closely mimic the light emitted by the sun. Full-spectrum LED grow lights emit light across the range of wavelengths and have been proven to be efficient in stimulating plant growth.
Models from different brands will vary slightly, with different brands having different amounts of white, red, and blue LEDs. Blue light is helpful during the initial stages of growth, while red light has been shown to increase productivity during the flowering stage of growth.
When comparing different models, have a look at the light spectrum chart in the specifications. It will show you how much of each type of light that particular model emits.
This information can determine how helpful the grow light will be during the various stages of your plants' growth. The peaks in the red and blue light ranges are especially important for plants. As mentioned, some LED fixtures also emit light in the infrared or ultraviolet wavelengths (usually UV-A only).
Broad Spectrum LED Grow Light
Broad-spectrum LED grow lights are similar to full-spectrum models, but the light they emit is more balanced across the spectrum. While the light spectrum charts for full-spectrum LED grow lights are characterized by peaks and troughs (with peaks in the red and blue light ranges) the light spectrum chart for broad-spectrum LED grow lights show a more even spread, with less obvious peaks and troughs.
These lights provide similar levels of the all-important blue and red wavelengths. But while the light spectrum chart for a full-spectrum light dips in the middle ranges, the broad-spectrum grow light chart does not dip in the mid-ranges.
Targeted Spectrum LED Grow Light
The third main type of LED grow light are those that emit a targeted range of light. Glancing at the light-spectrum chart will highlight how this works.
The chart will essentially have one or two peaks, with pretty much nothing registering in the mid-ranges. Targeted-spectrum LED grow lights are designed to emit lots of red and blue light, which are most beneficial during the flowering and vegetative stages, respectively.
In the past, the theory was that plants need only red and blue light, so it is best to provide only those wavelengths. That is why the "blurple" lights (with only, or mostly, red and blue diodes) were so popular a few years ago.
Now we know that other colors are also important. As a result, white LED grow lights have taken over the market. White light contains all wavelengths (i.e. light in all colors).Our article comparing the red/blue LED grow lights vs full spectrum has more on this.
Some targeted spectrum LED plant lights emit only red or only blue. These types are best used as supplemental light to give a boost to your plants during a specific stage of growth.
Many growers will have a full-spectrum white LED grow light as their main light source, and then add a targeted-spectrum LED grow light to give extra blue light to stimulate more leaf growth in the earlier growth stages, or more red light as the plants move into the flowering stage.
LED Light Spectrum For Growing Plants: Final Thoughts
The LED grow light spectrum can vary greatly from one fixture to another. That is one of the biggest strength of LED light for plants. Manufacturers can tailor the light their fixtures emit specifically for plant growth.
The reason there are so many different spectra on the market is that there are different theories as to which light makeup is the best. Some say only red and blue light is best for plants, while others say a full-spectrum white light is best (the current leading theory).
Then there is the issue of UV and IR light. Many believe adding one, or both, of these types of light to the mix is beneficial. Others say it's just a marketing gimmick and has no real effect on plants.
It can get confusing. The good news is that whatever you believe, there is a light out there that will deliver that spectrum. And if not, you can even make your own LED grow lights fairly easily!
If you're not sure what type of light you want, I'd go with one of the leading LED grow lights on the market. They are the top sellers for a reason: they provide the spectrum most growers prefer. That said, all LED lights help plants grow. The best ones just do it better.