Grow lights will increase your electricity bill.
By a lot.
There is not much you can do about that.
How much do grow lights cost to run?
That varies greatly. Some cost a lot less that others.
We will cover which ones cost the least and help you calculate the cost to run any grow light.
We will also give you some tips for reducing those costs a bit.
Keep reading to learn how to determine exactly how much it will cost you to run any grow light you might be considering. There is a bit of math involved, but it is simple math.
How Much Do Grow Lights Cost To Run?
How much grow lights cost to run depends on many factors, primarily the light's power usage and heat output. We will show you exactly how to calculate a light's running cost below.
There are many factors that determine how much power a grow light uses. Number one on the list is the type of grow light you choose. Let's begin by looking at the different types of grow lights, before getting into the factors that have the most effect on the cost of running grow lights.
After that, we will show you how to calculate the cost of running a grow light and also give you some tips for reducing the cost a bit.
Types Of Cannabis Grow Lights
When it comes to growing cannabis, there are several types of grow lights to choose from. Each has its own advantages and disadvantages, though LED grow lights are now easily the best option for most growers.
The most common types of cannabis grow lights are High-Pressure Sodium (HPS) lights, Light Emitting Diode (LED) lights, Fluorescent lights, and other High-Intensity Discharge (HID) lights, like Ceramic Metal Halide (CMH), Metal Halide (MH), and more.
HPS Grow Lights
HPS lights have long been a popular choice for cannabis growers, because they emit a spectrum of light that promotes plant growth and yield. However, as members of the HID family, they use a lot of electricity and produce a lot of heat, which means you need more cooling equipment. That leads to even higher energy costs.
These days, it does not make much sense to go with HPS lights, if you are starting a new grow. The only type of HID light that is worth investing in are ceramic metal halide lights. Learn more about HID vs LED grow lights here.
CMH Grow Lights
Ceramic metal halide lights emit a spectrum that is much closer to natural sunlight that other types of HID lights. They are also more efficient and emit less heat. That is why CMH lights make far more sense than HPS or MH nowadays. But they still lag slightly behind LED lights. Quality, ones, of course. See the best CMH lights here.
LED Grow Lights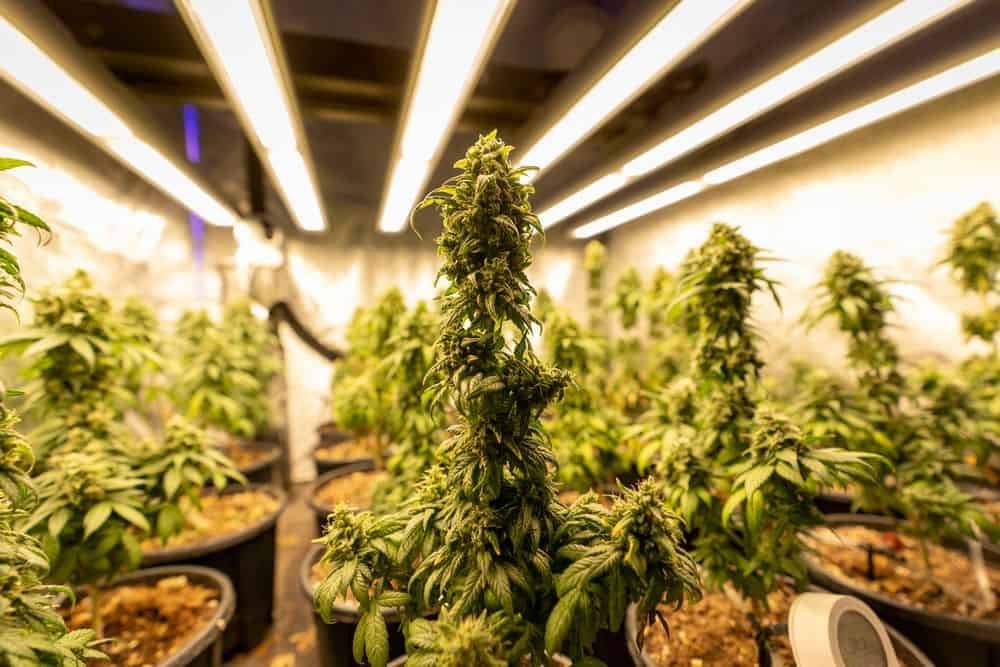 LED lights are the most energy-efficient option. They will save you money on your electricity bill in the long run. They produce less heat than HPS and other HID lights of a similar wattage as well. That means you need to use less energy for cooling, which further reduces your power bill.
LED lights are also known for their durability and long lifespan. But perhap their best feature is that you can design LED fixtures with any spectrum you like. Today's top LED grow lights give you a full spectrum white light similar to sunlight, with additional red for an added boost to yields. In other words, exactly what plants need.
Fluorescent Grow Lights
Fluorescent lights are another energy-efficient option (though not as much as LED), but they are not as powerful as HPS, LED, or other HID lights. They are a good choice for small-scale growers who want to keep their energy costs as low as possible, but are not powerful enough for larger grows.
Other HID Grow Lights
Other HID lights include Metal Halide (MH) lights and Low-Pressure Sodium (LPS) lights. MH lights are similar to HPS lights in terms of their energy consumption and heat output, but they emit a different spectrum of light that is better suited for the vegetative stage of growth.
LPS lights are not commonly used in cannabis cultivation, because they emit a narrow spectrum of light that is not optimal for promoting photosynthesis or plant growth.
Factors Affecting The Cost Of Running Grow Lights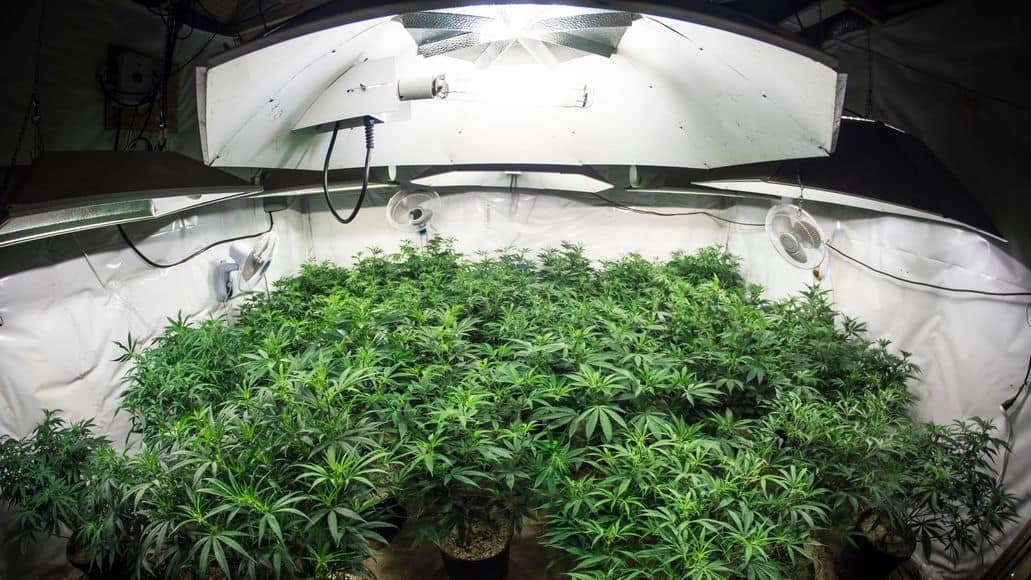 By understanding the factors that influence the cost of running your lights, you may also be able to take steps to reduce your overall energy consumption and lower your overall expenses without reducing your yield. Here are the primary factors affecting your power costs.
Grow Light Wattage
One of the primary factors that affects the cost of running your cannabis grow lights is the wattage of the lights. The higher the wattage, the more electricity the lights will use and the more it will cost to run them.
Hours Of Operation
Another important factor to consider is how many hours per day you run your grow lights. The longer the lights are on, the more electricity they will use, and the bigger your electricity bills will be.
And it is not just the power for the lights. You will also need to power ventilation and cooling equipment to deal with the heat from the lights.
Local Electricity Rates
The cost of electricity can vary significantly depending on where you live, so it's important to research the rates in your region to get an accurate estimate of how much it will cost to run your grow lights.
Keep in mind that rates can also fluctuate over time, so it's a good idea to monitor them regularly, especially in the current economic climate. Oftentimes, rates are lower at night, so it might make sense to run your lights during the nighttime hours.
Calculating The Cost of Running Grow Lights
To calculate the potential cost of running your cannabis grow lights, you'll first need to determine how much electricity they're using. You can do this by multiplying the wattage of your lights by the number of hours per day you run them.
For example, if you have a 600-watt light and you run it for 18 hours per day, your daily electricity usage would be 10,800 watt-hours, or 10.8 kilowatt-hours (kWh).
Next, you'll need to find out how much you're paying for electricity in your area. Check your electricity bill or contact your utility company to get the current rates. In this example, let's say your rate is $0.15 per kWh.
Then you can calculate the cost of running your grow lights by multiplying your daily electricity usage by your electricity rate.
Using the example above, your daily cost to run the grow light would be $1.62 (10.8 kWh x $0.15/kWh). Multiply that by 30 days, and the monthly cost of running the light would be $48.60.
Remember, this is just an estimate and your actual cost may vary depending on your specific situation. Having multiple lights running would obviously multiply your bill.
You would also need to factor in the electricity used by any cooling equipment you will need. But you can use this method of estimating cost for different types of light, and then compare the figures to see which will be the cheapest for you to run.
Tips For Reducing The Cost To Run Grow Lights
Next, we will go over some tips that can help you reduce the costs of running your grow lights a bit.
Choose Energy-Efficient Grow Lights
One of the best ways to reduce the cost of running your cannabis grow lights is to choose energy-efficient lights, such as good-quality LED lights.
Although they may be more expensive upfront, they can save you money in the long run by using less electricity and lasting longer than other types of grow lights. They also require less cooling. Our article on the differences between expensive LED grow lights and cheap ones has more.
Optimize Grow Room Temperature And Humidity
Keeping your grow room at the right temperature and humidity can also help reduce the overall cost of your grow
If your lights give off too much heat and the room is too hot, you will need to use cooling systems such as fans, air conditioners, or exhaust systems to keep the grow room temperature within a suitable range for the plants, which will increase your overall energy usage.
Similarly, if the humidity is too high due to the heat from your grow lights, you will need to use dehumidifiers or ventilation systems to circulate air and remove excess moisture from the room in order to prevent any mold growing, which will also increase your energy usage.
Opting for lights that give off less heat can help keep the bills down. Again, this means LED grow lights are your best bet. But don't fall into the trap of thinking they give off no heat. Powerful LED lights get very hot. They just don't get as hot as other lighting types.
Take Advantage Of Off-Peak Electricity Rates
Many electricity providers have peak and off-peak electricity rates. By scheduling your plants' dark time to coincide with peak electricity rates (often in the afternoons), you can save money on your energy bills.
How Much Do LED Grow Lights Cost To Run?
As mentioned, LED grow lights cost less to run than other types of grow lights that give you the same output. To determine how much an LED grow light costs to run exactly, use the same calculation from above.
With LED grow lights, you need to make sure you use the actual wattage of the light for your calculation. Many brands, especially the Chinese ones, give you a wattage figure that is ridiculously high, because they know many consumers think the wattage is equal to the power of the light.
It is not. Wattage tells you how much power the light uses, not how much it consumes. The inflated wattage number is basically useless, so look for the actual power draw. Some brand bury that info far down on the product page.
How Much Does It Cost To Run A 1000W LED Grow Light?
First you need to determine if the light actually uses 1000 watts, or if the manufacturer simply calls it that but it uses less (generally around 600 watts). If the light actually uses 600 watts, then we already ran through that calculation above.
If it uses 1000 watts, simply run through the calculation again using 1000 watts, instead of 600. At 18 hours a day, that gives you 18 kWh. Assuming the same power costs ($0.15/kWh) gives you a daily cost of running the light of $2.7 ($0.15/kWh x 18 kWh). Multiply this by 30 to get a monthly cost of $81.
How Much Grow Lights Cost To Run: Final Thoughts
Using the simple calculation we gave you above, you can figure out how much it will cost to run any grow light you are considering for your indoor garden.
The only information you will need for the calculation is the wattage of the grow light (actual wattage for LED grow lights) and the electricity cost in your area.
Grow lights will cost a lot to run, no matter what. But you can reduce that cost a lot by choosing lights that are more energy efficient and that run cooler (LED grow lights), and by running your lights at times when electricity rates are lower.