Dimming has really come into fashion!
Most of the popular LED grow lights now include a dimmer knob.
But should you actually use it?
Should I dim my LED grow lights, or does it actually harm them?
There was always a lot of debate about dimming the ballast with HID lights.
Does dimming LED grow lights have the same effect on the diodes?
Keep reading to find out. We will cover everything you need to know when it comes to dimming down your LED grow lights.
Should I Dim My LED Grow Lights?
Yes, you should dim your LED grow lights at times when you do not need the full output. Not only does it save electricity, but it also means you don't have to adjust the height of the lights to ensure your plants don't get too much light.
You do not have to worry about the effect dimming has on the diodes. They do not suffer any damage when they run at a lower power, unlike HID bulbs.
Dimmable LED grow lights allow you to tailor the amount of light your plants receive according to their specific needs. This is important because your plants need different amounts of light at different stages of growth.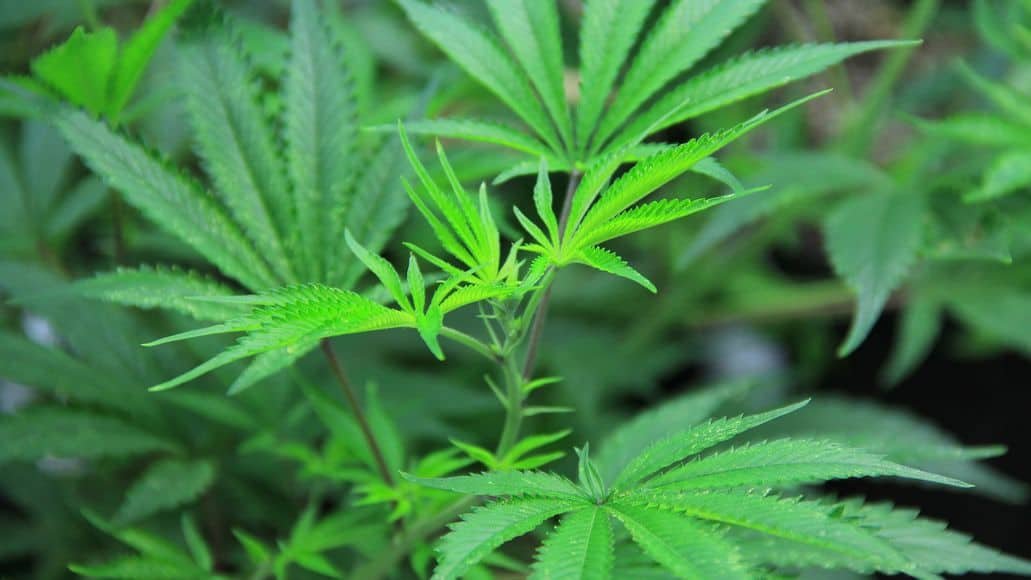 While you can adjust the intensity of light to a certain degree by moving your lights closer or farther away from the tops of your plants, that is not always an easy or convenient method. And it affords you less control.
Full-spectrum dimmable grow lights not only offer the option of dimming light, but some also allow you to alter the amount of white, red, and blue light emitted.
This means you can adjust the light to suit the different needs of the different growth stages, such as increasing the blue light during the vegetative stage and increasing the red light during the flowering stage.
What Are Dimmable LED Grow Lights Exactly?
Dimmable LED grow lights enable you to easily regulate the light intensity emitted by the system. You can increase or decrease the light intensity, depending on the needs of your plants at different times in the growth cycle. This saves you money on electricity costs
When you adjust the dimmer, you are changing the amount of current flowing through your grow lights, and the more current flowing, the brighter the light emitted.
In contrast, light output will diminish, if you decrease the amount of current. With dimmable grow lights, you can provide your plants with the right amount of light needed at the different stages of the growing cycle, and sometimes also adjust the color of the light emitted.
Advantages Of Dimmable LED Grow Lights
Dimmable LED grow lights have a number of key advantages over ones that are not dimmable. That is why most lights on the market these days have a dimming function.
LED Bulbs Consume Less Energy
LED grow lights are the most energy-efficient lights currently on the market, and using them over other types of grow lights can help you save money in the long term. Over time, the money you save on your monthly energy bills will start to add up, making LED grow lights the most popular option at the moment.
Tailor The Amount Of Light
With a dimmable LED grow light, you can reduce and increase the intensity of light being emitted to suit your plants' specific needs. The needs of your plants will change as they progress through their grow cycle, and you can easily make the necessary adjustments without needing to adjust the height of your lights.
Tailor The Color Of Light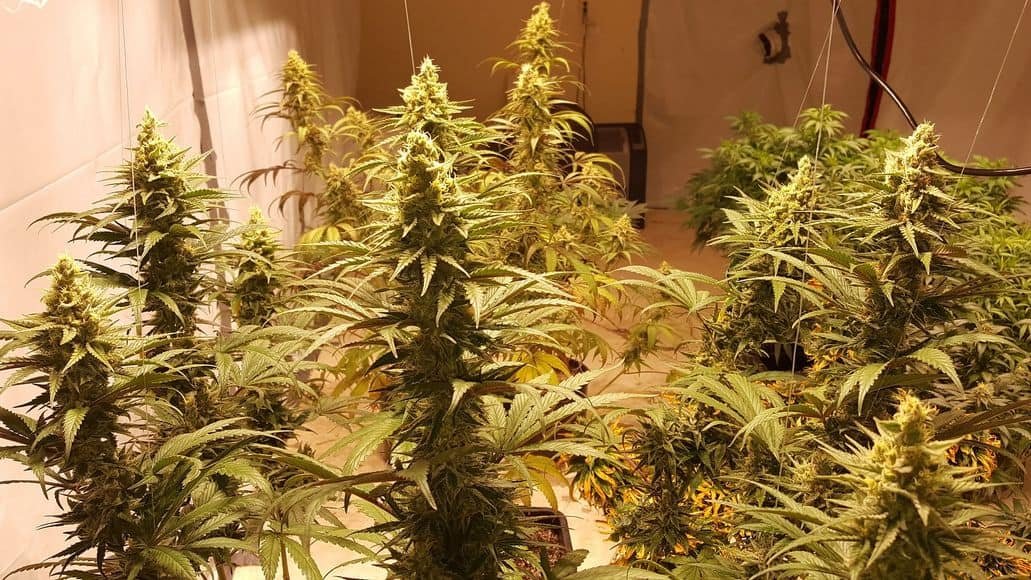 Young plants, in the seedling and vegetative stages of growth, like to be bathed in more blue light. When they reach the flowering stage, they prefer more red light. With many dimmable, full-spectrum LED grow lights, you can also adjust these settings as needed. That said, most of the popular lights today do not have this function.
Save Money
Operating your lights at reduced power when you do not need full power will help keep your electricity costs lower, while still giving your plants the light they need to flourish.
Dimmed Grow Lights Produce Less Heat
If your lights are kicking out less heat into your grow space, you will also be able to save money on running cooling devices. A lower need for cooling will also help lower your energy bills.
Dimming The Lights Also Gives Your Plants A Break
The presence of light encourages your plants to photosynthesize and produce the energy needed for growth. However, your plants will also need some dark time and exposure to reduced light to grow healthily. While it may seem logical that more light equals more growth, a rest period from intense light also helps the plants grow more evenly and move the energy and nutrients around.
When To Dim LED Grow Lights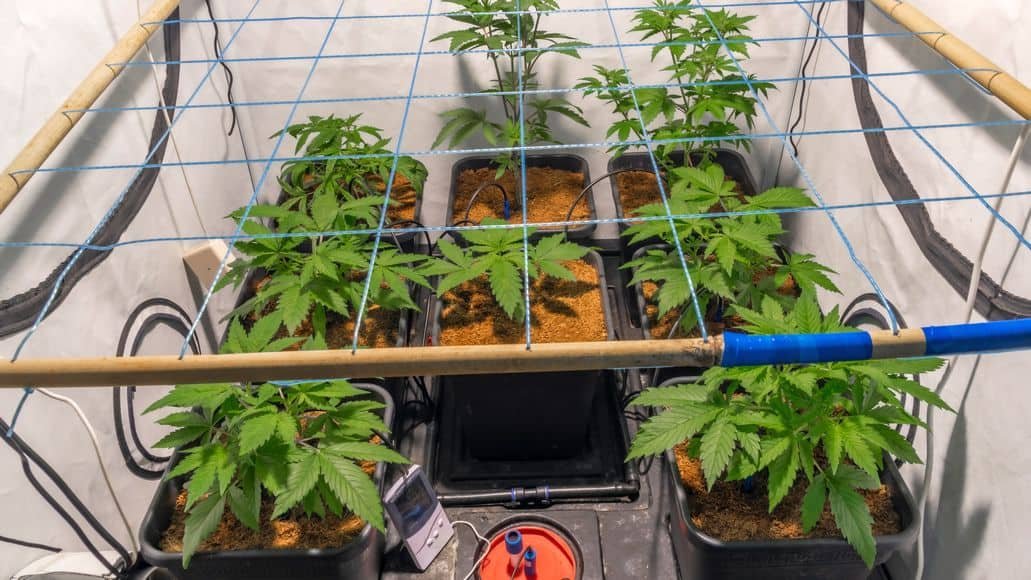 Unfortunately, there is no singular, definitive answer to this common question. There are a few factors at play, and you need to consider them all with regard to your current crop.
First, it will depend on the specific strain of plant you are growing. Different strains have different light requirements, so you will need to adjust the amount of light accordingly as they progress.
Second, think about which stage of growth your plants are in. If your plants are in the vegetative stage, they will need less light than when they are in the flowering stage.
Third, the size of your grow space will be a factor. If you have a large grow space with multiple lights, you may need to dim your lights more than if you have a small grow space.
Also, some growers like to dim their grow lights in the final few days before harvest. Some people opt to remove all light and give their plants a couple of dark days before harvest, and others prefer to just dial down the intensity of the light at this time.
Does A Dimmed LED Use Less Power?
Dimmable LEDs can save energy and, therefore, save you money. Setting your LED grow lights to a lower intensity will result in less energy being consumed.
Can An LED Grow Light Be Too Bright?
Yes. While the amount of light is less of an issue, the amount of heat that comes with the extra light intensity can be bad for your cannabis plants and may even lead to light burn.
How Do I Know If My Grow Lights Are Too Bright?
The most obvious sign is leaf burning. Leaf burn causes the leaves at the top of the plant to turn yellow or brown, but the central 'veins' still remain green.
Do Plants Grow Taller With Less Light?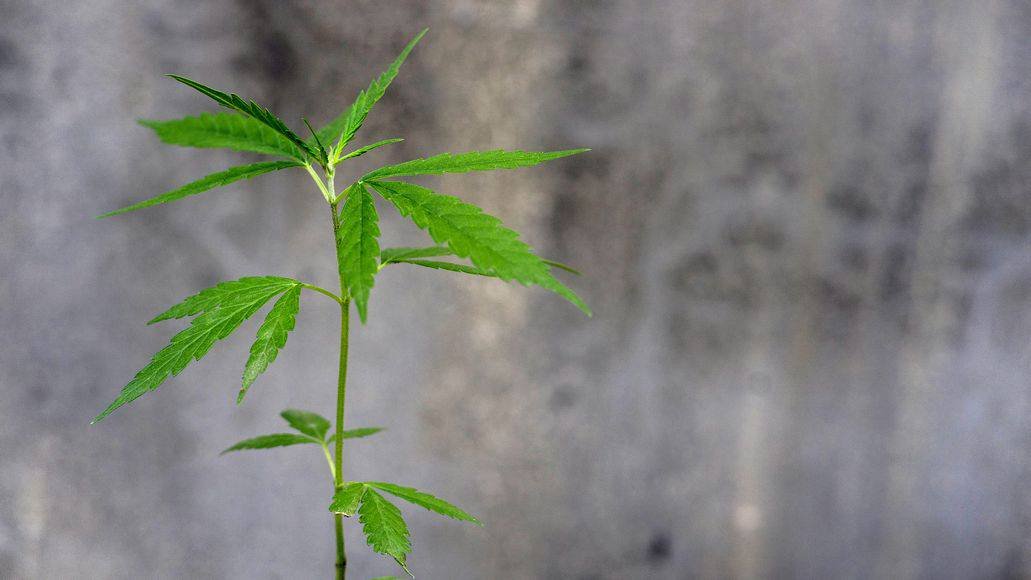 Plants may grow taller in a dark place for a while, but that doesn't mean the yield will be higher. They respond to the lack of light by growing taller and more 'leggy' as they seek out light.
You may notice, though, that the plant's stem and leaves are more yellow and not as leafy as usual. While the plant may be taller, there will be less foliage and, come harvest time, a lower yield.
Should You Dim LED Grow Lights: Final Thoughts
Dimming your LED grow lights does not damage the diodes in the same way that dimming an HID light can harm the bulbs. For that reason, it is a good idea to dim your LED lights at times when you do not need the full power output.
Obviously, this saves you money, but it also saves you a lot of hassle. It is so much easier to dim the brightness of the lights than it is to adjust their hanging height in order to reduce the amount of light and heat that hits your plants.
The added dimming functionality of most modern LED grow lights has really made our jobs much easier (and a bit cheaper, especially with the high cost of power these days)