Getting the right size smart pot is vital to a successful grow.
If you get a pot that is too small, the soil dries out quickly.
You'll have to water constantly or your plant will not get enough hydration.
A small pot also restricts growth.
A pot that is too large takes up a lot of space and needs a lot of soil.
Finding the right balance is key. Luckily, there is one size we recommend for most growers. And there's a simple rule for how much bigger your fabric pot should be than a regular pot.
Let's get right to it.
What Size Smart Pot For Indoor Grow?
The general rule of thumb with smart pots is to double the size you would get with a regular pot. And the minimum size should be 5 gallons.
This means if you'd use a 2 gallon regular pot, go with a 5 gallon smart pot, even though it's more than double the size.
The reason for this is that smart pots dry out much faster, due to the better airflow. This means you'll never end up overwatering, but you'll have to water far more often. It only takes one or two days for a small smart pot (under 5 gallons) to dry out completely.
So what size smart pot should I actually use?
It depends.
If you are growing autoflowering plants, 5 gallons is almost always the best size. For other strains, 5 gallons is usually best, too.
However, if you plan to let your plants get larger, you'll want a larger pot. This applies to both vertical height and a weed plant that you spread out horizontally through low-stress training, etc.
Depending on how large you let the plant get, you'd want to go up in size to a 7 gallon, 10 gallon or even 15 gallon pot.
Can I grow more than one plant per pot?
You can, but we don't recommend it. You can certainly grow multiple plants per pot, like having 3 plants in a 15 gallon pot, instead of 3 separate 5 gallon pots.
But this results in competition for resources. In the end it's just better to give each cannabis plant its own pot. If you're using pots big enough for multiple plants, use smaller pots, instead of adding more plants.
Which Fabric Pots Are Best
Honestly, there's no need to pay for the most expensive brands on the market. Cheaper ones work perfectly fine and are a much better value for money. These pots from Vivosun are great and cost very little.
Are Smart Pots Really Better Than Regular Pots
They are. They have a number of big advantages that far outweigh the disadvantages.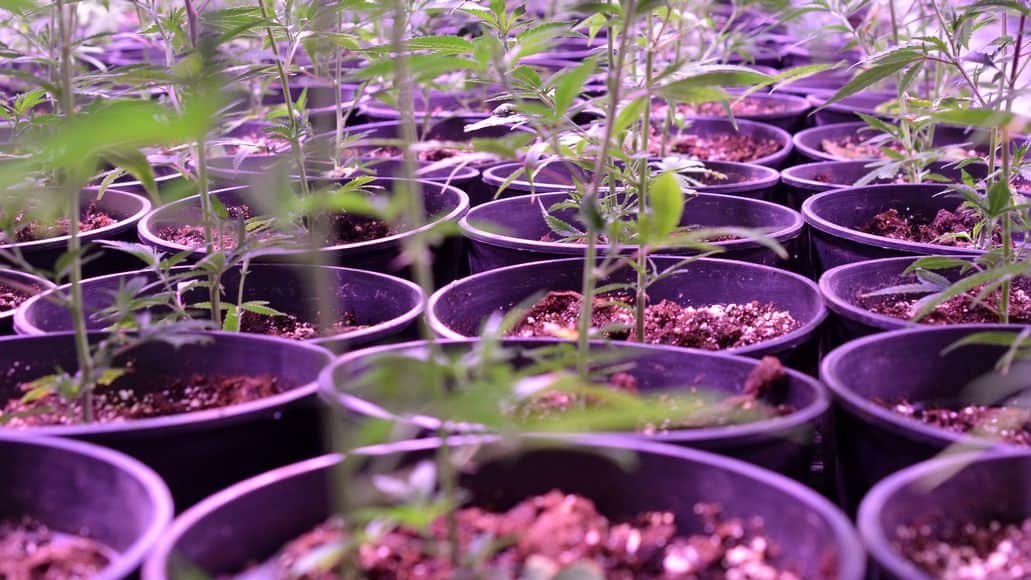 Smart Pot Advantages
Below are the biggest advantages of using fabric pots to grow marijuana. I did not include price as an advantage, because smart pots cost more than cheaper regular pots. They still sell for a low price, though.
Faster Growth
The plant roots get a lot more oxygen in a smart pot, because air can easily pass through the fabric. The increase in oxygen results in much faster growth, which is especially evident during the vegetative stage.
Plants Don't Become Root Bound
When plants become root bound, their roots run into the edge of the container and have nowhere to go, so they grow along the edge and wrap around it. Eventually, they end up choking the plant.
You need to know when to transplant marijuana seedlings to prevent them from becoming rootbound. Or you can just use smart pots.
This does not happen in a a smart pot, because air can pass through the wall and "air prune" the roots.
When roots are exposed to large amounts of air, they stop growing automatically. This is what happens as they reach the edges of the pot.
The resources that would have been used to continue to grow that root are diverted to other roots that are still contained within the soil. This further increases the rate of growth of the marijuana plant.
Even if a root does make it to the edge of the pot, since the pot if made of fabric, the root does not get diverted and wrap around the edge. Instead, it pokes out through the fabric. Then it is exposed to even more air and gets automatically pruned.
Nearly Impossible To Overwater
The porous fabric makes it easy for excess water to escape and also allows air into the pot to help dry out the soil. The result is that the roots will never become waterlogged.
This is one of the biggest advantages of fabric pots for beginning growers.
Overwatering is one of the more common issues inexperienced growers face and it can lead to all kinds of problems, including things you may not think are related, like rust spots on the leaves or them turning yellow or various other symptoms of a nutrient deficiency in your marijuana plants.
Naturally, this also means you'll have to water your plants far more often. We discuss this in more detail below in the section on disadvantages of fabric pots.
Easier To Grow In A Shorter Space
Smart pots are generally wider and shorter than a regular pot. This means your plants won't need quite as much vertical space. The difference is not huge, though. But the squat size does lend itself much better to growing wide plants instead of tall ones.
Plants Won't Tip Over
One of the reasons smart pots are well-suited to growing larger plants, especially ones you train to grow wide, is that they are almost impossible to tip over.
The squat shape keeps them firmly on the ground, no matter how large you let your cannabis plant get. A taller pot is much more likely to tip over.
Smart Pot Disadvantages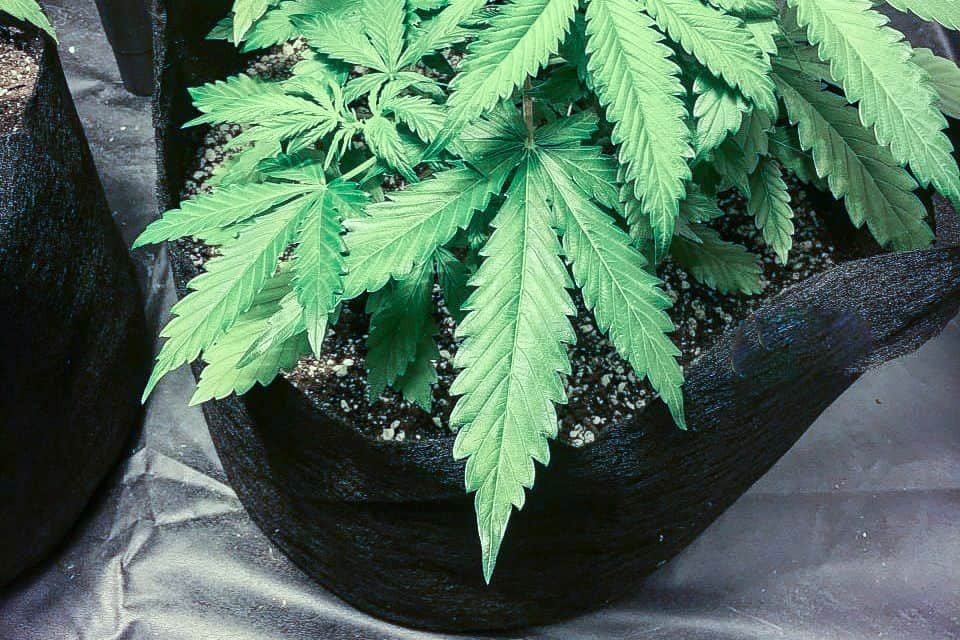 As you'll see, there are not a lot of cons and they aren't really big disadvantages either. I did not list price here either, because smart pots are very reasonably priced, even if they cost more than cheaper regular pots.
Tons Of Water Runoff
One of the advantages was that smart pots don't hold water and thus make overwatering practically impossible. The flip side of this is that the escaping water has to go somewhere.
With fabric pots, you'll need a much larger saucer or tray to catch the runoff water. This saucer will need to be emptied more often and having so much excess water raises moisture levels in the air, so you'll need to take steps to decrease humidity in the grow tent.
Most grow tents come with a waterproof tray, which is great to have in case the saucers ever overflow. A good budget option with excellent trays is the Vivosun line of tents. Read our review of Vivosun grow tents to learn more.
Another disadvantage of larger saucers is that they also take up more space. And that brings us to our next disadvantage.
Require More Space
Because they are wider, smart pots take up more space. You will not be able to fit as many of them into your grow tent and you would regular pots. Add to that the larger tray or saucer, which takes up even more room.
However, if you train your plants to grow wide, this in not going to be a problem anyway. It's really only an issue if you let your plants grow tall.
Higher Watering Requirement
As you might expect, you'll need to water your weed plants far more often in smart pots. Since the soil dries out much more quickly (one of the biggest pros), you'll need to stay on top of the watering to ensure the roots have sufficient moisture.
Best Smart Pot Sizes: Final Thoughts
Fabric smart pots result in faster growth and they make overwatering impossible. This makes them one of the best choices for your marijuana grow.
But since they dry out so quickly, you generally need to use larger pots than you normally would. Try to get a smart pot that is twice the size as the regular pot you would otherwise use.
The minimum size should be 5 gallons, since anything smaller will dry out very quickly. 5 gallons is the best size for most growers, with 7 also being good, if you want to let your plants grow a bit larger. If you want huge plants, go with 10 or even 15 gallons.
If you're looking for some help with the entire growing process, you can download Robert Begman's comprehensive Marijuana Grow Bible for free.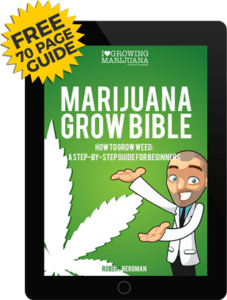 It's the best free grow guide we've seen. The reason he doesn't charge is that he knows a lot of people will end up buying seeds from his seed bank after getting a lot of value from the book. But there's obviously no obligation to do so. It is our top-rated seed online bank though, so if you need them, there's no better place to get them.