Transplanting a cannabis plant is never good.
At best, it slows development somewhat while your plant gets used to its new home.
At worst, your weed plant suffers full-blown transplant shock and may even die.
So why do it at all? Why not just grow your seedlings in a large pot to begin with?
That is definitely a possibility.
We address it below and explain why it is generally better to start your plants in a small pot or seedling tray.
Of course, we will also cover when to transplant your marijuana seedlings. The timing is important. Too soon and your plant will not be ready for the larger pot. Too late and it will have become rootbound and suffer stunted growth.
When To Transplant Cannabis Seedling
The ideal time to transplant cannabis seedlings to a larger container is immediately prior to their outgrowing their existing container, before the roots get too cramped.
When growing cannabis plants, it's essential that you give your young plants the best possible start in life. Starting seedlings in small pots allows them to grow quickly and develop healthy roots.
The small amount of growing medium in a small pot can dry quickly, allowing the roots to receive a better supply of oxygen. However, if you leave them in the small pot for too long, the lack of space will lead to the plant becoming "rootbound." This will choke the plant, leading to stunted growth.
You have probably seen advice to just grow the seedlings in a larger pot from the start. That is certainly possible and it does make things easier, but there are some key advantages to starting plants in smaller pots.
Why To Start Plants In Small Pots
If you're going to need to move your plant from a small pot to a larger growing vessel, you may be asking yourself, "Why not just start in a larger pot from the beginning?"
There are a few reasons it is better to start in a smaller pot. The most important one is to promote healthy root growth, which will result in a bigger and better harvest.
You need to treat cannabis plant seedlings with care, to ensure they get the best start in life. One advantage of starting your seedlings off in smaller pots is that it makes it easier to ensure that the roots do not get waterlogged.
Smaller pots allow the growing medium to dry out more quickly. This helps prevent root rot and also allows your plants' roots to take in more oxygen in between waterings.
A waterlogged growing medium will prevent your seedlings from getting enough oxygen, and larger pots with a greater volume of growing medium will not dry out as readily.
Another reason to start your cannabis plants off in a smaller pot is that you can never guarantee every single seed will successfully germinate. If you plant twenty seeds in large pots, you will need a lot more growing medium to begin with than you would when starting them off in smaller vessels.
You will likely have a few of those seeds failing to germinate. No, you don't necessarily need to throw that soil away, but it's still a waste of resources, time, and effort.
What Sized Pots To Start With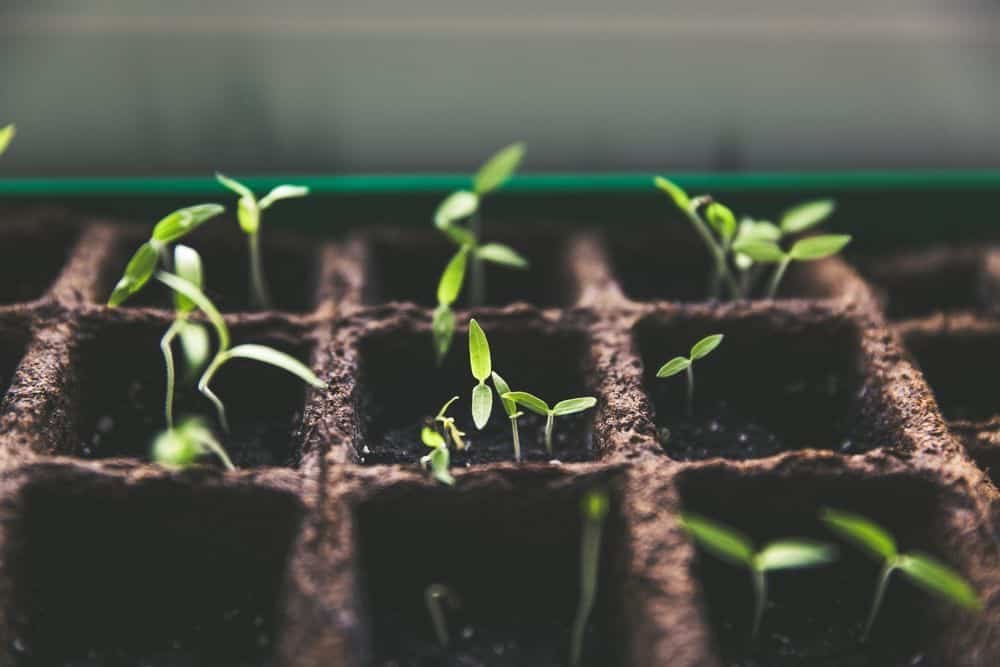 Starting your plants off in a seedling tray is a great way to give them a good start in life. Seedling trays contain many individual cells and are a convenient way of planting numerous plants without taking up too much space.
Each individual cell has enough space for one seedling to start developing healthy roots. Ensure the seedling tray has a drainage hole at the bottom of the cells to prevent waterlogging.
Seedlings have delicate roots, and too much water early on will hinder their development. Take care not to overwater the seedlings—the soil should dry out before you water them next. Allowing the soil to dry out makes it easier for the roots to take in oxygen, which is as essential to their development as water.
How To Tell When Your Plant Needs A Bigger Home
At this point, it is important to understand the different stages of a cannabis plant's life cycle. Your plants will go through three main stages of growth: the seedling stage, the vegetative stage, and finally, the flowering stage.
You will need to transplant your plants once the seedling stage has finished, or immediately before the vegetative stage begins.
There are many different strains of cannabis plants available and there is no one magic amount of time that works for every strain. You should do some research regarding the strain you wish to grow to get an idea of the timeframe.
But you should also still keep an eye on your plants. The same strain will develop at different rates in differing conditions.
A rule of thumb is that your plants should be ready to transplant when they are somewhere between two and four weeks old. But again, different strains develop at slightly different rates. That is where the leaves come in.
You want to pay attention to how many sets of true leaves have sprouted. The first pair of leaves that seedlings develop are called cotyledons (seed leaves). Do not count these.
True leaves are the ones that start to grow after these cotyledons. You should look for between four and five pairs before considering repotting into a larger vessel.
How To Transplant Cannabis Plants Correctly
When it is time to transplant your seedlings, the first thing you will need are some bigger pots. Most growers recommend a five-gallon pot to ensure your plants have ample space to grow.
Make sure you have enough larger pots to accommodate the number of seedlings you're transplanting, and then fill them with your preferred growing medium. It's a good idea to use the same growing medium as you had in the seedling trays to help avoid transplant shock.
To further help avoid transplant shock, it's a good idea to keep the seedling in the medium it has been growing in up until now and place the entire contents of the seedling cell into a hole in the new pot.
To help keep the soil together, give your seedlings a little water before transplanting. Wet soil sticks together more readily than dry soil.
Prepare a hole in the soil in your larger pot, and then use a blunt instrument, such as a butter knife, to gently free the soil from the sides of the seedling tray cell.
The idea is to gently slide the entire contents of the cell out and then place it in its new home. Once you have your plant in its new home, give it a little water to help it adapt to its new surroundings.
When transplanting young plants, it's a good idea to work quite quickly. You don't want to leave your plants out of the pot too long, since this can lead to the roots drying out. Gather all your materials in advance and repot one seedling at a time.
When To Transplant Weed Seedling: Final Thoughts
If you want to avoid the hassle of transplanting your marijuana plants, you can certainly put them in a full-sized pot from the start. There is nothing wrong with that. But it does increase the risk of certain issues.
And when it comes down to it, transplanting you cannabis seedling to a larger pot is not overly difficult. You just need to know when to do it and take care not to harm your plant. Hopefully after reading this article, you should have no issues with either of those things anymore.